The St. Louis Blues' 2022-23 season was a shocking disappointment for fans and management alike, leading to the team becoming sellers at the trade deadline and ultimately finishing in a draft lottery position outside the playoffs. So who bears the blames for the team's failings? And who succeeded despite the team's struggles? That's what we'll look to identify in our 2022-23 Blues' Report Cards series.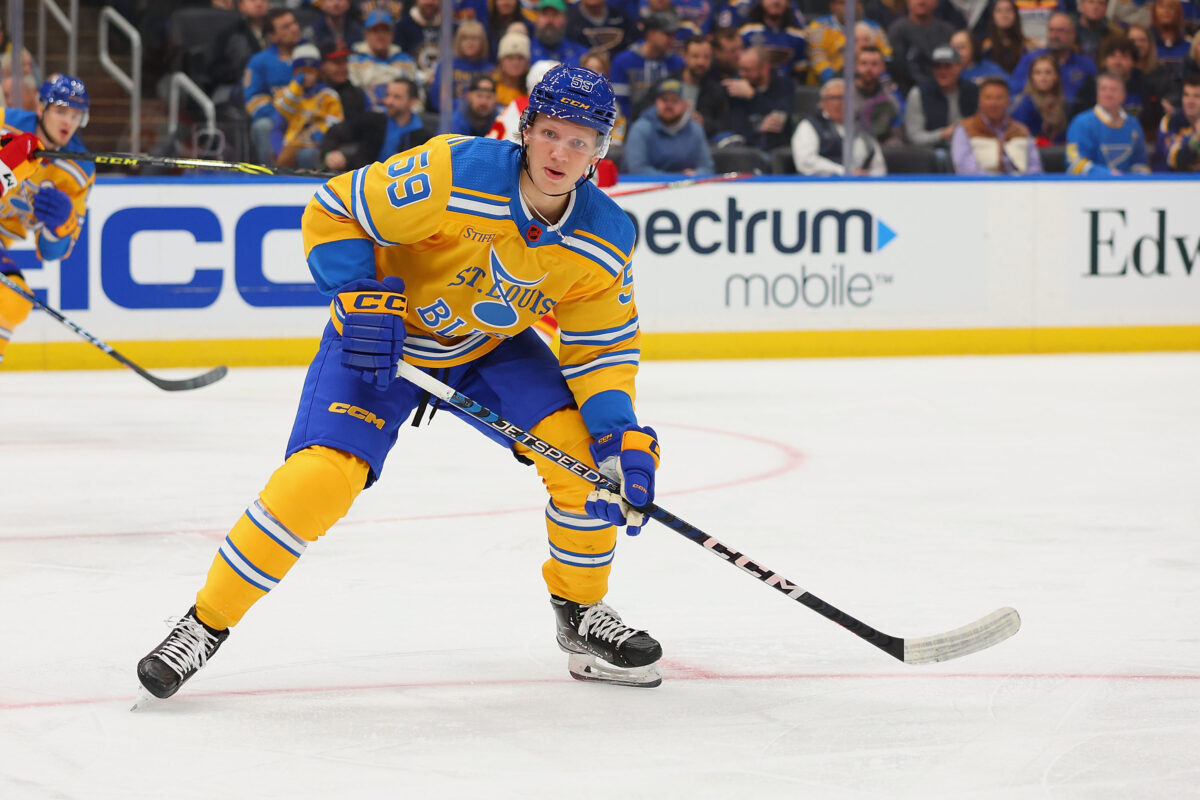 When the St. Louis Blues drafted Nikita Alexandrov with the 62nd pick of the 2019 NHL Draft, the last thing fans were worried about was the long-term health of the franchise. The team had just won its first Stanley Cup in over 50-year history after one of the most absurd comeback runs in the history of the NHL and professional sports. Alexandrov was the team's first pick that year, because their first-round selection had gone to acquire Conn Smythe Trophy winner Ryan O'Reilly from the Buffalo Sabres. The future was the least of anyone's concerns.
But, by the time Alexandrov was making his NHL debut this season and becoming a regular NHL player, circumstances were very different. The team was out of a playoff position, general manager Doug Armstrong was openly talking about a rebuild, and all eyes were focused on the future. So as a key part of that future, let's take a look at how Alexandrov fared in his first 28 games as an NHL player.
What Went Right: A Promising Start
Unless it's a top-five draft pick who enters the league with immediate hype, one has to be careful about scrutinizing a player too viciously in his early games in the NHL. It is a massive transition, and even players who become stars usually take some time to settle into the speed and intensity of the NHL game. Alexandrov did well in his time with the Blues and clearly did not fall flat on his face, playing mostly on the fourth line and averaging 9:49 a night. He embraced a depth role that will make him an NHL success, but still managed to score three goals and collected four assists, and was even in plus/minus, which cannot be said about many of his more experienced teammates. And head coach Craig Berube spoke highly of him when asked. While he might not have received the late-season hype of new arrivals like Jakub Vrána and Kasperi Kapanen, there is every reason to think that he is an important part of the Blues' young forward group next season.
Related: Blues' Rebuild Takes Shape with Blais, Kapanen, and Vrána
---
Latest News & Highlights
---
Alexandrov's advanced metrics paint the picture of a plus-player defensively who limited expected goals against (xGA) at an above-average pace. To do that early in your career is quite an accomplishment, and it is exactly the sort of tool the Blues need in their bottom six. Alexandrov's game will continue to mature, but for a 28-game stretch, he looked like a real NHLer with a bright future. And that's the most you can ask of a young player.
What Went Wrong: Rough Start to The AHL Playoffs
The lowlight of Alexandrov's season might be ongoing, judging by his first two games with the Springfield Thunderbirds in the American Hockey League (AHL) playoffs. The Thunderbirds are currently down 2-0 against the Hartford Wolf Pack, and Alexandrov's contributions have been decidedly negative. He has been on the ice for eight goals against (minus-8) in two games played so far.
That's a two-game stretch that Alexandrov will want to live down, but it shouldn't affect his NHL future. Perhaps it will motivate him to turn things around and pull the Thunderbirds out of this tailspin. But either way, Alexandrov should be back in the NHL moving forward.
Key Stats:
First NHL Goal on January 7, 2023, against the Montreal Canadiens
Averaged exactly one hit per game
35.3% success rate in the faceoff circle
Final Grade: B+
Alexandrov is a young role player in the NHL. There is neither enough time nor enough evidence to draw sweeping conclusions about a player who has played only 28 games and 275 minutes at the highest level; however, he showed no signs of concern with the Blues. He will be turning 23 ahead of next season and should enter training camp expecting to make the roster — barring any massive, unforeseen changes this offseason.
What's Next for Alexandrov
Alexandrov has one season left on his entry-level contract and should spend most of it with the Blues during the 2023-24 campaign. He may spend a few stretches in Springfield, but he clearly has the talent to be an NHL player. There is every reason to think he will be a fixture in the bottom six heading into next season.