The Winnipeg Jets have failed to produce a successful season, depending on who you ask. They finished the regular season with a 46-33-3 record and recorded one playoff win against the Vegas Golden Knights. Rick Bowness then publicly called out his teams' lack of pushback since January and February, to which more than five players stated they did not appreciate.
General manager Kevin Cheveldayoff has assembled this core in his tenure with the organization and does not have the success to show for it. As we inch closer to a decision on the future of the franchise, there are many reasons why the Jets should look to move on from this core and re-tool with their current prospect pool.
Jets' Core Has Made It to Its Expiry Date
The Jets organization has won three playoff series in 12 seasons. Two of those came in 2017-18 when they made their way to the Western Conference Final before losing in five games to the Golden Knights.
Now with their most recent departure from the playoffs, it has become abundantly clear that this core does not have what it takes to win the Stanley Cup. With the current cap sheet, it would be a very tall task to build a team better than the one we saw make a run in 2018, which is why this core has reached its expiry date.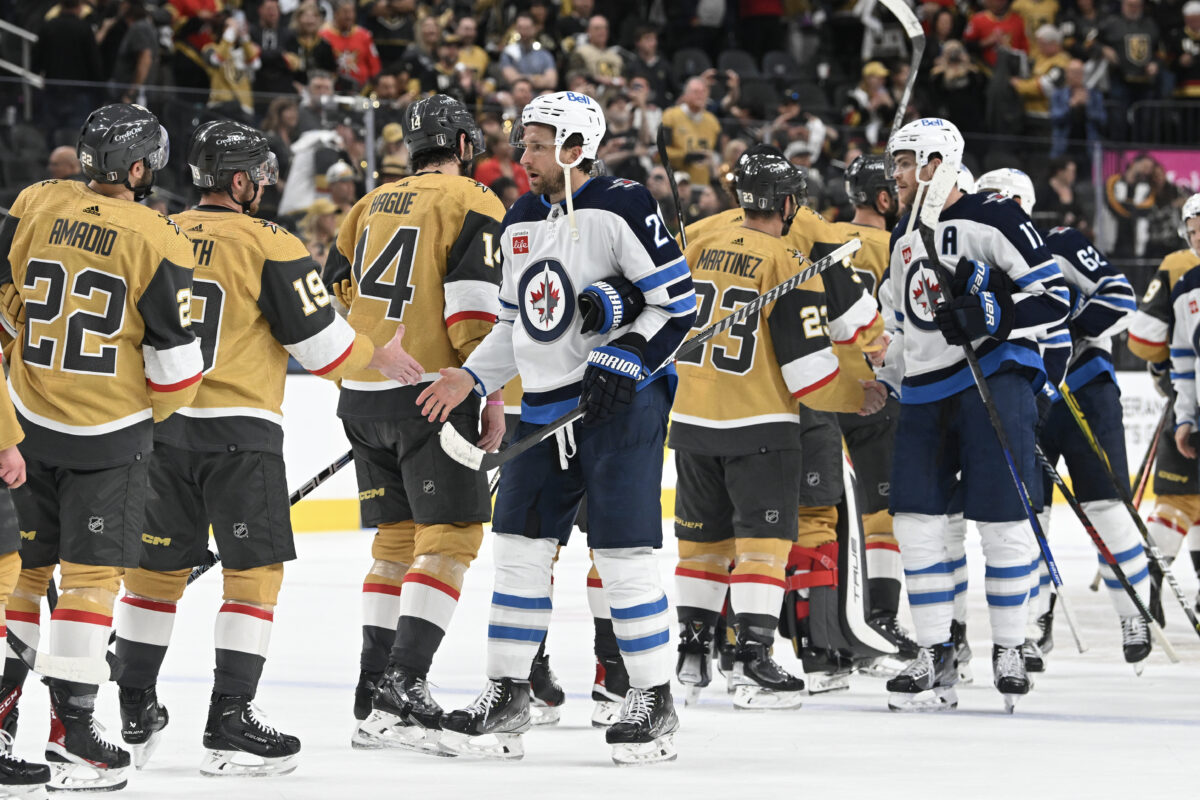 Age is another reason to potentially move away from this core. Blake Wheeler is now 36, Mark Scheifele is 30, and within the defence core, all three of Nate Schmidt, Brenden Dillon, and Dylan DeMelo have surpassed the age of 30. When looking at aging curves and production for players into their 30s, it is very rare for players to continue their prime for any longer than two to three years after that.
Related: Hellebuyck Won't Stay Through a Jets Rebuild: 4 Big Trade Options
---
Latest News & Highlights
---
Older players can contribute in an impactful way, but if the Jets went with this route, they would be handing the keys to players in their early-to-mid 20s, and starting fresh with a new core. Another major talking point is goaltender Connor Hellebuyck, who is approaching his 30s and is coming off an outstanding 2022-23 campaign. There are plenty of goaltender-hungry teams out there, and a bidding war may be in the cards if the Jets are willing to move him.
This Offseason is the Time to Part Ways
This offseason is the optimal time for Cheveldayoff to part ways with this core, as it ensures he is getting the best possible value. If he decided to wait until the trade deadline to move these players, he would be getting pennies on the dollar for players such as Scheifele, Wheeler, and Hellebuyck.
While moving some of the top players seems like a scary thought, the Jets are in a relatively decent position to do so. Dylan Samberg is now 24 years old, and after an incredibly impressive rookie season, he looks ready to step into a top-four role as early as next season. The 6-foot-3 defender stepped into a bigger role when Josh Morrissey suffered his injury in the playoffs, and outside of his costly turnover in Game 3, played phenomenal hockey and proved he can take on a larger role.
Ville Heinola, a former first-round pick, is 22 years old and will likely be given a look at the NHL level next season. That's without mentioning the other two prospects in the system, American Hockey League (AHL) All-Star Declan Chisholm and Leon Gawanke, who set the single-season record for goals by a defenceman on the Manitoba Moose.
Up front, Cole Perfetti has already taken on a top-six role and proved to be extremely valuable to the roster. Soon around the corner are first-round selections Chaz Lucius, Brad Lambert, and Rutger McGroarty. Recently signed second-round pick Nikita Chibrikov is a few years away from joining the NHL club, but will be an impact player when he makes it there. The Jets would not be left high-and-dry if they were to move onto their younger core, as they are seemingly in a good position to pivot.
Pierre-Luc Dubois Trade Feels Inevitable
Pierre-Luc Dubois hasn't outright stated that he'd like to play for the Montreal Canadiens, but it seems inevitable that he wants to go there. Last year, he waited until near training camp before signing his qualifying offer of $6 million, for one season. If both parties are once again unable to come to terms on a long-term extension, it feels as though the writing is on the wall for a trade.
The Jets do have his rights for the upcoming season, as he is a restricted free agent (RFA). If they ended up trading Dubois, they would have to get something compromisable in return, as 24-year-old centres that are 6-foot-2 and over 200 pounds have heightened value on the trade market.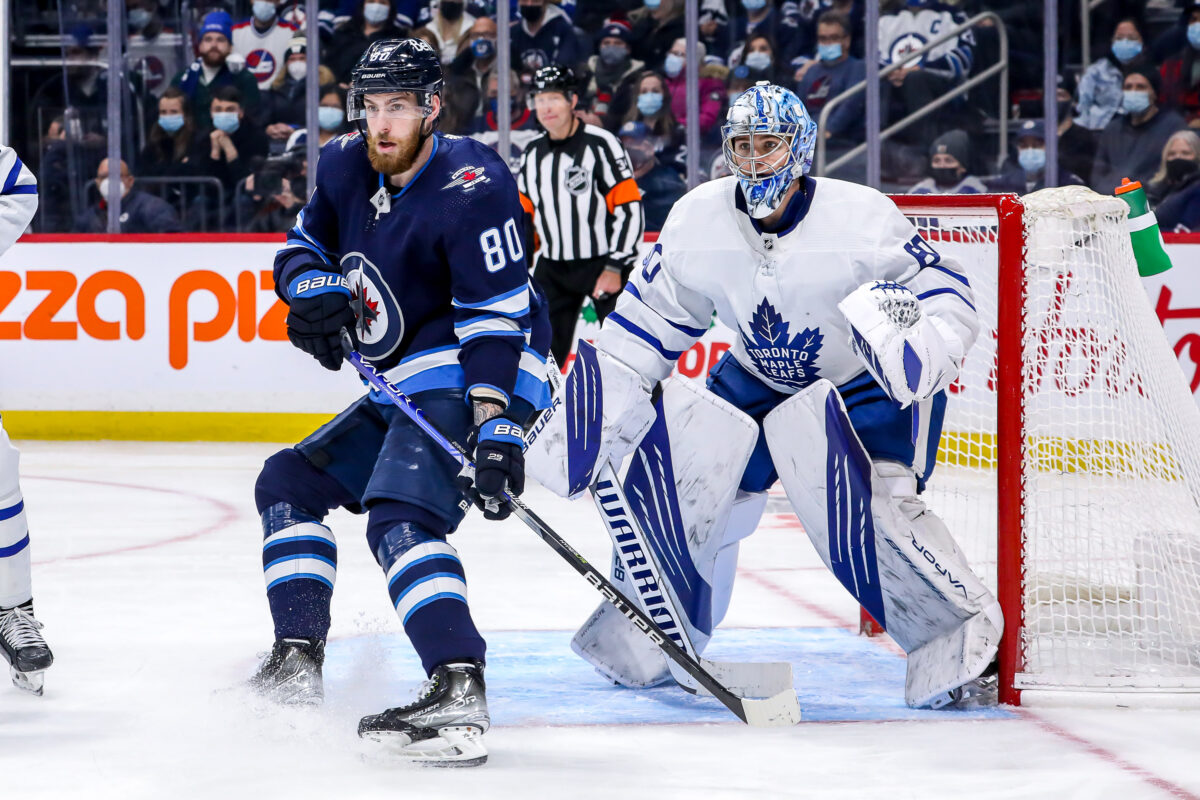 Trading both top-six centres in Dubois and Scheifele in the same offseason is likely not in the Jets' plans, but it may be necessary if they receive offers that they cannot refuse. This would be the true sign of a youth movement, as the Jets' top centre on the roster would then be Adam Lowry. Perfetti has played centre in the past, but given his injury history, the coaching staff may want to keep him on the wing for the foreseeable future.
If they wanted to re-tool, assuming he goes to the Canadiens, the Jets may look at Kirby Dach as a piece in the return. Dach is a 22-year-old centre that took some massive strides in his development last season, scoring 14 goals and 24 assists in 58 games. He is a 6-foot-4 centre, and at 212 pounds, he brings a lot to the table with his size. It's hard to predict how willing they would be to move him, but that may be the price they have to pay in order to acquire Dubois.
Between Dubois' seemingly inevitable trade, and the main core having their contracts expiring as early as next season, it has the potential to be a storyline-filled offseason in Winnipeg.
---
---