Patrick Kane's comments to reporters about his health, spoken at New York Rangers breakup day after their crushing first-round playoff loss to the New Jersey Devils, were delivered in a matter-of-fact manner about a subject that had hardly been regarded as common knowledge beforehand.
"We're going to have to find a way to get me back to as close to 100 percent as possible because … I look at that series and I know if I felt a little better I can help us win that series, you know?," Kane said May 3 at the team's training facility. "So it's almost a little disappointing and depressing in a way but that's just kind of how I feel about it."
---
---
That prompted a follow-up question from a reporter whose voice carried a degree of surprise: "Did you come in that way?"
"Yeah," Kane said, answering the query as if someone had asked him if he enjoys playing hockey. "It's been a couple of years going on."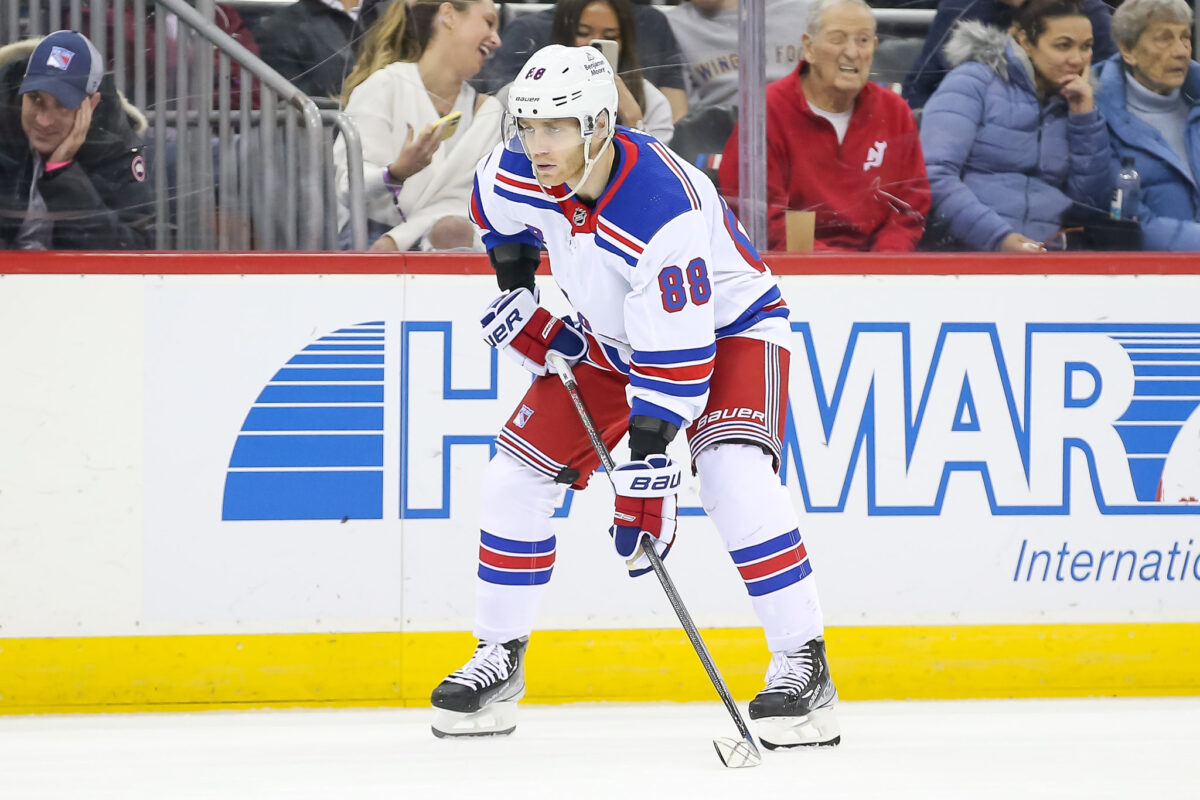 The Rangers' second blockbuster acquisition of the 2023 trade-deadline season was generally known to be dealing with a hip issue, though the severity of it wasn't fully known. Kane's thorough confirmation of that fact, that a long-term health problem that robbed him of effectiveness was a package deal in his acquisition, raises collective eyebrows over the wisdom of the personnel gymnastics the Rangers undertook to add him to the mix. It will, for some time, beg the question of whether they would have been better off passing on him in favor of adding different personnel.
Kane's Hip Problem Proved to Be Significant
Kane's voice in the group interview carried a hint of resignation, sounding like he understood he was damaged goods and that he knew during the Rangers' crushing seven-game playoff loss to the New Jersey Devils that he just wasn't going to be able to help much.
"I commend the training staff and (head athletic trainer) Jim Ramsay just on getting me as ready as possible for the playoffs," said Kane, who may be headed for offseason surgery. "I felt pretty good, not like 100 percent, I felt pretty good, so we'll figure everything out, talk to the doctors and figure out what the plan is going forward.
" … Before that, it (was) just a lot of maintenance and thinking about how you're gonna get yourself to feel the best as possible to play.
"I mean, you just look at certain situations and you're like, if we're down a goal here or there, and you could take over in a situation and help the team get out of a little rut. That's where I think I could have really helped a little bit more."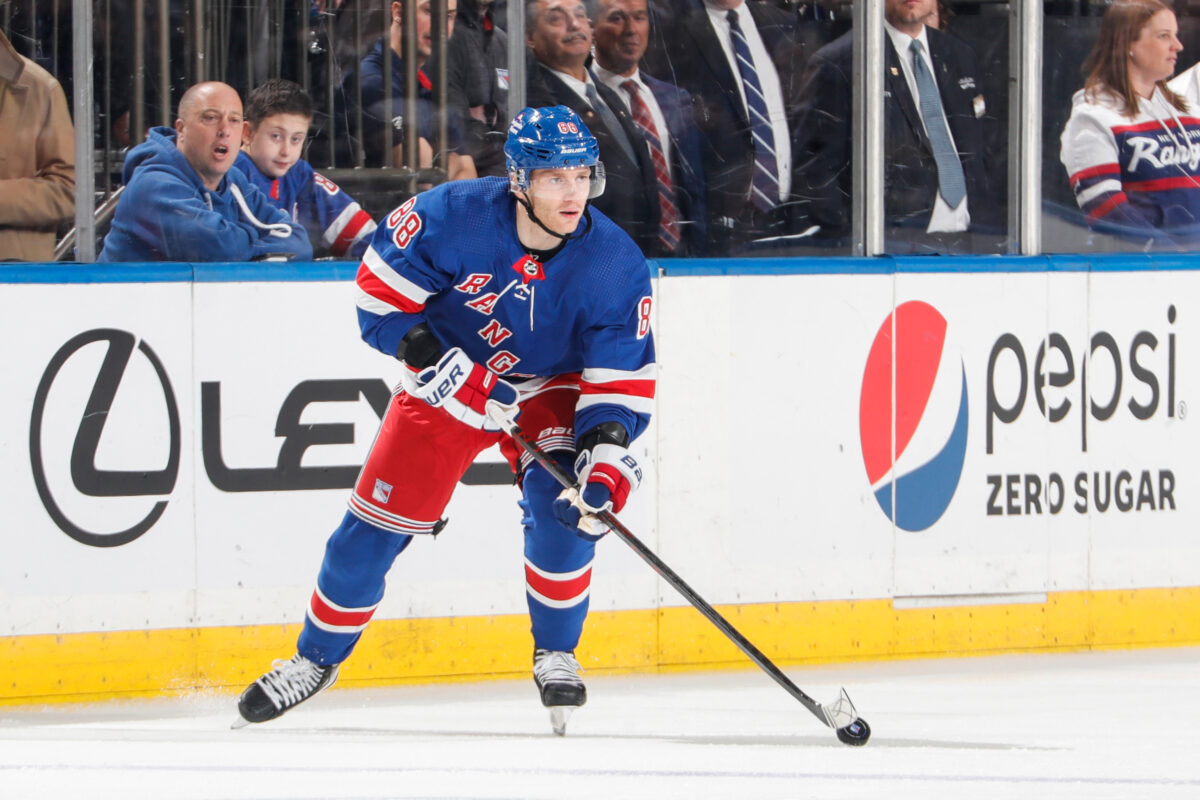 This was the first time in his relatively short time on Broadway that Kane spoke openly about how limited he was by his hip. Through a mostly average performance over 19 regular-season games with the Rangers, Kane had attributed the absence of his superstar form to adjusting to a new team and new system. So to employ a line of questioning that came to define a presidential scandal 50 years ago: What did general manager Chris Drury know, and when did he know it?
Was Drury, the man who never gave up on acquiring Kane even after his trade for right wing Vladimir Tarasenko weeks earlier, aware that Kane knew that he wasn't operating close to full throttle? Did he know of the severity of Kane's injury and make an informed decision to assume the risk, or was the GM convinced by Kane's throwback seven-goal, three-assist burst over a four-game stretch – which occurred just before the Rangers pulled the trigger on the Feb. 28 trade for the Chicago Blackhawks legend – that the future Hall of Famer's hip issue was actually a non-issue?
---
Latest News & Highlights
---
The full extent of that thought process may never be known, but however it went, the decision-making is worthy of scrutiny. Kane wasn't having his typical season for Chicago, and it's difficult to fathom the idea that the Rangers' medical staff didn't conduct a thorough physical examination of Kane as a condition for completion of the deal. It seems even less believable that they would ignore a negative result produced by the exam, or that they would not have asked Kane about his health.
So the most logical conclusion is that Drury and the Rangers rolled the dice, seeing an opportunity to acquire one of the best players of his generation and a proven playoff force who carried a championship pedigree, as what could have been the missing piece to an elusive Stanley Cup puzzle.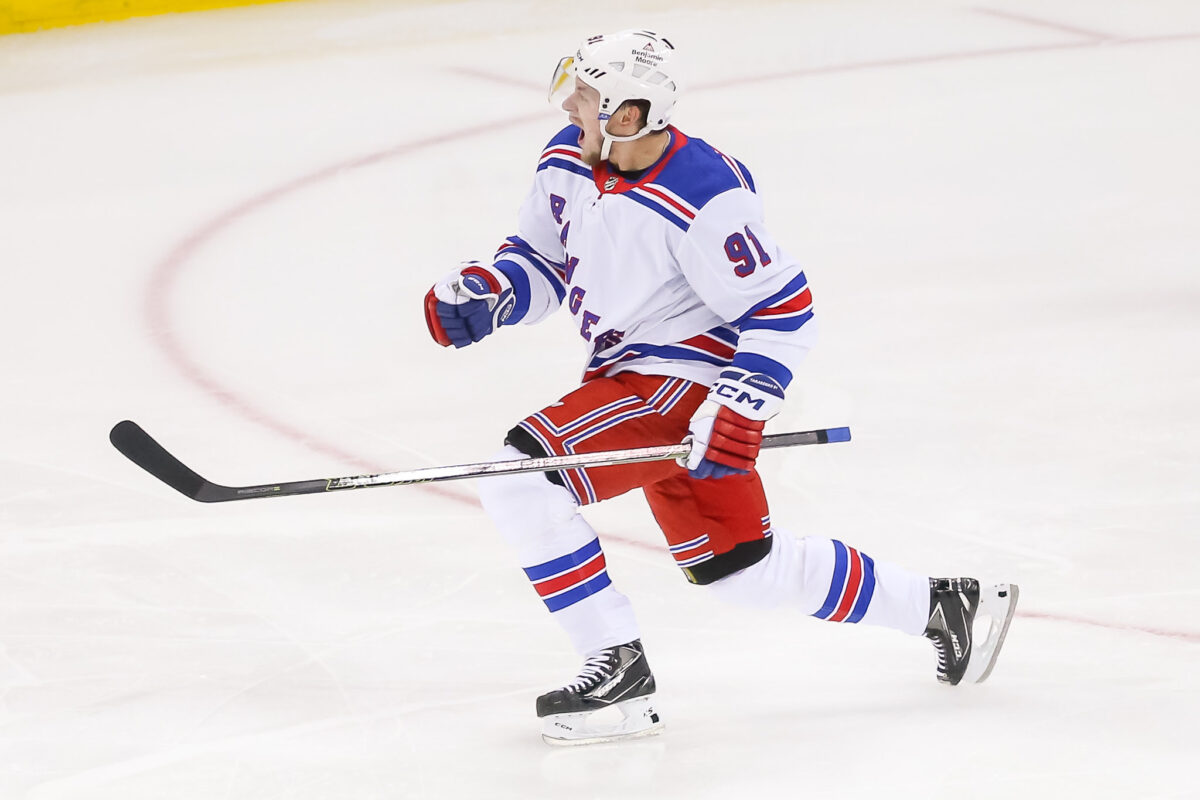 The ambitious nature of acquiring Kane is admirable. That, however, is nullified if the front office knew the full extent of the player's debilitating injury, one which Kane spoke about as if it was facts already in evidence.
Drury's Failure to Add Grit Played Role in Rangers' Demise
Though it may come across as piling on, there's a case to be made that even a healthy Kane wasn't what these Rangers needed. It can be argued that Drury negated his own impressive initiative when he fell into the pursuit for the three-time Stanley Cup winner and 2013 Conn Smythe Trophy recipient as playoff MVP.
Let's explain: The Rangers dropped a bombshell on the NHL on Feb. 9, when three weeks before the March 3 deadline, they announced the acquisition of Tarasenko and defenseman Niko Mikkola. Drury was hailed for getting ahead of the trade market heating up and addressing his primary need – a scoring right wing – early.
The seemingly unspoken element of moving quickly for Tarasenko was to avoid getting bogged down in an uncertain pursuit of Kane, who had been linked to the Rangers since the previous deadline but had yet to agree to waive his no-move clause. The team was also in theory looking to avoid acquiring a player whose hip injury was known about, even if the severity of it wasn't.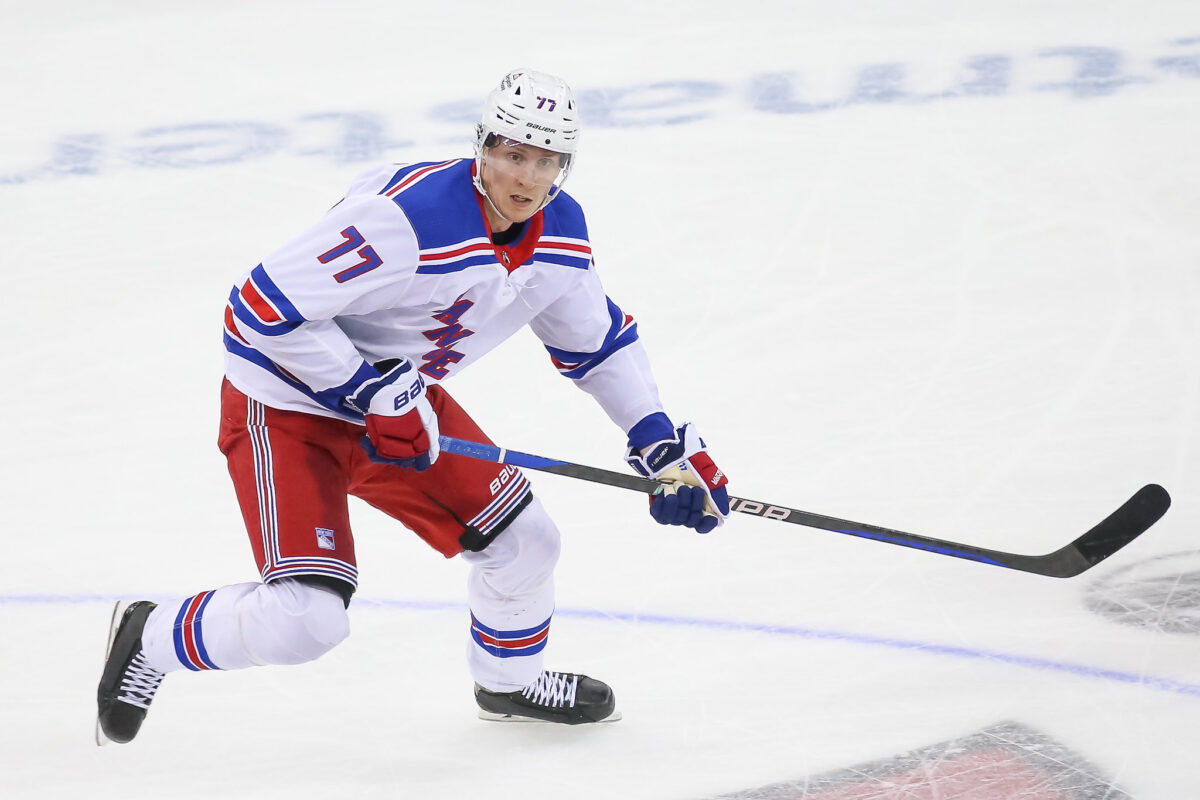 Kane himself grudgingly confirmed the effectiveness of the Blueshirts' quick strike the day after the deal with the Blues in an interview in which he expressed a surprisingly frank level of disappointment over the trade.
In adding both the scorer he needed as well as a tough defender in Mikkola to solidify the back end, Drury appeared to have done more than just remove himself from the inherent pressure to act that steadily builds leading into the deadline: With some cap space and plenty of time left, it seemed as if he could further tinker with his roster by adding some complementary forwards – the kind that would prove to be sorely lacking a couple of months later.
Related: Rangers' Struggles to Get to the Middle of the Ice Are Nothing New
Would acquiring bigger, tougher players at the deadline such as Tyler Bertuzzi, Garnet Hathaway, Nick Ritchie or Milan Lucic up front have made a difference against the Devils? It very well might have. After winning the first two games of the series, it was the same old story for these Rangers: A skill-heavy approach that exposed the club's almost complete lack of sandpaper and ability to get to the opponent's net when New Jersey made adjustments. The Blueshirts were a group of stars, not a well-constructed playoff outfit.
Devils second-string goaltender Akira Schmid played well after replacing Vitek Vanecek following Game 2, but the Rangers hardly challenged him in close by forcing him to move his feet and make tough saves on his doorstep.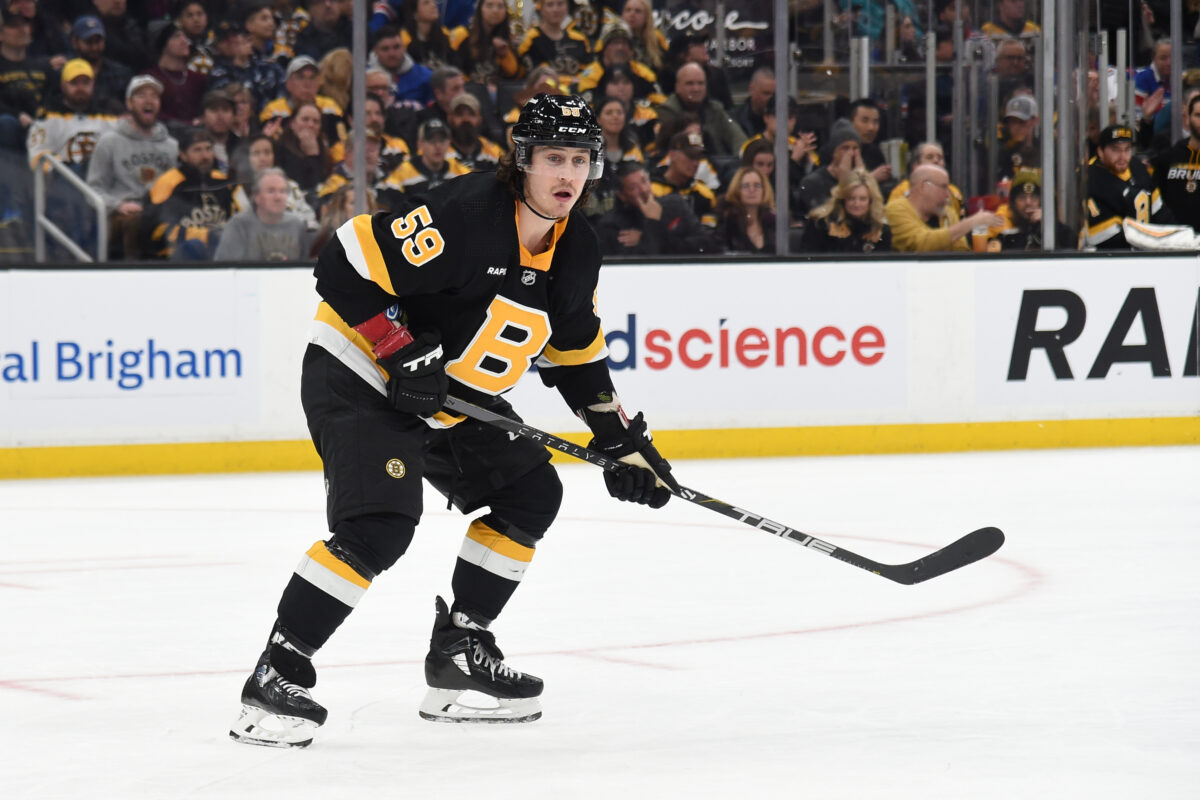 The irritating Bertuzzi, traded by the Detroit Red Wings to the Boston Bruins, had five goals and five assists in Boston's seven-game opening-round loss to the Florida Panthers. Hathaway, also acquired by the Bruins from the Washington Capitals, played his usual edgy, disruptive game down low in that series. Ritchie didn't make it to the playoffs after being dealt from the Arizona Coyotes to the Calgary Flames, but the Rangers would have loved to have the 6-foot-3, 236-pound bruiser making life uncomfortable for Schmid in the crease. The huge Lucic's nastiness and physicality could have also played a role, but he stayed in Calgary.
Kane's Skill Set Proved Redundant for Rangers
For all of Drury's impressive deadline moves last season that were instrumental in the Rangers' deep playoff run, the Tampa Bay Lightning were able to overcome an 0-2 series hole in the Eastern Conference Final by making the same adjustments the Devils did this year, keeping the Blueshirts to the outside over the final four games. This group wasn't any more physical than last year's, yet rather than trying to remedy that at this season's deadline, Drury's eye started wandering toward Kane, who eventually made clear that he wanted to be traded to New York.
The GM deserves credit for refusing to give up too much for the future Hall of Famer, and for of course wanting to take advantage of what he saw as a rare opportunity to add two elite offensive players instead of just one for a postseason push. Doing so, however, led the Rangers into the kind of drawn-out saga that Drury had managed to avoid with his trade for Tarasenko, with the Kane affair hanging over the team for weeks from both a mental standpoint and a roster one.
In the end, the effort was all for naught. The addition of Kane proved to be overkill, not what the Rangers really needed after bringing in Tarasenko, who slid almost seamlessly into the Blueshirts' locker room and culture. Not nearly at full health and a conspicuously poor fit with the lineup, Kane's acquisition just never felt right – which he seemed to acknowledge on breakup day, speaking in the past tense about his time in a Blueshirt.
"I had a blast. I think it's a special group in here," he said. "I think they'll find a way to win, I think they'll get there. They have great leadership and it's a great organization, obviously the fans are very passionate too, so it's a fun place to play."
Ever candid, Kane seemed to acknowledge shortcomings in the roster which he had so badly wanted to join.
"I just think in certain situations when you're struggling, you need a bounce. I look back at our (Blackhawks) teams that won, we had Andrew Shaw, Marcus Kruger and Dave Bolland. Those guys scored big goals for us, right? So sometimes you need a depth guy to just kind of get one and get you on the right track a little bit."
Shaw and Bolland were heart-and-soul guys who played with fire and engaged in the trench warfare element of a playoff series – and as Kane said, delivered key secondary scoring, which Kruger provided as well. Kane, the three-time Cup winner, saw what championship element was missing from his new team.
Will Rangers Learn From Another Playoff Disappointment?
Despite Drury's noble intention to make his team as formidable as possible for a championship charge, it's fair to hold him to his share of blame for the defeat. He would have received full credit if Kane have been a dynamic difference-maker in a run to a Cup; instead, the roster's lack of a key element played a significant role in the club's postseason demise, and that's on him. So is the willingness to bring in a player whose health was a major hindrance – especially if that part of Kane's situation wasn't properly investigated and/or considered.
Along with the injury problem, what makes the judgments surrounding the team's deadline moves ripe for questioning was the failure to draw lessons from 2022. Hindsight is 20/20 in stating that Drury should have used his remaining salary space after picking up Tarasenko to add a pair of grinding forwards instead of Kane. That hindsight, however, was available to the GM a year ago.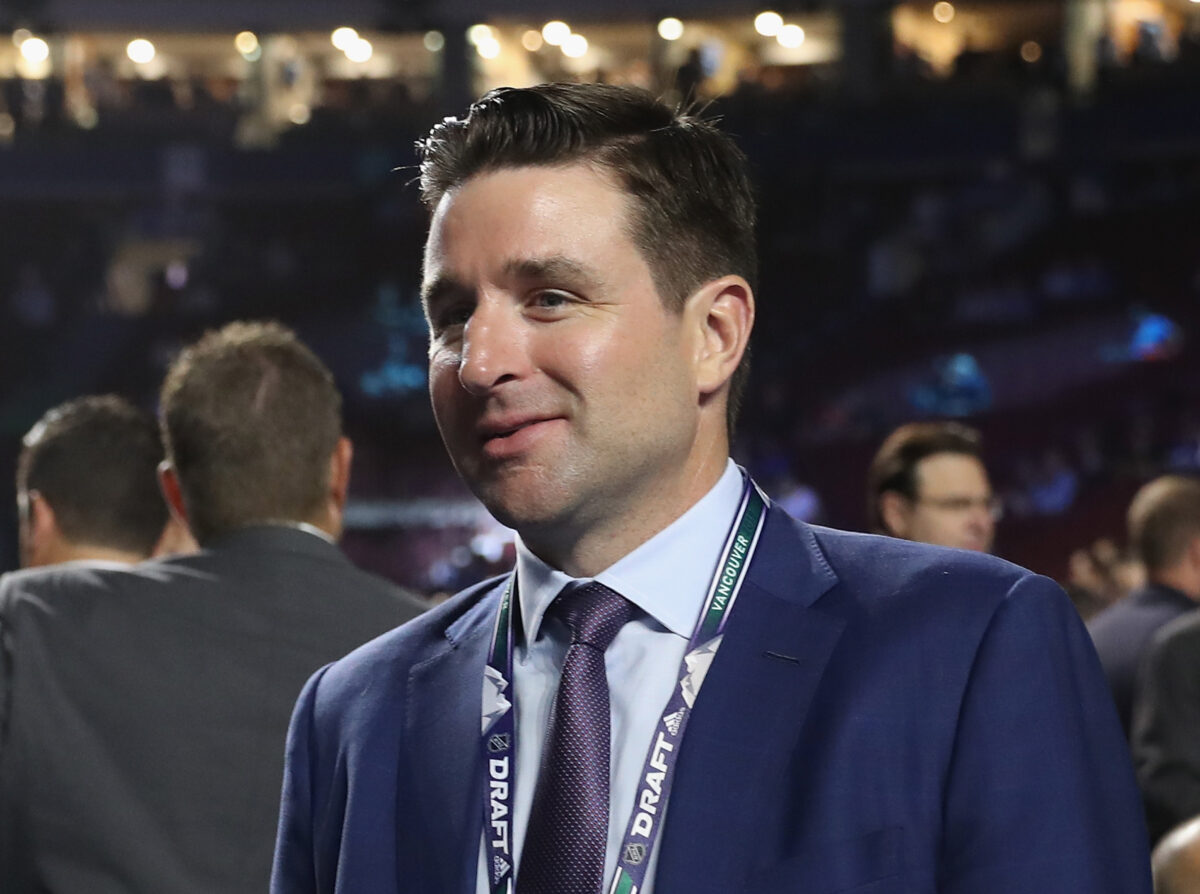 The issue going forward is whether the organization will finally learn. Little is left from the team's attempt to bulk up into a postseason-ready group that began in the 2021 offseason, the Rangers having returned to their organizational DNA as a team imbalanced between skill and will. Will the front office finally, be it this summer or at next year's deadline, put the wisdom earned from a pair of blown playoff series leads into practice?
Rangers fans, disappointed again, can only watch, wait and hope.