The St. Louis Blues' 2022-23 season was a shocking disappointment for fans and management alike, leading to the team becoming sellers at the trade deadline and ultimately finishing in a draft lottery position outside the playoffs. So who bears the blames for the team's failings? And who succeeded despite the team's struggles? That's what we'll look to identify in our 2022-23 Blues' Report Cards series.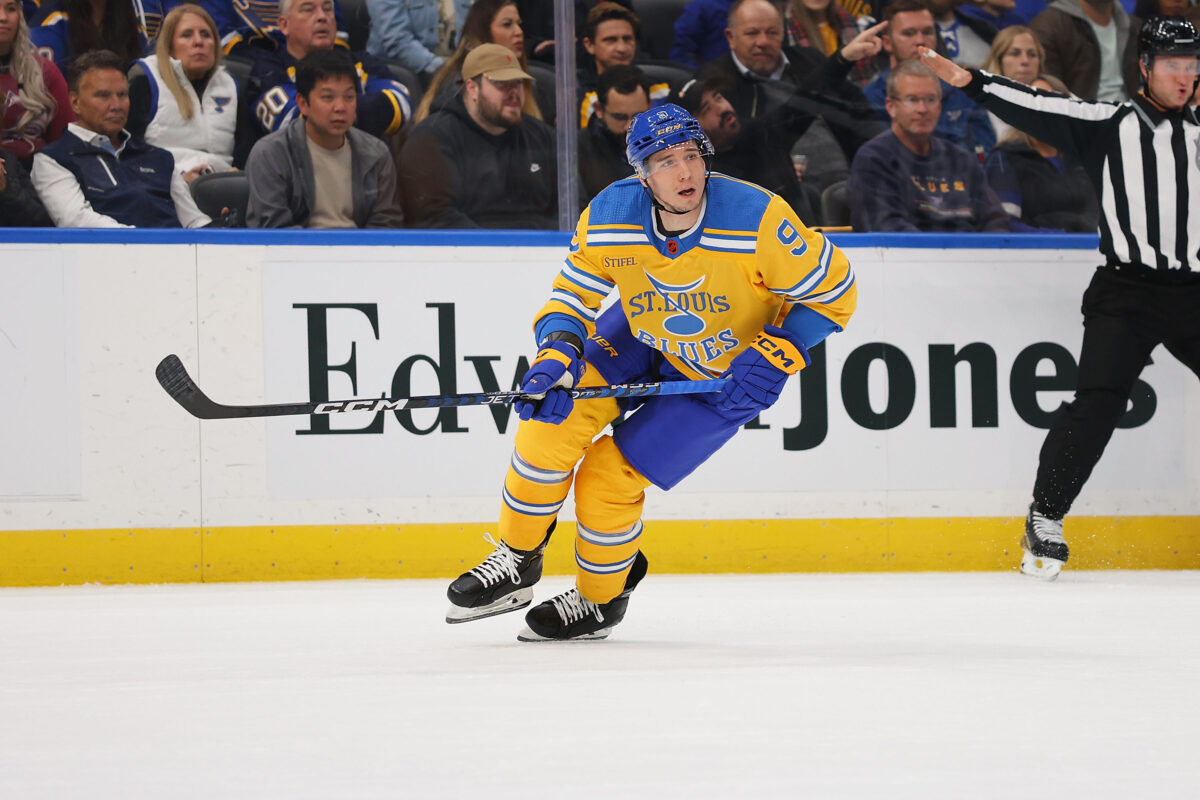 When the St. Louis Blues brought forward Tyler Pitlick into camp on a professional tryout (PTO), not much was expected of the eight-year veteran. He had bounced around the league since 2018-19, with the Blues being his sixth team in five seasons. At this point in his career, after seeing just 39 combined NHL games in 2021-22 with both the Montreal Canadiens and Calgary Flames, his best shot at landing a roster spot in the league is as a body who bounces between the fourth line and the bench. He ultimately didn't make the squad coming out of camp and was released from his PTO, only to be re-signed a few weeks later as injuries piled up, remaining with the big club for the remainder of the season.
What Went Right: Health & Hard Work
Once Pitlick re-joined the club on Oct. 26, he suited up for 61 of 78 regular season games, marking the first time he's played in that many games since 2019-20 when he played in 63 games for the Philadelphia Flyers. While averaging just 10:05 of ice time this season, he scored 16 points (seven goals), a decent plus-minus rating of minus-1, and 14 penalty minutes (PIM).
With Pitlick in the fold, he allowed head coach Craig Berube to establish a fourth line with some identity. He, along with Alexey Toropchenko and Nathan Walker, combined for the Blues' most steady and consistent fourth-line combinations, totaling just over 170 even-strength minutes together this season. When on the ice together, they were responsible for just three goals against while scoring 12 (plus-9). As part of his hard-working playstyle, he registered 29 blocked shots and 103 hits.
What Went Wrong: Nothing Special to His Game
As a player relegated to fourth-line duties, you generally aren't regarded as much of an offensive threat and therefore get little-to-no time on the power play. Such was the case for Pitlick, seeing just 5:31 of power play minutes this season, which may actually have been more time than some would think. But where a player such as him should be able to earn extra ice time would be on the penalty kill (PK). Unfortunately, after only seeing the ice for just 10:34 while on the PK, it appears Pitlick doesn't possess enough shutdown defensive ability at this point in his career to warrant a spot there either.
Related: Blues 2022-23 Report Cards
---
Latest News & Highlights
---
Key Stats:
61 games
16 points (seven goals)
103 hits
Final Grade: B
For a player who was brought in on a PTO, Pitlick absolutely made the most of it by playing in 61 of 78 games. He remained healthy throughout the entirety of the season and managed a fairly good point total for someone who played as few minutes as he did. Outside of not being much of a special teams contributor, he had a solid campaign in 2022-23.
---
---
What's Next for Pitlick?
He seems like the type of player the Blues and Berube like for their fourth line. He will be an unrestricted free agent (UFA) once the playoffs conclude, but it's definitely possible he's brought back on another one-year deal for 2023-24. If the team opts to let him walk, he's got enough tape to prove he can earn a job on another NHL roster.