The Chicago Blackhawks had a monumental moment on Monday night when they miraculously landed the No. 1 overall pick in the 2023 NHL Draft despite an 11.5% chance of lading it. They can now select generational talent Connor Bedard, the 17-year-old prospect who has drawn comparisons to Connor McDavid and Sidney Crosby, among others, posting 143 points in 57 games for the Western Hockey League's Regina Pats last season.
Related: Blackhawks Bytes: Draft Lottery, Free Agency, Richardson & More
Bedard should drastically alter the Blackhawks. However, as great as he could become, the team also needs to execute its rebuild properly under general manager (GM) Kyle Davidson.
Blackhawks Were Smart to Tear It Down
When Davidson took over permanently in March 2022, he didn't just rebuild the Blackhawks. He essentially blew up the roster, letting go of Alex DeBrincat, Kirby Dach, and Brandon Hagel, among others. All three were in their early-to-mid-20s and could've been part of the team's future core. But management had already tried retooling on the fly by acquiring Seth Jones and Marc-André Fleury during the 2021 offseason. It backfired, and they started the 2021-22 season with a 1-9-2 record.
It's hard to say exactly where the Blackhawks would've finished had they kept DeBrincat and others. From injuries to coaching to pure luck, there are so many variables that determine a team's success. However, The Athletic projects they would have finished in a similar position to 2021-22: far from a playoff spot, but not bad enough to tank (from "What if the Blackhawks didn't go all in on the rebuild?" The Athletic, 01/12/23).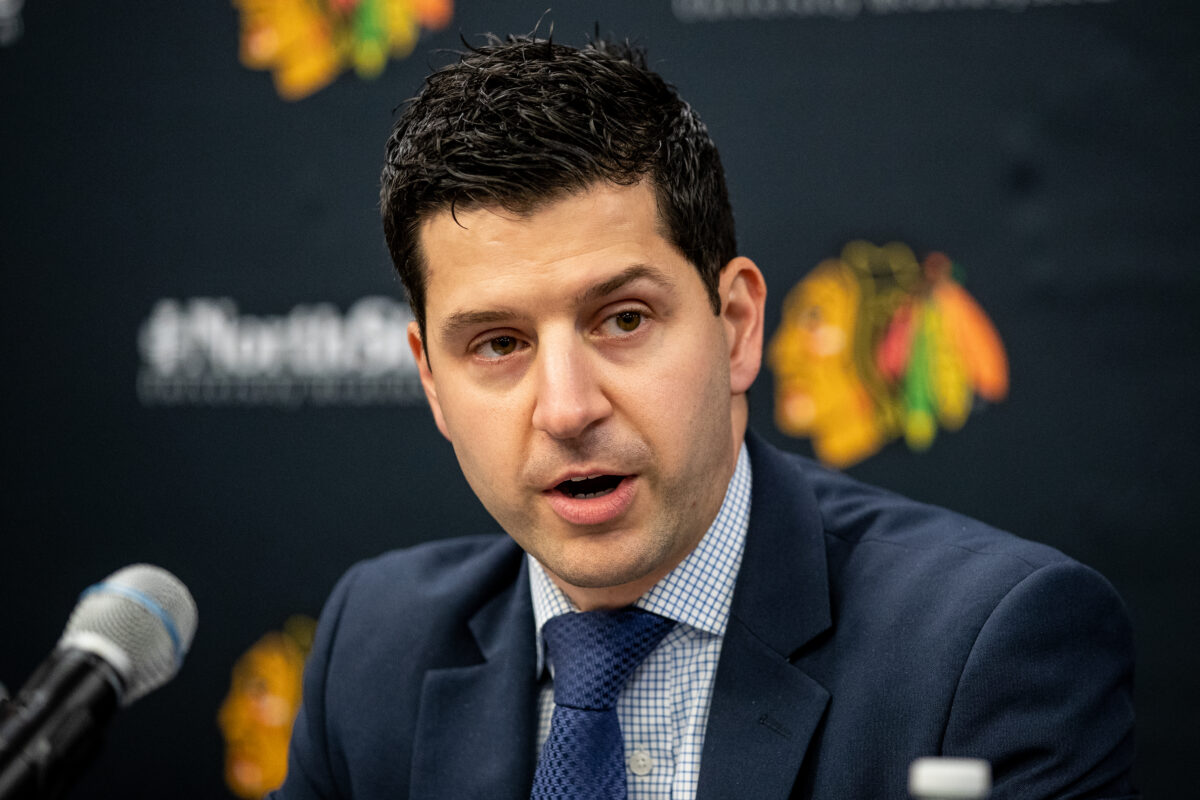 Amid poor performance and their sexual-assault scandal, the Blackhawks needed a fresh start. Davidson was put in a tough spot, and he cleaned up Stan Bowman's mess to the best of his ability. The Blackhawks now have 20 picks over the next two drafts, 10 of which are in the first two rounds. A few have come from some sneaky good moves, like Davidson snagging a second-rounder plus forward Jason Dickinson from the Vancouver Canucks for depth defenseman Riley Stillman.
Chances are they'll find a steal or two, so the Blackhawks would have probably been fine even if they hadn't won the lottery. But, of course, the opportunity to draft Bedard expedites everything. Adding a player of his caliber alone could shave a season off the rebuild, especially since they are in a good spot cap-wise and have a strong farm system. This is why the Blackhawks can't lose sight of the long-term objective.
Blackhawks Must Give Bedard a Strong Supporting Cast
Bedard will sell jerseys and tickets. Local TV ratings should increase, too. It wouldn't be surprising to see the team get renewed national attention as early as next season, including more national broadcasts and maybe an outdoor game in the next few years.
---
Latest News & Highlights
---
That said, they cannot afford to rely too heavily on Bedard. After the Edmonton Oilers drafted McDavid first overall in 2015, they made the Stanley Cup Playoffs just once in his first four seasons, finishing 23rd or lower in the three seasons they didn't qualify. It wasn't until 2022 that they made the Western Conference Final, getting swept by the Colorado Avalanche. Tied 2-2 against the Vegas Golden Knights in their second-round series, there's a chance McDavid ends season eight of his NHL career without a Stanley Cup.
Related: 2023 NHL Draft Lottery: Chicago Blackhawks Win First Overall Pick
Granted, the Blackhawks are in a different position from the Oilers when they drafted McDavid. Chicago finished 2022-23 in full tank mode, whereas Edmonton wasn't a good team and was mismanaged by former GM Peter Chiarelli. But this shows the importance of building depth and not becoming top-heavy, which you could argue was an issue for the Oilers despite having two generational talents in McDavid and Leon Draisaitl. As great as the Blackhawks' 2010 dynasty teams were, they thrived because Patrick Kane, Jonathan Toews, and Duncan Keith all had great role players around them.
There were some nice positives in season one of the rebuild. Lukas Reichel tallied 15 points in 23 games and should be a fixture in the top-six moving forward, while defensemen Alex Vlasic, Wyatt Kaiser, and Isaak Phillips showed flashes of potential. Despite his .894 save percentage, goaltender Arvid Söderblom looked confident and could be a solid backup once the team is competitive.
The building blocks may already be coming together, and the fact the Blackhawks have as much cap space as they do is a luxury in itself. The team must continue to effectively develop their prospects while also finding players who could fit with Bedard as soon as this free agency.
Drafting Bedard Doesn't Mean the Rebuild Will Go As Planned
Bedard could be McDavid or Crosby-caliber, or perhaps he hits a lower tier of stardom and has more of a Nathan MacKinnon-like career, which would still be impressive. There's always a chance it takes him a season or two to fully adapt to the NHL game, similar to Jack Hughes' trajectory. During Hughes' first two seasons, he recorded just 52 points in 117 games before scoring at over a point-per-game pace in 2021-22.
Again, Bedard will help the Blackhawks on and off the ice. That doesn't necessarily mean the rebuild will pan out; draft picks and prospects aren't sure things. Despite their young talent, the Detroit Red Wings and Ottawa Senators have gone seven and six seasons, respectively, without a playoff berth. When the Buffalo Sabres drafted Jack Eichel second overall in 2015, he was considered a future star, but the team couldn't properly build around him. They had to rebuild again, ultimately trading him without even sniffing the playoffs in their first attempt.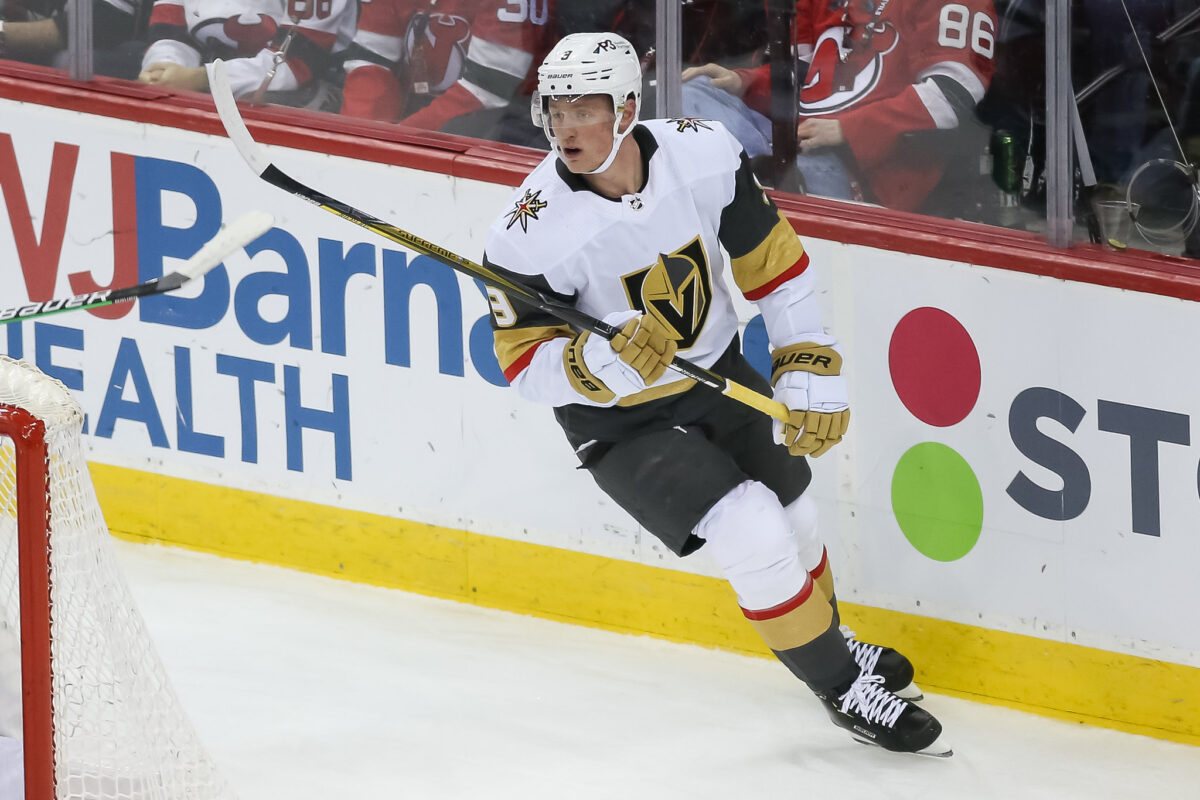 Though a few of his moves have been unpopular, Davidson deserves credit for his approach to the rebuild. The Blackhawks entered draft day last summer without a first-round pick and ended up with three. There's also a chance they get an impact player at No. 20 overall in this year's draft – which they landed from the Tampa Bay Lightning in the Hagel trade. Defenseman Kevin Korchinski and forward Frank Nazar, two of last year's first-round selections, as well as goaltender Drew Commesso, are just a few names who could be part of the next core.
---
---
Fans have every reason to be excited. The Blackhawks said goodbye to Kane fewer than three months ago and are already preparing to welcome their next star. The team got incredibly lucky in Monday's lottery, and it still feels unreal, knowing their downward trajectory since their last Stanley Cup in 2015.
The Blackhawks now face the hard part of their rebuild: assembling their next championship team. Between their draft capital and salary-cap space, they're in a great position, but they can't neglect the long-term process while building around Bedard, who'll likely be their next star.