The '12 Days of Christmas' is a classic holiday song first published in its current form in 1908. In a nod to the classic carol, join The Hockey Writers as we count down the 12 Days of Hockeymas. Each day, we will provide you with a piece of hockey history as we eagerly await the start of the 2020-21 NHL season.
The St. Louis Blues have had some formidable offensive threats in their history. Greats like Doug Gilmour, Adam Oates, Brendan Shanahan, and even briefly "the Great One" Wayne Gretzky have spent time with the organization. More recently, Vladimir Tarasenko, when healthy, has been one of the most consistently prolific scorers in the NHL.
But the franchise has been repeatedly cursed by temporary contracts, bad negotiations, and short tenures. Gretzky left after half a season. The Blues traded Shanahan for a young defenseman named Chris Pronger (though that worked out well for both sides). Gilmour left for the Calgary Flames. Most of the greats that have spent time with the franchise have left sooner than fans would have liked. And as a result, the Blues have just three 300 goal scorers in franchise history.
But each of those three has had a significant impact on the franchise, and they are three of the most important faces in franchise history. One is the Blues' greatest player, one is the Blues' greatest captain, and the third is one of the best pure scorers in the history of the game. You may be able to guess their names, but let's take a look at the three greatest scorers in Blues' history.
Brian Sutter, 1976-1988 (303)
Brian Sutter was the greatest captain in Blues history. A natural leader, the team named him captain in just his third full season, and he would serve in that role until his retirement after the 1987-88 season, longer than any other Blue. Then, he would become the team's head coach, one of the four to win a Jack Adams Award behind the Blues' bench.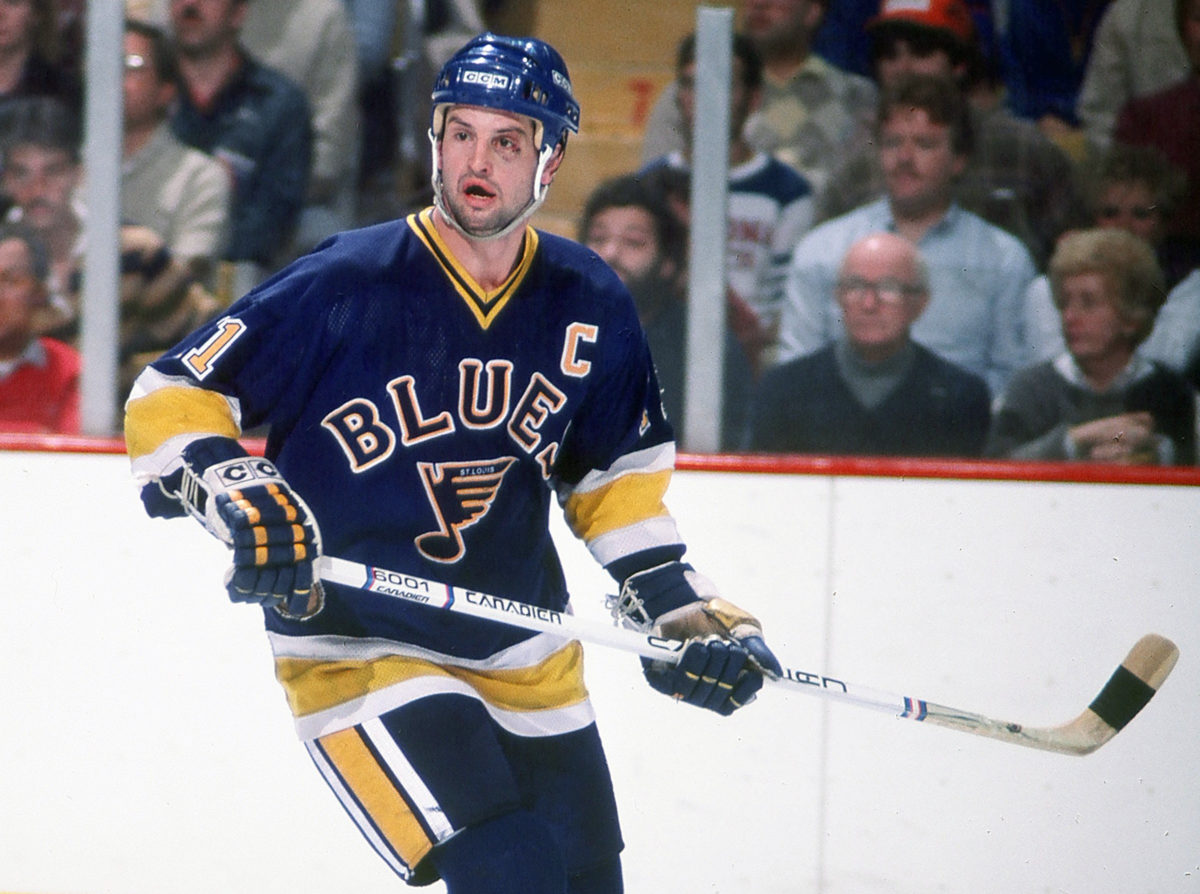 Sutter was never the best player on the team, but he was consistent. He averaged 0.816 points per game in his career, and had seven consecutive 20-plus goal seasons. Of those seven, five in a row had 32-plus goals, and two total hit the 40-goal mark. He had his best goal-scoring season in 1982-83 with 46, adding 30 assists for 76 points in 79 games.
Sutter was the embodiment of an 80s heart and soul player. He logged 1,786 penalty minutes (PIMs) during his career to go along with his 636 points. With 15 goals in his final season, he retired with 303 in his career, all for the Blues, the only team he ever played for. Like the other three players in this article, his number 11 is one of the seven numbers retired by the Blues, as of this writing (Pronger was scheduled to join their ranks during the 2020-21 season unless the COVID-19 pandemic changes those plans).
Bernie Federko, 1976-1989 (352)
As great as the third player on this list is, Bernie Federko is indisputably the greatest player in the history of the franchise, probably under-appreciated by hockey fans because of the era he played in. Like Sutter, he was the pillar of consistency, incredibly passing the 90 point threshold in seven of eight seasons during the heart of his career.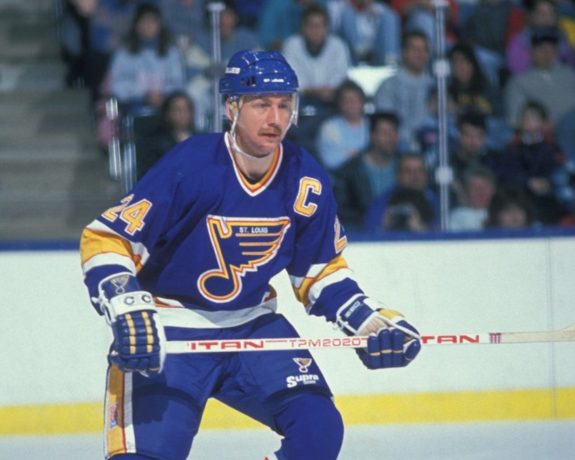 Always more of a playmaker than a scorer, the goals came slowly for Federko, with a 41-goal season in 1983-84 (his best season overall) being his pinnacle. But they came steadily, as he scored 20 or more goals in each of the ten seasons during the 80s. Playing alongside the likes of Gretzky, Mario Lemieux, and Mike Bossy, Federko never finished higher than 10th place in Hart Trophy voting, but he was the team's most valuable player by far during that era (and perhaps any other).
Federko spent one season with the Detroit Red Wings at the end of his career, an awful trade for Detroit that sent Adam Oates to St. Louis. He would retire with 1,130 points in exactly 1,000 games, 1,073 and 927 of those, respectively, with the Blues. Both numbers lead the franchise's record books, showing the kind of significance he has in club history. And since returning from Detroit, he has been a constant fixture for the team on broadcasts and in the booth.
Brett Hull, 1988-1998 (527)
The only personality that looms larger than Federko's in franchise history is Hull's, as Blues' fans consider him the best player to have spent most of his career with the team. Unlike Federko, though, Hull spent a considerable amount of his career elsewhere, which is why the elder statesman edges him out in the "greatest player" conversation. Hull was unquestionably the franchise's greatest goal-scorer, though, as he is the only Blue to hit either the 400 or 500 goal mark with the team.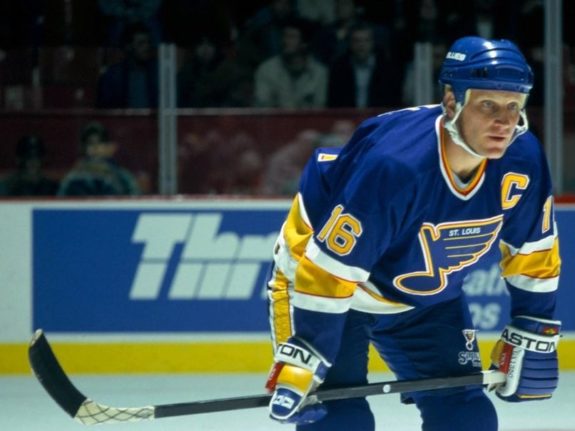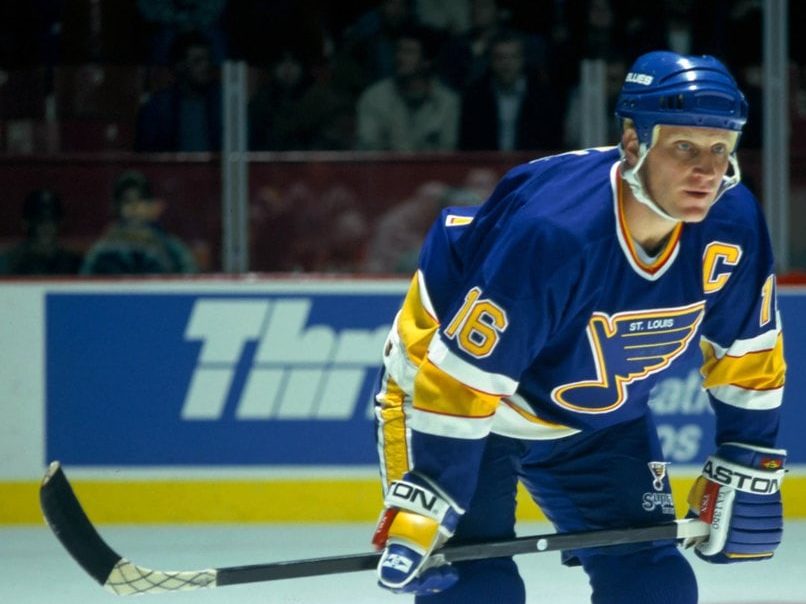 Hull reached his goal-scoring peak during the 1990-91 season when he scored 86 goals, consider the greatest era-adjusted goal-scoring season in NHL history. That was the middle of three consecutive seasons beyond the 70 goal mark, as he hit 72 to the season prior and 70 the season after. Apart from the 1994-95 season (shortened by lockout) and his final season in St. Louis (1997-98), Hull never scored fewer than 40 goals in a season with the Blues.
He would spend the final six seasons of his career with the Dallas Stars and Detroit, adding five games (but no goals) in a failed final season with the then Phoenix Coyotes. In his time with the Blues, he scored 527 goals, by far the most by any Blues player and a record that likely won't soon be broken. In his career, he scored 741, which has him ranked fourth all-time until Alex Ovechkin presumably catches him.
The Next 300 Goal Scorer?
It might not be long until another name joins this list of franchise great goal scorers. If Tarasenko can return to full health, he will only need 86 goals to hit the 300 goal mark. And given that he passed 30 goals each of his last five fully healthy season, and has three seasons left on his current deal, he could certainly reach that mark before his contract ends.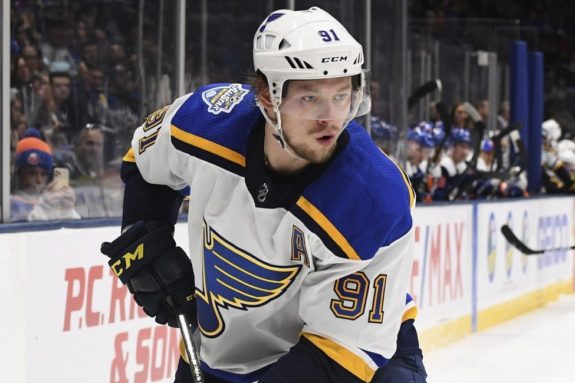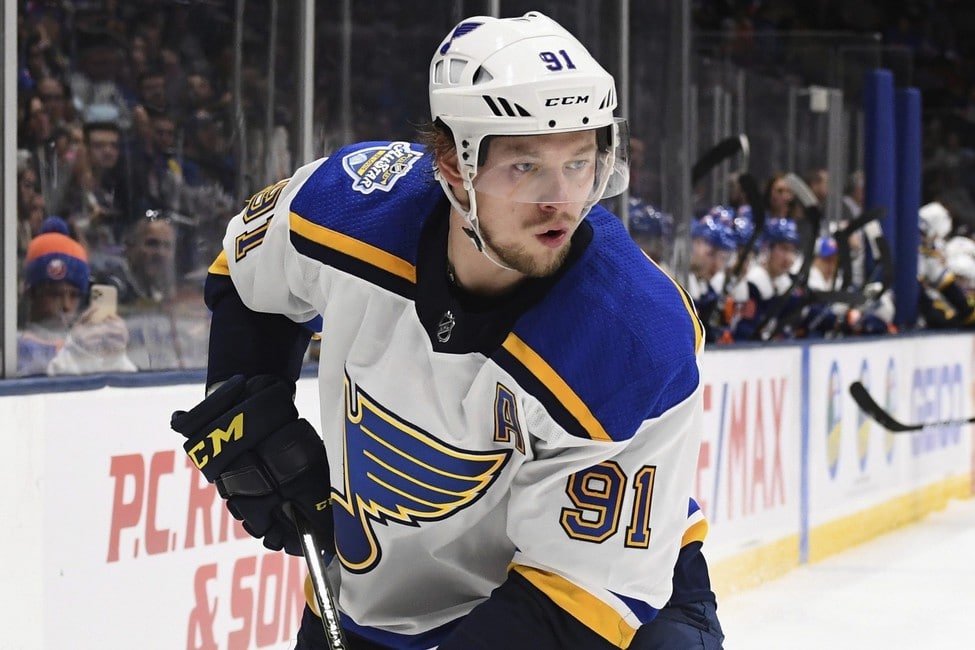 Of course, Blues fans are hoping he gets healthy and stays around a lot longer than that. If he does sign another long contract in St. Louis, he can at least give Hull a run for his money, and if he keeps up a 30 goal average season he just might catch him.
If not Tarasenko, it's not obvious who the Blues' next 300 goal scorer will be. Jaden Schwartz could do it if he signs another long deal and stays healthy. David Perron has 150 as of this writing, but would need to pick up the pace and sign another long extension to double that.
Beyond that, though, the Blues have a promising crop of goal-scoring youngsters who could do it. Zach Sanford has had a four-goal game in his young career, proving that he can score goals in bunches. And young prospect Jordan Kyrou has tons of promise but has barely started his NHL career. We can't know for certain who will be the next Blues' 300 goal scorer, but we can be sure that he will become a franchise legend like the other three on this list.
---
---