The St. Louis Blues hold the 10th overall pick in the 2023 NHL Entry Draft. This will be their their highest selection since the 2008 Draft, where they selected defenseman Alex Pietrangelo as the fourth overall pick. That pick worked out pretty well. Pietrangelo played 758 games as a Blue and was the captain of their first Stanley Cup-winning team in 2019.
Related: Blues 2023 First-Round Draft Targets: Brayden Yager
With the supposed strength of the 2023 Draft class, the Blues should have the opportunity to select an elite prospect in the 10th slot. I would be stunned if Blues general manager Doug Armstrong doesn't make this pick. However, the other two first-round picks they have might be a different story. Let's get into some prospects that they could target with this pick.
1. Brayden Yager, C, Moose Jaw Warriors (WHL)
First up is Brayden Yager, a center from the Moose Jaw Warriors of the Western Hockey League (WHL). The rankings for Yager vary anywhere from ninth to 22nd across the board. His highest ranking of note is from TSN's Bob McKenzie, who had Yager seventh in his midseason rankings. He is an intriguing player for the Blues at this spot.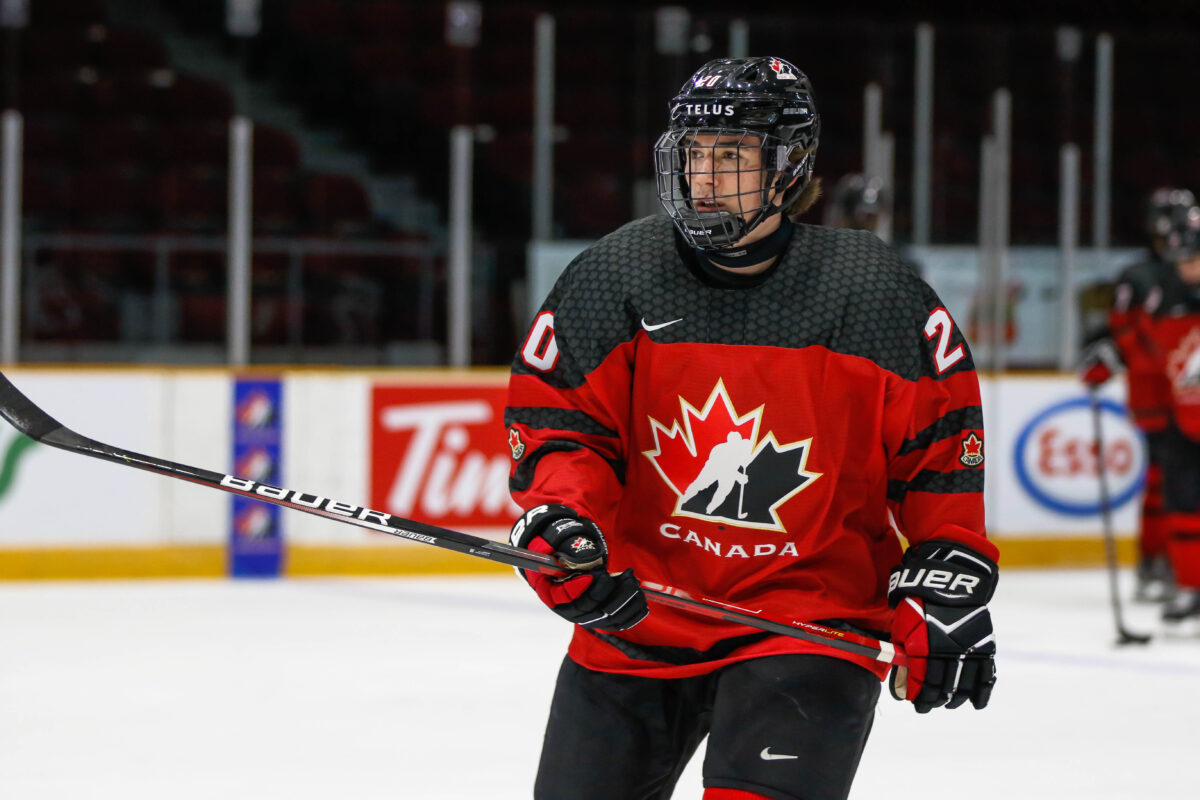 His production in the WHL has gone up in each of his three seasons. He had 59 points in 63 games in 2021-22 and 78 points in 67 games in 2022-23. THW's own Devin Little raved about Yager's overall ability in his prospect profile, "Overall, perhaps Yager's best trait is how active he is all over the ice. Though he is not the best skater (his skating is average at best compared to the rest of his draft class) he does move his feet in all areas of the ice. That includes the defensive zone where he doesn't just participate in defensive coverage, he actively pursues the puck-carrier and backchecks like a true two-way centerman. He will need to add a lot of strength over the next few years to really tap into his defensive abilities, but if he can, he'll become an all-situations centerman at the NHL level."
---
Latest News & Highlights
---
He is the type of center that the Blues like with his all-around potential. The relentlessness that he offers in all three zones sounds a lot like Brayden Schenn. In terms of organizational fit, Yager could be the best option for the Blues with the 10th pick.
2. Dalibor Dvorsky, C/RW, AIK (Allsvenskan)
Next up is Dalibor Dvorsky, a Slovak forward. The consensus overall ranking for him right now is in the 10 or 11 range. He's played over 50 games in the second-tier Swedish pro league HockeyAllsvenskan. It would not surprise me to see him selected before the Blues get their chance at 10. He has the tools to become a quality two-way forward in the league for many seasons to come. He has shown the ability to play at the professional level in Sweden, even at 17 years old.
"Dvorsky is a versatile forward with hands and offensive smartness that is one of the best in the 2023 draft class. When you combine that with a shot that has both enormous power and accuracy you know you won't get disappointed when he gets into the offensive zone." 

Fredrik Haak, FC Hockey
One of the most intriguing parts of Dvorsky's game is his shot. He has a great shot that can set him up for success at center or on the wing. He projects as a reliable and safe pick in this draft, so the Blues should keep that in mind if he's on the board. He would not be remotely available with the 10th pick in some other draft years.
3. Axel Sandin Pellikka, RD, Skellefteå AIK (SHL)
The one and only defenseman on this list is Axel Sandin Pellikka. There aren't any other defensemen outside of Sandin Pellikka and David Reinbacher worth taking with the 10th pick right now. There's also a strong chance that Reinbacher could be taken before the Blues make their first pick. While they need to inject some life into the defensive prospect pool, taking the best player available must be their top priority in this first round. However, Sandin Pellikka could be just that depending on how the board falls.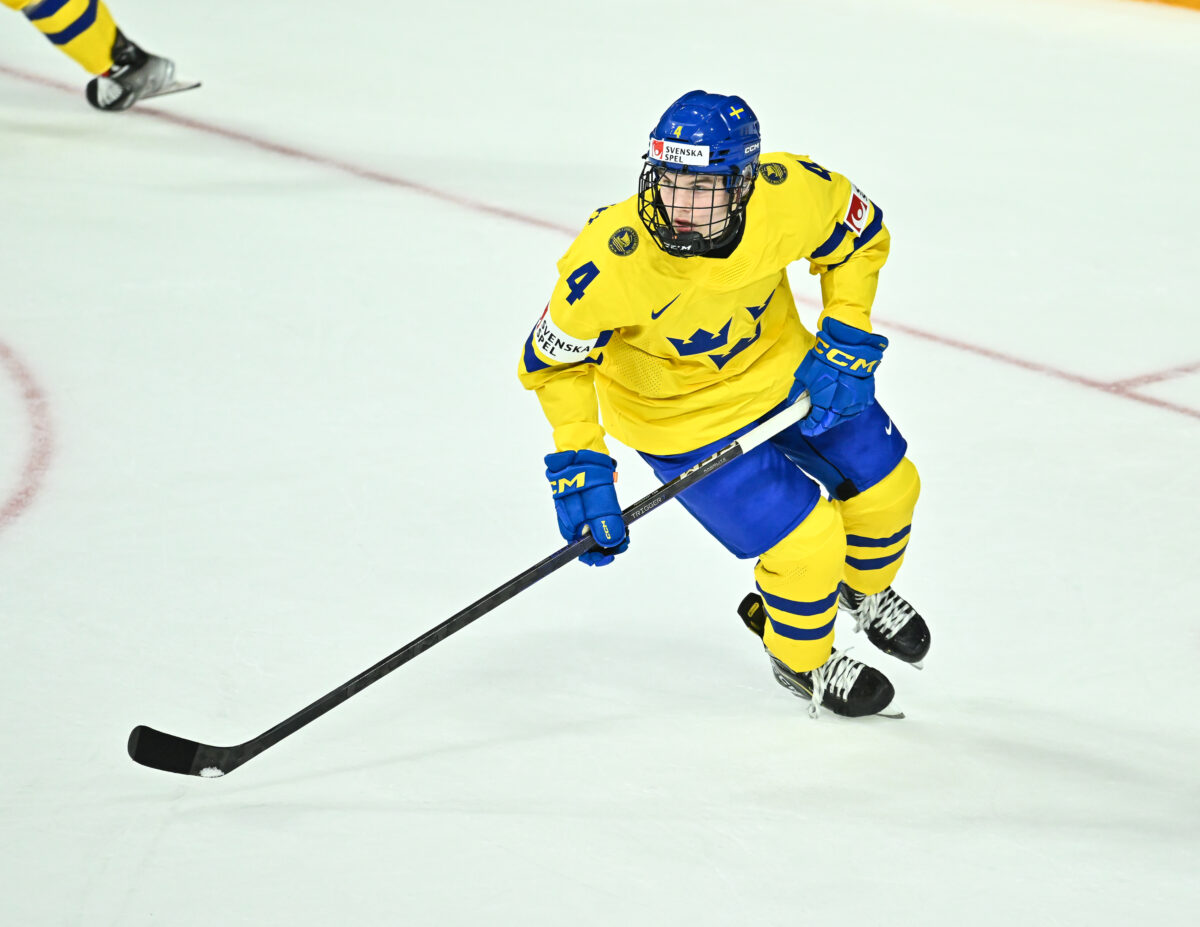 Sandin Pellikka is viewed as one of the best defensemen in this class for several reasons. His offensive ability is off the charts. He plays with great offensive knowledge and instincts. Size and strength could be a concern for him though. He's 5-foot-11 and 176 pounds. I don't know if he is the prototype of defensemen that the Blues need right now, but he's extraordinarily talented.
Sandin Pellikka has plenty of time to develop his strength and defensive game. If he can do both of those things, he will be an elite power-play quarterback with solid defensive ability. I would not be upset if the Blues chose him with the 10th pick. In fact, I would be happy.
4. Andrew Cristall, LW, Kelowna Rockets (WHL)
The Blues might not be able to select a player with more offensive upside at pick No. 10 than Andrew Cristall. While there are reasons to worry that he may become a bust, he had an incredible season in the WHL. In 54 games, he tallied 39 goals and 56 assists for 95 points. He's likely to fall into the Blues' lap with the 10th pick, but it would not surprise me to see him go right before they select. He is probably a boom or bust prospect, which might not be the smartest direction to go in with the 10th pick given the safer prospects they will have the chance to select.
"He may be undersized, but he is truly one of the most talented playmakers in junior hockey already. There are passing lanes that most players would never see developing, and Cristall has the passing precision to pick them apart. Cristall is cerebral in his approach, looking for lanes to exploit as a skater through the offensive zone to attack the center lane."

Tony Ferrari, The Hockey News
There are many things that excite people about Cristall's game and that quote lays it out well. His offensive skillset is off the charts. If he can make improvements in strength and skating, he can reach his full potential as an offensive star in the NHL.
---
---
Overall, fans should be on the edge of their seats before the Blues make the 10th pick. There are going to be some terrific options for them. Any of these four players would make me thrilled. But the beauty of this draft class is that there are way more quality options than just four. This is a huge moment in franchise history for Armstrong.