The Los Angeles Kings entered last offseason in an interesting position. They were coming off a rebuild which saw them miss the playoffs for three straight seasons. They accumulated a lot of great prospects, while also maintaining some of the championship core from 2012 and 2014. The development of players and a weak Pacific Division opened the door to them being contenders once again headed into 2022-23, but there were still areas that needed to be addressed. General manager Rob Blake had some moves to make both in the summer and in the offseason. Some of them worked out really well and led to the Kings being a comfortable playoff team that had a chance of doing more in the postseason.
Blake's Big Move for Kevin Fiala
The big splash that Blake went for was trading for Kevin Fiala before the 2022 Draft. The Kings gave up a first-round pick, the 19th overall selection, and Brock Faber. Faber looks like a solid defenseman from his brief stint in the NHL at the end of the season, but so far this looks like fair compensation for the Kings to give up for Fiala. This trade was made to improve the power play and to give the team a dynamic playmaker on the wing.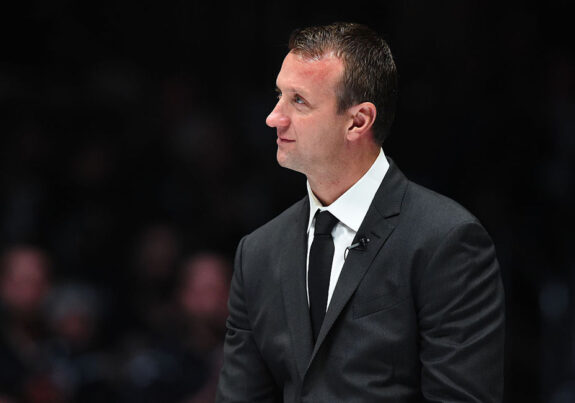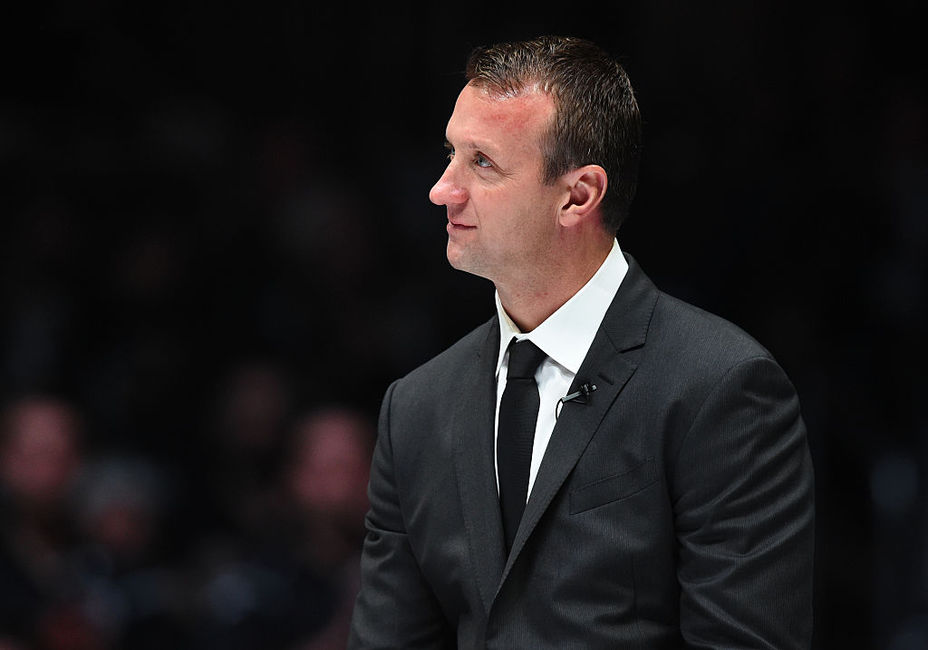 Fiala was exactly as advertised in his first season in LA. He set a career-high in points per game, with 72 in 69 games before his late-season injury. He also had six points in the three playoff games he appeared in, which actually were his most career points in one postseason. The power play was much better with Fiala, going from the 27th-ranked team in 2021-22, to the fourth-best in 2022-23.
Related: Kings' Fiala Trade is Paying Off
This trade also came with a seven-year contract for Fiala at a $7.875 million cap hit. That's looking like fair value at the moment given his production. It's hard to knock any part of this deal for the Kings, and Blake deserves a lot of credit for making this move. He dealt from a position of strength, the Kings' prospect pool, and addressed a need with a player who will contribute for years to come. He gets an A- for this trade; the only reason it's not an A is that he potentially gave up two strong assets to acquire Fiala. That's the cost of doing business of course, but to get an A the trade has to be completely perfect.
Re-Signing Moore and Anderson
The Kings didn't make any major signings of unrestricted free agents in the summer, and went into the 2022-23 season with a similar roster to what they had in 2021-22. They gave new contracts to Gabriel Vilardi, Mikey Anderson and Jarret Anderson-Dolan as they were restricted free agents. The task during the season was to determine how integral players such as Anderson and Trevor Moore were to the team, as they were both on expiring contracts. Blake made his determination that they were both players he wanted on the team long-term.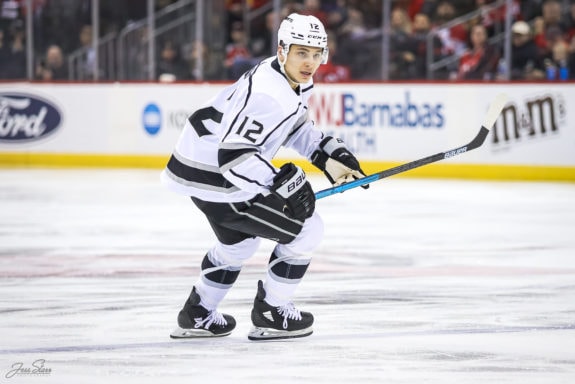 The first deal Blake took care of was signing Moore. On Dec. 15, Moore and the club agreed on a five-year extension with an average annual value of $4.2 million. At the time of the signing, he had scored seven goals in 33 games, which put him right on pace to score about the same as he did in his previous season. With his ability defensively and on the penalty kill, chipping in for nearly 20 goals a season would have made his salary a good deal. Instead, his production fell off after he got the extension. He scored just three more goals during the rest of the regular season, though he missed a good chunk of time due to injury.
---
---
Moore will be getting paid close to what a second liner makes starting next season. The Kings will need him to get closer to the 48 points he had in 2021-22 to get full value out of this contract. His 29 points in 59 games in 2022-23 put him on pace for 40 over 82 games. He did have the lowest shooting percentage of his career, and the Kings will hope that regresses next season.
Anderson got his extension on Feb. 15. His deal was for eight years at a $4.125 million cap hit. The length of the contract bought up four years of potential unrestricted free agency at the end. It's not typical for a defensive defenseman to get signed to this kind of term at the age of 23, but Blake identified Anderson as a player that he wanted as a part of the future of the team. He has a nice role next to Drew Doughty on the team's top defensive pair, where he should remain for the near future.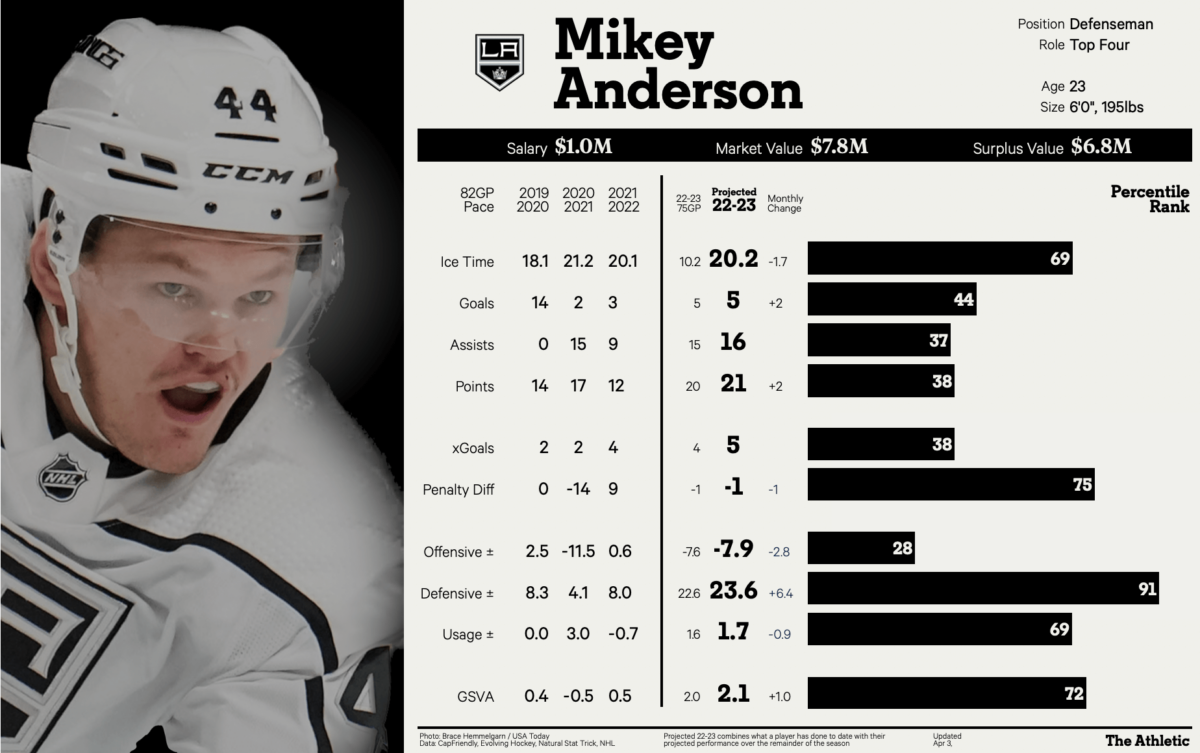 As you can see from the player card above, Anderson has a large impact on the defensive side of the puck. Because of this, his contract could look like a bargain in the coming years if he is able to maintain or exceed this level of play defensively. It would be nice to see him add a few more points if he is going to play on the top pair, as his measly total of 20 this season was a career-high. If he keeps playing a lot of minutes with talented players, he should easily top that in the next few seasons.
---
Latest News & Highlights
---
These contract extensions locked in two players who are important but aren't necessarily part of the core. Anderson has a chance to become a part of the team's identity over the course of this contract, as he's only 23. Moore is 28, and him being one of the Kings' best players probably won't happen. He can definitely still pay off this contract though, especially as the salary cap continues to rise. These contracts overall aren't too likely to become problems, and Blake gets a B grade on these deals.
The Gavrikov and Korpisalo Trade
This was the most risky move that Blake made in the last season. Approaching the trade deadline, it was clear that the Kings were going to be in the playoffs. They also had an obvious issue with goaltending, after Cal Petersen and Jonathan Quick faltered early in the season. Pheonix Copley had come in and essentially saved the season by being competent, but it was a bit much to expect him to be the main man for any deep playoff run.
There were a few teams the Kings could have made trades with, but they ultimately decided on dealing with the Columbus Blue Jackets. They made the move to fill two needs, the obvious goaltending need and a left-handed defenseman. Blake gave up a first-round pick, a third-round pick, and franchise legend Quick in the deal for Vladislav Gavrikov and Joonas Korpisalo. Originally, some fans were unhappy about this deal. The Kings lost Quick and didn't acquire Jakob Chychrun like many were hoping they would.
Both players played about as well as fans and management could have reasonably wanted. Gavrikov was acquired for his size, but he certainly provided more than that. He had just one fewer point in 20 games with the Kings than he did in 52 with Columbus. In the playoffs, he was one of the Kings' best defensemen. He posted the best expected goals share of any of the team's blueliners. There were also moments where he used his long reach to effectively poke the puck away from Connor McDavid in the playoffs, something that many defenders have struggled to do.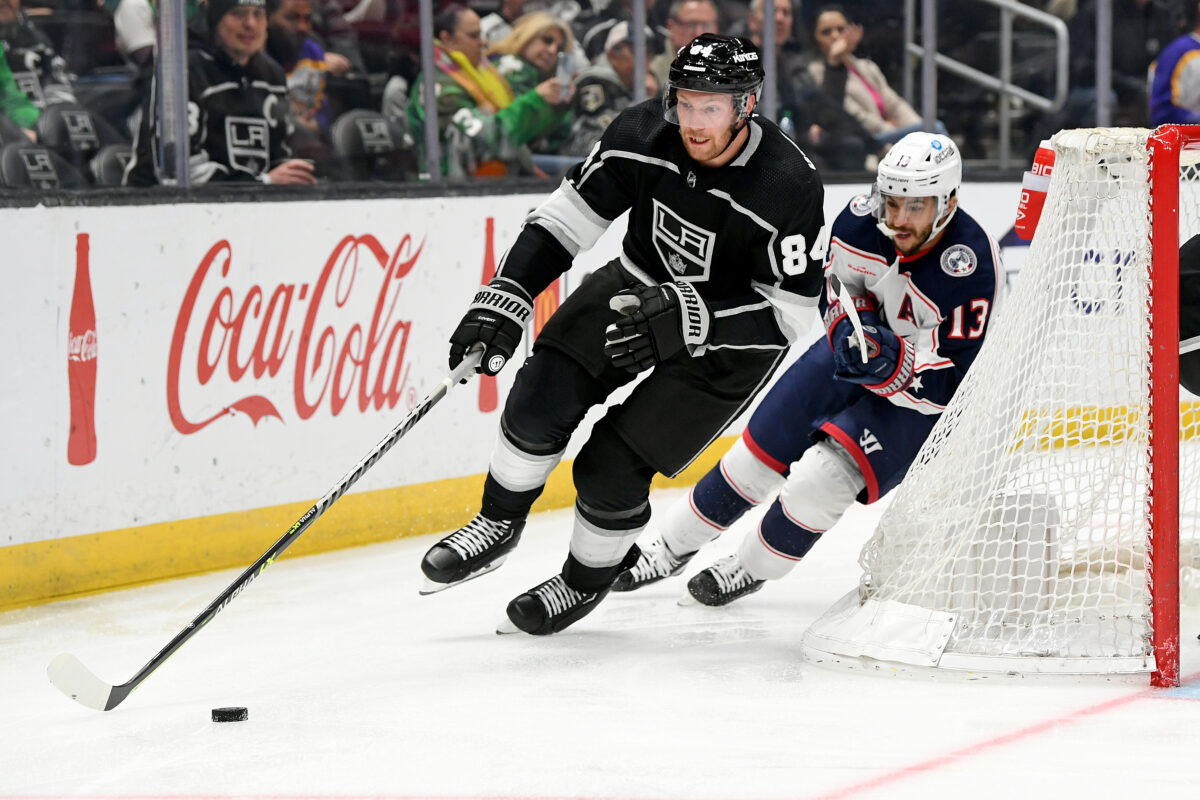 Korpisalo had played well for Columbus before being traded, and played even better in LA. He had a .914 save percentage (SV%) with the Jackets, and a .922 SV% with the Kings. Looking at more advanced data, he had 6.54 goals saved above expected with the Kings in 11 games, and 10.18 in 28 appearances with the Blue Jackets. He started all six playoff games and was fairly solid. He played especially well in the first three games when he stopped 108 of 116 shots he faced.
As well as these two new acquisitions performed, the Kings once again couldn't get past the Edmonton Oilers in the first round. They were likely headed to the playoffs before this trade, but now have to give up a first-round pick for the second consecutive draft. This isn't too big of a deal as the picks aren't in premium spots and the Kings are loaded with prospects at most positions. However, this pick could have been moved in another trade instead of for rental players on expiring contracts. A player like Chychrun or a star goaltender in Connor Hellebuyck, who could be available this offseason, would have been better uses of this pick in some sort of package deal.
Blake gets a B- for this trade, with the potential for it to get better if the Kings re-sign Gavrikov, Korpisalo, or both. Korpisalo seems the more likely of the two to return, with the obvious need at goalie still looming. They won't have too many other appealing options to play in net next season. There are many people who want Gavrikov back after how well he played, including Doughty. Ideally the contracts wouldn't be more than three years, and if Blake could pull off bringing both of these guys back, the trade would look like a win for him.
Blake's Year Overall
The moves Blake made set up the Kings to be close to contenders in the Western Conference this season. They had peaked a bit too early to be true contenders when the playoffs started, but a lot of that had to do with some bad injury luck. Overall, the moves worked out, but the Kings still have a lot of question marks over their future. They have some key players who are aging, and will need to find a way to integrate their prospects to become the core of the team. Blake earns a solid B+ for the job he did starting last offseason to the end of the playoffs. There was still some room for improvement, but ultimately he impacted the franchise positively this season.