It was widely known that the Columbus Blue Jackets were looking to trade Vladislav Gavrikov. They have been well outside the playoff race for most of the season and he is going to become an unrestricted free agent come July. The Los Angeles Kings landed him, acquiring him and Joonas Korpisalo in exchange for Jonathan Quick, a conditional first-round pick, and a third-round pick. The question is, what can he bring to the Kings and where does he fit on the team?
Gavrikov's Skill Set and Player Profile
Gavrikov was drafted in the sixth round in 2015. He spent four seasons in the Kontinental Hockey League (KHL) before coming over to Columbus, and he won a gold medal with the Olympic Athletes from Russia in 2018. The Blue Jackets brought him to the club during the 2019 Playoffs, and he played two games to get his feet wet in the league.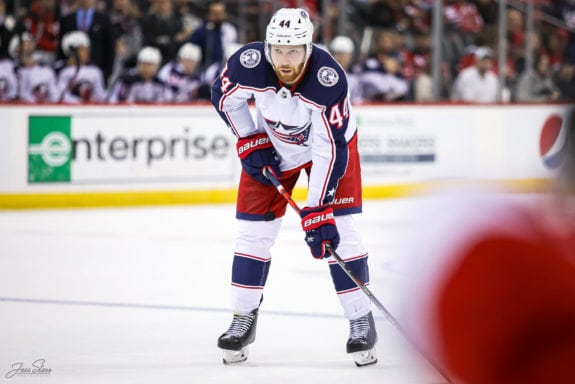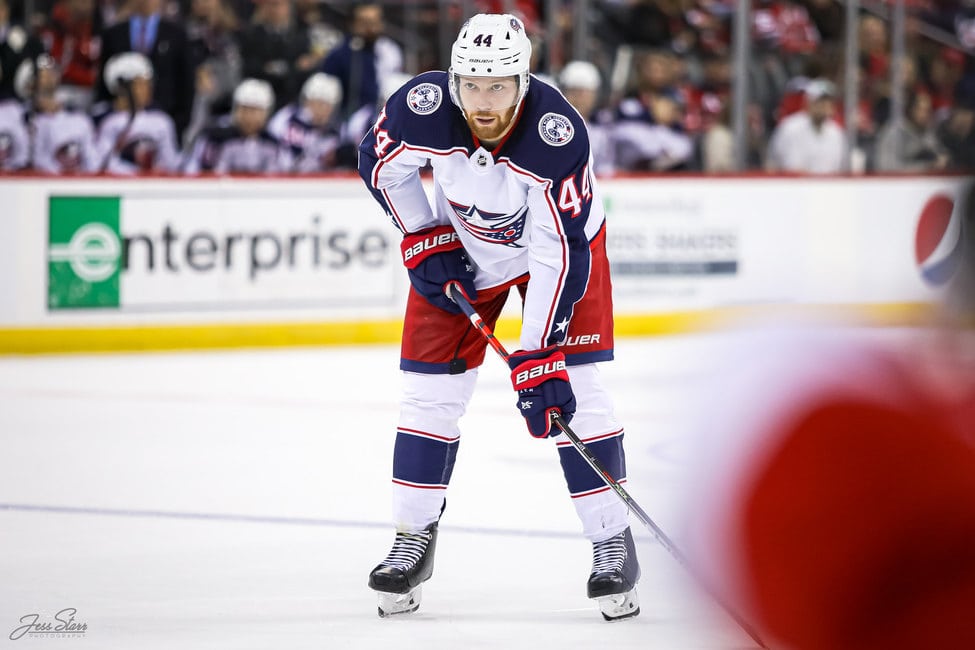 Gavrikov's 6-foot-3, 214-pound frame has led to stereotypes about how he might play defense, and they've mostly been true. He has been a true stay-at-home defenseman, offering very little offensively, with 73 points in 256 career regular-season games. He is also not particularly adept at moving the puck either.
The Kings didn't acquire Gavrikov for his offense but for his solid defensive play on the left side, and to take the spot of Alex Edler or Sean Walker. These two defensemen have a combined 19 points this season, so anything Gavrikov can chip in would be a bonus.
Related: Kings' Trade Deadline Needs
If the Kings would have traded for Jakob Chychrun, it would have been a big boost to the production from the blue line, while he also would have been solid defensively. He is a more modern NHL defenseman than Gavrikov, able to move the puck through passing or skating. It would have cost the Kings more draft capital to get Chychrun, and they probably still would have had to move salary as they did by moving Quick. Giving up first- and second-round picks like the Ottawa Sentaors did to get Chychrun and a player off the roster would have been expensive. For a player like Chychrun, who has term after this season, it would have been easier to justify giving up this much. The real hang-up seemed to be that the Arizona Coyotes did not want to retain any of his salary, which the Kings needed.
Gavrikov's Underlying Numbers
A lot of teams were interested in Gavrikov for his size, but if they took a deeper look at his advanced stats, they might have shied away. He has not posted a positive Corsi relative to his teammates since his first full season in the league, and even that was plus-.05 percent.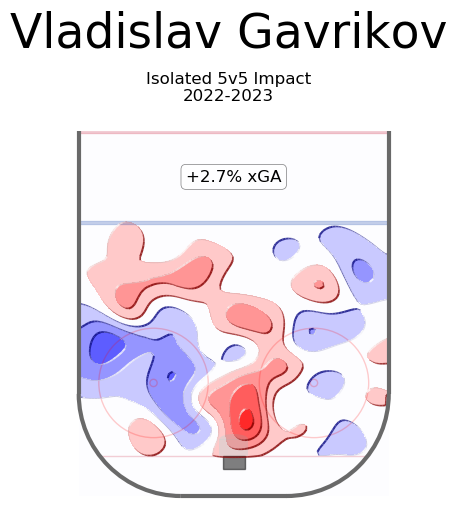 What's more concerning is that Gavrikov has allowed a lot of shots from the most dangerous area on the ice. His size has not prevented players from getting shots from the slot. If he was better at moving the puck out of the zone, this map might look more favorable. To be fair, Gavirkov will get better defensive support from both his defense partner and the forwards on the Kings than he ever did with the Blue Jackets.
Looking Ahead to Gavrikov with the Kings
Gavrikov has now played four games with the Kings and managed one goal and one assist. He's also averaged 19:45 of ice time, and the Kings won all four games. That's the third-most ice time for defensemen on the team, behind only the top pairing of Drew Doughty and Mikey Anderson.
---
Latest News & Highlights
---
Gavirkov can also really help the Kings improve on the penalty kill. They have the 10th-worst penalty kill success rate in the NHL. Since his arrival, the team has gone 11 for 14 down a man, and Gavrikov has been on the ice for just one goal in 7:24 of shorthanded ice time. He won't be seeing any power-play time under normal circumstances, so eating minutes on the penalty kill is where he can contribute to special teams.
The Kings needed help on the left side of their defense, and they could have done that with a player who is a bit more mobile than Gavrikov. It could be tough for him against a speedy team in the playoffs, especially the Edmonton Oilers, but they'll need him to match up against the league's highest-scoring team and best power play, as that responsibility can't just fall on the Anderson-Doughty pairing.
Given what we now know about Gavrikov, the Kings took a huge risk by giving up a first and third-round pick for him and Korpisalo. These could both end up being rental players, and if they don't have any playoff success, these rentals will have been all for naught. Gavrikov himself will be a huge part of whether or not the Kings can make any noise in the playoffs, especially if he continues to be essentially their number three defenseman. He'll need to do more than just use his size if the team wants to go on a long playoff run. If he can be effective in another area, he will be a great addition to the team for the rest of the season.
---
---