The Seattle Kraken played their tenth playoff game in franchise history in Game 3 against the Dallas Stars, and boy, was it memorable as they defeated their second-round opponent 7-2. The win joins a long list of moments from this exciting postseason run that Seattle fans will remember for a long time. Here is a look at some of the statistics from the Kraken's first ten games that show just how good this team has been during the 2023 Stanley Cup Playoffs.
All statistics are as of end of day, May 7, 2023
16 Different Goal Scorers
Just like in the regular season, the Kraken have been successful because they are getting goals from their entire lineup. Sixteen players have found the back of the net this postseason, which is the most by any team. Seattle has ten players who have scored multiple games, including Tye Kartye, who, before Game 5 of the Kraken's first-round series versus the Avalanche, hadn't played a game at the NHL level. This type of depth scoring is what makes separates the pretenders from the contenders and will need to continue if the Kraken are going to push past Dallas and into the Western Conference Final.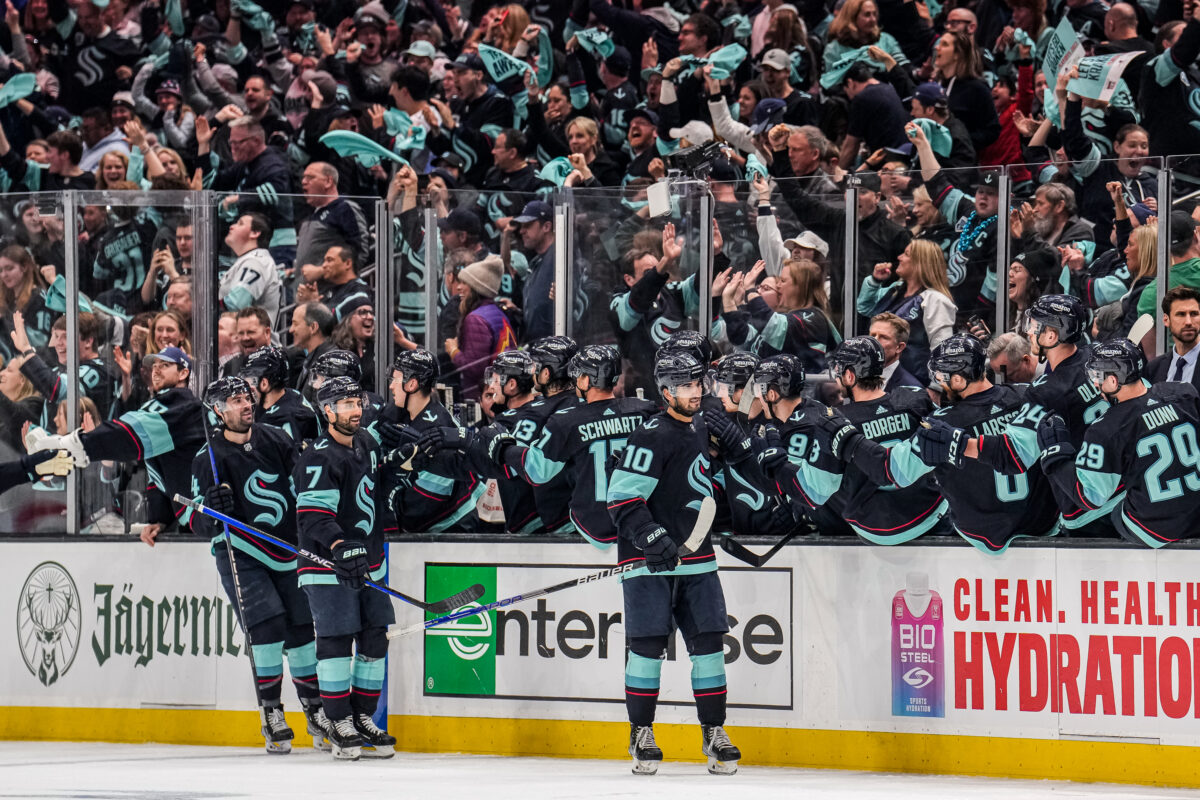 Another impressive statistic is that only twice over the ten games have the Kraken had a player score multiple goals in a game. The two occasions both happened against Colorado, with the first one happening in Game 3, courtesy of Jaden Schwartz. The other one was in Game 7, where Oliver Bjorkstrand scored both of Seattle's goals as they punched their ticket to the second round. This is one of the reasons why it is so difficult to shut down the Kraken this postseason, as they are getting scoring from all four lines as well as the defence on a game-to-game basis.
Kraken's Phyciality on Full Display
Only one team has more than 400 hits this postseason, and that is the Kraken. So far, they have thrown 411 hits, with Adam Larsson, Jamie Oleksiak and Brandon Tanev all over the 40 mark already. This also has been a team effort as all 20 skaters, including Jesper Froden, who played 4:09 in his one playoff game, have a hit. That shows that whether it is goal-scoring or throwing hits, Seattle is getting contributions from their entire lineup.
Related: Kraken vs Stars – Everything You Need To Know
---
Latest News & Highlights
---
Playoff hockey is more physical in general, but the increase in hits the Kraken have between the regular season and postseason is massive. Through 82 regular season games, they had 21.77 hits per game, which ranked 21st in the league. Through ten playoff games, they are averaging 40.08 per game, ranked second among teams who made the second round.
To put that in perspective, the Kraken are averaging 18.31 more hits than they had on a per-game basis in the regular season. Ten players are averaging over ten hits per 60 minutes played compared to one during the regular season, while 16 have already surpassed the double-digit mark. Seattle's willingness to play this physical style has yet to be answered by their opponents and is a contributing factor in their current 2-1 series lead over the Stars.
Kraken's Scoring By Period
When breaking down the Kraken's scoring by period, it is clear the first is where they play their best hockey. Through ten games, they have outscored the opposition 11-6 while only giving up goals in the first on four occasions. This is not overly surprising, as Seattle did finish third in the league in first-period scoring, but they are doing a much better preventing goals in the opening frame compared to the regular season. It is much easier to play with the lead than attempt to come back in a game, which is why the team's ability to score first-period goals with regularity has been crucial to their success this postseason.
While Seattle has no problems scoring goals in the second, as they have 13 so far, they have struggled in the third period, only producing six through the ten games. On the flip side, they have allowed 13 goals in the second period, while in the third, they have given up ten. Focusing on their scoring drought in the third, there is a good reason for it, as the Kraken have been leading after the second period on five separate occasions. When this happens, they go into a defensive state. And while they do try and generate scoring chances, they are more interested in killing the clock, whether that be through the use of cycles down low or dumping the puck into the offensive zone. So far, this plan has worked all five times, but this will be a trend to watch over the remainder of their playoff run.
Grubauer Holding Seattle in Games
Coming into playoffs, one of the biggest question marks surrounding this Kraken team was the play of goaltender Philipp Grubauer. For the second consecutive season, he posted a save percentage (SV%) of below .900 and failed to record a shutout for the first time since the 2015-16 season. While these concerns were valid, he has proven many wrong, as he has been one of Seattle's best players through the first ten games of the playoffs.
Related: Adjusting How We Evaluate and Analyze Goaltenders
Looking at his advanced analytics shows just how solid he has been for this Kraken team. In the regular season, he posted a goals saved above expected of minus-0.7, meaning he allowed more goals than he should have based on scenario and shot placement. In the postseason, that number has jumped to plus-3.3, meaning he is making more saves than projected based on the shots he is facing.
Grubauer has also been virtually unbeatable on the penalty kill, as he has allowed just three goals on 52 shots despite facing the fifth and sixth-best power plays during the regular season. Goaltending wins championships, and right now, he's showing why the Kraken made him their highest-paid player when they signed him during the 2021 offseason.
Kraken Continue To Prove Doubters Wrong
Through ten playoff games, it is hard to complain about the Kraken's results, as they are one of three teams to have won six games so far in the postseason. They have taken down the reigning Stanley Cup Champions and found a way to score 14 goals in three games against a Stars team that finished the regular season with the third-fewest amount of goals against. It has been an exciting ride so far, with plenty of more memorable moments still left to come.
---
---