On a scale of 1-10, how much did you believe you'd be reading these words? I absolutely wasn't sure I'd be writing them. Alas, the Seattle Kraken gave me no choice, as they dethroned the defending Stanley Cup champion Colorado Avalanche in seven games, after their series-clinching 2-1 victory in Game 7.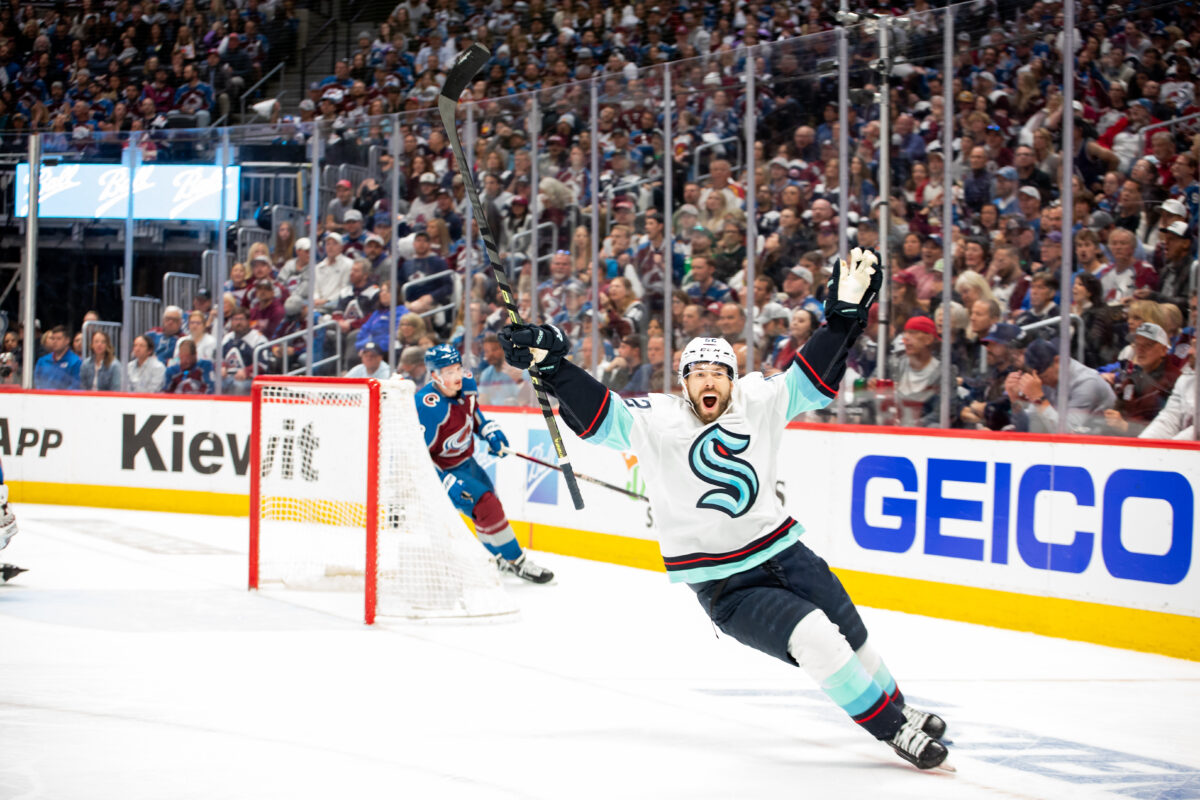 The Kraken did it. They did exactly what they needed to do to get the job done. They attacked, they defended, they played a full team game, utilized their depth, and Philipp Grubauer stood on his head. THW's Adam Kierszenblat summed up Grubauer following this series. "Most know 'Gru' as the leader of the Minions, but in Seattle, he is known as the leader of the Kraken." Personally, I never watched "Minions," so shoutout to Adam for the great quote, because he couldn't be more accurate right now.
The Kraken are filling the history books in just their sophomore season in the NHL. Before we look ahead to their first Round 2 matchup in franchise history, let's look at some takeaways from their first Game 7 victory. As usual with my Kraken Takeaways articles, there are some "Seattle Shoutouts" at the end too that you won't want to miss.
Kraken Stick To Identity and It Pays Off
The Kraken have formed an identity this season, and it's one of a team that wins as a result of its depth. They had 13 players score 13 or more goals during the regular season, including six scoring 20 or more. They also had 18 players score at least 20 points, with eight recording 40 or more. That offensive depth has carried over into the playoffs, and has been crucial in making up for the loss of Jared McCann.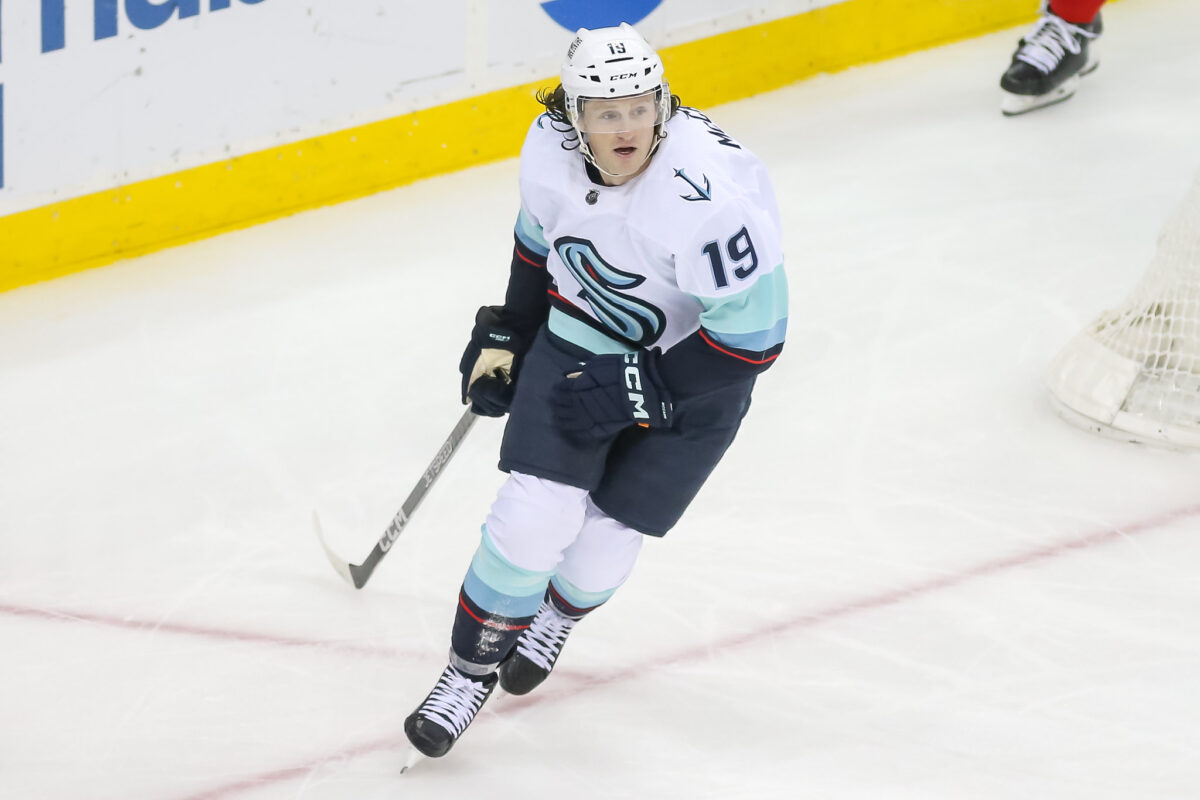 During their Round 1 series with the Avalanche, they had three multi-goal scorers, and no player scored more than two goals. In total, 15 different Kraken scored a goal, including four defensemen; yes, you read that correctly. Every skater scored at least one point in the seven-game series except for Jesper Froden, who played one game, and Ryan Donato, who suited up for all seven. 
Their top-line, 40-goal-scoring winger was lost during Game 4, and the depth of this team was able to aid their offensively-struggling first line. Jordan Eberle had his game-winning goal, but just two assists besides that. Matty Beniers scored a goal, and McCann did have an assist while healthy, but besides that they were quiet. The Kraken are a team that wins by committee, and they proved that both in the series and in Game 7 with two goals from their third line, which naturally included the game-winner. 
The Emerald City's "Light Brigade" Courageous in The Face of an Avalanche
Ahead of Game 7, I wrote an article identifying three keys for a Kraken victory. In my second key, special teams, I made a reference to a poem by Alfred, Lord Tennyson called "The Charge of the Light Brigade." I said I'd elaborate more after Game 7's outcome, so here we go.
Related: 3 Keys to a Kraken Game 7 Win Over the Avalanche
The story of the poem dates back to the Crimean War, specifically the Battle of Balaclava in 1854. A brigade of British soldiers, vastly outnumbered by Russian troops, obeyed misinterpreted orders to attack, which put them at a severe disadvantage. It made me think of the Kraken, and one part specifically that came in the second stanza. It's what I referred to in the aforementioned piece, having written of the Kraken, "They need to do, so they don't die."
"Theirs not to make reply,
Theirs not to reason why, 
Theirs but to do and die. 
Into the valley of Death
Rode the six hundred."


-Stanza II, Alfred, Lord Tennyson's "The Charge of the Light Brigade"
Everyone heard the noise surrounding this series. In ESPN's Stanley Cup playoffs picks article, 27 (!!!) out of 29 participants picked the Avalanche to win the series. Yet, the Kraken battled. Night in, and night out, and it was on full display in Game 7. To me, this poem is about courage; the courage to ride into the face of an overwhelming enemy against overwhelming odds. 
---
Latest News & Highlights
---
Evidently, the hockey world doubted them, but how did their courage manifest? In reference to the big picture, they were tied 3-3 going into Game 7, having already won two games in their opponent's rink. Small picture? How about tallying more blocked shots than shots on goal in Game 7?! The Kraken blocked 29 shots while sending 27 on net. That is courage. It was on full display throughout this Round 1 series. It both paid off in, and directly contributed to, their Game 7 victory. 
"Half a league, half a league,
Half a league onward,
All in the valley of Death
Rode the six hundred"

-Stanza I, Alfred, Lord Tennyson's "The Charge of the Light Brigade"
They rode into Ball Arena four times, and on not one, not two, but three occasions, they came out on the side of glory. Going up against overwhelming odds and star power (Mikko Rantanen averaged a goal per game), sacrificing body after body blocking shots (five Kraken registered at least three blocks in Game 7), and prevailing in enemy territory; that takes courage. For a team in its second season, it's a glorious sign of a prominent future. But that's the big picture, let's shrink that down a bit. Let's call it one of the main reasons they're advancing to the second round for the first time in franchise history.
Philipp Grubauer Was the Star of the Show
We hear this adage all the time; "that goalie stood on his head." Heck, I've even used it in this article already! Well, Grubauer really did stand on his head in Game 7. He allowed one goal on the power play, and that was it. He absolutely shut the door in the face of the Avalanche, his former team. He racked up 32 saves at even strength, and stopped 33-of-34 in total to finish the game with a .971 save percentage (SV%). He was the sturdy backbone that the Kraken needed him to be, and has blown away his regular season performances of the past two seasons.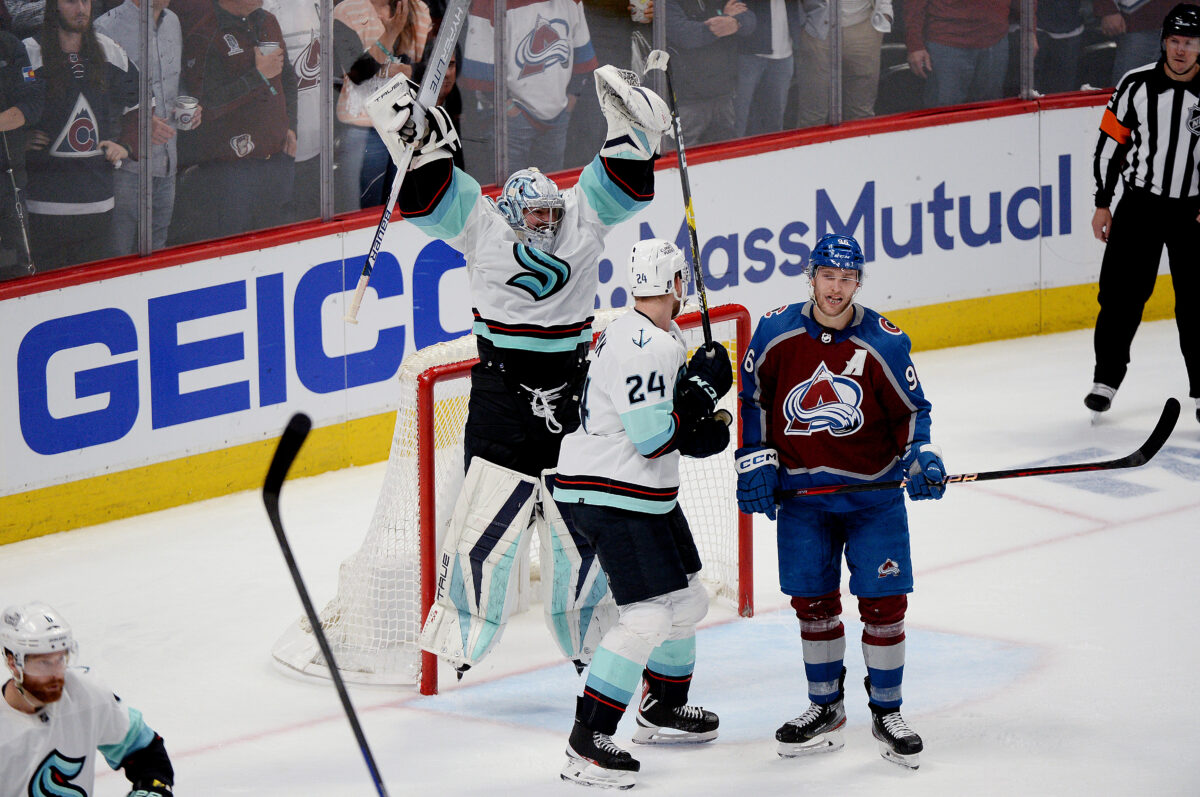 Is it sustainable? That's hard to tell. However, he does have a good amount of playoff experience coming into this postseason, and was a member of the 2017-18 Stanley Cup-winning Washington Capitals where he got into two playoff games. He may have had his struggles in the regular season, but he knows what it takes to win in the playoffs. He finished Round 1 with a 4-3 record, a 2.44 goals-against average (GAA) and a .926 SV%. In each victory, he held the Avalanche and all their firepower to just two goals or fewer. 
Seattle Shoutouts
I want to start this off by saying Oliver Bjorkstrand was a man possessed in Game 7. He scored both Kraken goals, and hit at least three posts. The dude was absolutely buzzing at both ends of the ice. He finished the game with 18:57 time on ice (TOI), six shots on goal, two hits and three blocks. To say he was "a factor" is such an understatement I could lose my job for insinuating it.
Yanni Gourde has been one of the best players on the ice for the Kraken throughout the postseason. He assisted on both Bjorkstrand goals in Game 7, and finished the game having won 55% of his faceoffs. He registered two takeaways with no giveaways, one block and a shot on goal, and five hits. The man that Kraken play-by-play announcer John Forslund calls the "Pepper Pot" showed up big time for his team, his championship experience on full display.
The final, and quick, shoutout is a bit lighthearted. It goes to Blake Bolden and Sachin Chandan, the only two from that ESPN article to pick the Kraken to win the series. Bolden had them in six, and Chandan in seven. I certainly hope they bet on it!
Reset & Refocus
The Kraken now face an opponent that they had some trouble with in the regular season; the Dallas Stars. I won't go into too big a preview, but it's on its way from the THW Kraken team. However, to give a brief overview, the Kraken will be on the road to start this series. They finished the regular season 1-1-1 against the Stars, and had a minus-3 goal differential.
The Kraken need to enjoy this for a night, and then get right back to work. The first game against the Stars is Tuesday, May 2, so it's a quick turnaround and Dallas has had more rest. If they can stick to their identity and continue to make their opponent play their game, watch out.