Having too many NHL defensemen is certainly a better problem than not having enough, but it is still a problem nonetheless. As their offseason begins, the Calgary Flames hold the rights of nine different defensemen on one-way contracts. Only two of them, Rasmus Andersson and MacKenzie Weegar, are signed beyond next season. The deals with Nicolas Meloche, Michael Stone and the newly-acquired Troy Stecher are currently expired. In addition, all signs point to Oliver Kylington making his return to the team for this upcoming season.
Related: Flames Could Sell High on Nikita Zadorov
Certain members of the American Hockey League (AHL) affiliate Calgary Wranglers also had great seasons and could push for roster spots, though they are presently battling it out in the second round of the AHL Playoffs. Luckily for whoever becomes the next general manager of the Flames, there is not an abundance of outstanding NHL defensemen available on the free agent market. This means that should they decide to move one or multiple in a trade, they could potentially fetch decent market value in return.
Who Does Kylington Replace?
The Flames' second-round pick (60th overall) back in the 2015 NHL Entry Draft, Kylington has certainly had an up-and-down NHL career thus far. The Swedish blueliner primarily played in the AHL for the then-Stockton Heat until he got into 38 games in 2018-19 for the big club rotating as a seventh defenseman. He then suited up for 48 games in 2019-20 in a similar role. He only played eight games in the COVID-shortened 2020-21 season. Finally, in 2021-22 he broke out with 31 points and a plus-34 rating in 73 games. He helped form a formidable second pairing alongside the defensive-minded Chris Tanev.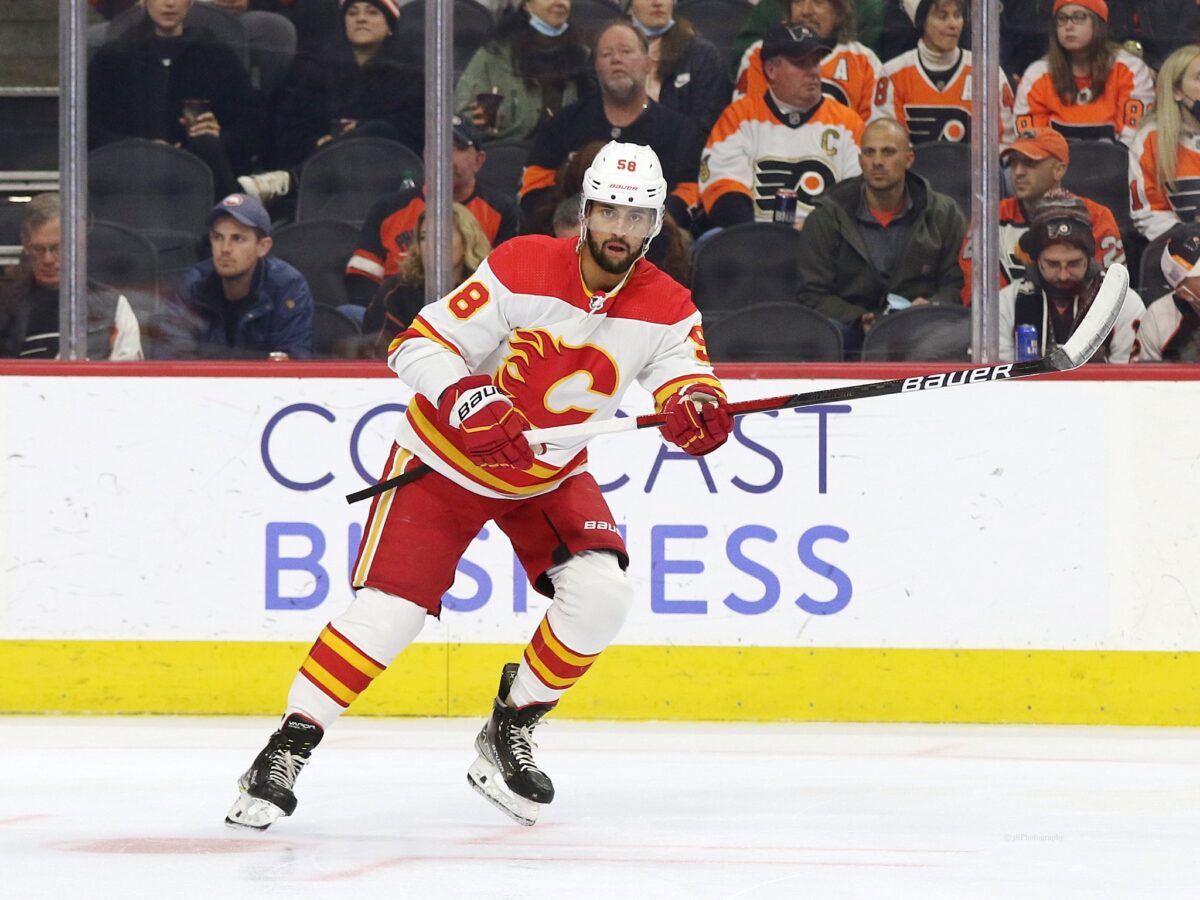 Fast forward to 2022-23, and Kylington was a no-show at training camp due to a personal family matter. He ended up not joining the Flames for the entirety of the season because of the issue. Family always comes before hockey, so the media and fans of the team have shown understanding regarding his absence. But should he return this season he will add more uncertainty to the structure of the team's defense. The Flames rolled with Andersson and Noah Hanifin, Weegar and Tanev, as well as Nikita Zadorov and one of Stone, Stecher, or Dennis Gilbert as their pairings. Does the team slot Kylington back with Tanev and break that pair up? Or does he slot into the bottom pair with Zadorov? The other less likely option is to move him, but given that he is just 25 years old and on a $2.5 million contract, the Flames would probably prefer not to do so.
Ready-Looking Wranglers
There are also some AHLers looking to snag an NHL roster spot come the fall. For example, Jérémie Poirier had a fantastic first season as a professional with nine goals and 41 points in 69 games. He ranked second in points among rookie defensemen. Poirier also went an impressive four-for-four in shootout attempts. For these efforts, he was named to the AHL's All-Rookie Team for 2022-23. He was a late cut at last year's training camp and will most definitely be competing for a spot this time around.
---
Latest News & Highlights
---
In addition, fellow Wranglers blueliner Nick DeSimone decided to have one of his best years at 28 years old. The right-hander led the Wranglers' defense in points and assists with 46 and 38, respectively, in 65 games played. He also got into four games with the Flames in November and looked decent but a tad shaky in limited ice time. Perhaps he'd be ready for a more concrete role after playing big minutes with the Wranglers for the rest of this season.
A third option is steady two-way defenseman Nicolas Meloche, whom the Flames signed to a one-year deal last offseason. The 25-year-old is also a coveted right-handed defenseman and provides the Wranglers with an effective shutdown presence while also contributing a respective amount on the offensive end. He put up 21 points in 64 games and has the most NHL experience of the bunch, getting into 57 games with the San Jose Sharks from 2020-2022. Meloche will be an unrestricted free agent this summer, however.
Are There Trades/Signings Incoming?
The Flames did a nice job of locking up Andersson until 2025-26 and got Weegar signed to an affordable deal as well, albeit some critics say too long of one (ends in 2030-31). Unfortunately, with the new contracts of Weegar and Jonathan Huberdeau kicking in and Kylington coming back, there will be an additional $10.1 million added to the Flames' annual cap. Surely the team will be looking for deals. The aforementioned Stecher played pretty well for the team in a limited role but could command more money and term elsewhere. Stone would likely take the minimum to return, but is that the direction the team wants to go in? Defensemen such as Scott Mayfield and Connor Clifton could potentially be had as free agents but are the Flames even signing anyone if Kylington is coming back into the fold?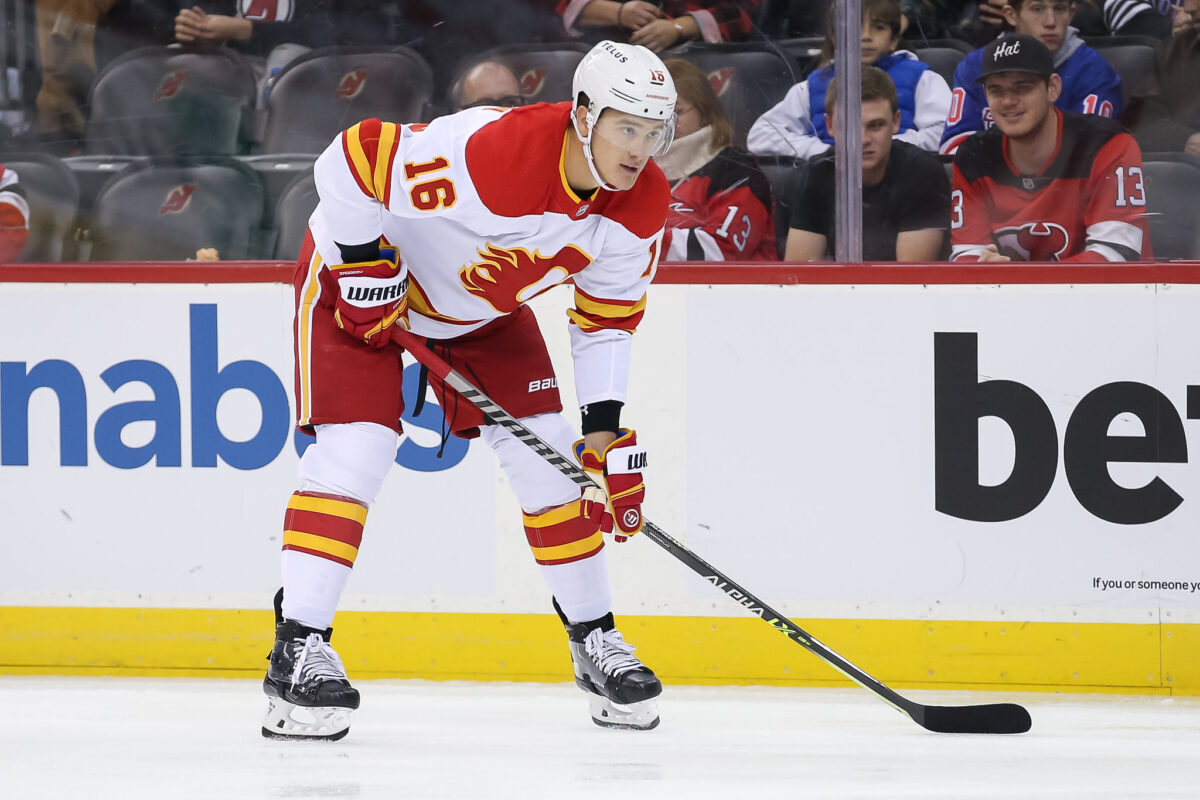 However, Hanifin, Tanev, Kylington, and Zadorov are all unrestricted free agents at the conclusion of the 2023-24 season. The team will need to figure out which of those men they'd like to keep and that decision will affect the remaining players. As mentioned in a previous article, the outgoing player could be Zadorov, whose $3.75 million contract could be too rich for a bottom-pairing defenseman. Despite leading the Flames' defence with 14 goals this season, he gave the puck away a lot and generally struggled in his own end.
Or does the 33-year-old shot-blocking machine Tanev and his $4.5 million contract get sent off? Despite being a 10-year veteran, he has only played in all 82 games once in his career and had injury problems again this season. Either player could potentially net the Flames a mid-round pick and a prospect, and should they choose to trade the younger Kylington or Hanifin instead, that return could become more substantial.
All in all, moves need to be made in order for the Flames to be both cap compliant and competitive in the near future. The team will have approximately $27.2 million committed to seven defensemen for 2023-24, a figure that only four other teams are slated to eclipse next year (the Sharks, Vegas Golden Knights, St. Louis Blues, and Boston Bruins). They will still need enough money to fill out five more roster spots with just an estimated $1.25 million to do so.