It's almost that magical time of the year for fans of the NHL, the trade deadline. This year's event lands on Friday, March 3 and a flurry of moves have already taken place leading up to it. The Calgary Flames, however, have stood pat thus far. The reasoning is likely that they have shaped up to be a bubble playoff team, meaning they aren't firmly entrenched in a playoff position but aren't far off from one either. General manager Brad Treliving has been very patient with his club, waiting to see if it could string together some wins to show him what to do from a management perspective. Instead, they have alternated wins and losses and currently sit five points out of the final wild card spot with 21 games to go.
While some fans may look at the roster and clamor for Treliving to make a big addition like a scoring winger, some may also look at the deep crop of 2023 NHL Draft-eligible players and embrace the idea that they should get rid of some assets. Sure, there are big names available, but whether or not they are worth the gamble for the Flames remains to be seen. Veterans like Trevor Lewis, Brett Ritchie, and Michael Stone are also all on expiring contracts and would surely fit elsewhere on a contending team for a small price.
A player that doesn't fit the mold of being a pending unrestricted free agent but could be moved is Nikita Zadorov. The 6-foot-6, 235-pound defenseman hails from Moscow and has become a bit of a fan favourite in his two years in Calgary. This is likely due to his booming slap shot and crushing body checks, as well as his bubbly personality dealing with the media.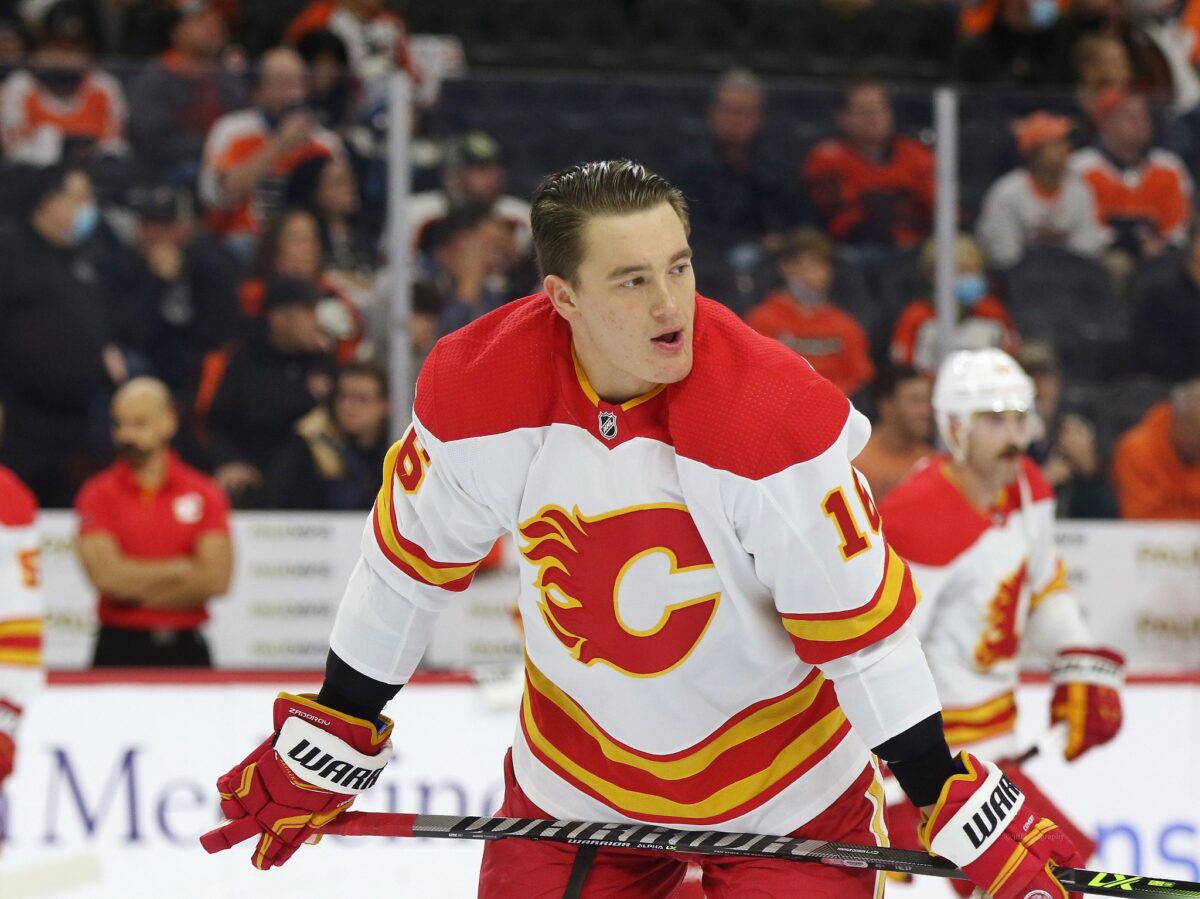 The blueliner had a solid year in 2021-22 and has been playing well, for the most part, this season. He is also heading into his athletic prime, turning 28 years old in April. Should the Flames slip in the standings and decide to move pieces this week or in the offseason, his name should come up in conversation to bring back some assets. Let's look at both the reasons for keeping him as well as trading him elsewhere.
Zadorov Staying in Calgary
As previously stated, Zadorov is just about to turn 28 and thus fits the window of the Flames' current core. As a left-shot defenseman that is capable of playing either side effectively on most nights, he is quite versatile in the lineup. His 137 hits so far are tied for first on the team, and his 65 blocked shots rank fifth amongst Flames skaters. While he is not producing at the same rate offensively as he did last season (22 points in 74 games), he has already set a new career-high with eight goals through the first 61 games.
Related: NHL Trade Deadline Tracker
---
Latest News & Highlights
---
Zadorov has seemingly found a home alongside either MacKenzie Weegar or Michael Stone (when he is healthy), averaging a total of 19:11 of ice time per game. He has also been a staple on the team's shorthanded units, where he has played over 130 minutes this season. The Russian is a big but mobile body on the back end who effectively clogs up shooting lanes and makes opposing forwards pay in the corners and along the boards. Zadorov brings a lot of value to Calgary on paper, but brings extra with his leadership intangibles and is also well-respected by his teammates and coaches behind closed doors.
If the Flames feel that none of their less-experienced players such as Dennis Gilbert and Connor Mackey or prospects Jeremie Poirier and Yan Kuznetsov aren't ready for a full-time role, holding on to "Big Z" might be a better plan for the time being.
Shipping Zadorov Elsewhere
The problem with being as big as Zadorov is that he happens to be slower to react in what is a fast-paced game. He has been the last man or late to a relatively high number of defensive plays, many leading to goals against. The Russian recently acknowledged the fact himself after being on the ice for three goals in a 4-1 loss at the hands of the Colorado Avalanche. While he sits at plus-11 on the season, it seems like there have been a higher number of opportunities as of late where Zadorov misses an assignment that may be a step or two quicker than him and it has cost the team. Take, for example, this overtime goal scored by the New York Rangers:
Coupled with some poor goaltending, consistent defensive lapses such as these become even more detrimental to team success. In addition to these concerns, Zadorov's contract may be a burden. He is currently owed $3.75 million per season this year and the next. While normally that would be a relatively acceptable figure for a player of Zadorov's calibre, it could cause the Flames some supplementary financial stress. Jonathan Huberdeau and MacKenzie Weegar's new deals will kick in next season, adding an extra $7.6 million of cap hit to the payroll. Almost $4 million for a third-pairing defenseman starts to look a bit different when your team is closer to the salary cap.
You may also like:
Oliver Kylington will hopefully return next season as well and is both younger and cheaper, further complicating the argument to keep "Big Z". If Treliving cannot use his solid play last season and this season (for the most part) to sell him off by the trade deadline, then perhaps he could do so at the NHL Draft or later in the offseason. Surely there would be many teams interested in a player like Zadorov should his name begin to be shopped around the league. A return of a solid NHL-ready winger or perhaps a mid-round pick would help clear up a messy backend as well as shave off some crucial dollars to be able to remain competitive for next season and beyond.
To end off, we're not suggesting that Zadorov be the first Flame out of town. However, if the situation comes where a rival GM offers an asset or multiple that helps the team in exchange for him, Treliving should weigh his options. When he and his team look at next season's projections, where does Zadorov fit in?