Forty wins in 60 games. That's where the New Jersey Devils sit to start March and a little less than 24 hours from the trade deadline. It was a wild one at Ball Arena in Colorado last night against the defending Stanley Cup champion Avalanche. But the Devils managed to salvage a 7-5 win after nearly blowing a 5-1 lead, thanks to a hot start and a strong relief performance from Akira Schmid. Here are five takeaways and some quick hits. 
Devils Start Hot
Getting off to fast starts has been a problem for the Devils, but it wasn't last night against the Avalanche. Ondrej Palát scored just 1:07 into the first period, and the Devils took control from there for the rest of the opening frame. Goals from Nathan Bastian and Tomáš Tatar opened things up quickly and gave the Devils a 3-0 lead before Nathan MacKinnon brought it to 3-1 with about 20 seconds left in the first.
Related: Devils News & Rumors: Meier Joins Team, Clarke Recalled & More
---
Latest News & Highlights
---
The Devils' 3-0 lead wasn't a fluke, either. They were the better team at five-on-five and consistently hemmed the Avalanche in their own end. New Jersey finished the first period with a 23-16 shot attempt advantage (58.97 Corsi for percentage) and controlled 83.49 percent of the expected goals (xG%) over the Avalanche. Were it not for that hot start, the outcome could have been much different, given the rest of the way the game went. 
The Devils have not had trouble coming back this season, but they need to get into the habit of getting off to fast starts more consistently. It won't be as easy to come back in the playoffs when they're playing the best of the best, so they need to learn to make their opponents chase them over the final 22 games of the season. 
Vanecek in a Slump
Vitek Vanecek has been a significant reason why the Devils are 40-15-5 on the season, but he had one of his worst performances of 2022-23 against the Avalanche. He gave up five goals on 19 shots and allowed 3.82 goals above expected. Head coach Lindy Ruff pulled Vanecek early in the third period after Valeri Nichushkin scored to make it 6-5 on a shot Vanecek should have saved.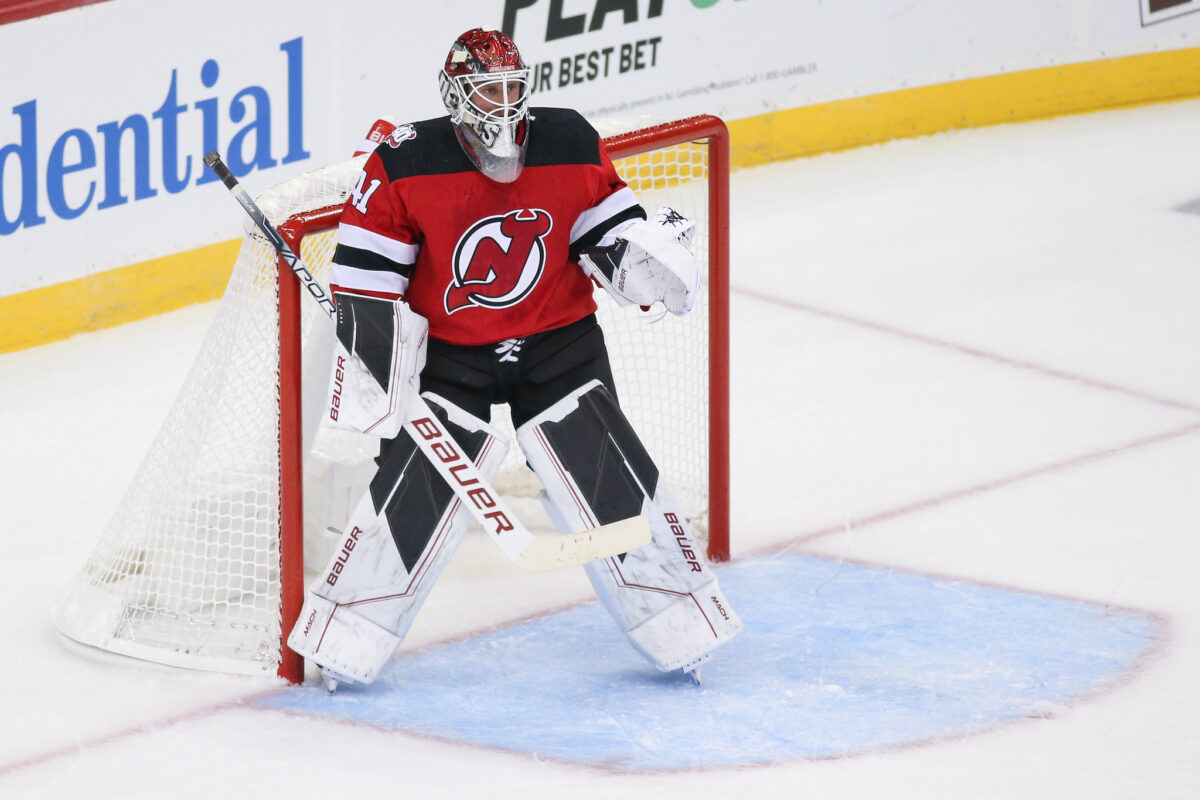 After going 12-0-1 from Dec. 30 to Feb. 18 with a .927 save percentage, Vanecek has a .793 SV% across his last three starts. That's probably a bit of regression after that incredible stretch of hockey across almost two months, but the Devils need him to level out and find his game again with a busy and tough schedule this month. 
Fortunately, Schmid was rock solid coming in cold with about 18:30 left in the third period. He stopped all 12 shots he faced and had a goals saved above expected of 0.69. Aside from one or two so-so starts, he's been excellent when called upon in the NHL. With Vanecek struggling lately, don't be surprised if Schmid gets the start against the Vegas Golden Knights tomorrow night. 
Don't Touch the Hischier Line
Don't fix what ain't broken. Even after acquiring Timo Meier over the weekend, Ruff should not touch the line of Tatar, Nico Hischier and Dawson Mercer. All three players had multi-point nights, with Mercer having the first four-point night of his career (1 goal, 3 assists). Hischier put home the empty-net goal and had an assist, while Tatar had a goal and two assists. 
The chemistry this line has is undeniable. Take this goal, for example. Mercer gets the puck down low and makes a great one-touch pass to Hischier, who then makes a quick one-touch pass to Tatar, who had a wide-open net for this 14th goal of the season. 
The Hischier line was break-even in xG% against the Avalanche. But since Ruff put them together, they have a 68.92 xG% and have outscored teams 7-1 since Feb. 1. It may be enticing to put Hischier's fellow countryman in Meier alongside him, but there's no way Ruff can touch this combo with how well they're playing. 
The BMW Line Providing Depth Again
The Devils may be looking to add some depth ahead of tomorrow's 3 PM trade deadline, but their fourth line has come to life lately. The trio of Miles Wood, Michael McLeod and Nathan Bastian was arguably the team's best against the Avalanche. They were on the ice for two goals and had the best xG% of any Devils line combo at 90.54 percent. 
Bastian is playing well since coming into the lineup for Fabian Zetterlund, who was part of the return for the San Jose Sharks when they dealt Meier to the Devils. Miles Wood picked up a power-play goal, his first power-play tally of the season, while McLeod had two assists and won 67 percent of his faceoffs. General manager Tom Fitzgerald may add another bottom-six forward over the next 24-36 hours, but the BMW Line is showing they can be valuable contributors over the stretch run. 
Bahl & Severson Continue to Dominate in 3rd-Pair Minutes
Part of the Devils' five-on-five struggles in January was because their third defense pair was getting caved in on most nights. That's changed recently, and it has to do with Ruff finding a new pairing in Damon Severson and Kevin Bahl. Severson led Devils defensemen with an 81.39 xG%, while Bahl was right behind him at 75.73 percent.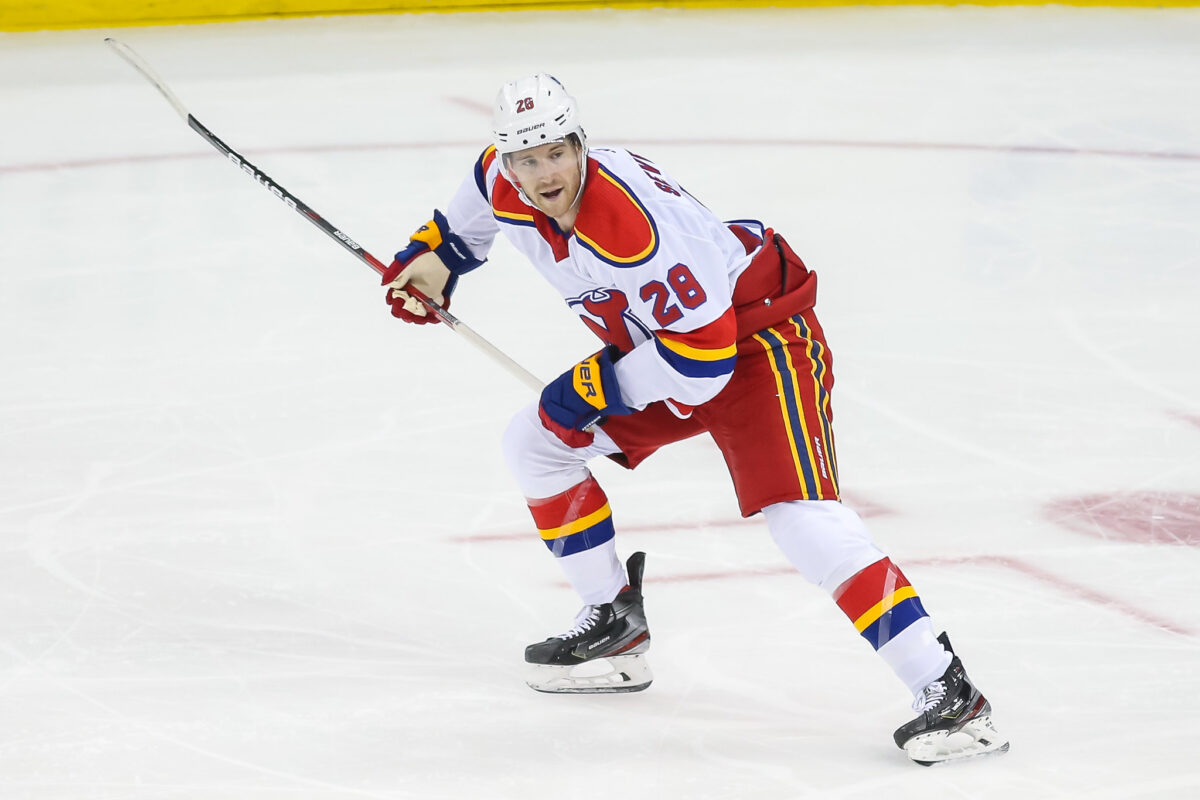 With Bahl and Severson on the ice, the Devils had an 81.68 xG% and a 15-4 advantage in scoring chances over the Avalanche at five-on-five. Bahl has played very well since coming back into the lineup against the Los Angeles Kings on Feb. 23. He was jumping into the attack the last night and creating offense that we don't usually see from him while also staying engaged defensively. Given his recent play, adding defensive depth ahead of the deadline should be the least of the Devils' concerns. 
Devils Quick Hits
Jack Hughes and Jesper Bratt have always played well together, but they've had a tough time getting going with Yegor Sharangovich as their linemate. This trio finished with a 36.51 xG% last night and has struggled at five-on-five over the previous few games. Once Meier is healthy, it's easy to see where he'll slot into the lineup. 
A couple of Devils made some team history last night. Dougie Hamilton's 18th tally of the year tied a franchise record with Scott Stevens for most goals by a defenseman in a single season. Mercer has a seven-game goal-scoring streak, breaking a New Jersey Devils record for consecutive games with a marker.
The Devils will hope to continue their winning ways against the Western Conference when they take on the Golden Knights tomorrow night after the trade deadline passes. 
* * *
Advanced stats from Natural Stat Trick