The Edmonton Oilers came into Wednesday night's game looking for a win after making their first big trades of the season. Without the likes of Jesse Puljujarvi or Tyson Barrie, many fans were excited to see how they would fare against one of the most stacked teams on paper in the NHL currently, the Toronto Maple Leafs. The Oilers came away with a 5-2 victory in a game that saw one of the best defensive performances as a team this season.
The Maple Leafs are stacked. They brought in Ryan O'Reilly, Noel Acciari, Jake McCabe, and Luke Schenn in an effort to bolster their roster in hopes of winning their first Stanley Cup since 1967. A win against a strong team like the Leafs means the Oilers have proven they can play alongside any team in this league. Here are three takeaways from Wednesday night's affair.
Mattias Ekholm Fits Right In
Wednesday night marked the first game for newcomer Mattias Ekholm after he was acquired from the Nashville Predators on Tuesday. Right away, Ekholm made an impact as he showed his fearlessness by jumping up into the rush and getting a good scoring chance on his first shift.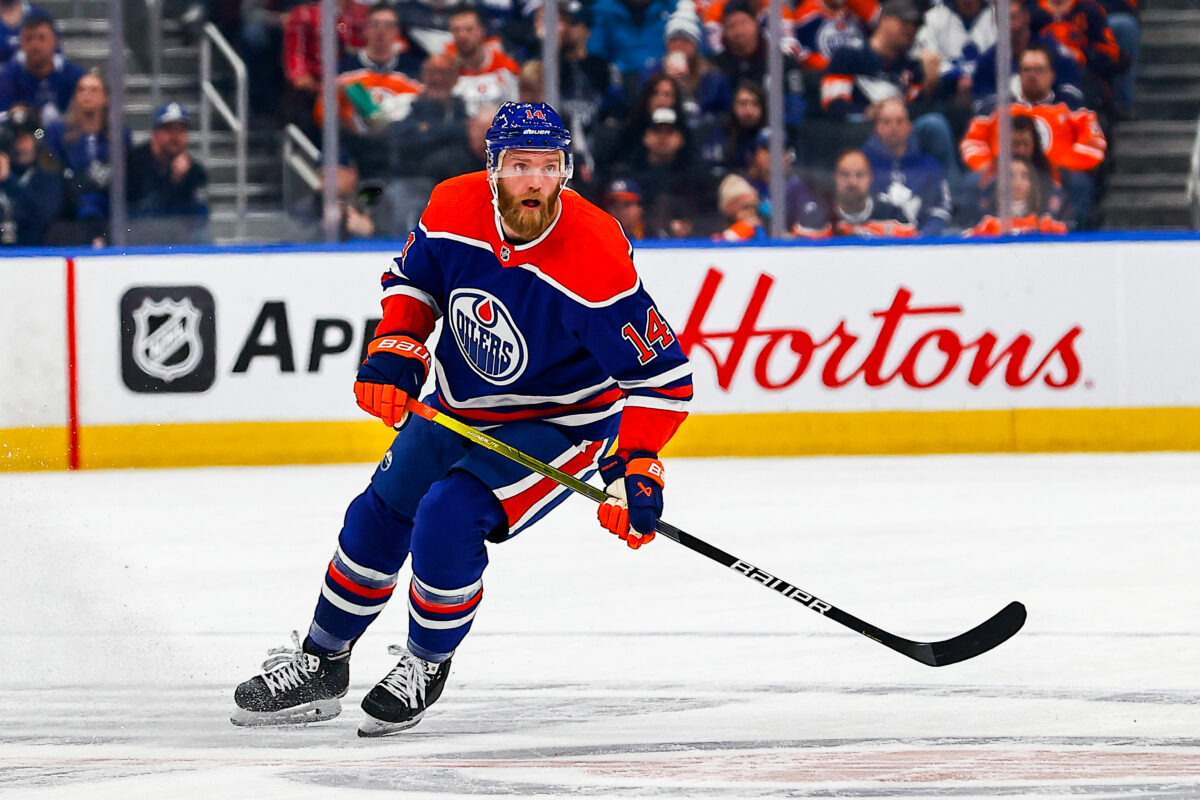 He played well alongside each partner he was paired up with all night and even showed glimpses of being someone Evan Bouchard could rely on for the rest of the season. Bouchard is an offensive defenseman, whereas Ekholm is quite the opposite. Pairing them up allowed them to show their strengths, and they played really well together as they complemented each other's play styles.
McDavid Continues To Have An Amazing Season
Connor McDavid got the scoring going early as he put the Oilers up 1-0 just 3:49 into the game. His speed is something every fan tunes in to see every single night, but last night's game was one he seemed to find another gear in. He finished with two goals and an assist, bringing him up to 118 points on the year so far.
Related: Oilers 2022-23 Trade Targets: Torey Krug
---
Latest News & Highlights
---
McDavid remains on pace to surpass 150 points for the first time in his career and is only five points back of his career high of 123, which came just last season. He is a special player, and will likely clean house at the awards show when the season is over, but his focus definitely remains set on the Stanley Cup.
Klim Kostin Stands Out
Klim Kostin sealed the game with just under three minutes left in the second putting the Oilers up 5-1. It was his 10th goal of the season, and while he has been out with an injury the last little while, he has come back with no fear. It was evident in his first game back against the Boston Bruins as he threw his body around and blocked shots, and it was even more evident in this game as he won most of his puck battles.
You may also like:
While he may not be the most offensive player, he stands out in the sense he is willing to do all the little things right. He has become a fan favorite just for that reason, and he continues to play well every time he steps on the ice.
He was willing to go into the dirty areas, and it paid off for him last night. It's players outside of the top six that will need to step up when the playoffs come around for the Oilers to be successful. If this is any indication of how well Kostin will play come the postseason, I'm excited to see what else he can bring.
What's Next For The Oilers?
The Oilers are back in action on trade deadline day, Friday, March 3 against the Winnipeg Jets at home. There is some uncertainty around the team and it could look very different over the next couple of days. The Jets have been really solid up to this point, so the Oilers will need another solid defensive performance in order to take the two points.