The San Jose Sharks have acquired forward Vladislav Namestnikov from the Tampa Bay Lightning in exchange for forward Michael Eyssimont. Tampa Bay will retain 50 percent of Namestnikov's contract, bringing his cap hit down to $1.25 million.
This is the second time that the Lightning have traded Namestnikov. They traded him in 2018 to the New York Rangers along with other assets for Ryan McDonagh and J.T. Miller. However, this time, this deal was nowhere near as big. This move gives Tampa the cap space to make another before the March 3 NHL Trade Deadline. It also leaves the club $1.3 million in long-term injury reverse cap space, which is enough to add another depth piece for the postseason without needing to move someone off the active roster.
What the Lightning's Return Means for the Deadline
Eyssimont, 26, has been in the NHL for parts of three seasons. He spent time with both the Winnipeg Jets and the aforementioned Sharks. He hasn't seen much action in the NHL though, he has played in 40 career games, and has scored 13 career points. Yet, the Lightning still wanted to bring him in as a depth forward to help with their salary cap situation. He comes with a very cheap cap hit at $750,000 and that is likely the main reason why they wanted to bring him in.
Related: 2023 NHL Trade Deadline Tracker
---
Latest News & Highlights
---
Interestingly enough, he is the 13th forward on their roster after the trade, meaning that if they send him down they can use that cap space to make another move. However, if the Lightning choose to keep him with the team, they are getting a traditional depth player who can fill a role in the bottom six down the stretch. Tampa is no stranger to adding a player at the deadline that is not a household name and turning them into a key piece in the playoffs. This trade is more than likely just a cap dump to make another move, but if they can get some use out of Eyssimont, he may be a player that surprises their fan base.
What the Sharks Bring In
Namestnikov, 30, is an NHL journeyman. He has played in the league for 10 seasons and had been a part of six teams before this trade. He started with the Lightning, then played for the New York Rangers, Detroit Red Wings, Colorado Avalanche, Ottawa Senators, and the Dallas Stars, before returning to Tampa this offseason. Once he plays a game for the Sharks, you can add his seventh team in 10 seasons to the list. He also is no stranger to being traded. He has now been moved five times in five years, which includes being dealt twice by the Lightning. Unfortunately, for Namestnikov, he now goes from a team destined for the playoffs to one that will have its season come to an end in the next eight weeks.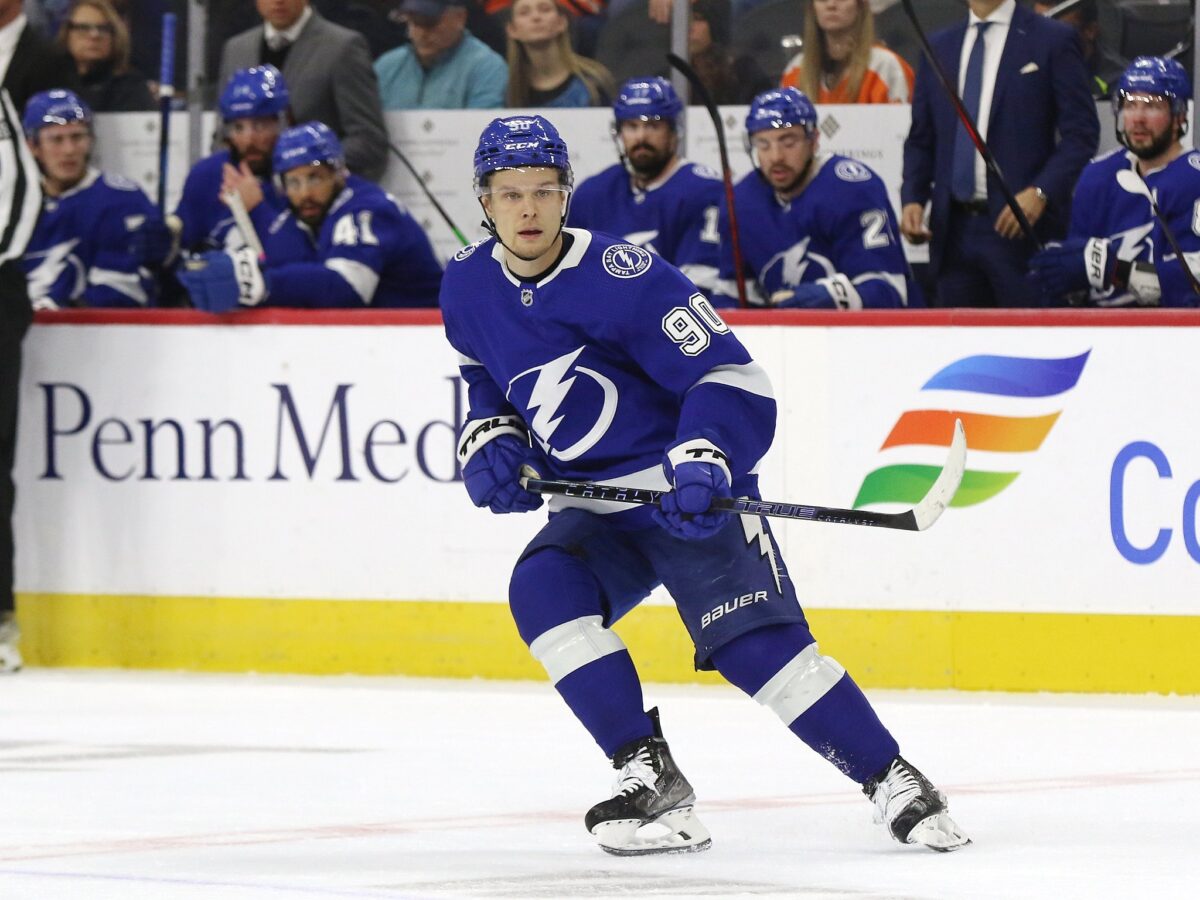 The Sharks are getting a player who is more offensively minded. He isn't having an unusual season in terms of production, however, it is not his best. He has 15 points through 57 games, which points towards a decline in his play and point production. There is always a chance that things will click with his new team, and he can have a strong last eight weeks of the season. For the Sharks, he makes sense. They are trying to rebuild their organization, and he could prove to be a fit for their system. That could allow them to re-sign him at the end of the season, and then flip him at next year's deadline to obtain assets from a contending team who needs secondary scoring.
You May Also Like:
Overall, this is an extremely smart move for the Lightning, they dumped cap space, which will allow them to be active on deadline day for an additional depth forward. As for the Sharks, there still is a possibility that they can flip Namestnikov now and get another asset back for him. There are teams such as the Vegas Golden Knights and the Avalanche who need depth scoring and could be interested in acquiring him.