In this edition of the Vancouver Canucks News & Rumors, the NHL held the Draft Lottery on Monday, and the Canucks will select 11th overall at the 2023 Draft. Meanwhile, the organization signed 2022 first-round pick Jonathan Lekkerimaki to his entry-level deal. Also, Troy Stecher discusses free agency and returning to Vancouver.
Canucks to Select 11th Overall at 2023 Draft
The NHL held the 2023 Draft Lottery on Monday, and the Canucks stayed at the 11th spot. The Chicago Blackhawks won the lottery and jumped from third to first, pushing the Anahiem Ducks down to second overall and the Columbus Blue Jackets to third.
The Canucks will miss out on North Vancouver native Conor Bedard, but general manager Patrik Allvin believes they will have an opportunity to add an impact player to their prospect pool. The Canucks need a right-shot centre and a right-shot defenceman.
The Hockey Writer's (THW) Peter Baracchini has Ryan Leonard ranked 11th in his April rankings. Leonard is a right winger out of the US National Development Program and will play at Boston College in the NCAA next season.
---
---
"Leonard is a prototypical power forward. He's extremely competitive and displays a high level of intensity, as he shows it every shift on both sides of the puck," Baracchini said. "He can attack with force and won't let you out of his sight when hunting down and pressuring the opposition. He sees the ice well, attacks the net hard and is always open to utilize his shot."
---
Latest News & Highlights
---
Meanwhile, THW's Logan Horn has the Canucks selecting centre Nate Danielson in his second mock draft. Danielson played in the Western Hockey League with the Brandon Wheat Kings last season.
"Danielson has just about everything an NHL team could hope for in a top-six centerman with good size, a right-handed shot, a responsible two-way game, and a high compete level," Horn said. "The only thing he doesn't have is a high-end offensive game, although he led his team in scoring this season and finished the year 22nd in WHL scoring despite playing on one of the league's worst teams and not getting a whole lot of help on offense from his linemates."
Related: 2023 NHL Draft: Baracchini's Top 96 April Rankings
However, Horn believes if right-shot defenceman David Reinbacher is available, he is the Canucks first choice. Horn has Reinbacher ranked at seven, Danielson at eight, and Leonard at 16 in his March rankings. Meanwhile, Baracchini has Reinbacher at 10 and Danielson at 13. If the Canucks have an opportunity to select a right-shot blueliner in Reinbacher, they likely will since it is difficult to find quality players at the position.
Canucks Sign Lekkerimaki
The Canucks signed their 2022 first-round pick Lekkerimaki to a three-year entry-level contract on May 6. The organization selected him 15th overall in last year's draft.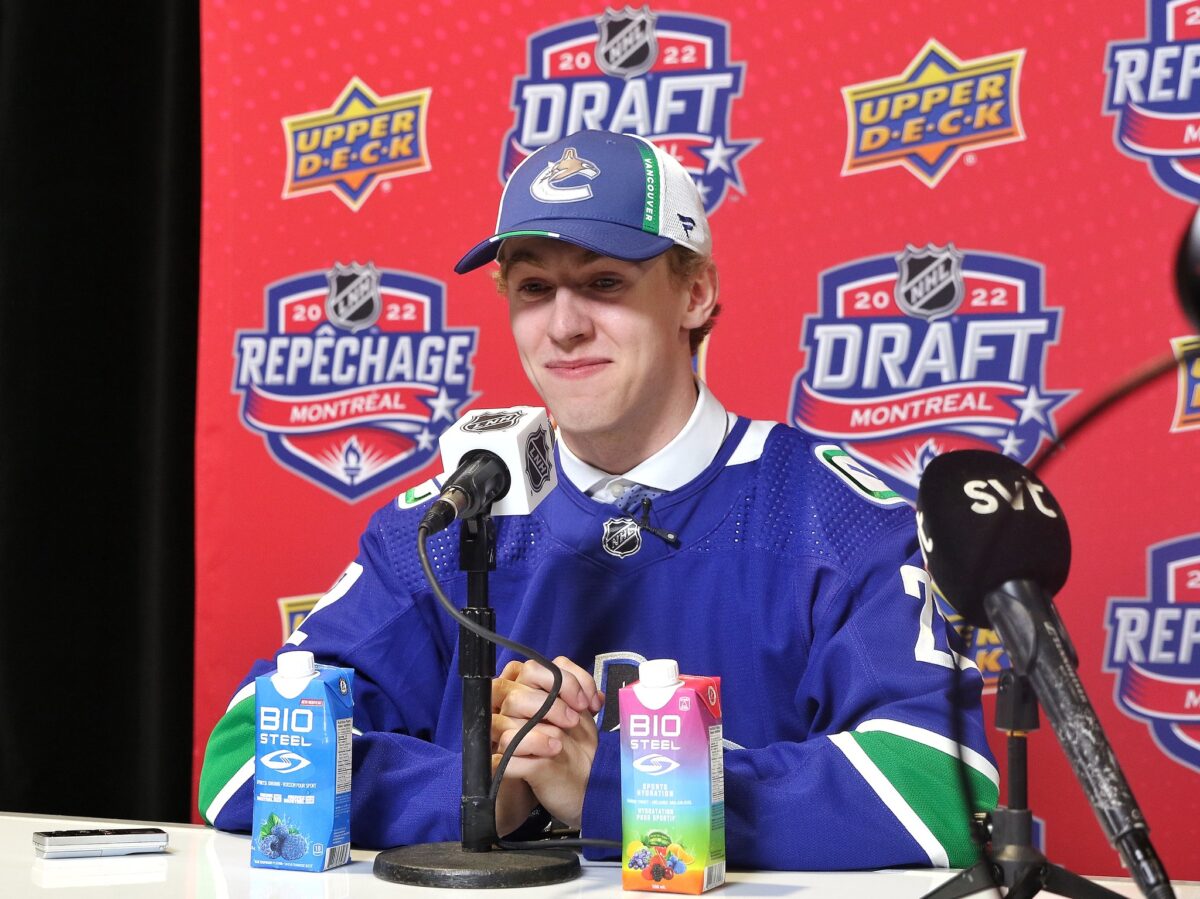 "Jonathan had a good run in the playoffs and gained a lot of valuable experience but unfortunately his team fell short of its ultimate goal," Allvin said. "Each player's development path is different and in Jonathan's case, he had to deal with a lot of adversity this past year. But with each challenge he faced, he found a way to learn and grow. With the help of our staff, we will find the best path forward for him and we look forward to Jonathan joining our development camp in July." 
Lekkerimaki played in Sweden with Djurgardens IF in HockeyAllsvenskan this past season. The 18-year-old had a tough season as he had a bout with mononucleosis in the offseason, which affected his training. He suffered a concussion after a slow start to the regular season and then struggled for Team Sweden during the 2023 World Junior Championship. Lekkerimaki's struggles continued as he suffered a season-ending foot injury in February.
However, after posting a disappointing three goals and nine points in 29 games in a season marred by injuries, Lekkerimaki returned for the playoffs. In 15 postseason games, he posted five goals and 15 points, including a five-game point streak from Games 2 to 5 in the final against MoDo. The streak included four assists in Game 4, the game-winner in Game 5, and an assist on the game-tying goal in Game 6.
"I think I was thinking too much at the beginning of the season and in the playoffs (it) was go with the flow and just play," Lekkerimaki said.
Lekkerimaki credits former Canuck Mikael Samuelsson, who now works in player development with the organization, with the improvement on a few aspects of his game. Lekkerimaki said Samuelsson helped him get stronger on the puck and win puck battles along the boards. The 2022 first-round pick also said it could take him two years before he moves to North America. He expects to remain in Sweden next season as he'd like to get bigger and better.
Canucks Fined for Offseason Training
On Monday, the Canucks were fined $50,000 by the NHL for holding on-ice training sessions with players in April after the end of the 2022-23 season. Rick Dhaliwal reported the sessions took place from April 17 to 23. Teams aren't allowed to have players and members of the coaching staff or hockey operations on the ice together during the off-season as a violation of the CBA.
Related: Canucks Stuck in Defensive Limbo for 2023-24 Season
Six players took part in workouts with Henrik and Daniel Sedin, as the brothers are a part of the organization's player development department. Dakota Joshua and Jack Studnicka were two of the six players who took part in sessions with the Sedins. The NHL warned the Canucks that the fines will be higher if it happens again. Meanwhile, Allvin said he was surprised by the fine as a few young players couldn't go to Abbotsford and asked the team for extra help.
Stecher on Returning to Vancouver
Last week, former Canuck Stecher joined Donnie and Dhali. The hosts asked the pending unrestricted free agent if he'd consider returning to his hometown team, as the organization reached out to him last year. Stecher said he doesn't know and will have to see where the team is.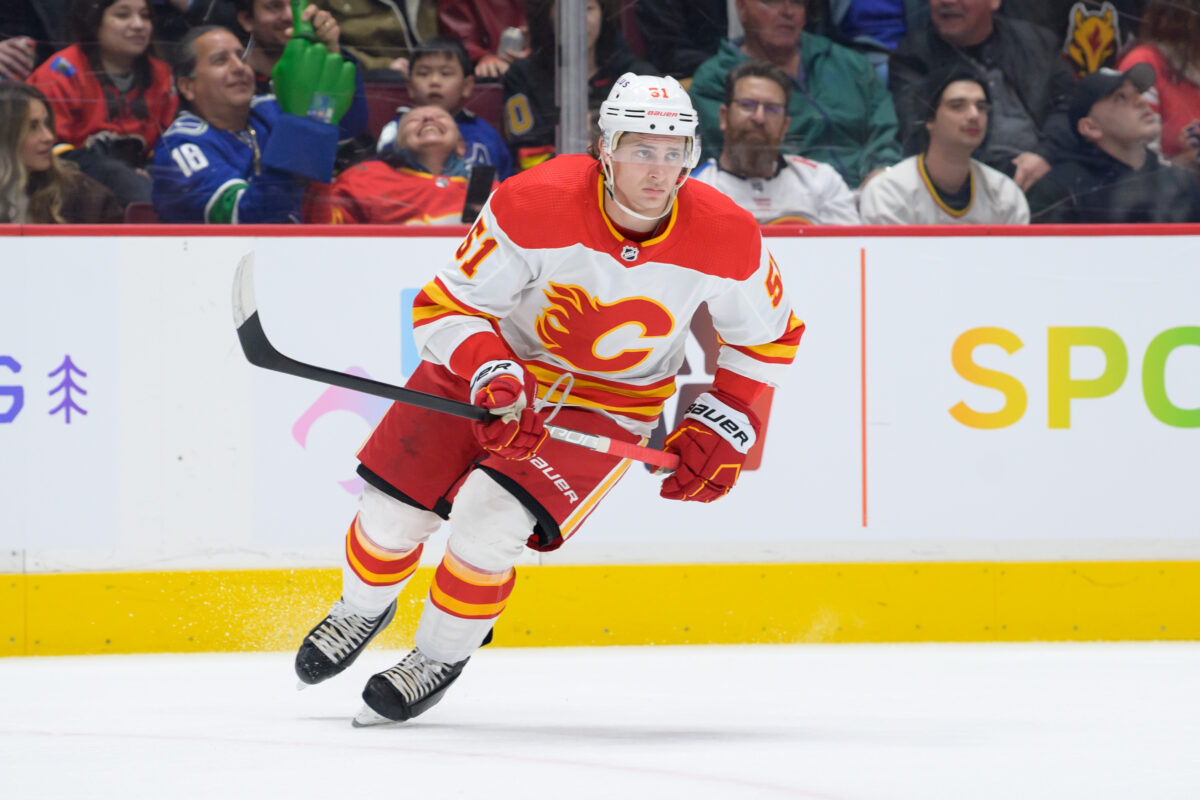 "Obviously that's something I leave to my agent. Him and I will obviously have our discussions in the offseason, which we've already begun," Stecher said. "Just kind of doing a recap of my year and moving forward we'll do some more research on teams and what they need as personnel and opportunity. Where they are as an organization going forward, if they're winning culture, or if they're in a rebuilding phase, and whatever we see as the best fit is the decision we'll make."
Stecher left Vancouver in 2020 through free agency and joined the Detroit Red Wings on a two-year, $3.4 million deal. The Red Wings traded him to the Los Angeles Kings mid-way through the second year. He signed a one-year deal with the Arizona Coyotes in the 2022 offseason, and the club traded him to the Calgary Flames after 61 games. Stecher's return would be a good move for the Canucks, as he'd provide depth on the right side of the blue line.