It's Mock Draft season! The 2022-23 NHL regular season is officially complete and half of the fan bases around the league have one thing on their mind, the 2023 Draft. If your favourite team isn't going to be playing until next Fall, the least you can do is have some fun dreaming of the great prospects they could land in the 2023 Draft, and how they might shape the future of your team.
---
---
On April 15 I simulated the NHL draft lottery based on the final NHL regular season standings using Tankathon's draft lottery simulator, and then I took that draft order and tried my hand at drafting the best possible player for each team at their draft position based on upside, certainty of hitting that upside, team need, and a few other criteria.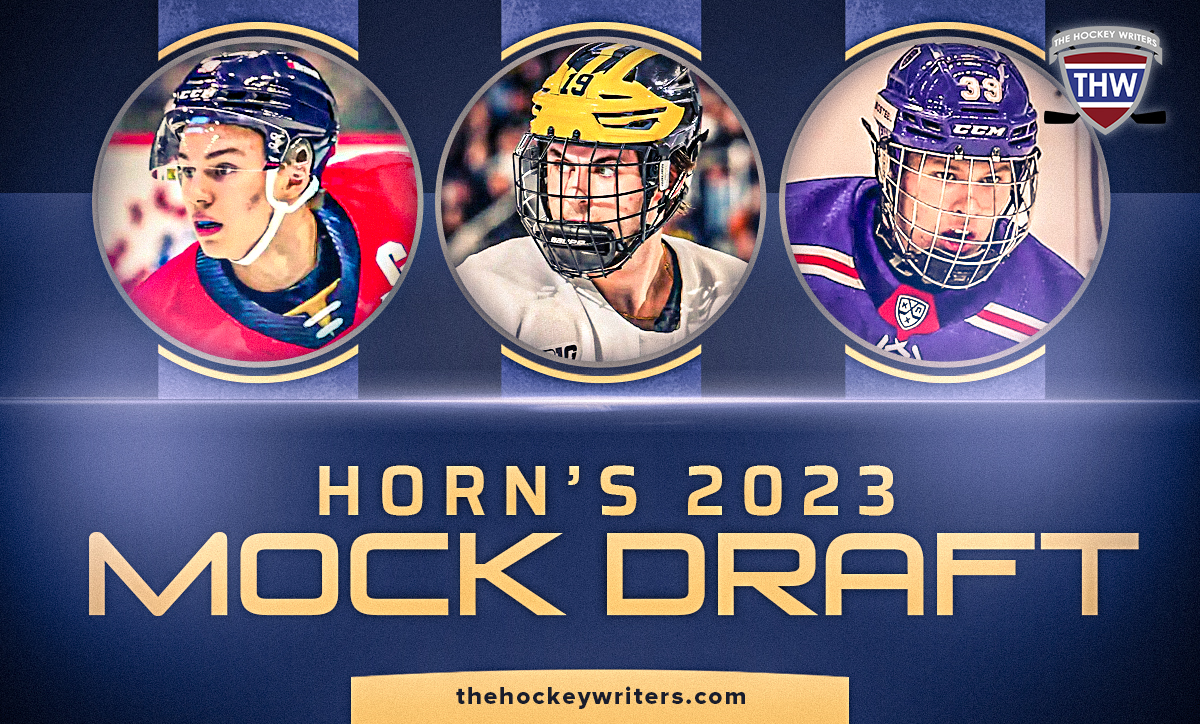 In most cases I selected the best player available, although I did take into account some teams who have a tendency to act certain ways on draft day. Don't worry, I didn't come up with anything quite as outrageous as Jesperi Kotkaniemi going third overall back in the 2019 Draft to the Montreal Canadiens, but I hoped to capture the spirit of some teams' amateur scouting groups. 
All playoff teams have been included here in reverse order according to regular season points, so the President's Trophy winning Boston Bruins' first rounder (which is owned by the Toronto Maple Leafs) will be 32nd, the Carolina Hurricanes, who finished second in the NHL in points, will be 31st, and so on.
Related: 2023 NHL Draft Guide
---
Latest News & Highlights
---
With that out of the way, let's get into the meat of the mock draft, beginning with the team who earned the right to select Connor Bedard first overall and finishing with the 32nd overall pick at the end of the first round.
Check out the first edition of my 2023 Mock Draft here.
1. San Jose Sharks: Connor Bedard, C, Regina Pats (WHL) (+3)
The San Jose Sharks are the undisputed winners of this mock draft lottery as they jump from fourth overall to first and earn the right to select Connor Bedard with the first overall selection.​​ The Sharks were in limbo for much of this season until they traded away star winger Timo Meier and made an inspiring drop down the standings. 
The Sharks don't have the most exciting prospect pool or group of NHL players to surround Bedard with right away, but they hold another first rounder this year and prospects like William Eklund and Filip Bystedt should be enough to build the foundations of a really solid forward group. Bedard is the crown jewel of the 2023 Draft and the Sharks would give him every chance to succeed next season, either as their third-line center behind Tomas Hertl and Logan Couture, or on one of their wings. He is an elite goal-scorer and from the moment they draft him, Bedard will be the most dynamic offensive threat the Sharks have had since Joe Thornton was in his prime. 
2. Washington Capitals: Adam Fantilli, C, University of Michigan (NCAA) (+6)
It's a bit strange to see the Capitals in draft lottery conversations this year, and even stranger to imagine them winning one of the lottery spots, but that's exactly what has happened here with them landing second overall and selecting Adam Fantilli from the University of Michigan. Fantilli is perhaps the most NHL-ready player in this year's draft, with the frame, speed, and skill to be an impactful centerman as soon as next Fall.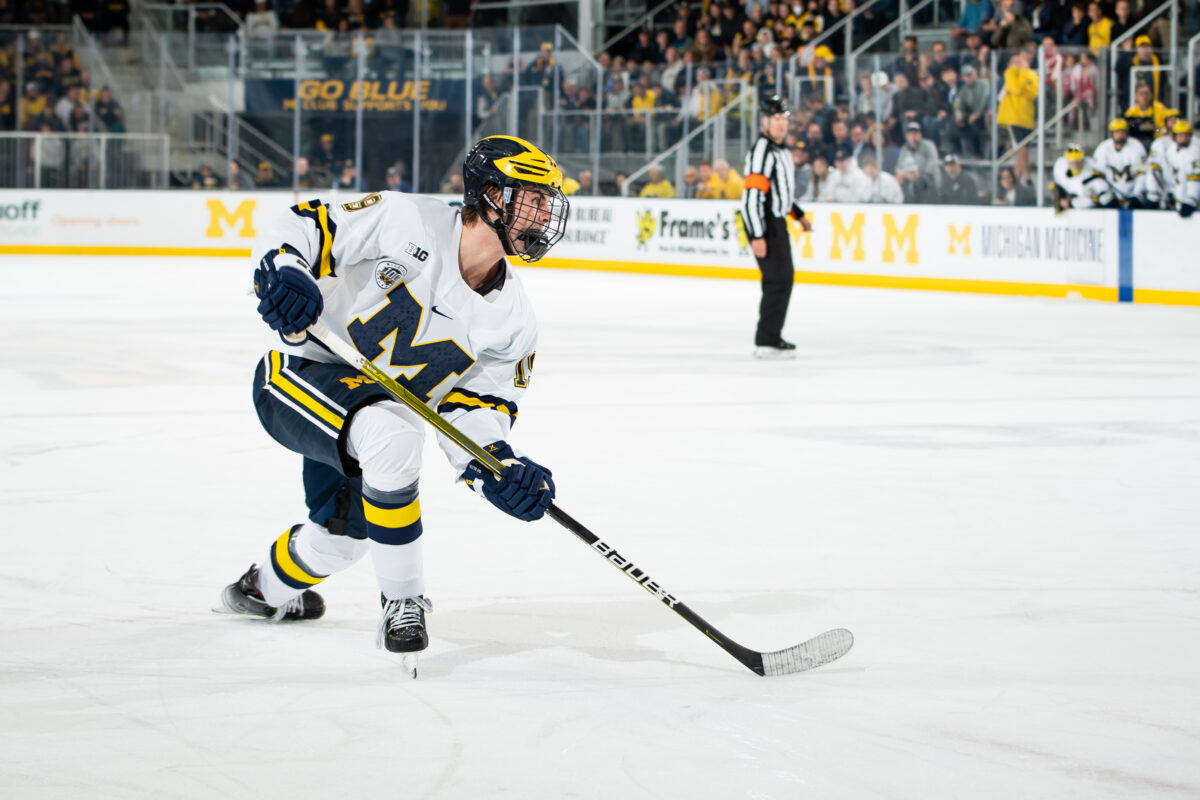 Adding Fantilli would likely allow the Capitals to return to the playoff conversation once again next season, and would also significantly improve their center depth. After scoring 65 points in 36 NCAA games as a freshman, Fantilli will likely be a legit offensive contributor as an NHL rookie. The Capitals are looking for any way to extend their playoff window and enjoy the final years of the Alex Ovechkin era, and landing Fantilli would be an excellent way to do just that while also setting the team up for future success.
3. Anaheim Ducks: Leo Carlsson, C/LW, Örebro (SHL) (-2)
The Ducks are a great example of why it is so important to finish the season as the 32nd overall team. If they lose both lotteries in real life (a 55.7% chance), then they can only fall to third overall where they will still have the chance to select a superstar level talent. I have them selecting Leo Carlsson who is a big forward with tons of skill who tore up the top professional league in Sweden (the SHL) this year. 
Anaheim already has an incredible group of young NHLers and prospects, and Carlsson would be a phenomenal addition to that core. There are questions about whether or not he is an NHL center since he hasn't played there at all in 79 SHL games over the last two seasons, but that's not a huge problem for the Ducks as they've seen Mason McTavish and Trevor Zegras spend time down the middle and they've also got Nathan Gaucher on the way. Carlsson is an incredibly intelligent player both on and off the puck, and his mature, two-way game shows clear top-line potential. 
4. Columbus Blue Jackets: Matvei Michkov, RW, HK Sochi (KHL) (-2)
Matvei Michkov will be an interesting prospect to watch on draft day, as he has three more full seasons on his KHL contract and there are still plenty of lingering questions around Russian players and their ability to leave Russia for North America. However, Michkov is by far the best player left on the board here and I don't see Columbus backing down. There aren't many players left on the board who would be ready to be legit contributors in three years' time anyway, so it's not like they're going to be missing out on a ton while they wait for Michkov's contract to end. 
Michkov is the most intelligent player in this draft (for my money) and his offensive skill is second to only Bedard in my opinion. In his first real taste of play in the KHL this season, Michkov scored 20 points in 27 games, which is absolutely absurd for an 18-year-old. Obviously, Columbus is in need of immediate help and the top three players above would likely provide that within the next 18 months or so, but Michkov has the potential to be the very best player in this draft class so I can't imagine they'll be feeling too sorry for themselves.
5. Chicago Blackhawks: Will Smith, C, USA U18 (NTDP) (-2)
After clearly having their eyes set on landing one of the top two or three spots in the 2023 Draft since the first day of the 2022 Draft, the Blackhawks would surely be disappointed to land the fifth overall pick. However, Will Smith would be a phenomenal selection for them as they begin to kick off the post-Toews/Kane era in Chicago. Smith is a shifty skater and playmaker who has the potential to be a great first-line center and who will likely play with Boston College in the NCAA for at least two seasons to allow the Blackhawks to try their hand at this whole tanking thing again next year as they dream of Mack Celebrini and Cole Eiserman and the rest of the prospects in the 2024 Draft. 
6. Montreal Canadiens: Oliver Moore, C, USA U18 (NTDP) (-1)
The Canadiens have one of the deepest prospect pools in the NHL, and that's even with all of the great young talent they've graduated to the NHL in the last few seasons. Unless the Florida Panthers win the Eastern Conference Final this year, the Habs will have two picks in the top-17 this year which will likely be the final boost they need to build a group capable of contending in just a few short years.
I have them selecting Oliver Moore at sixth overall who has clear top-six center potential and is going to be one of the best skaters in the NHL the moment he first steps on the ice at the Bell Centre. His speed and skill are excellent and build the foundation of his two-way game, though his hands and shots are also great. Moore works incredibly hard and when coupled with his skating that makes for a very reliable two-way center who will likely earn tons of difficult minutes in the NHL.
7. Arizona Coyotes: David Reinbacher, RD, EHC Kloten (NL) (-1)
David Reinbacher has established himself as the best defenseman in this year's draft in my eyes, and I wouldn't be shocked to see him go even higher than this on draft day. What team doesn't want a 6-foot-2, right-hand shot defender with a remarkably polished defensive game, excellent skating and enough offense to lead all U20 players in the top Swiss pro league in scoring? The Coyotes have a clear need on defense after trading away Jakob Chychrun at the trade deadline, and Reinbacher has the potential to be a legit top-pairing defender, especially if he can unlock a bit more of his offensive game. 
8. Philadelphia Flyers: Ryan Leonard, C/LW, USA U18 (NTDP) (-1)
Ryan Leonard hasn't earned quite as much attention as I think he deserves this year, mostly because of the quality of his linemates and the big shadow cast by Will Smith as the top player on the USA U18 squad. Despite that, I think Leonard is a great pick here for the Flyers as a highly competitive forward who only has one speed (and it's very fast), has a hard shot, and some of the quickest hands in the draft class. Leonard has historically been a center before lining up on Smith's wing, so there is real potential for him to move there again in the future, giving the Flyers a possible one-two punch of Cutter Gauthier and Leonard down the middle.
9. Detroit Red Wings: Zach Benson, LW/RW, Winnipeg ICE (WHL)
Zach Benson is a player that I expect to drop a little bit on draft day as most teams are a bit nervous about selecting a 5-foot-10 player in the top-10. However, I think his compete level and offensive skill will be too much for Steve Yzerman and the Red Wings to pass up here and they'll snatch him up.
Detroit has made it a habit recently to draft players who compete hard (Simon Edvinsson, Sebastian Cossa, Marco Kasper, etc.), and Benson would fit that description perfectly as the most competitive player at the top of this draft (in my opinion). Detroit needs high-end offensive talent above anything else and Benson would likely fit that bill nicely.
10. St. Louis Blues: Dalibor Dvorsky, C/RW, AIK (Allsvenskan)
When I look at the Blues prospect pool, I see an impressive group of young wingers and not a whole lot else. I could certainly see them going for a defenseman here, but I don't think Axel Sandin-Pellikka or Dmitri Simashev would be the most valuable selections at this spot. Instead I have them selecting a centerman in Dvorsky who has clear top-six upside while showing enough two-way skill to project safely as at least a middle-six center. Dvorsky has a great shot despite primarily being a playmaker, and I can see him becoming a fixture on the Blues' top power play unit in the near future.
11. Vancouver Canucks: Nate Danielson, C, Brandon Wheat Kings (WHL)
It has become clear this season that the Canucks' biggest positional needs are at center and right defense. If Reinbacher is still on the board by some miracle, then he might as well start walking to the stage when it's Vancouver's turn to pick. Since he's long gone in this mock draft, I have them filling their void down the middle with centerman Nate Danielson.
Related: 2023 NHL Draft Rankings – Horn's Top 96 for March
Danielson has just about everything an NHL team could hope for in a top-six centerman with good size, a right-handed shot, a responsible two-way game, and a high compete level. The only thing he doesn't have is a high-end offensive game, although he led his team in scoring this season and finished the year 22nd in WHL scoring despite playing on one of the league's worst teams and not getting a whole lot of help on offense from his linemates.
12. Arizona Coyotes (via. Ottawa): Colby Barlow, LW, Owen Sound Attack (OHL)
With their second selection in the first round I have the Coyotes selecting Colby Barlow, the sniper from the Owen Sound Attack. With Barrett Hayton breaking out this year as a potential second-line center and 2022 3rd overall pick Logan Cooley looking like a potential top-line center, the Coyotes are looking pretty good down the middle so I think they would be more than happy to add a goal scoring winger like Barlow who led all OHL draft eligibles in goals (46) and points (79) this season. He's also an accomplished two-way player as well who will likely be able to kill penalties in the NHL someday.
13. Buffalo Sabres: Andrew Cristall, LW, Kelowna Rockets (WHL)
The Sabres are so loaded with young talent at this point that I think they're willing to take a bit of a risk on Andrew Cristall, who will likely fall a bit on draft day due to his lack of size (5-foot-10) and his uninspiring skating ability. However, Cristall has the offensive potential to surpass his faults and become an excellent offensive player in the NHL. Cristall's pure skill level is astounding and his shot is extremely underrated, so if he can make it work in the NHL he has the potential to be a Jeff Skinner or Kyle Connor type who provides tons of value on offense while not being a particularly good two-way player.
14. Pittsburgh Penguins: Brayden Yager, C, Moose Jaw Warriors (WHL)
The Penguins find themselves at a crossroads this summer. Just one year removed from doubling down on their aging core for another few years, their management group failed to surround their stars with enough talent to make the postseason, and they are sitting out the playoffs for the first time since 2006.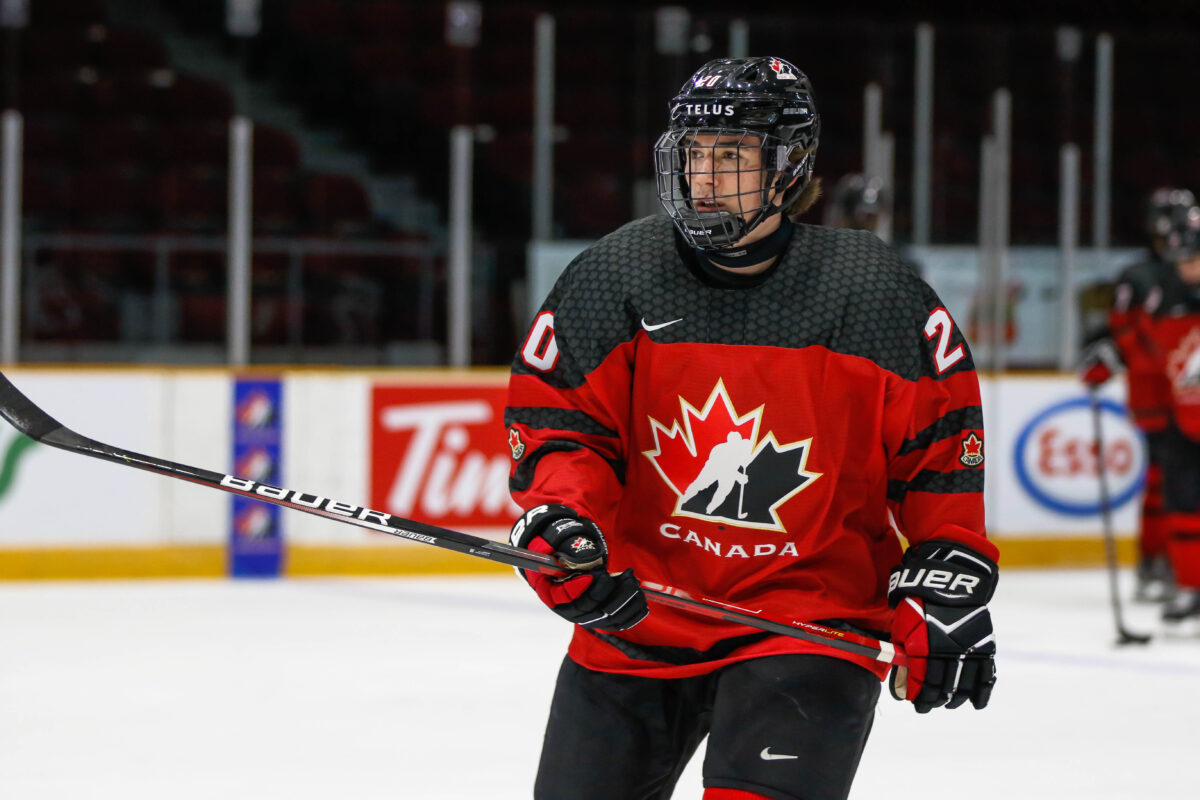 Brayden Yager strikes me as a great pick for the Penguins here as a bit of a bridge between the current group and the future that the club may need to start building towards sooner than later. He is a centerman with a wicked shot who had a bit of a disappointing season production-wise, but his direct style of play and the potential he has shown over the last two seasons in the WHL will likely be enough for him to be selected in the top-16 this year.
15. Nashville Predators: Calum Ritchie, C, Oshawa Generals (OHL)
Calum Ritchie is a well-rounded centerman with great puck skills and a good defensive game. He doesn't quite have the draft year production to find himself in the top-10 conversation, but he has shown enough offense in the OHL that NHL teams won't be scared off. He's been a reliable penalty killer for the Oshawa Generals and has been very successful in the faceoff circle, taking most of the Generals' high leverage faceoffs. Ritchie could use a bit of work on his acceleration, but his skating is pretty solid and should allow him to keep up well in the NHL. He's a smart player without the puck both on offense and defense, and I think the Predators would be making a good bet on him at 15th overall.
16. Calgary Flames: Eduard Sale, RW, HK Kometa Brno (Czechia)
After narrowly missing the playoffs this season, the Flames are picking in the lottery once again, selecting Eduard Sale with the 16th overall pick. Sale has had an up and down year, with the highest point coming at the Hlinka Gretzky cup last summer and the lowest point being right now. He has competed well in the top professional hockey league in Czechia this year, but has been plagued by inconsistency.
Related: Early Look at the 2024 NHL Draft
Sale will be suiting up for Czechia at the U18 World Juniors, which will give him a real chance to recoup some of his draft stock. Sale has excellent hands and possesses the size and playmaking ability to be a top-six winger some day, but he will need to show some more growth before that is a realistic projection for him.
17. Montreal Canadiens (via. Florida): Matthew Wood, LW/C, University of Connecticut (NCAA)
After adding Oliver Moore with their first pick, I've got the Canadiens selecting Matthew Wood at 17th overall. Wood was the youngest player in the NCAA this season, and still managed to put up an impressive 34 points in 35 games. He's got an excellent shot, a large frame, and great hands, and the biggest thing holding him back is his skating. His size and shot alone might be enough for a team to take a chance on him earlier than this, but his skating needs enough work that I wouldn't bet on it. A future forward group that includes Juraj Slafkovsky, Nick Suzuki, Cole Caufield, Moore, and Wood has a ton of potential to worry some opposing NHL teams soon.
18. Detroit Red Wings (via. Islanders): Axel Sandin Pellikka, RD, Skellefteå AIK (SHL)
After filling their need for offensive talent with Benson, I've got the Red Wings working on their lack of right-defense depth here with Axel Sandin Pellikka (ASP). Few draft year defensemen spend half of their season in the SHL, and even fewer manage to create consistent offense in one of the world's toughest pro leagues. Sandin Pellikka did just that this year, splitting his time between dominating the Swedish junior circuit and playing up against men to pretty good results.
He caught the world's attention with Sweden at the World Junior Championship where he earned the trust of his coaches and was one of the most utilized defenders as an underager. Sandin Pellikka has tons of offensive potential and could provide a nice stylistic balance to Moritz Seider as the second pairing right-handed defender in Detroit someday.
19. Winnipeg Jets: Dmitri Simashev, LD, Lokomotiv Yaroslavl (KHL)
The Jets have been hovering around in the NHL's mushy middle for the last few years, but they've made the most of it when it comes to the draft. In the last three years alone they've added young forward prospects like Cole Perfetti, Chaz Lucius, Rutger McGroarty, and Brad Lambert. However, their prospect pool is a little bit thin when it comes to defensemen, so I've got them taking big, Russian defender Dmitri Simashev with their first rounder this year. Simashev made his KHL team out of training camp this fall, and never looked back. He's got a remarkably polished defensive game, a massive frame, a smooth skating stride, and has shown enough offensive potential to someday end up as a top-four defender in the NHL. 
20. Chicago Blackhawks (via. Tampa Bay): Samuel Honzek, C/W, Vancouver Giants (WHL)
After adding Will Smith at fifth overall, I've got the Blackhawks going for some size with Samuel Honzek, a big Slovakian winger who dominated the WHL in his first season in North America. Honzek competes very hard, skates well, and has shown a ton of offense this year, traits that could very well see him go much earlier than this on draft day.
Related: Ranking the Best Landing Spots for Connor Bedard
He projects to have a reliable two-way game, providing value in the NHL on both special teams. Honzek has spent most of this year on the wing, but the Giants tried him out as a center down the stretch run and results have been mostly positive. 
21. Seattle Kraken: Riley Heidt, C, Prince George Cougars (WHL)
Riley Heidt is an excellent playmaker who works incredibly hard both with and without the puck. He's got lots of skill and earns a ton of controlled zone entries at the junior level. He's been great at the center spot in the WHL, winning plenty of faceoffs and driving play down the middle of the ice, but the Kraken already have Matty Beniers and Shane Wright down the middle so it wouldn't be the end of the world if Heidt shifted over to one of their wings in the future. Though he's not the biggest forward (5-foot-10), he plays hard and isn't afraid to get a little bit physical which bodes well for his NHL projection.
22. Minnesota Wild: Bradly Nadeau, C, Penticton Vees (BCHL)
The Wild's need for centermen has been well-documented over the last few years, so I wouldn't be shocked to see them fill that need in the draft with someone like Bradly Nadeau. Few players get drafted in the first round of the NHL draft right out of the Canadian Junior A leagues, but I expect Nadeau to do just that following his dominant year with the Penticton Vees where he led the entire league in goals and points as a 17-year-old.
Nadeau is very quick and has an absolutely wicked wrist shot that I expect will be good enough to beat NHL goaltenders with regularity in his prime. He lacks the ideal size for an NHL center (he's 5-foot-10), but he competes hard and skates very well so I think he's got a real shot down the middle in the NHL.
23. Columbus Blue Jackets (via. Los Angeles): Gavin Brindley, C/RW, University of Michigan (NCAA)
Don't let Brindley's size fool you (5-foot-9), he is one of the most physical and tenacious players in this year's draft with an excellent offensive game to round out his skill set. He's a very adaptable player who can succeed in any spot in the depth chart, with the speed and tenacity to play in an NHL bottom-six role, and the skill to provide offense in a top-six role. Brindley played all over the lineup for the University of Michigan this year before earning a full-time spot on Fantilli's wing to end the season, where he provided a ton of energy and offensive talent. 
24. Dallas Stars (via. Rangers): Gabe Perreault, RW, USA U18 (NTDP)
Gabe Perreault is one of this year's premier playmakers, and the only reasons he's not higher than this are his lack of size and his below-average skating. Perreault is an intelligent offensive talent with an uncanny ability to get passes through lanes that his opponents don't even realize are open. He produced points at an absurd rate for the USA U18 team this year, joining Jack Hughes (and teammate Will Smith) as the only players to ever score two points per game for the U18 National Team Development Program squad. Even if the skating doesn't catch up, Perreault's offensive qualities should make him a legit NHL threat, especially on the power play.
25. St. Louis Blues (Dallas): Mikhail Gulyayev, LD, Omskie Yastreby (MHL)
Mikhail Gulyayev is without a doubt one of the most exciting defensive prospects in the world, with the perfect toolkit to become a modern power play quarterback. He's got the dynamic and agile skating, the hands to transition the puck well through the neutral zone, and enough offensive IQ to lead the charge for his team from the back end.
Related: NHL's Top 100 Prospects Ranked
The big question with Gulyayev is how well he'll be able to defend in the NHL as a 5-foot-10 defender who hasn't looked particularly great defensively. If he can take a few strides defensively, then Gulyayev's offensive potential will carry him quite high in an NHL lineup, probably as a second pairing defender who gets tons of power play minutes.
26. Colorado Avalanche: Quentin Musty, LW, Sudbury Wolves (OHL)
The Avalanche built a Cup winner through the draft so they're in a place where they can select players who might be a bit riskier but have tons of potential. With that in mind, I have them selecting Quentin Musty who has shown the ability to be a game-breaking offensive player, but has struggled to reach that level with regularity. He's got tons of skill, makes difficult passes look easy, and it helps that he has a late birthday, meaning he's got plenty of time to put all of the pieces together. Musty is not a good defensive player and offense-only wingers who aren't the best skaters don't always work out at the NHL level, but Musty's offense is exciting enough that he's a safe bet as a first rounder this year.
27. Nashville Predators (Edmonton): Oscar Fisker Mølgaard, C, HV71 (SHL)
Oscar Fisker Mølgaard is one of the biggest risers in my eyes for this draft cycle, going from unknown, going from scoring eight points in the top Swedish junior league last season to spending most of his draft year as a middle-six center in the SHL. He's a very reliable defensive centerman who works incredibly hard and has shown a remarkable ability to win battles for his team as a teenager.
Fisker Mølgaard won't excite teams with his offensive play, but he's smart enough and good enough at driving play that there will be a team who thinks they can unlock his offensive potential. He's a safe bet to become a good, defensive, bottom-six center, and could become a whole lot more if the NHL team that selects him can develop his offensive game.
28. Vegas Golden Knights: Koehn Ziemmer, RW, Prince George Cougars (WHL)
I think Koehn Ziemmer is a dream selection here for Vegas as a young player with a near NHL-ready frame who could realistically make their team out of training camp at the start of the 2024-25 season and be a real contributor for them on his entry-level deal. He's got a hard shot and beats WHL defenders with ease with his hands, though his skating is nothing special and will likely limit his ceiling as an NHL player. Ziemmer has the potential to become a second-line winger with a decent two-way game and solid offense, and that would be an absolute win for a team that is still squarely in their contending window like Vegas.
29. St. Louis Blues (via. Toronto): Gracyn Sawchyn, C, Seattle Thunderbirds (WHL)
Gracyn Sawchyn has quickly become one of my favorite players in this year's draft as a speed center with lightning-quick hands and a hard-working style. He hasn't received much hype this year because he's been playing on a stacked Seattle Thunderbirds team and spent much of the season behind the likes of Brad Lambert and Colton Dach.
Sawchyn spent much of the year as the 3C for Seattle and still managed to score at a point per game rate before missing out on the final months of his season due to injury. He's got a very high compete level and that coupled with his great stick-work makes him an excellent forechecker. Sawchyn strikes me as a player with tons of potential to become a fan-favorite, hardworking, middle-six center in the NHL.
30. San Jose Sharks (via. New Jersey): Ethan Gauthier, RW, Sherbrooke Phoenix (QMJHL)
If you love a good hard-working, physical forward who consistently pushes play in the right direction for his team then you're going to love Ethan Gauthier. Gauthier excels in the small areas like puck battles around the boards and short, smart passes while he's under pressure, and his high-end motor always gives him a chance to battle back even if an opponent beats him out initially. He doesn't have the dynamic skill or shot to be an exciting offensive weapon, but he has the all-around skill set to be a workhorse middle six forward who "wins the shift" more often than not in the NHL. 
31. Carolina Hurricanes: Danil But, LW, Loko Yaroslavl (MHL)
Danil But is a pure upside pick at this point in time, with a size and shot combo that excites and a skating ability that is cause for nerves. But stands at 6-foot-5 and has one of the heaviest and most accurate shots in the draft, capable of beating KHL goalies already. He's also got more speed than expected for such a big guy, but his mobility is not at an NHL level yet, especially when he gets up to his top speed. But is an intriguing project, and it doesn't help that he plays in Russia, however I expect his size and shot to be difficult for NHL GMs to ignore.
32. Toronto Maple Leafs (via. Boston): Alex Ciernik, LW/RW, Södertälje SK (Allsvenskan)
Alex Ciernik is an excellent skater, with the speed and agility to be successful in transition. He's also very shifty through the neutral zone, losing defenders with head fakes and momentary hesitations. After dominating the top Swedish junior league last season, Ciernik played about half of his draft year in the HockeyAllsvenskan, Sweden's second-tier pro league, where he scored 12 points in 25 games, the fourth-most among all U19 players. He's a gifted playmaker as well, setting up plays well on the rush, though he can be a little too focused on beating defenders with speed at times. Ciernik will be an important member of Team Slovakia at the 2023 U18 World Championship that is coming up, and a good showing could do wonders for his draft stock.