It's all but guaranteed at this point that Regina Pats centerman Connor Bedard will be the first overall pick in the 2023 Draft, and NHL teams are doing whatever it takes to get a better chance at winning the first overall pick in the draft lottery. He has the potential to be a franchise altering superstar with game breaking offensive skills that already rival some of the very best NHL players despite him being just 17 years old.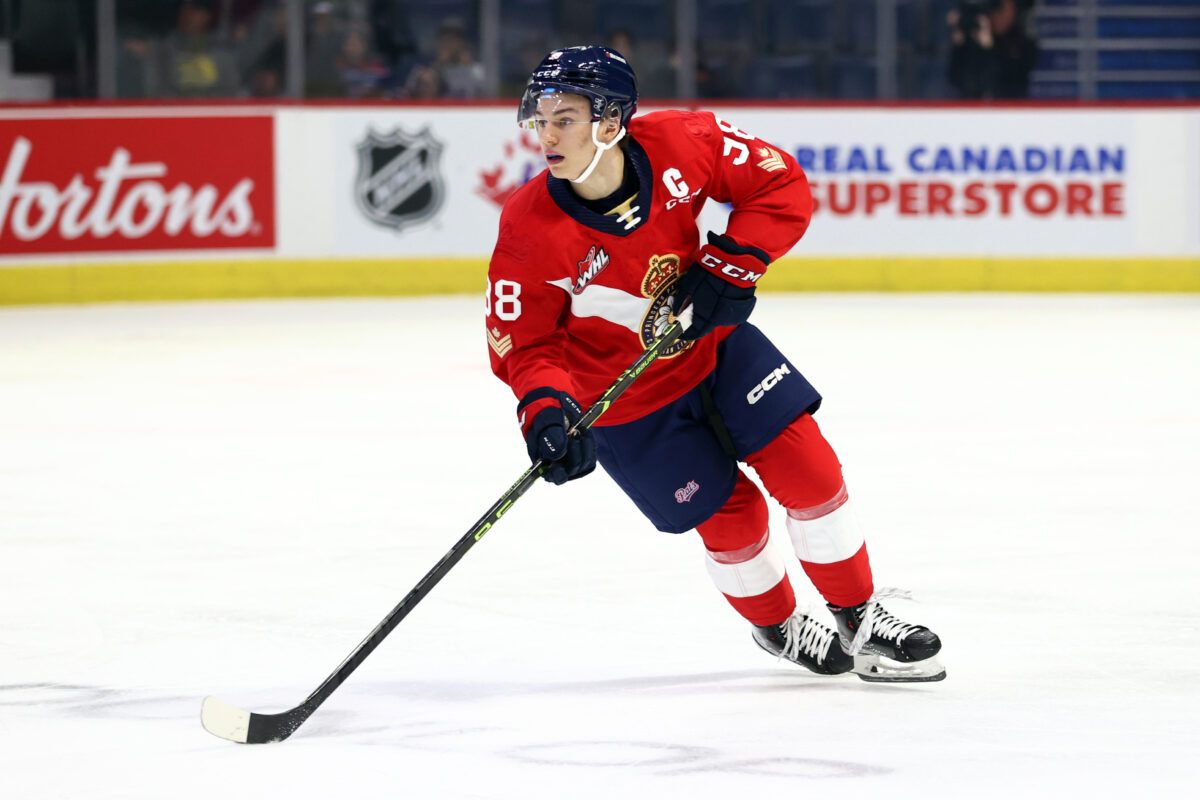 I decided to try something new with this piece, ranking the best teams for Bedard to join while keeping his best interest in mind. That means the top team must have a spot in the depth chart perfect for him, a chance to win important games in the near future, quality teammates/prospects to play with, have a sensible rebuilding timeline that Bedard fits into, among a few other factors. There isn't a team in the NHL that wouldn't absolutely love to add him, but some teams would be much better destinations for him than others.
Related: 2023 NHL Draft Guide
---
Latest News & Highlights
---
I will be ranking 15 teams with picks in the top-16 (the Montreal Canadiens have two) as of Monday, March 13, since they have the best chances at potentially landing the first overall selection. The new NHL Draft lottery rules mean that only the NHL's bottom 11 teams even have a chance so some of these teams won't even be in the running when the lottery comes around. I will also be assuming that Bedard makes it as a center in the NHL for most of these because of the value of that position and my belief that his skating/compete combo gives him a good shot at sticking there. Without further ado, let's take a look at which NHL teams would make for the very best landing spots for Bedard.
15. Philadelphia Flyers
After firing Chuck Fletcher and naming Danny Briere interim general manager, it has become clear that the Flyers are finally committing to a rebuild. However, that also means that they're likely to be trading away more of their good players and have very few quality young players to use when trying to build a great team around Bedard in the near future. Cutter Gauthier (5th overall in 2022 Draft) could very well be a great second-line center behind Bedard someday, but there aren't a lot of exciting young wingers or defenders coming up in Philly so their future is a bit murky.
---
---
This is one of the few teams really competing for Bedard (seventh best odds as of writing) that would likely still be absolutely horrid next season even if they added Bedard, so it's very possible that they could add another top-10 pick or two to build around Bedard with, but it just doesn't seem like a great fit at the moment. A team that just started their rebuild would likely feel the need to immediately accelerate said rebuild after landing Bedard which probably won't lead to long-term success in Philly's case.
14. Washington Capitals
Washington would be an interesting landing spot for Bedard, with enough talent around him to be a fringe playoff team in his rookie year. It would be a bonus to have Alex Ovechkin as a teammate/mentor for Bedard so us fans could see the greatest goalscorer of all-time passing the baton to someone with the potential to be one of the best snipers in the league for the next decade.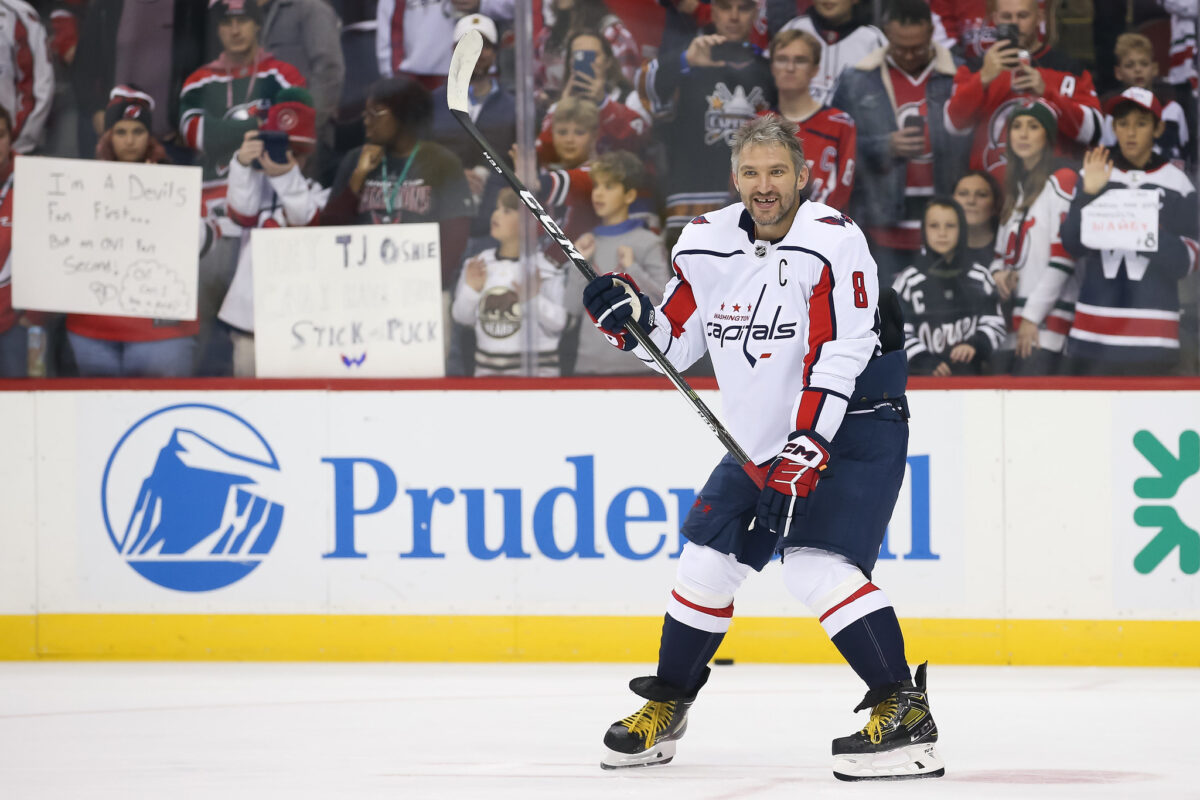 However, Ovechkin, Evgeny Kuznetsov, Nicklas Backstrom, and John Carlson are nearing the end of the prime of their careers (or have already passed that point), which would leave Bedard with very little in the way of high-end talent to play alongside long-term. The Capitals don't have the greatest prospect group at the moment, so the first year or two of Bedard's career would be competitive before having to endure a re-tool/build for the next few years which is certainly not ideal.
13. San Jose Sharks
The San Jose Sharks are in a similar boat to the Flyers in that they've only recently committed to a full rebuild when they traded away Timo Meier and that would make them a strange landing spot for Bedard simply based on their timeline. He'd have an easy path to being their first line center (1C), slowly working his way through the lineup past Logan Couture and Tomas Hertl, but the Sharks don't have very many top of the lineup type prospects for Bedard to play alongside yet.
Related: Connor Bedard – 2023 NHL Draft Prospect Profile
I'm a big fan of both William Eklund and Filip Bystedt, but that trio doesn't instill enough confidence in me that this will be a great team long-term. I'd bet that Bedard makes this current group better next year, maybe pulling them into the 24-18th in the league range, which hurts their ability to build through the draft with high picks while also not making them an especially competitive team. We can find a better fit.
12. Chicago Blackhawks
There is no easier path to being a 1C in the NHL for Bedard than the Chicago Blackhawks, a team that is trying so blatantly to lose games in order to improve their lottery odds that their current leading scorer is Seth Jones with 31 points in 56 games. Chicago would be a great team for Bedard to be marketed well as one of the best and most exciting hockey players in the world, something that tends to translate well in terms of endorsement deals and end of season award votes.
However, Chicago's rebuild has barely started and they really don't have enough talent yet to make a contending team. I don't think their rebuild would reach full bloom if they landed Bedard because they would need to play him in the NHL which means they'd have to stop icing an AHL roster and try to win games again. Winning games is the opposite of what this team needs long term with just three top-10 selections in the last 10 drafts, only one of which is still a part of the organization.
11. Nashville Predators
Bedard would likely be the best center in the history of the Nashville Predators franchise from the first moment he steps on the ice for them. The path to being their 1C is maybe a little too wide open, meaning it's likely that he plays a big role against stiff competition very early on, but I think he'd adapt pretty well. The Preds also have a few good wingers on their roster and prospect pool including Filip Forsberg, Phillip Tomasino, Joakim Kemell, and Luke Evangelista, so the teammate quality would be there.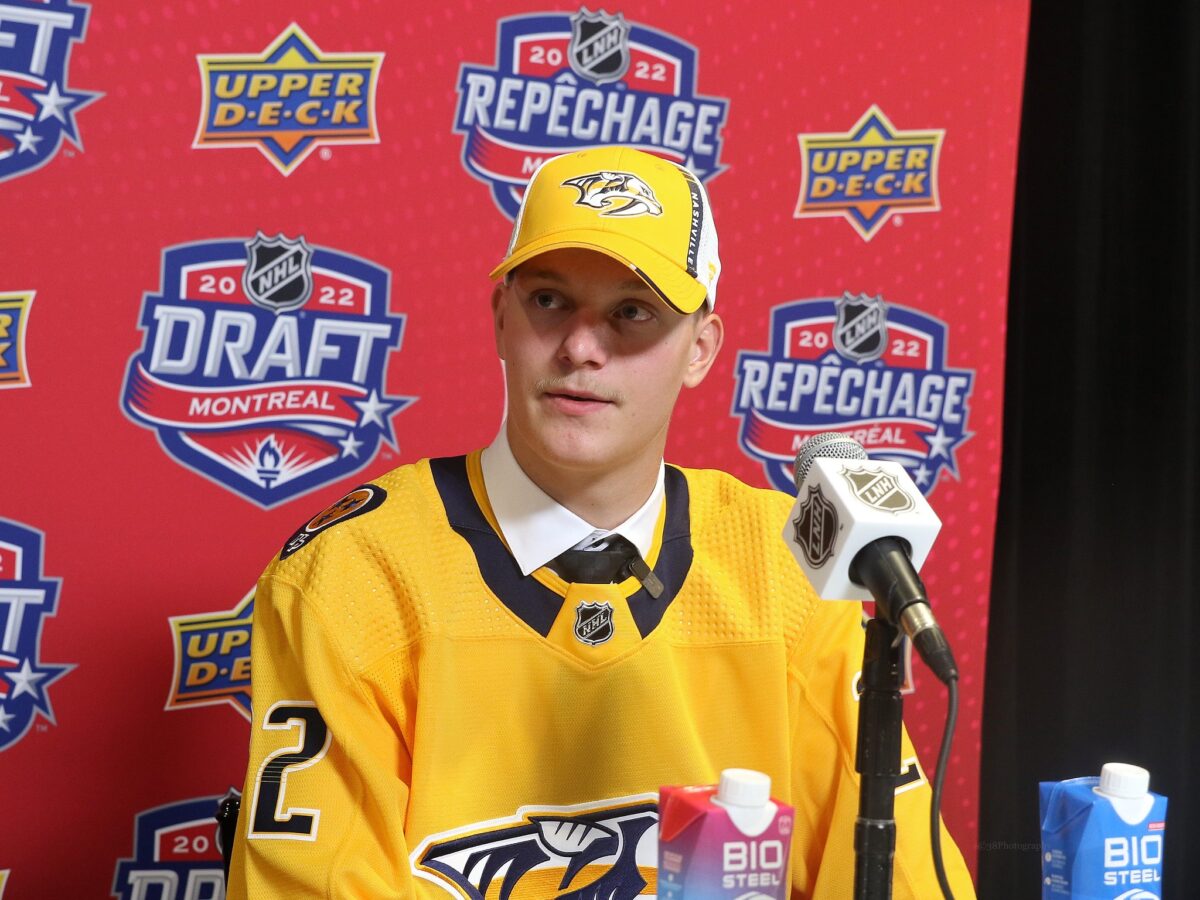 Nashville still has a solid D-corps and one of the best goalies in the world in Juuse Saros and one of the league's best goaltending prospects in Yaroslav Askarov, so they could jump back into the playoffs no problem next season with a few more of their young players on the roster. It would be cool for Bedard to be the first genuine superstar player in Nashville, but I fear they lack the high-end prospect pool at center and defense to capitalize on his talent and build a Stanley Cup caliber team in his prime years.
10. St. Louis Blues
If the St. Louis Blues were lucky enough to land Bedard, the plan would be to be competitive again next season, with him likely slotting in as the 3C behind Robert Thomas and Brayden Schenn, before working his way up to the first line eventually. The Blues have some really good wingers for Bedard to play with over the next few years with Jordan Kyrou and Pavel Buchnevich on the team now and prospects like Jimmy Snuggerud and Jake Neighbours on their way to the NHL as well.
This Blues team could be a playoff contender for most of Bedard's career, though I'm not convinced they'd have a real shot at winning the Stanley Cup anytime soon.The path to being a first line player without needing to be rushed is valuable, but I'm not particularly confident in the future of their D-corps or goaltending so I still think we can do a lot better.
9. Calgary Flames
This is a very unlikely landing spot for Bedard since the Calgary Flames currently have the 14th best odds at the first overall pick (at the time of writing), but boy would it be a fun one. This is a really good roster that has underperformed significantly so far. In my opinion, Calgary could likely return to the playoffs next year by finding a new head coach, though adding Bedard would certainly help as well. They've also got a really solid prospect pool with guys like Dustin Wolf and Matt Coronato nearly ready to crack the NHL roster.
Related: 2023 Draft Rankings – Horn's Top 64 (January)
The biggest issue is that the Flames are one of the few teams with little to no need at center going forward, with Elias Lindholm, Nazem Kadri, and Mikael Backlund lining up down the middle. They've also got plenty of good NHL wingers so there's not a ton of space for Bedard in their forward group. That lack of a clear spot, paired with the unlikely nature of him even landing in Calgary is enough for them to fall down this list a bit, though it would be fun to watch him tear it up with guys like Jonathan Huberdeau and Coronato.
8. Montreal Canadiens
The Montreal Canadiens are yet another team with a need for a center meaning there's a clear path for Bedard to become their 1C in just a few short years after surpassing captain Nick Suzuki. Montreal doesn't have the most depth when it comes to their young wingers, but imagining one of Cole Caufield or Juraj Slafkovsky on Bedard's wing is enough to get me excited about the possibility.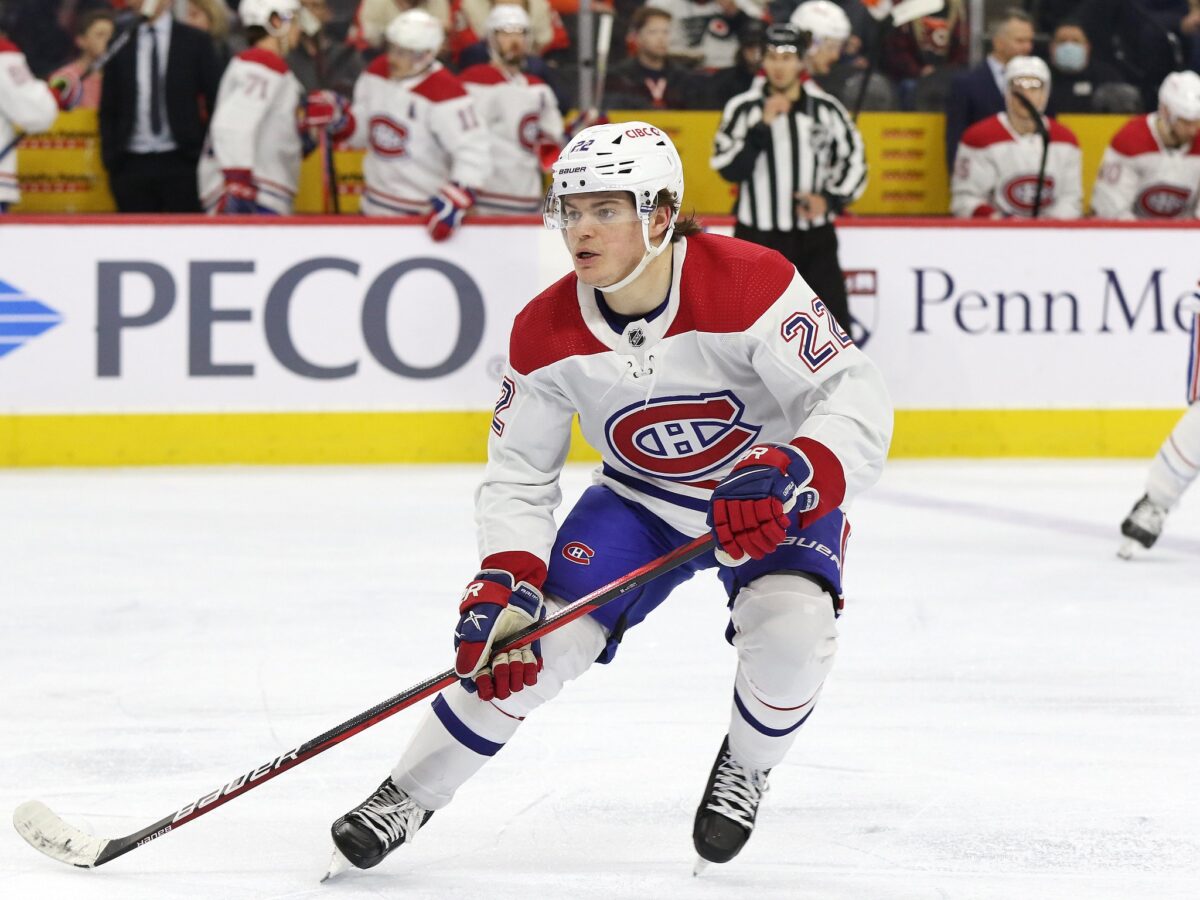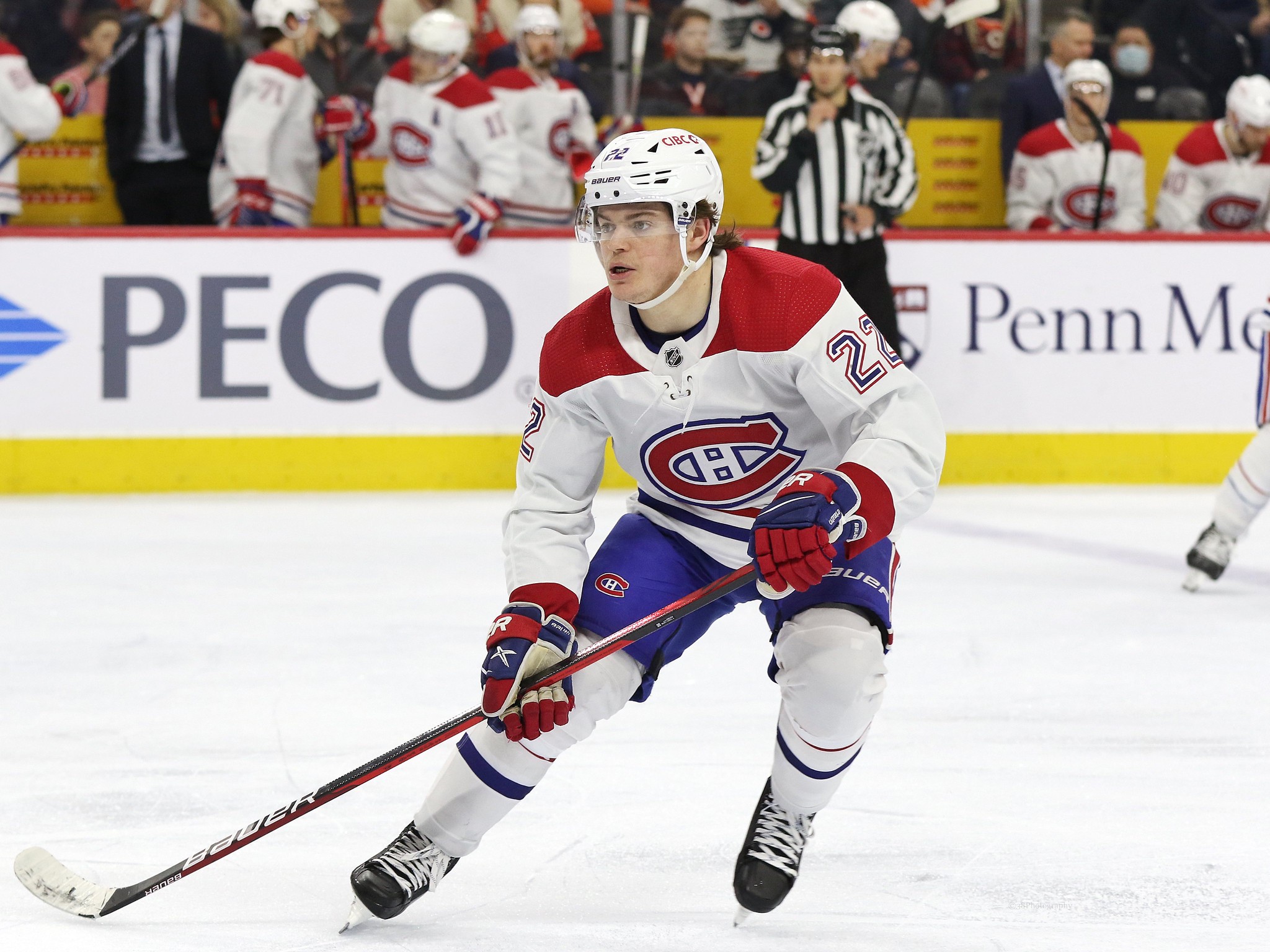 The Canadiens don't have a whole lot of depth at defense or in goal, but being a franchise center for such a historic franchise with tons of fans who are hailing you as the team's "saviour" has to sound pretty good right? Does anyone know how good Bedard's French is?
7.  Buffalo Sabres
The Buffalo Sabres are another team that is very unlikely to land Bedard as they had the 13th best odds at Bedard before Monday's game against the Toronto Maple Leafs, but I couldn't help myself because Bedard to Buffalo would just be so much fun (plus it would feel like some kind of karmic realignment after they got snubbed in the 2015 Draft lottery). The Sabres have been a really fun team this year with great prospects and young roster players at pretty much every position. They would almost certainly be a playoff team next season with Bedard in the fold.
The only issue aside from losing enough games to even be able to land Bedard is that there's not a very clear role available for him with Tage Thompson and Dylan Cozens each locked up long-term and looking like great top-six centermen. However, moving Bedard to the wing isn't much of an issue in my mind, especially if it's because you already have too many great centers. 
6. Arizona Coyotes
The Arizona Coyotes could be a very good landing spot for Bedard, with a solid prospect pool headlined by Logan Cooley (3rd overall in 2022 Draft) who would combine with Bedard to create an incredible center duo that would likely set the league on fire for the next 15 years. The Coyotes also have some good young wingers like Dylan Guenther (Bedard's teammate at the last two World Juniors), Clayton Keller, and Nick Schmaltz who could pair nicely with Bedard.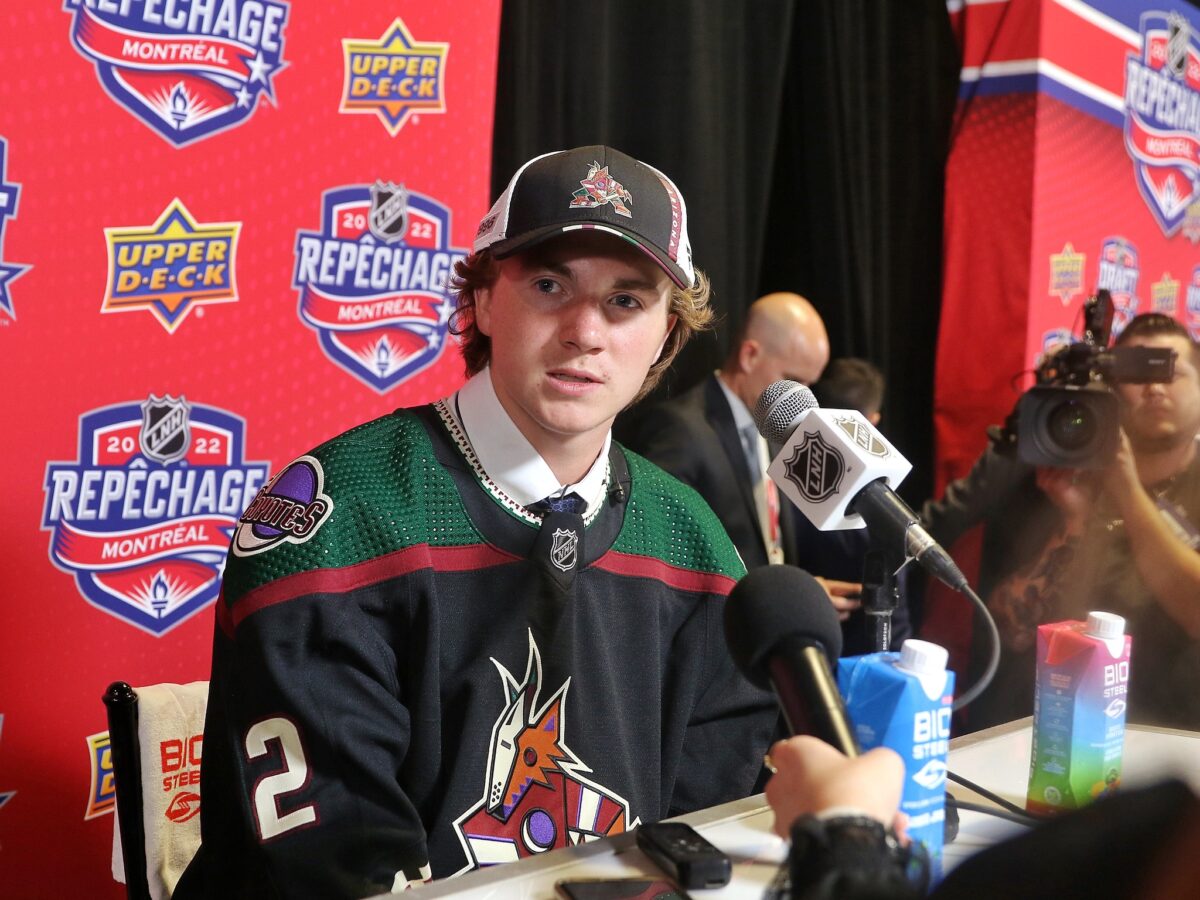 Another factor that might be the best thing for Bedard long-term is the arena situation in Arizona, with Mullet Arena being his home for the first few years of his career, taking off a bit of the pressure of playing for 18 thousand hometown fans before he's ready for it. Plus, the new arena that is being planned would be ready right around the time that Bedard would likely be a true star in the NHL which could be perfect. The biggest issue here in my eyes is that the Coyotes don't have great depth at defense in the NHL or their prospect pool so it's a bit difficult to envision this team contending in a few years, but the Bedard/Cooley combo certainly helps get your imagination started.
5. Columbus Blue Jackets
The Columbus Blue Jackets are one of my favorite possible landing spots for Bedard because they've got a really good prospect pool and an incredible fan base that deserves a superstar. The Blue Jackets have been the butt of plenty of jokes about NHL fan bases over the years, but check out the attendance numbers and ask yourself how bad their fan base is if they're selling out games during such a horrible season. The fans love hockey and they deserve a great player and team. Bedard could give that to them.
There's a clear path forward for Bedard as the team's top center, plus several excellent wingers for him to lineup with like Patrik Laine, Johnny Gaudreau, and Kent Johnson. Columbus also has one of the most impressive groups of defensive prospects in the NHL with Corson Ceulemans, Stanislav Svozil (Bedard's teammate in Regina), and David Jiricek all nearing the NHL. I think it would also be a great place for Bedard because he'd get the chance to learn from Gaudreau who has had a very successful career as an undersized player.
4. Anaheim Ducks
The Anaheim Ducks looked to be ready to put their rebuild behind them for much of last year before coming back down to earth and landing Pavel Mintyukov with the 10th overall pick, as well as another very early selection this year. The Ducks are set up to become one of the Western Conference's juggernauts in the near future, with great young centers in Trevor Zegras and Mason McTavish (one of Bedard's good friends), plus Nathan Gaucher on his way to the NHL soon as the platonic ideal of a bottom-six centerman.
Obviously the Ducks have center depth like few other teams, but Zegras has spent some time on the wing of late and I'd expect that one of him or Bedard would stick on the wing long term which solves that issue. They also have some of the most exciting young defensemen in the hockey world in Jamie Drysdale, Mintyukov, and Olen Zellweger, giving Anaheim one of the most exciting young groups even before landing Bedard. The Ducks would be a no brainer great spot for him.
3. Ottawa Senators
Now, if you just take a look at Tankathon's Mock draft lottery, you might think that the Senators don't have their first round pick this year after giving it up to land Jakob Chychrun from the Arizona Coyotes like I did in the first version of this article (whoops), but the Senators understand the value of a high pick in this year's draft, making it top-five protected. That means that if Ottawa's pick were to win the draft lottery, they would keep the pick and instead send their unprotected 2024 1st rounder to the Coyotes. That means the Sens are officially in the Bedard sweepstakes, and boy would they be a good fit.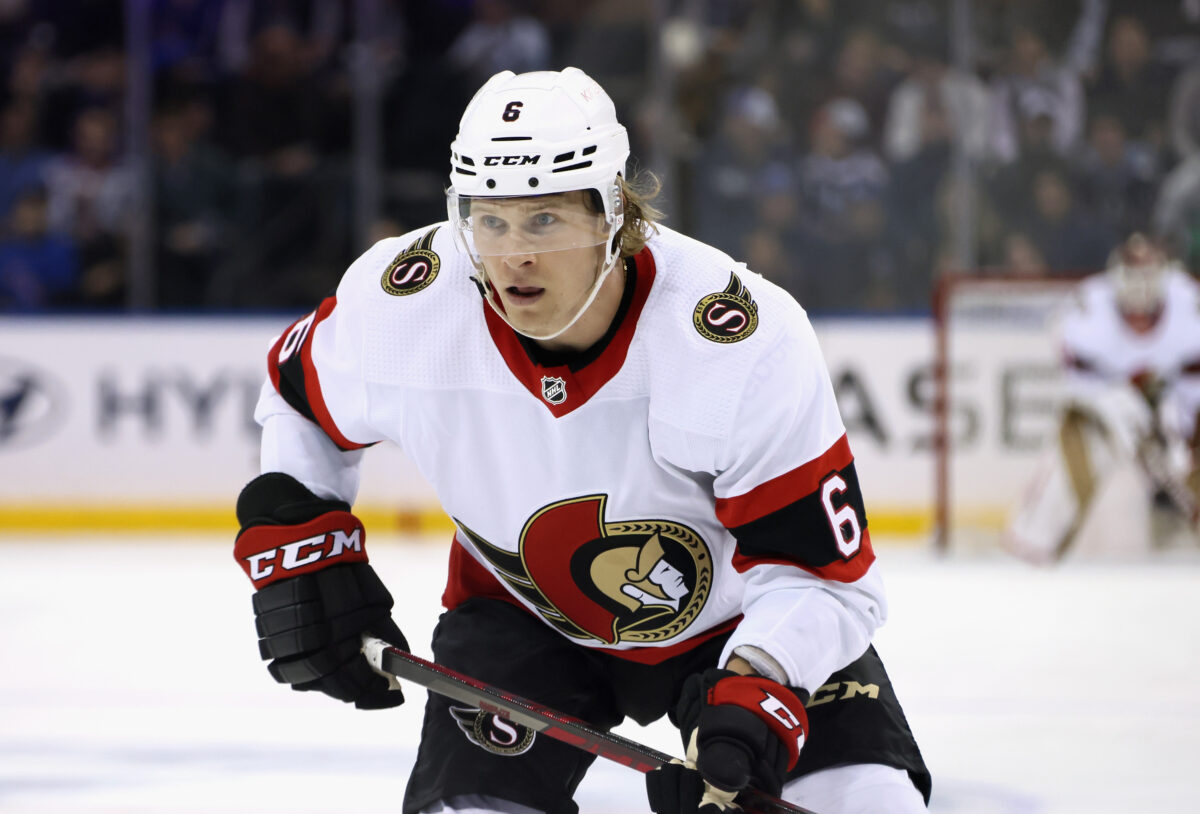 Firstly, this fanbase has been through a lot and I think it would be awesome for them to get their guy here and build an absolute juggernaut capable of competing in the gauntlet that is the Atlantic Division. Secondly, this is one of the more talented groups that could possibly land Bedard, with a fearsome defensive group with the likes of Thomas Chabot, Chychrun, and Jake Sanderson manning the left side. Bedard would also have a ton of great wingers to play with like Alex DeBrincat, Drake Batherson, and Brady Tkachuk who could all complement his game in different ways. It also helps that they're nearly ready for the playoffs this year, and Bedard would almost certainly be enough to put them over the edge next season.
Bedard would slot in nicely as the 3C on a healthy Senators team next year behind Tim Stutzle and Josh Norris, though that's a pretty strong top-six center pairing to try to break into and Bedard may be moved to the wing eventually (again, that's not a bad thing). Claude Giroux only has two more seasons left on his current contract after this current one, so maybe Bedard could take his spot in the top-six shortly as well. Honestly, this is a really solid fit and the only things holding them back from being ranked any higher is their lack of a true number one goalie in the NHL or in their farm system (sorry Mads Sogaard), the lack of storylines, as well as the unlikelihood of him even landing here, making it tough to get too excited about.
2. Vancouver Canucks
It's no secret that the North Vancouver native Bedard is a lifelong Canucks fan, but that's not the only reason they get such a high spot here. The "Hometown Kid" storyline means a lot, but there's a lot of pressure that goes along with that, especially for a franchise that has never won the Stanley Cup. Regardless, this Vancouver team would be a great fit for Bedard in the near and long-term future.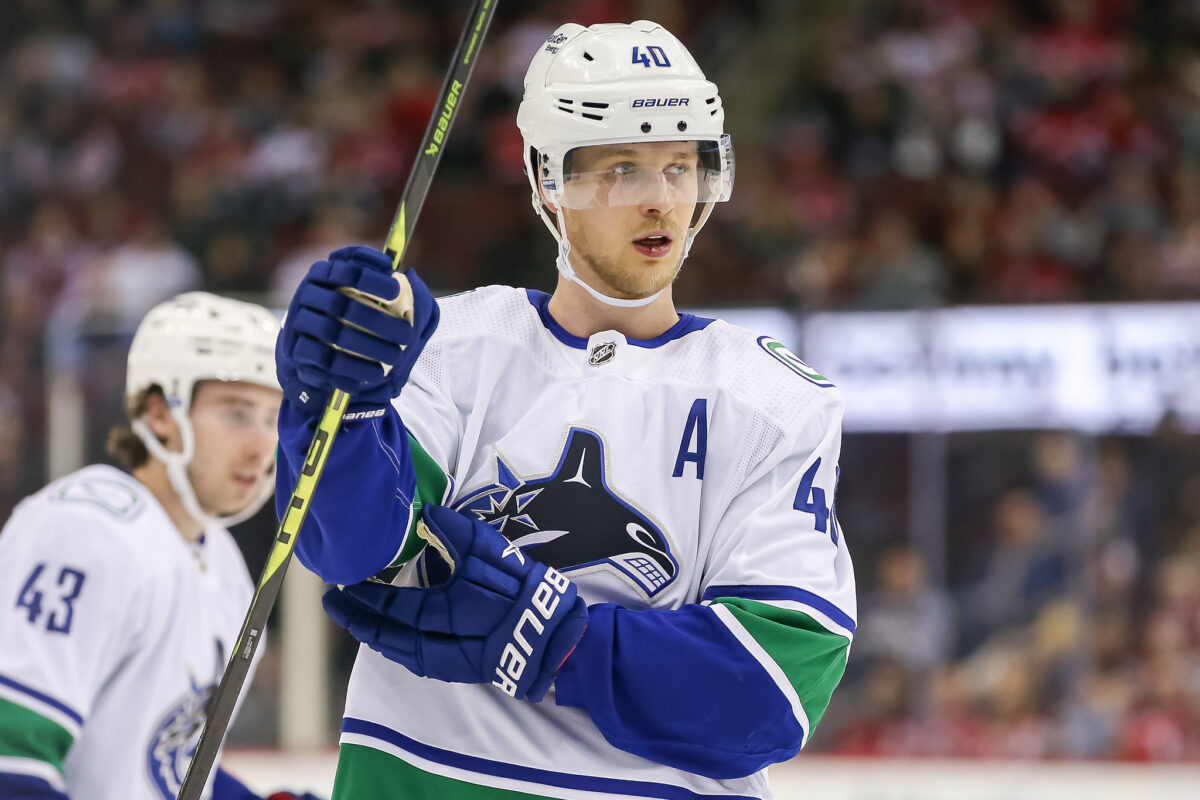 There's a spot open for him as the team's 3C next season and he could replace JT Miller as the second-line center as soon as he's ready, bumping Miller back to the wing where he has been the most effective. Part of what makes the Canucks such an attractive landing spot for Bedard is that he wouldn't need to be their first line center because Elias Pettersson has established himself as one of the 10-15 best players in the entire NHL, capable of handling tough assignments while producing tons of offense, leaving easier minutes for Bedard to crush alongside Vancouver's glut of quality wingers like Vasili Podkolzin, Andrei Kuzmenko, Connor Garland, Nils Hoglander and more. 
Related: Early Look at the 2024 NHL Draft
With Bedard, this team is ready for a playoff run, more due to their luck in landing him than the competence of the management group. If the Canucks could add two top-four quality defenders (which is a tall order even if one of Oliver Ekman-Larsson or Tyler Myers suddenly remember how to play like one), then they could be legit contenders soon and throughout the primes of Pettersson, Quinn Hughes, and Thatcher Demko's careers. 
1. Detroit Red Wings
I think that the perfect landing spot for Bedard is the Detroit Red Wings because of the quality of the team and prospect pool as well as the clear, future-focused vision that the management group has. Detroit has had the most atrocious draft lottery luck imaginable, to the point where staying put in the 2022 Draft lottery was seen as a win by some fans. Despite their lack of lottery luck the Red Wings are a very well rounded rebuilder with great young players in the NHL and their prospect pool at every position, and Bedard would fill their last big need as a centerman with tons of offense.
Captain Dylan Larkin can handle the 1C spot for as long as is needed and Marco Kasper is going to be in the NHL shortly, so Bedard could even shift to one of their wings if the team doesn't want Kasper on the third line. This team needs a bit more offensive punch and Bedard would give that to them in spades. Detroit already has a ton of great prospects on defense with guys like Simon Edvinsson and William Wallinder likely being impactful NHL defenders in the next 18 months or so, and they've also got some great players on the wings.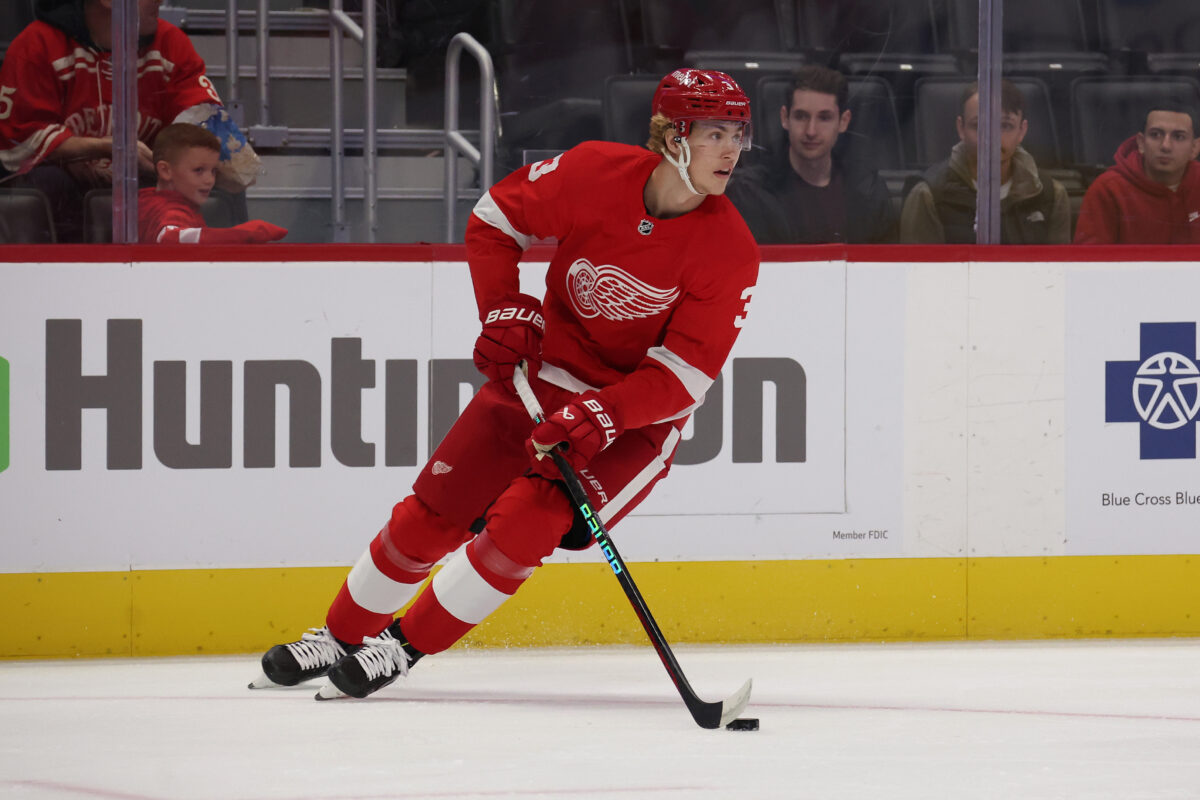 The Red Wings have tons of skill and variety in their young wingers with Carter Mazur, Jonatan Berggren, Lucas Raymond, and Elmer Soderblom giving Bedard a ton of possible future linemates. If Sebastian Cossa's development continues to trend positively (with him ultimately becoming a good starting goalie in the NHL), and Edvinsson becomes the great top-four defender he's on his way to becoming, then this team is one good right-side defender away from being a Stanley Cup contender.
Detroit has another 1st rounder in the 2023 Draft that they landed in the Filip Hronek trade, as well as three 2nd rounders, so they are likely to add, at very least, one more meaningful contributor for their rebuild either on the wings or the blueline. The Red Wings' rebuild would end immediately if they landed Bedard, and they'd be a few short years from entering another golden age in the history of Hockey Town.