In the aftermath of the 2022 NHL Draft, one thing was clear: the Detroit Red Wings had established a deep prospect pool with at least one high-end prospect at almost every position. Since Steve Yzerman took over as the general manager of the Red Wings in the Spring of 2019, Detroit has added exactly 40 prospects in the draft, with some already making an impact in the NHL. But in the world of professional sports, having a good quantity of prospects only matters if there's enough quality spread throughout the pool.
That's where lists like this one come in.
Back in July of 2022, we released a top-25 prospect rankings after the Red Wings completed their haul at the 2022 NHL Draft. Since then, we've had some key graduations from the list, and we've seen plenty of prospects raise their stock while others have either stagnated or even seen their stock take a hit. After almost six months and plenty of hockey at various levels, it's time to update our rankings. But first, here's a quick reminder of the criteria I use to determine where each prospect lands:
Overall potential (how good of a player can the prospect become?)
NHL projectability (what type/level of player will the prospect most likely become?)
NHL readiness (how close to the NHL is the prospect?)
Importance of position (centers and defensemen tend to be valued higher than wingers and goalies.)
Age (how much room/time does the prospect have to grow/develop?)
Without further ado, here are the Red Wings' top 25 prospects at the halfway point of the 2022-23 season.
(Key Graduates: Jonatan Berggren (2), Elmer Söderblom (7))
25. (D) Anton Johansson – 2022, 105th Overall
2022-23 Stats: Leksands IF J20 (J20 Nationell) – 25 Games Played (GP), 6 Goals (G), 12 Points (P)
Previous Rank: NR
A player whose greatest skills are his ability to move himself and the puck, Anton Johansson has already become something of a pleasant surprise for the Red Wings. A fourth round pick in last year's draft, the Swedish defenseman hits all the points on Detroit's checklist for what they have looked for in defensive prospects in recent years: size (6-foot-4, 187 pounds), mobility, and skill. His play at the J20 level this season has been so good that he has played 13 games against men in the Swedish Hockey League (SHL) this season.
Related: Detroit Red Wings' 2022 Draft Class Recap
---
Latest News & Highlights
---
Johansson won't truly put his name on the map until he breaks out at the SHL level (he has no points in that league this season), but the fact that he's already playing in that league at just 18 years of age is a promising sign. He's a defender with a pretty well-rounded package, but he needs to develop an edge in his game somewhere. There's nothing wrong with becoming a quiet defender that just focuses on mitigating danger, but he has the skill to become something more. It will almost certainly be at least another two years before we talk about this player doing his thing in Detroit – and I would venture to say that it will be longer than that – but the early returns suggest that this is a prospect worth monitoring as we head into the future.
24. (G) Jan Bednář – 2020, 107th Overall
2022-23 Stats: Acadie-Bathurst Titan (QMJHL) – 10 GP, 4-5-1, 4.46 Goals-Against Average (GAA), .874 Save-Percentage (SV%)
Previous Rank: 25
Jan Bednář is an interesting prospect because, up until this point, his time in the Quebec Major Junior Hockey League (QMJHL) has largely been a success. Whenever he had had the opportunity to don the winged wheel (Traverse City Prospect Tournament, preseason), he has looked pretty good as well. However, the 2022-23 season looks to be a step backwards for the Czech netminder.
I can't help but to wonder if Bednář is a bit disengaged while playing in the QMJHL this season. That league is an offense-first league, so take his numbers with a grain of salt, and I wonder if he feels that he doesn't have much left to learn at that level. Considering he posted a .912 SV% and a 2.72 GAA last season, it's safe to say that he is capable of much more than what he has done this season. Maybe he just needs a bigger challenge, and that could be what's in store for him in 2023-24.
23. (G) Carter Gylander – 2019, 191st Overall
2022-23 Stats: Colgate Univ. (NCAA) – 23 GP, 12-9-2, 2.21 GAA, .925 SV%
Previous Rank: NR
In some ways, Carter Gylander has been heavily disrespected over the last few years. Just a couple of years ago, discussions about the Red Wings' prospect pool included their lack of quality goaltending prospects, and many fans were bummed out when the likes of Filip Larsson and Keith Petruzzelli either fizzled out or opted to leave the organization. Meanwhile, Gylander has done nothing but show well for himself since he began his collegiate career in 2020, which has ultimately lead to a 2022-23 season that looks to be a career-best.
Gylander was recently named to the Richter Award Watch List. The Richter Award is awarded to the top goaltender in NCAA Division I men's hockey; previous winners include Connor Helebuyck (2014), Thatcher Demko (2016), and Jeremy Swayman (2020). While I am still not sold on Gylander's overall NHL potential, his development continues to head in the right direction. He's got good size (6-foot-5, 190 pounds) and he seems to be getting better and better at stopping pucks. For those reasons and more, he is a prospect that you should familiarize yourself with if you haven't already.
22. (LW) Kirill Tyutyayev – 2019, 190th Overall
2022-23 Stats: Grand Rapids Griffins (AHL) – 20 GP, 2 G, 5 P
Previous Rank: 21
I think it's safe to say that the luster has fallen off of Kirill Tyutyayev's name. A year and a half ago, he was one of the Red Wings' most intriguing prospects. This season, he is struggling to find a consistent role in the American Hockey League (AHL), which has resulted in him spending some time with the Toledo Walleye of the ECHL. You've likely heard of players that are too good for the AHL but not quite good enough for the NHL; Tyutyayev seems to be a player that is too good for the ECHL, but not quite good enough for the AHL.
Tyutyayev is still unsigned by the Red Wings (he is under contract with the Grand Rapids Griffins), and it's fair to wonder if he has done enough to this point to warrant a contract from the NHL club. His talent is evident, but he still hasn't figured out how to make it translate on a consistent basis here in North America. I still like how he plays, however, and I think that he could still find that consistency under the right circumstances.
21. (C) Pasquale Zito – 2021, 166th Overall
2022-23 Stats: North Bay Battalion (OHL) – 35 GP, 11 G, 30 P
Previous Rank: 24
What I like about Pasquale Zito is that, despite being on his third team in the last year, he continues to play his game. After putting up 42 points in 49 games last season with the Windsor Spitfires, he is just under a point per-game pace this season, split between the Niagara IceDogs and the North Bay Battalion. He's a battler on the ice, and the offensive side of his game seems to be developing well.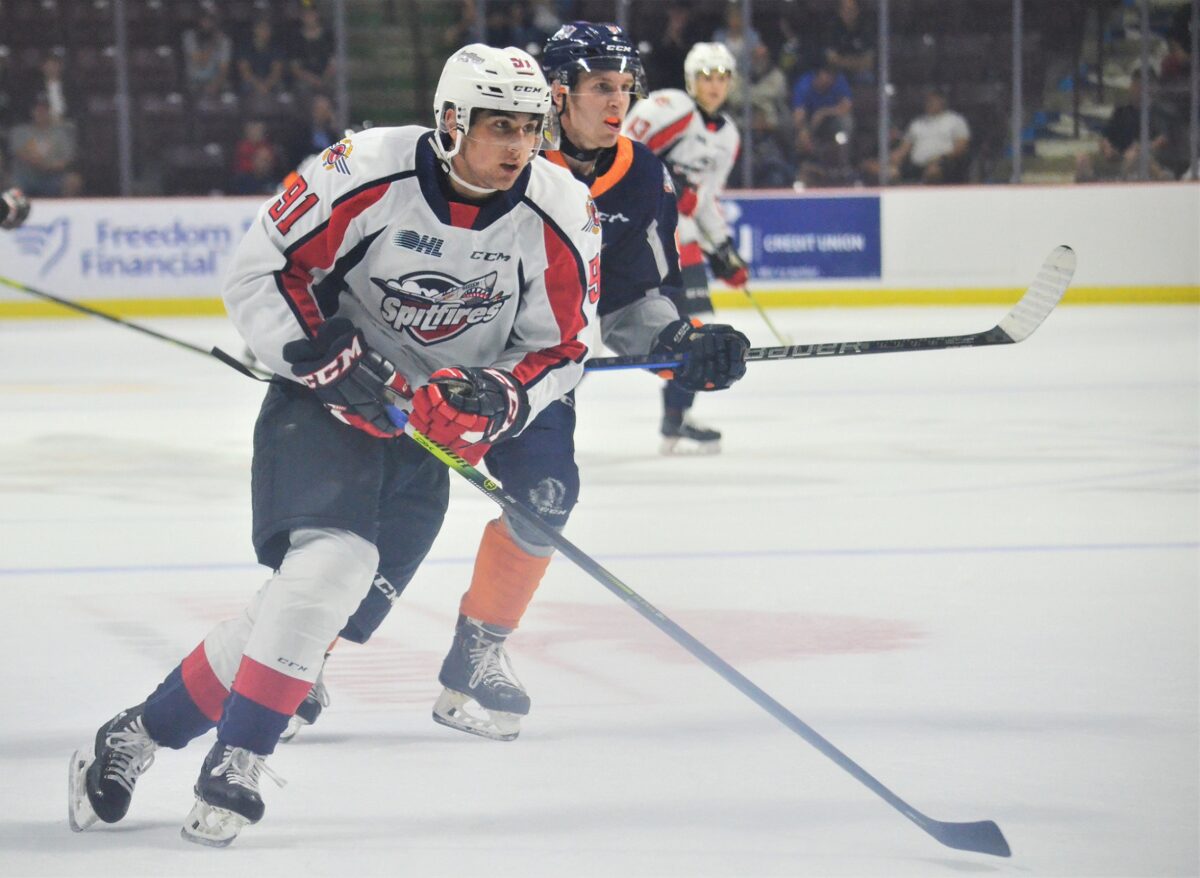 Zito still projects as a bottom six forward that can contribute in a number of ways. He was an alternate captain with the Spitfires last season, and you have to imagine that he maintains a certain presence in the Battalion's locker room as well. That means that not only can he contribute on the ice, but he can be a tone-setter off the ice as well. He is not the best prospect this pool has to offer, but he is one of my favorites as I think he'll adapt to pro hockey pretty quickly. I'd like to see him finish this season strong and earn an entry-level contract (ELC) from the Red Wings.
20. (LW/C) Robert Mastrosimone – 2019, 54th Overall
2022-23 Stats: Arizona State Univ. (NCAA) – 25 GP, 8 G, 25 P
Previous Rank: 22
After three seasons at Boston University, it appears that Robert Mastrosimone's move to Arizona State University was a smart decision. The 22-year-old is playing a prominent role with the Sun Devils, and the things that made him a second round pick back in 2019 have been put on display a bit more than they were in years prior. For that reason, he finds his way back into the top 20, though I am not without my reservations about his fit with the Red Wings long-term.
As I have said in previous rankings, Mastrosimone is not the only player in this pool who plays the type of game he does. He likes to be involved with the play, and he isn't afraid to do the dirty work along the boards to make things happen. He has a solid foundation to build on in the offensive zone, and you can envision him wreaking havoc in a middle six role if all goes well for him. However, the Red Wings will have to make a decision on whether or not they intend to sign him soon. With all the other players they have that play a similar style as him, it would not surprise me if he signs his ELC with another team.
19. (D) Antti Tuomisto – 2019, 35th Overall
2022-23 Stats: TPS (Liiga) – 42 GP, 4 G, 15 P
Previous Rank: 20
This is about where Antti Tuomisto has been over the last three rankings or so. The talent that made him a second round pick is still evident, and I would argue that his move back to his native Finland this season has been a beneficial one for him. His offensive capabilities are still there; when he shoots the puck, he usually gets some good lumber behind it, and I'm still a fan of how he moves/transports the puck. All things considered, he is still a top-20 prospect for the Red Wings.
That being said, I can't help but wonder if we're in the process of another prospect fizzling out from the prospect pool. After struggling to become a difference-maker in his two seasons with the University of Denver, it is a promising sign that he seems to make a impact while playing in Finland. The Red Wings, however, don't play in Finland, so he'll need to translate his game to the North American sheet of ice before I'll feel comfortable placing him back in the top-15.
18. (C) Liam Dower Nilsson – 2021, 134th Overall
2022-23 Stats: Frölunda HC (SHL) – 19 GP, 1 G, 4 P
Previous Ranking: 17
Liam Dower Nilsson has mostly been as advertised since the moment the Red Wings selected him in the fifth round of the 2021 draft. He plays a reliable game that isn't necessarily conducive to producing a ton of points, especially in the SHL. He has split this season between Frölunda and Västerås IK of HockeyAllsvenskan, basically Sweden's equivalent of the AHL.
Dower Nilsson was always going to be a long-term project for the Red Wings. While he may very well develop into a bottom-six, matchup type of center at the NHL level, we are seeing this season that it won't happen anytime soon. Still, he's a strong fundamental hockey player that, if given enough time, could become a sneaky-good role player for the Red Wings. His brother, Noah, is considered one of the top European prospects available in the 2023 draft class.
17. (C) Redmond "Red" Savage – 2021, 114th Overall
2022-23 Stats: Miami University (Ohio) (NCAA) – 20 GP, 4 G, 10 P
Previous Rank: 18
Since they were drafted 20 picks apart in the 2021 draft, I've always lumped Dower-Nilsson and Red Savage together. They have similar styles, and both have been leaders for their teams during international competition. To me, this is a "two will enter, only one will emerge" situation where one of them could become the Red Wings' fourth line center of the future and the other will eventually make his way to another organization. I initially gave Dower-Nilsson the early lead in this made up competition, but over the last six months or so, Savage has made progress to a degree that I haven't seen out of Dower-Nilsson, at least not yet.
There are a few players on this list that I think could become fan favorites in time, and Savage is one of them. He looks like an improved player in his sophomore season with Miami (Ohio), and he posted six points in seven games with Team USA at the World Junior Championship (WJC) earlier this month. He was also an alternate captain for the Americans. While I still believe his upside is relatively limited, I like the way his game is trending. At one level or another, Savage is going to make for a very good pro.
16. (LW) Dylan James – 2022, 40th Overall
2022-23 Stats: University of North Dakota (NCAA) – 22 GP, 3 G, 10 P
Previous Rank: 16
Freshman year hasn't been kind to Dylan James. The University of North Dakota, a perennial powerhouse in the NCAA, is in the midst of a mediocre 9-10-4 season. His production from the 2021-22 season in the United States Hockey League (61 points in 62 games) hasn't carried over into the college game. That being said, I still like what I see with this player – it may just take some time for him to put it all together.
James is still that hard-working type of player that will make a living in the dirty areas of the ice. He is ultimately going to live or die by how well his offensive tools develop. His work ethic and physical game are all there, and he could transition into a pure grinder role at the NHL level, but I think we're still a couple years away from getting a clear picture of what the Red Wings have in this particular prospect.
15. (C/RW) Theodor Niederbach – 2020, 51st Overall
2022-23 Stats: MoDo Hockey (HockeyAllsvenskan) – 16 GP, 3G, 7 P
Previous Rank: 13
From the last rankings:
I'd like to see him have a highly-productive season in the SHL with his new team in Rögle BK before I really start shipping this guy as a second-line type of guy, but the skill and fundamentals are all there….I think the next time I rank these prospects, he could (and probably should) be in that range. As it is right now, I'm not completely sold on his upside.
After posting 16 points and showing genuine growth last season in 51 games with Frölunda, he has just one point in 17 games this season with Rögle. His struggles got to the point where he was demoted, playing 15 games in HockeyAllsvenskan with MoDo. That's a legitimate step backwards for a prospect I wasn't completely sold on to begin with.
However, I still like his well-rounded game, and I'm weary of overreacting and knocking him too hard for a slow start. A strong finish to the season is definitely needed here to avoid slipping down these rankings.
14. (C/RW) Pontus Andreasson – Undrafted
2022-23 Stats: Grand Rapids Griffins (AHL) – 36 GP, 9 G, 18 P
Previous Rank: 8
Admittedly, I got a little bit ahead of myself the last time around. At 24, Pontus Andreasson is the oldest player on this list and he didn't really "breakout" until his age-23 season. There are a number of reasons why he shouldn't be in the top-15, let alone the top-10, but I do still think this is a nifty little player the Red Wings were able to add to their organization.
Andreasson's production in the AHL this season has come and gone. He started off slowly and then went on a stretch from the beginning of November into early December where he totaled 14 points in 14 games. Since then, he has just three points in 16 games. If he can find some consistency, it would help him build on the momentum he had in the SHL last season. That being said, consistency has been a big issue for the Griffins as a whole this season, so who knows if that's something he'll be able to do.
13. (C) Amadeus Lombardi – 2022, 113th Overall
2022-23 Stats: Flint Firebirds (OHL) – 43 GP, 25 G, 53 P
Previous Rank: 23
Amadeus Lombardi is one of the biggest climbers since the last ranking, but that's what a strong first half of the season will do. He is going to challenge for a 40-goal, 90-point season in the Ontario Hockey League, and that makes it exciting to think about what his offensive potential could be in a few years. He's got speed, he's got skill, and he's clearly capable of finding ways to make the puck cross the goal line.
The Red Wings were clearly impressed:
A player that comes to mind here is Andreas Athansiou; both players are known for their skating abilities, both players were fourth round picks of the Red Wings, and both players have displayed the ability to just make things happen in the offensive zone. I believe Lombardi is already quite good at utilizing his teammates, and I think that ability should translate when he eventually makes his way west to join the Griffins. I think he's still a couple years away from any NHL consideration, but I think he's done enough to legitimately put his name on the map.
12. (D) Eemil Viro – 2020, 70th Overall
2022-23 Stats: Grand Rapids Griffins (AHL) – 19 GP, 1 G, 3 P
Previous Rank: 15
In his first season in North America, Eemil Viro has been a victim of the defensive depth chart in Grand Rapids. He has suited up for half of their 38 total games this season, and that led to him spending time with the Toledo Walleye of the ECHL. In five games with the Walleye, Viro has three points, all assists.
I wouldn't look at this situation as anything more than a sign of how many defensemen the Griffins have available to them. At some point, it made more sense to have Viro play big minutes with the Walleye rather than playing every other game in Grand Rapids. He has been fine in his time with the Griffins; he hadn't been able to make a big impact on the game one way or another until he was assigned to Toledo.
11. (D) Shai Buium – 2021, 36th Overall
2022-23 Stats: University of Denver (NCAA) – 24 GP, 1 G, 13 P
Previous Rank: 12
The thing about Shai Buium this season is that I think he's having good season, but I wanted him to have a great one. Playing on a talented University of Denver team, Buium is a capable contributor to his team's success, but he doesn't stand out the way that others do. While there's certainly still some time this season and in the future, I had my fingers crossed that he would begin to announce himself as a legitimate prospect to look out for, and one worth the maneuver the Red Wings made to select him 36th overall.
I don't think my overall projection for Buium has changed much. I think he still displays great two-way abilities, and he moves the puck well. I still can't bring myself to be super excited about him until he elevates his game at the college level, but the foundation of a really solid middle-pairing defenseman is there. Like others behind him on this list, it's time to find another level.
10. (D) Donovan Sebrango – 2020, 63rd Overall
2022-23 Stats: Toledo Walleye (ECHL) – 16 GP, 1 G, 8 P
Previous Rank: 11
The OTHER victim of the defensive depth chart in Grand Rapids is Donovan Sebrango, a 21-year-old that had 96 games of AHL experience under his belt entering this season. While it's a bummer to see him wearing a Walleye on his chest instead of a Griffin, he is still making the most of the opportunity he has in the ECHL.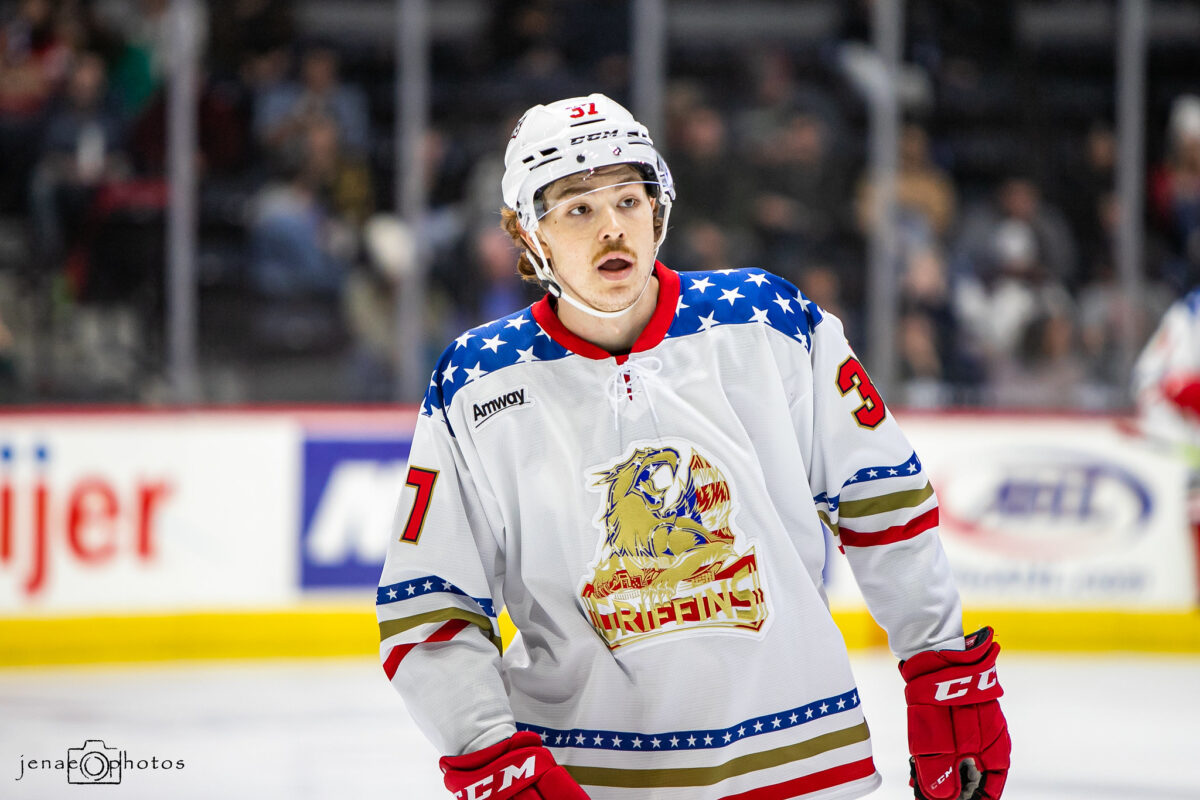 In 113 total AHL games, Sebrango has 15 points, but offense hasn't been his calling card. Even while playing big minutes with Team Canada in the 2022 WJC, he had just two points in seven games. And yet here he is with seven points in 13 games in the ECHL. Now to be fair, I believe his suddenly discovered offense has more to do with him being an AHL-caliber player playing in a lower-tier league, but it does spark the imagination of what he might be capable of as he continues to develop.
9. (D) Jared McIsaac – 2018, 36th Overall
2022-23 Stats: Grand Rapids Griffins (AHL) – 38 GP, 2 G, 11 P
Previous Rank: 14
I'm giving Jared McIsaac a big bump in these rankings because he's done almost everything I could have expected from him given the circumstances. The three players the Red Wings picked ahead of him in the 2018 draft (Filip Zadina, Joe Veleno, Berggren) are all in the NHL now, and you know McIsaac is mindful of that fact. After suffering various injuries in the first three years after being drafted, he has finally found a consistent role at the pro level, and now the next test is whether or not he can take his game to a level beyond the AHL.
As it is, McIsaac is two-way defender with average skating and above-average abilities. I think his ceiling has come down from his draft day and now we're looking at a bottom-pairing defenseman that can play in most situations. At 22 years old, a decision on his future looms large this summer. I give him credit for bouncing back from his injuries and giving the decision-makers in Detroit something to think about.
8. (LW) Dmitri Buchelnikov – 2022, 52nd Overall
2022-23 Stats: SKA-Neva St. Petersburg (VHL) – 25 GP, 14 G, 25 P
Previous Rank: 19
From this point on, the prospects listed are the ones that I feel have a shot at becoming legitimate difference-makers in the NHL. That does not mean that each prospect's ceiling is necessarily the same as the ones listed before and after them, and NHL ETA will vary from one prospect to the other. That is especially true in the case of Dmitri Buchelnikov, another prospect from the Red Wings' 2022 draft class that has shot up these rankings in a short period of time.
At just 19 years old, Buchelnikov has made it clear that he is already one of the best players in the VHL (Russia's equivalent of the AHL) and now it's just a matter of how long it takes him to carve out a steady role in the Kontinental Hockey League (KHL). In 10 games in Russia's top league, he has a goal and two points while playing in a limited role. He's a very fun player to watch; he has a scorer's touch around the net, he has good puck-pursuit in the offensive zone, and he can dazzle you and his opponents with his overall skill level. There's a real chance that this player becomes Detroit's best Russian talent since Pavel Datsyuk departed in the summer of 2016.
All of that being said, it will be a while before Buchelnikov wears the winged wheel, and that's a big reason why he is the lowest-ranked player in this tier of prospects. In November of 2022, the winger signed a contract extension with SKA St. Petersburg that will keep him in Russia through 2025. He has also insisted that he intends to see that contract through, regardless of any temptation to bring his game to North America. If he ever does join the Red Wings, I think he has the potential to become a legitimate threat as a top six forward. Considering a lot of us in the scouting/prospect sphere didn't have him projected anywhere around where the Red Wings took him, he has already done a good job of making us look pretty foolish. The kid's got talent – the biggest question will be whether or not Red Wings fans will get to see it in person.
7. (RW) Cross Hanas – 2020, 55th Overall
2022-23 Stats: Grand Rapids Griffins (AHL) – 26 GP, 8 G, 15 P
Previous Rank: 10
Cross Hanas has made a steady ascent up these rankings since the start of the 2021-22 season, and now he finds himself just a couple spots outside of the top-five. The facets of his game that made him a second round pick in the 2020 draft (including his playmaking and competitive fire) seem to have translated to the AHL, and he also seems to have added some finishing ability to the mix. At 21 years old, he looks like a legitimate offensive weapon that just needs to figure out how to contribute away from the puck as well as he does with it.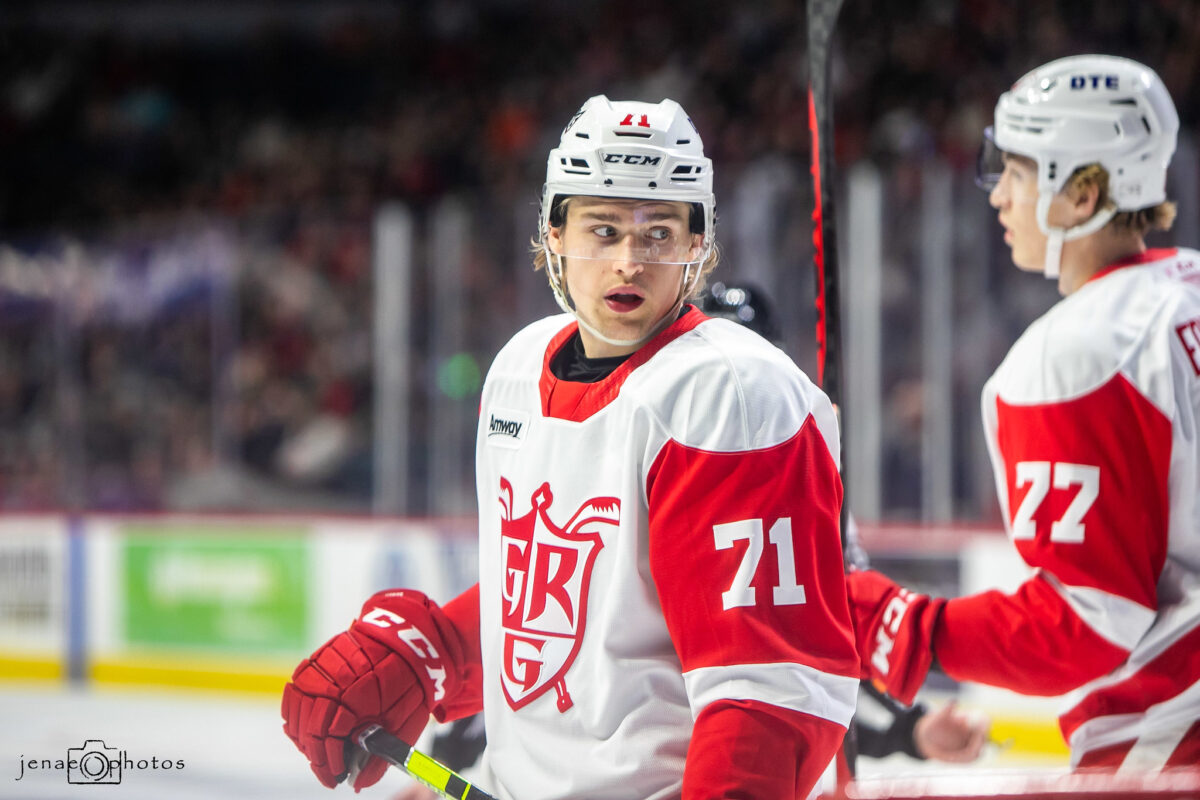 The areas of his game that need work are the areas that most young players have issues with. He's not a two-way forward and he will probably never be one, but he still needs to be able to be a positive factor in the defensive zone. He has one of the worst plus/minus ratings on the Griffins and he often finds himself chasing the puck around rather than possessing and playing it in the offensive zone. Defense leads to offense, and Hanas hasn't quite grasped that yet. Furthermore, he has a tendency to be a bit overaggressive in his pursuit of the puck, and that sometimes leads to penalty trouble. With skill players like him, you want them to spend as little time as possible in the penalty box; that's something that will come with time, but it is one of the reasons why I still consider him to be a liability to his team outside of the offensive zone.
I think Hanas needs another year in the AHL, hopefully in a consistent top six role, before we can start talking about his NHL debut.
6. (G) Sebastian Cossa- 2021, 15th Overall
2022-23 Stats: Toledo Walleye (ECHL) – 25 GP, 12-12-1, 2.93 GAA, .893 SV%
Previous Rank: 5
To be honest, with Berggren and Söderblom graduating from this list, I expected to move Sebastian Cossa up for the first time after holding him in the fifth spot since the first time I ranked him as a Red Wings prospect. Instead I'm moving him back one spot, and I bet there's some of you out there that will argue he should be moved even lower than this.
I always viewed Cossa as more of a long-term project than the other goalie drafted in the first round of the 2021 draft, Jesper Wallstedt of the Minnesota Wild. With Wallstedt performing well in the AHL and Cossa being inconsistent in the ECHL, it appears that is still the case. That being said, I am not yet convinced that the Red Wings whiffed on this pick, and I still see a lot of promise in Cossa's game.
I think the biggest issue for Cossa right now is his overall lack of consistency. One night he'll steal a win for the Walleye, and then the next night he'll allow five goals or more. My current expectation is that he will spend the majority of next season with the Griffins, but in order to get there, he'll have to show that he is indeed ready for a bigger challenge at the pro level. Goalies typically take more time to develop than skaters, and it doesn't appear that Cossa will be an exception to that rule.
5. (LW) Carter Mazur – 2021, 70th Overall
2022-23 Stats: University of Denver (NCAA) – 26 GP, 17 G, 23 P
Previous Rank: 9
Here's how I ended Carter Mazur's entry last time around:
I think he'll sign an ELC with the Red Wings following this season if all goes well. I'm a big fan of this prospect and it's a real testament to the depth of Detroit's prospect pool that he only ranks ninth here.
After some key graduations and some fluctuant play from players previously ranked ahead of him, Mazur now makes his debut in the top five, and for good reason: the kid is an absolute stud.
This season while wearing an 'A' on his sweater, Mazur has already surpassed his goal total from his Freshman season with the University of Denver. In fact, his 17 goals this season have him in a three-way tie for second place among NCAA skaters. He is finding ways to remain physical and tenacious without taking unwarranted penalties, and he has cemented his place as one of the best players on one of the best college hockey programs in the country. It seems like every week I grow more and more confident that he is going to make a name for himself in the NHL. As for my prediction from the last rankings: yes, I think he will sign his ELC once his season in Denver has reached its conclusion.
4. (D) William Wallinder – 2020, 32nd Overall
2022-23 Stats: Rögle BK (SHL) – 36 GP, 5 G, 23 P
Previous Rank: 6
Last season, it seemed like William Wallinder was arriving as a top-tier prospect for the Red Wings. Well here we are: he has arrived and is undoubtedly one of the team's top prospects.
Wallinder's game has always been a game of providing offense from the blue line. When he was the first player off the board in the second round back in 2020, he was a raw prospect with all the tools of a future offensive star on the back end, and that's exactly what he has been this season in the SHL. His 23 points lead all U21 players in the SHL this season, and that's a byproduct of him learning how to impose his will on the game on a consistent basis. Future power play quarterback? You betcha.
Like a certain defenseman ranked above him, the biggest challenge facing Wallinder is transferring his offensive abilities to the North American game while also playing a responsible game without the puck. He is still susceptible to making the bone-headed defensive play from time to time, and those bad habits will cost him playing time as he progresses. A year in Grand Rapids would do him well so that he can continue to learn and develop at his own pace, but his growth since being drafted has been a ton of fun to watch.
3. (D) Albert Johansson – 2019, 60th Overall
2022-23 Stats: Grand Rapids Griffins (AHL) – 37 GP, 2 G, 7 P
Previous Rank: 4
After finishing first in scoring among U21 SHL defensemen last season, Albert Johansson has learned firsthand how difficult it is to keep up with the pace of the North American game this season. While his point totals with the Griffins don't exactly jump off the page, he was never billed as an offensive creator in the same way that Wallinder was. Instead, Johansson is the type of defenseman that does a little bit of everything and is capable of playing a loud or quiet game depending on what the situation calls for.
Johansson had a slow start to the 2022-23 season, though that shouldn't be unexpected considering the adjustment from Europe to Grand Rapids isn't a small one. After the first month or so, he really seemed to settle in and has looked solid this season for the Griffins. I'd like to see more offense from him, but I think the most important thing for him is that he continues to get comfortable defending against speed and physicality. He may not become a power play guy at the NHL level, but his hockey IQ is high enough to become a steady penalty killer at the next level.
I'm as bullish on this prospect as I have ever been, but I am a bit more hesitant about projecting how effective at both ends he will be at the NHL level. A strong finish to this season and a healthy, productive summer from him will go a long way towards keeping me on the Johansson hype train.
2. (C) Marco Kasper – 2022, 8th Overall
2022-23 Stats: Rögle BK (SHL) – 36 GP, 7 G, 19 P
Previous Rank: 3
This season, the Red Wings' most recent first round pick has done nothing but show people why they felt comfortable going a bit off the board to take him at eighth overall. Marco Kasper's scouting report told of a player that worked his butt off on and off the ice and had the ability to make an impact in all situations. He is playing big minutes this season in the SHL, and that's a testament to how mature his game is at just 18 years old.
I want to see Kasper come over to North America as soon as possible. I believe his work ethic will translate exceptionally well, and I would go as far as to say that his game is strong enough right now that he could probably play in a bottom six role in the NHL. As for his ultimate upside, I am still not sold that he has top line potential, but I do believe he has a good shot to become an elite, two-way second line center cut from the same cloth as the Tampa Bay Lightning's Anthony Cirelli. If nothing else, I believe Kasper is going to have a lot of fans across Hockeytown. His blend of hard work and skill/finesse is something that Red Wings fans have come to expect from their team's top players.
I think Kasper has a shot to jump directly to the NHL next season, but a season in the AHL is not out of the question. It will ultimately depend on what moves the Red Wings make in the offseason and how their offensive depth chart looks heading into training camp.
1. (D) Simon Edvinsson – 2021, 6th Overall
2022-23 Stats: Grand Rapids Griffins (AHL) – 30 GP, 1 G, 14 P
Previous Rank: 1
This season has been a mixed bag for Simon Edvinsson. There was plenty of hype around the idea that the Swedish defender could make the Red Wings' roster out of training camp, but he fell short and was one of the last cuts made before the beginning of the season. Since joining the Griffins, he has routinely looked like one of the best players on the team, but he hasn't exactly made it hard for the decision-makers in Detroit to keep him in Grand Rapids.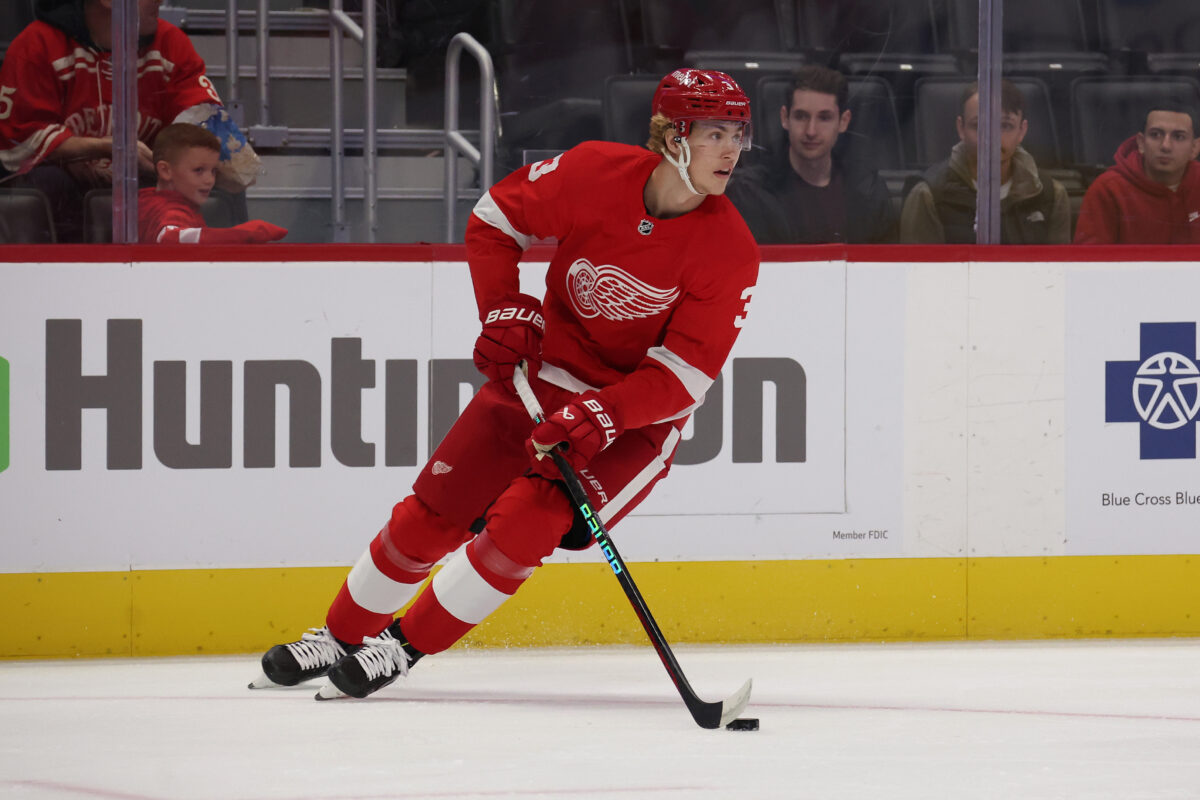 When Edvinsson is on his game, he controls the play like a general on the back end. He is uber-skilled and his size affords him a long reach with his stick. The speed of the North American game has seemed to be tough for him at times, though, and I think that's a big reason why his AHL numbers aren't higher. When he's off his game, he also tends to lean too heavily on his size and skill. There have been plenty of examples this season of him forcing passes through lanes that aren't there and reaching with his stick instead of using his feet to attack an opposing forward.
Related: Griffins' Ben Simon Is Falling Short of Expectations
And yet, all things considered, Edvinsson is still the team's most NHL-ready prospect and he still has all the makings of a dominant top-pairing defender. A cup of coffee in the NHL this season is not out of the question (especially after the trade deadline) and Red Wings fans should expect to see him in Detroit on a full-time basis starting next season.
Top Prospects by Position
| | | |
| --- | --- | --- |
| Left Wing | Center | Right Wing |
| Carter Mazur | Marco Kasper | Cross Hanas |
| Dmitri Buchelnikov | Amadeus Lombardi | |
| Dylan James | Pontus Andreasson | |
| Robert Mastrosimone | Theodor Niederbach | |
| Kirill Tyutyayev | Redmond Savage | |
| | Liam Dower-Nilsson | |
| | Pasquale Zito | |
| | |
| --- | --- |
| Left Defense | Right Defense |
| Simon Edvinsson | Antti Tuomisto |
| Albert Johansson | Anton Johansson |
| William Wallinder | |
| Jared McIsaac | |
| Donovan Sebrango | |
| Shai Buium | |
| Eemil Viro | |
Goalie
Sebastian Cossa
Carter Gylander
Jan Bednář
Just Missed…
(LW/C) Maximilian Kilpinen
(C) Owen Mehlenbacher
(C/RW) Ethan Phillips
(RW) Sam Stange
(D) Oscar Plandowski
---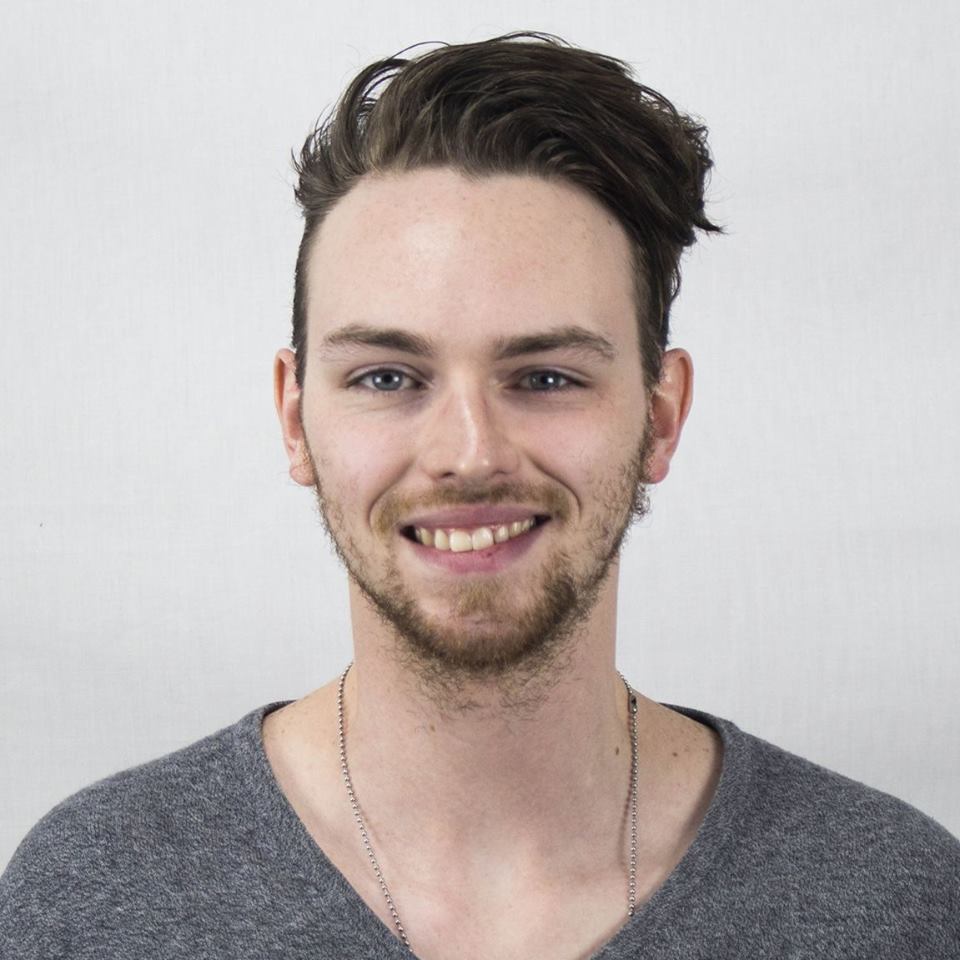 I am a Western Michigan University alum whose passion for hockey knows no limits. Dr. Pepper enthusiast. Catch me and my fellow Red Wings writers' YouTube show "The Hockey Writers Grind Line" which drops every Saturday.