The fans of the Montreal Canadiens are enjoying (or not) a roller coaster season. The start of the 2022-23 campaign saw a Canadiens lineup fighting for a playoff spot. Then November ended, leading to the dreaded December road trips because it seemed to be more important to get Cirque du Soleil into the Bell Center over Christmas than it was for the Habs to simplify their travel schedule.
Since that time, the Canadiens have suffered significant injuries to several members of the roster, and their record now reflects a team more in line with a bottom-five draft selection in 2023, which does please many of the fan base. In terms of a team in a rebuild, the more high picks they can collect, the quicker it will be completed. As for the prospects already on hand, many are taking major steps forward thanks in part to the organization's focus on development.
Definition of a Prospect 
For this exercise, I will keep the definition of a prospect simple. It is a player under 23 years old, who has only played less than one full NHL season, or is playing in a lower league, professional or amateur, and has not played a season in the NHL previously. For goaltenders, they must not have played 50 NHL games. Also, they must be 25 years of age or younger.
Related: Canadiens' Player Development Changes Having a Big Impact
---
Latest News & Highlights
---
Using this as the basis to follow, names such as (recently injured) Cole Caufield, team captain Nick Suzuki and Kirby Dach no longer apply. Adding them to this pyramid would greatly improve the outlook of the prospect pool for the Canadiens, but using established NHL players would only act to artificially inflate the values or rankings of the prospect pool.
Pyramid Tiers 
A pyramid is just as subjective as any other traditionally used ranking system. What this approach will do is look at a prospect's top-end potential as opposed to arguing why Prospect A is ranked fourth over Prospect B. Most players will never reach their top-end potential; however, the Canadiens' management team has begun to focus on modernizing their player development plans with the creation of analytics and skill development departments. The hiring of a head coach that says that his focus is on a player's ceiling, demonstrates a new inclination toward building the future. With that, draftees and newly acquired players will have a better chance that some will meet, or maybe even exceed the expectations. Some players may have improved their standing or fallen in the tiers based on performances and re-evaluation.
The Tiers are as follows: 
Tier 1 – Elite or top-line, top-pair talent 
Tier 2 – Top-six forward, top-four defender, starting goaltender 
Tier 3 – Third-line forward, bottom-pair defender, backup goaltender 
Tier 4 – Role players, bottom-line forward, depth defenseman, or forward 
Tier 5 – Minor league player used for call-ups  
Tier 1 
Elite or Top-Line, Top-Pair Talent 
There are no "elite" players in the system. That may change in June 2023 depending on where the Canadiens and Florida Panthers' first-round picks fall in the draft order, the Habs may end up with one or even two who could be considered elite. If they win the lottery and get Connor Bedard, they'd end up with a possible generational talent. For now, at the mid-point of the season, there are two names that could be called potential top-line or top-pair talent.
The first is Kaiden Guhle. The 6-foot-2 205-pound defender is a complete player who does everything extremely well. He is a superb skater with the ability to use his edges to be able to change direction on the fly and not lose a step. He is highly effective when using his body to position himself but also to take up passing and shooting lanes, forcing forwards to the outside. 
He is more than just defense, though. Guhle has the two-way potential to not only face top forwards like Connor McDavid but also provide 40 points per season. His mobility is a great tool, especially in the offensive zone where he can keep pucks in the zone, but also lead the counterattack with a powerful shot or perfectly placed pass.
The other name in this tier shouldn't be a surprise, it's Juraj Slafkovsky. At 6-foot-3 and 238 pounds the 2022 first-overall pick is physically ready for the NHL. However, he has had some trouble adjusting to the North American-sized rink and the pace of the NHL. Before his season-ending injury, he scored four goals and 10 points in 39 games played. While his NHL season has come to an end, he might be able to return in time to play in the IIHF Men's World Hockey Championship for Slovakia.
Tier 2 
Top-6 Forward, Top-4 Defender, Starting Goaltender 
This tier is well populated with some good decisions on the draft floor and additions via trade. Joshua Roy has reaffirmed his position in this tier after playing a significant role with Team Canada winning two gold medals at the World Junior Championship (WJC), and his offensive explosion in the Quebec Major Junior Hockey League (QMJHL).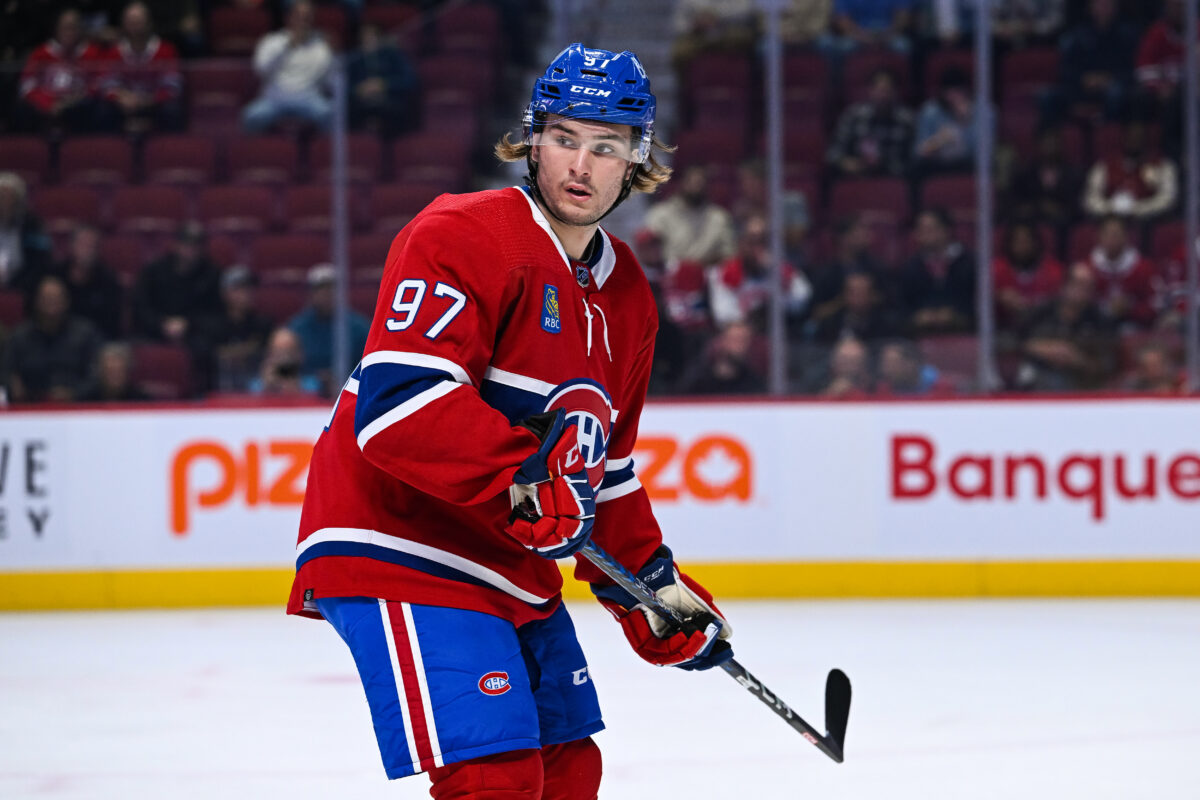 Jakub Dobes has climbed his way into this tier with another season filled with incredible performances. He has a 16-9-1 record with a .921 save percentage (SV%) and 2.16 goals-against average (GAA). This level of play has been instrumental in him leading Ohio State University into the upper tier of programs in the Big 10 Conference and the seventh-ranked program in the NCAA.
Owen Beck has taken advantage of his opportunities this season and has gone from near anonymity to a prospect that is expected to compete for a top-nine NHL role as soon as next season. His highly mature two-way game and offensive skills made him Team Canada's top choice for a call-up to replace an injured player at the 2023 WJC, and, cause the Peterborough Petes to pay a heavy price to add him to their roster in the hopes of competing for an Ontario Hockey League (OHL) championship. 
Arber Xhekaj has battled his way up to this tier with his physicality, intimidation, and size. But he is more than just an enforcer, as his excellent mobility, defensive positioning, and offensive ability make him an all-around player. While he does lead rookie defensemen with eight fights, his five goals on the season also make him the highest-scoring rookie defenseman in the NHL.  
Other names: Filip Mesar, Sean Farrell, Justin Barron, Riley Kidney, Lane Hutson, Frederik Dichow Jesse Ylonen, Jordan Harris, Jayden Struble, Luke Tuch, Logan Mailloux, and Jan Mysac.
Tier 3 
Third-Line Forward, Bottom-Pair Defender, Backup Goaltender 
Cayden Primeau drops to this tier after a difficult start to the 2022-23 season. Much more was expected of him after such a strong performance in the 2022 AHL Playoffs where he led the Laval Rocket to one win away from the Final. But a record of 4-6-3 with a .890 SV%, albeit on a weak roster, has not helped, especially as it is a return to the level of play he demonstrated before the playoff run.  
Adam Engstrom had a very impressive showing for Team Sweden at the WJC. He finished the tournament as the team's second-highest-scoring defender, scoring one goal and three points while playing a top-four role for his country, which ended the tournament with a fourth-place finish.  
Other names: Vinzenz Rohrer, Emmett Croteau, Cederic Guindon, Oliver Kapanen, Emil Heineman, Daniil Sobolev, William Trudeau, Petteri Nurmi
Tier 4 
Role Players, Bottom-Line Forward, Depth Defenseman or Forward 
At best, the hope is for some of these players to make it into the NHL and provide some depth in case of injuries or develop their skills to move up the pyramid if at all possible. 
Ty Smilanic falls to Tier 4 in this mid-season assessment. His decision to leave Quinnipiac and join the University of Wisconsin for his junior year made sense development-wise for the young forward, however, he has missed the majority of the season so far due to personal reasons, playing in only seven games, and scoring only one point (a goal) in those matches. 
Other names: Matthias Norlinder, Rem Pitlick, Raphael Harvey-Pinard, Jared Davidson, Dmitri Kostenko, Blake Biondi, Rhett Pitlick, Gianni Faibrother and Alexander Gordin.
Tier 5 
Minor-League Players Used for Call-Ups 
This tier has several players who will not be long with the organization. Only one, Joel Teasdale, is signed to an NHL deal and he is due to become a restricted free agent after this season. It isn't likely he receives a qualifying offer as general manager (GM) Kent Hughes is likely to need as many of the 50 NHL contracts at his disposal available to sign some players higher on the Canadiens' depth chart. 
Other names: Jack Gorniak, Jack Smith, and Xavier Simoneau, Arvid Henrikson, Brett Stapely, Miguel Tourigny, and Joe Vrbetic.
This is simply a snapshot of the Canadiens' prospects at the mid-way point of the 2022-23 season. As the months roll by, it is possible that a player who is stumbling can find their way again and move up the time the end-of-season pyramid is released. For a franchise in a rebuild, it is clear that the top tier needs to be expanded, which will be helped as the Canadiens hold four first-round picks in the next two drafts, and one pick is likely to be in the top 10 in 2023. As long as the fan base accepts that those high picks only come as a result of another disappointing season.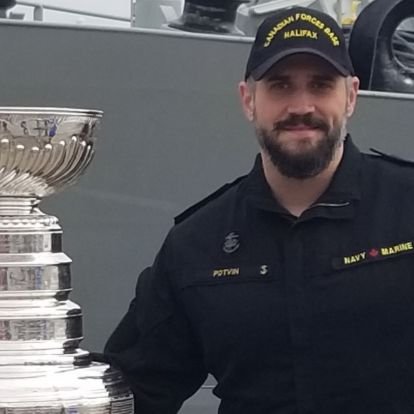 Blain is a regular contributor as a THW Writer. For over 7 years he has been a part time journalist and podcaster covering the NHL, the Montreal Canadiens and its affiliates. He has made appearances on various television and radio stations as well as podcasts to discuss the Canadiens, and the NHL. Blain has taken the lessons on integrity, ethics, values and honesty that he has learned as a 29 year veteran of the Canadian Armed Forces and applied them to his work as a journalist with the goal to be a trusted source of information and entertainment.