In a season where the losses keep piling up for the Montreal Canadiens, fans look to the youth movement and its development. They watch young veterans, such as team captain Nick Suzuki, and the slick scoring of Cole Caufield. They watch the play of the 2022 first overall pick, Juraj Slafkovsky, and the rookies on the blue line like Jordan Harris and Kaiden Guhle. But one unlikely name on that list is Arber Xhekaj. 
Raised as a Canadiens fan, it must have been an emotional moment when he first wore a Habs sweater. If it seems he came out of nowhere, to most fans, he did. However, his path was filled with long hours of practice and hard work to get to where he is now, patrolling the Montreal blue line. 
Xhekaj, the Late Bloomer  
Xhekaj is a great story. Raised with a blue-collar upbringing by first-generation Canadians, going undrafted in the Ontario Hockey League (OHL) and NHL all points to a true Cinderella story. Everyone loves an underdog unless they have to play against this particular one. To get to this level, no one gets there just to be an enforcer playing almost no shifts. Being a productive, engaged hockey player is more important; being able to fight is just a bonus. But the 6-foot-4, 238-pound defender does bring an intimidation factor. 
As his confidence builds, so does his level of play. So far, he has proven that he has the necessary mobility and defensive skills to play a bottom-pairing role in the NHL. His physical style brings an edge that looks like a throwback to the old-school defenders who punished forwards on every shift. He brings a definite intimidation factor. After his first preseason game against the Ottawa Senators, Sens head coach DJ Smith made note of Xhekaj, saying, "We don't like that the other team is targeting our guys. We'll be ready the next game."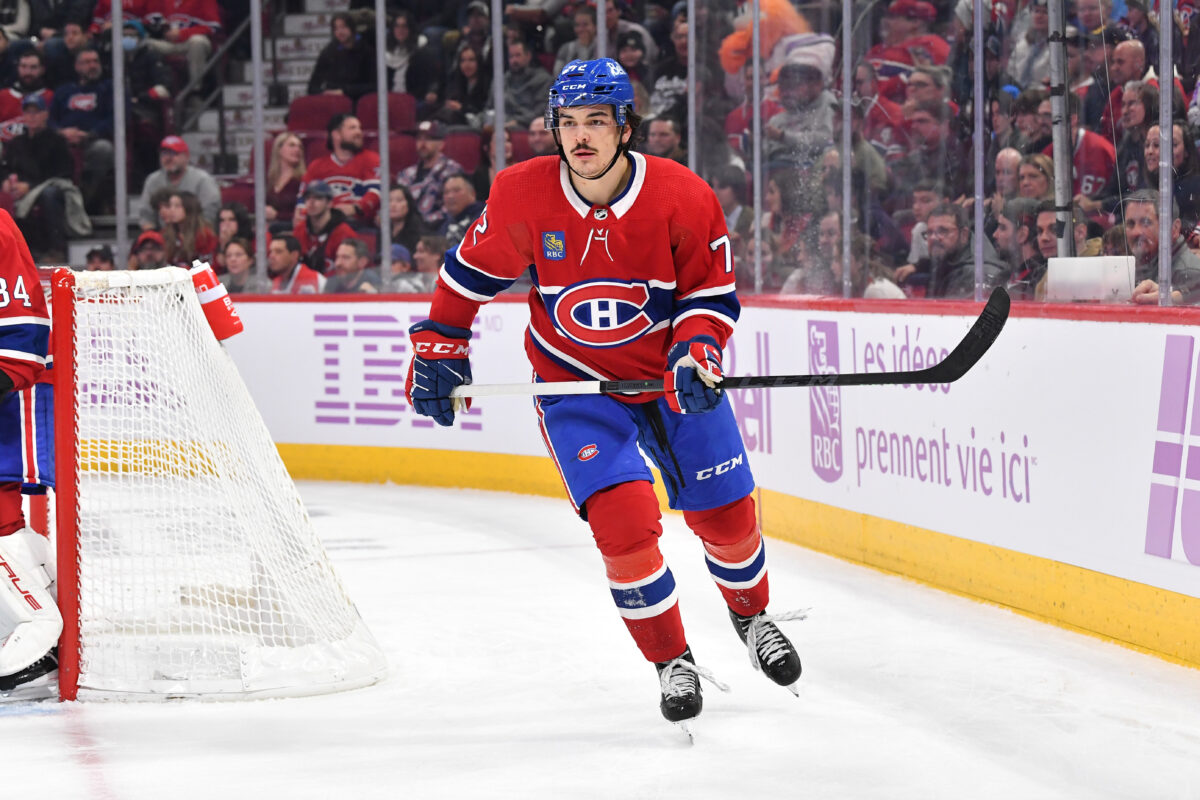 He's right that Xhekaj does target his opponents. He plays with a calculated physical style, just as he had in the OHL. Gord Miller mentioned on TSN radio about the impact the defender has against his opponents, stating, "He left a trail of devastation behind him in the OHL last year. I talked to several OHL coaches about (Xhekaj). People were terrified of him." It's a trend that has continued into his rookie NHL season. 
Canadiens' Xhekaj Is Fearless  
On a nightly basis, Xhekaj demonstrates his fearlessness on the ice with his willingness to challenge, or accept a challenge, from anyone. A perfect example is the Jan. 19, 2023, game versus the Florida Panthers in which he called out everyone in a Panthers jersey, and Givani Smith was the only one to answer the call. However, the fight was a one-sided affair, for Xhekaj. This is further evidence that he is becoming one of the top tiers of most feared fighters in the league.  
Related: Canadiens' 2023 Trade Deadline Preview 
---
Latest News & Highlights
---
Xhekaj was frustrated by several missed calls and liberties being taken by Florida's larger players on his teammates. One, in particular, was a knee-on-knee hit by Radko Gudas on Kirby Dach. Xhekaj showed he is not afraid of anyone, even off the ice, as he called out the veteran tough guy publicly when asked about Gudas not following "the code."     
"He never does. I don't know what's up with that guy. He'll be taking runs at guys' knees all game. He does play hard; I'll give it to him. But at some point, you've got to show that you're going to be able to do that."  

– Arber Xhekaj  
With only 44 NHL games under his belt, the 6-foot-4, 238-pound defenseman has proven he will answer the call on and off the ice. 
Canadiens' Surprise Offensive Weapon 
Yes, Xhekaj is a physical player. He has 136 hits in 44 games played, which is an average of nearly four hits per game, placing him in 11th place in the NHL. However, he's not all fists, body checks, and physicality. Xhekaj has quickly become a reliable defensive player, capable of going against some of the league's best forwards. He has also been used as a key piece of the penalty-killing units. He has impressive poise with the puck on his stick, and his skating is much better than expected, as he moves extremely well, which has helped to establish him as a useful player in transition. His stride is fairly smooth, and his edgework is strong. In the OHL, he was able to play 25 minutes or more per night, which bodes well for his NHL future as it shows he has the stamina to play the bottom-four minutes. 
Offensively, his skating and transitional play form the basis of his game. Once in the offensive zone, he is adept at standing up at the blue line, keeping pucks in the offensive zone. He has a powerful shot from the point, but it isn't used solely to try and overpower the puck into the net. He also has the hockey IQ necessary to use a varied shot selection, getting the puck on the net with regularity, which provides opportunities for tips, and rebounds. 
He is also slowly quieting his critics, as he has been used at times on the power play, which has led to him scoring five goals and 13 points, which puts him on pace for 25 points for the season. While no one expects him to be the next Cale Makar, being able to get pucks on the net with regularity while also keeping offensive zone pressure active make him a valuable commodity to the Canadiens. Oh, and by the way, those five goals lead the NHL in rookie defensemen scoring.  
What will make him successful in the long run is his relentless work ethic, which allows him to compete during games but also learn from his coaches. It is early in his career, but he has shown an ability to adapt to the professional game seamlessly, as his style of play was built for it, especially playoff hockey. With a strong skating stride, a highly accurate and powerful shot, as well as a self-confidence born of determination, he has the right mix of skills to become a very good defenseman, maybe even a key member of an NHL blue line's top-four for many years to come. 
---
---