The St. Louis Blues have built up, developed, and torn down their prospect pool for over a decade now. They've been willing to part with major prospects, while also developing many of their drafted players like Vladimir Tarasenko, Jaden Schwartz and others who have come through the Blues' system recently and became top players for the club. Let's look at a few of the Blues' "untouchable" prospects ahead of the 2020-21 season.
Scott Perunovich – Left Defense
Despite that the Blues signed Torey Krug and recently added more offence-oriented defensemen, Scott Perunovich is untouchable this season. The Blues need to give him a chance to play in the NHL as soon as possible.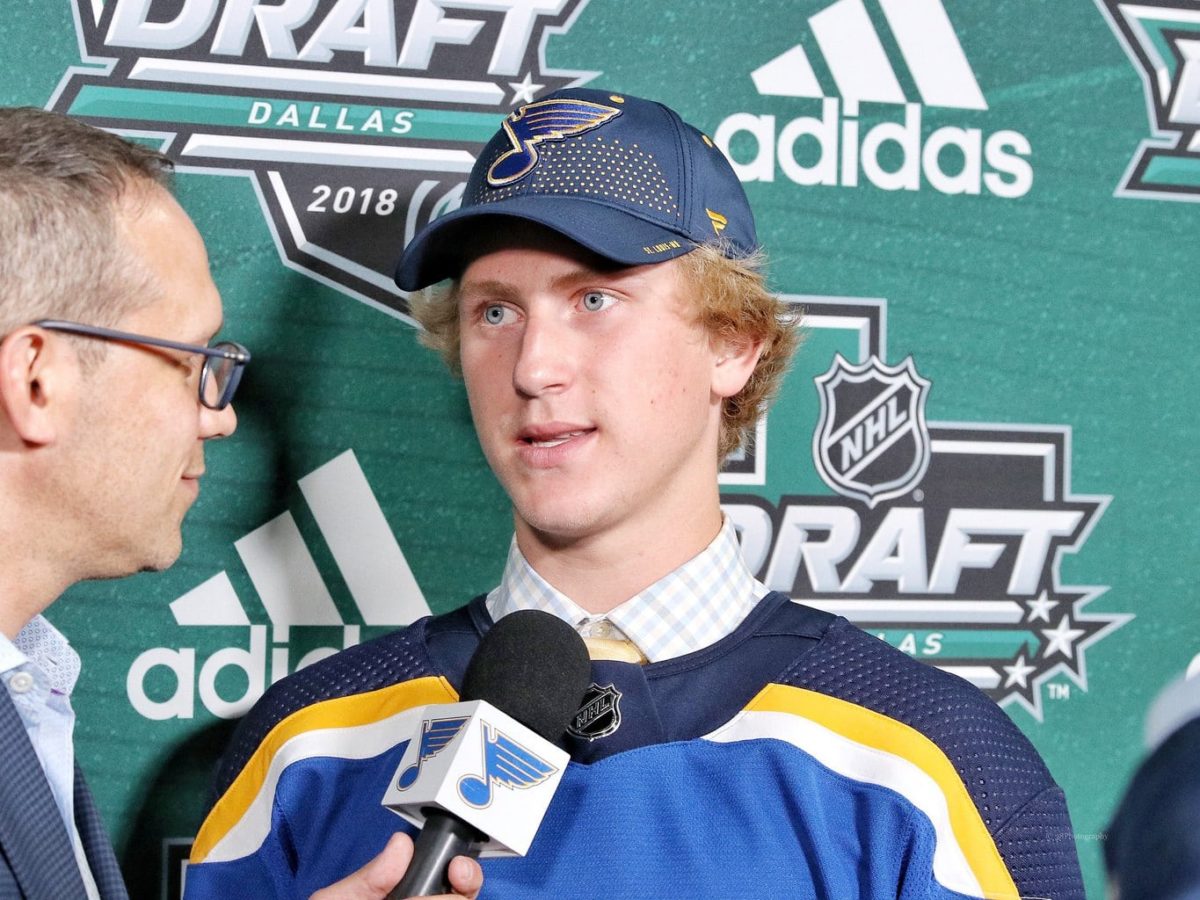 Perunovich was signed to a two-year entry-level contract before the Return to Play in August. He won the 2020 Hobey Baker award as MVP in college hockey and was the premier defenseman for Minnesota-Duluth for the last couple of seasons. He has only improved at Minnesota-Duluth and nearly increased his point totals in all three seasons.
The Blues have no reason to not give him a shot. At 5-foot-9 he lacks size, but his offensive contribution could be superb.
Joel Hofer – Goalie
Hofer is easily the Blues' top goaltending prospect with Ville Husso graduating to the NHL roster for in the 2020-21 season. Hofer spent last season in the WHL with the Portland Winterhawks with a .915 save percentage (SV%) in 48 games played.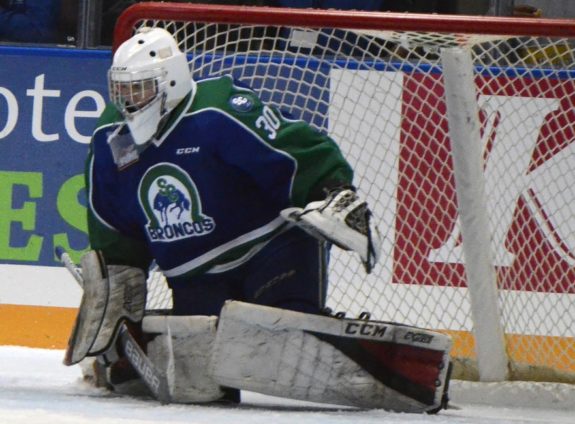 His stock rose after his strong season in the WHL and his stellar play at the 2020 World Junior Championships for Team Canada. He's only 20 years old with plenty of room to grow.
He will have an opportunity to take his game to the next level this season as he will most likely be on the Blues' AHL affiliate Springfield Thunderbirds. There's a good chance he will develop into an NHL starting goaltender eventually, or at least into a backup. He is a far better prospect than Husso or Jordan Binnington ever were, he just needs to develop further and put his game together.
There's a lot to like with Hofer and he'll be a must-watch for diehard Blues fans in the AHL when their season eventually gets going.
Nikita Alexandrov – Center
Alexandrov was the Blues' 62nd overall selection in the 2019 Draft. He is a German-Russian import now playing in a Canadian Junior League. He has played three seasons in the QMJHL with the Charlottetown Islanders where he has scored over 20 goals and 50 points in the last two seasons.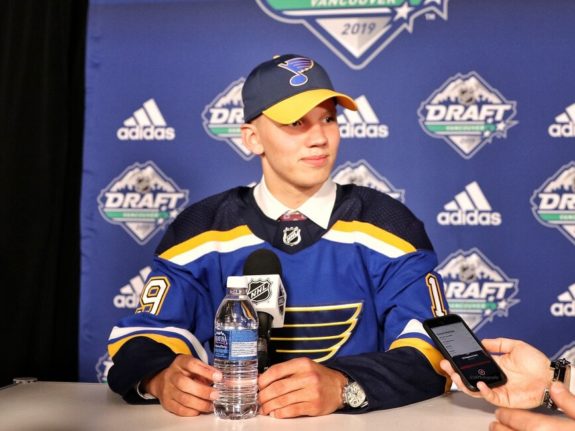 He's only 20 years old and will get better with more time to hone his skills.
In the 2019 Draft, his stock was a mixed bag. Some thought that the Blues selected him too high, while others thought that he fell too far and could be a steal. I believe he could be a steal. His goal-scoring ability is on display in the QMJHL where he led his team in scoring in 2019-20 and was second in 2018-19.
He's only getting better and will soon be one of the top two prospects in the Blues' system. I'm not sure he's more valuable than Klim Kostin right now, but I'd rather keep Alexandrov than trade him.
Alexei Toropchenko – Right Wing
The final prospect on this list is a big Russian forward, and no it is not Kostin. It is Toropchenko, a fourth-round pick by the Blues in the 2017 Draft and I believe in him.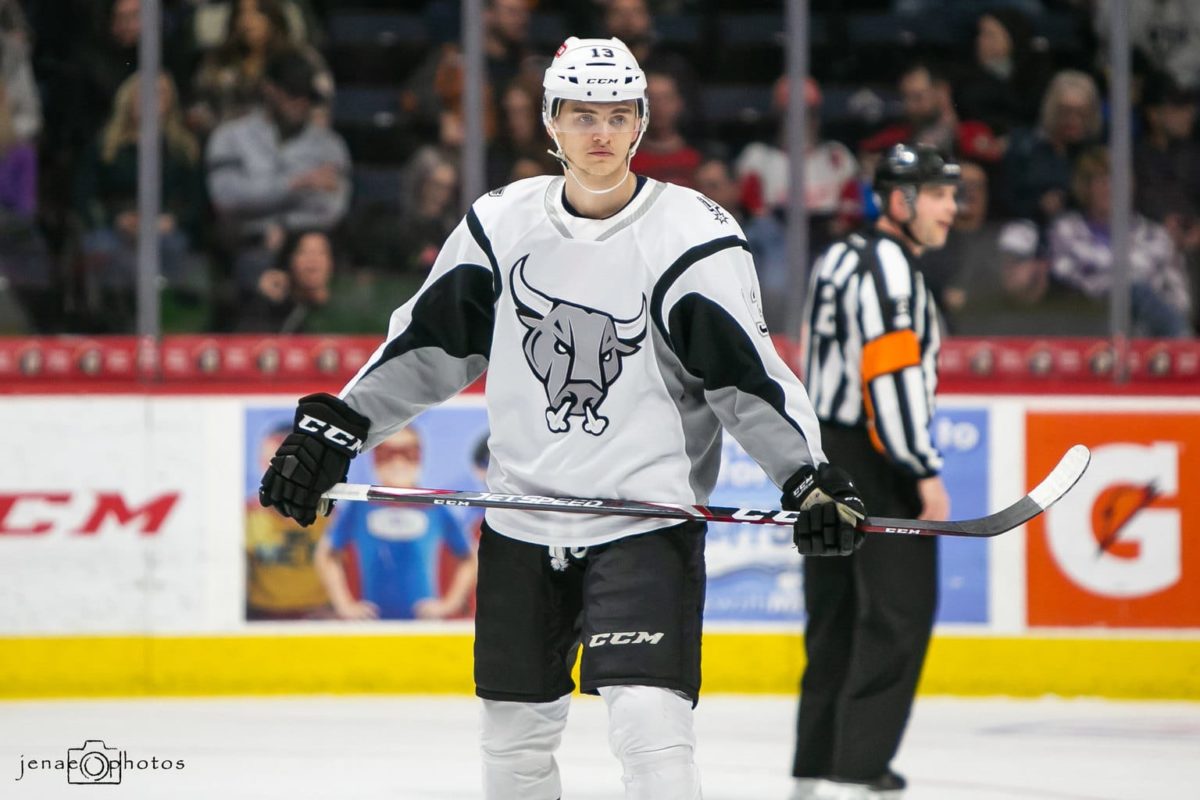 He had an underwhelming season in the AHL in 2019-20 with just nine points in 59 games. Yet, with his size and skill, he still has a great chance to make it to the Blues roster within a couple of seasons. I don't want to give up on him just yet. He's 6-foot-3 and 200 pounds with five goals in 18 games with the Kunlun Red Star of the KHL this season.
He needs to become more consistent and develop his offensive skills further. By playing in the KHL, he can do both of those things, and it's a great opportunity for him. I think he will be a good winger down the road.
Overall, the Blues' prospect pool is good, but not as good as it has been in the past. However, I don't consider Kostin to be an "untouchable prospect" because he is likely to be on the NHL team at some point in 2020-21 and he could be a huge piece in a deal; I've written a few trade pieces where Kostin is involved.
I look at these four players as the ones the Blues should develop and give them a chance to make it. St. Louis has proven that they can draft and develop at a high level. I trust them.
---
---