The St. Louis Blues are back in action after the All-Star Break. They have just under three weeks before the trade deadline with many moves to come. They've solidified themselves as sellers with the trade of Vladimir Tarasenko.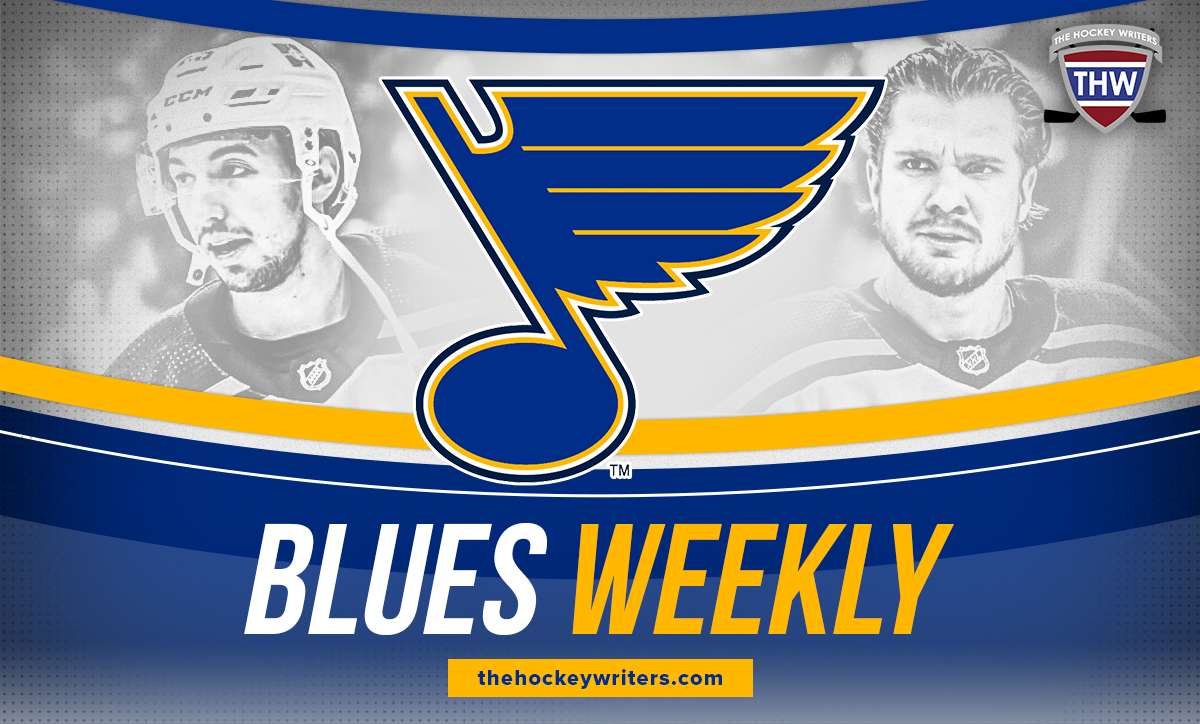 The Blues' schedule this month is difficult. They have eight games left in February, and six of them are against playoff opponents. They're 24-25-3 with 51 points, which is nine points below the playoff line and 25th overall in the NHL. Let's get into the latest going on in Blues world.
The Tarasenko Trade and the Return of Blais
I already wrote plenty of words about this trade, so I'll keep it shorter here. The Blues traded Tarasenko and defenseman Niko Mikkola to the New York Rangers for forward Sammy Blais, prospect defenseman Hunter Skinner, a 2023 first-round pick, and a 2024 conditional fourth-round pick. The return isn't bad at all. The conditions on the fourth-round pick are if the Rangers make the playoffs this year, then it becomes a third-round pick. The Blues weren't going to re-sign Tarasenko, and he had a full no-trade clause. They also got a first-round pick in a deep draft. There are arguments to make about the prospect return, as Skinner doesn't seem to have a ton of NHL potential, but Tarasenko's value had to have dropped a bit with his numbers this season. I'm perfectly fine with this return for the Blues. It's good for the Rangers too.
Related: Blues Should Explore Trade for Canucks' Boeser
---
Latest News & Highlights
---
The Tarasenko trade brings the return of Blais to St. Louis. The Blues dealt Blais to the Rangers in the Pavel Buchnevich trade before last season. He tore his ACL and struggled in New York, but he returns to a comfortable place in St. Louis. He had zero goals in 54 games with the Rangers, but he scored in his first game back with the Blues. He's played 120 games with the Blues in his career, scoring 18 goals. I think Blais is a great fit under head coach Craig Berube, but he's a free agent this summer. Re-signing him will depend on what the Blues do at the trade deadline and how much depth they have at the end of the season.
Blues Beat Coyotes in Overtime
In a game that showcased the poor play of the Blues' defense, they won 6-5 in overtime. They went down 2-0 to the Arizona Coyotes in the first period with St. Louis native Clayton Keller tallying two early points. They got it back to a 2-2 game in the second with Brandon Saad's 15th goal and Blais scoring in his return. After the Blues got out to a 5-2 lead in the third period, they predictably blew it and the Coyotes sent it to overtime. It's also worth noting that defenseman Calle Rosen scored twice for the Blues. He now has seven goals on the season.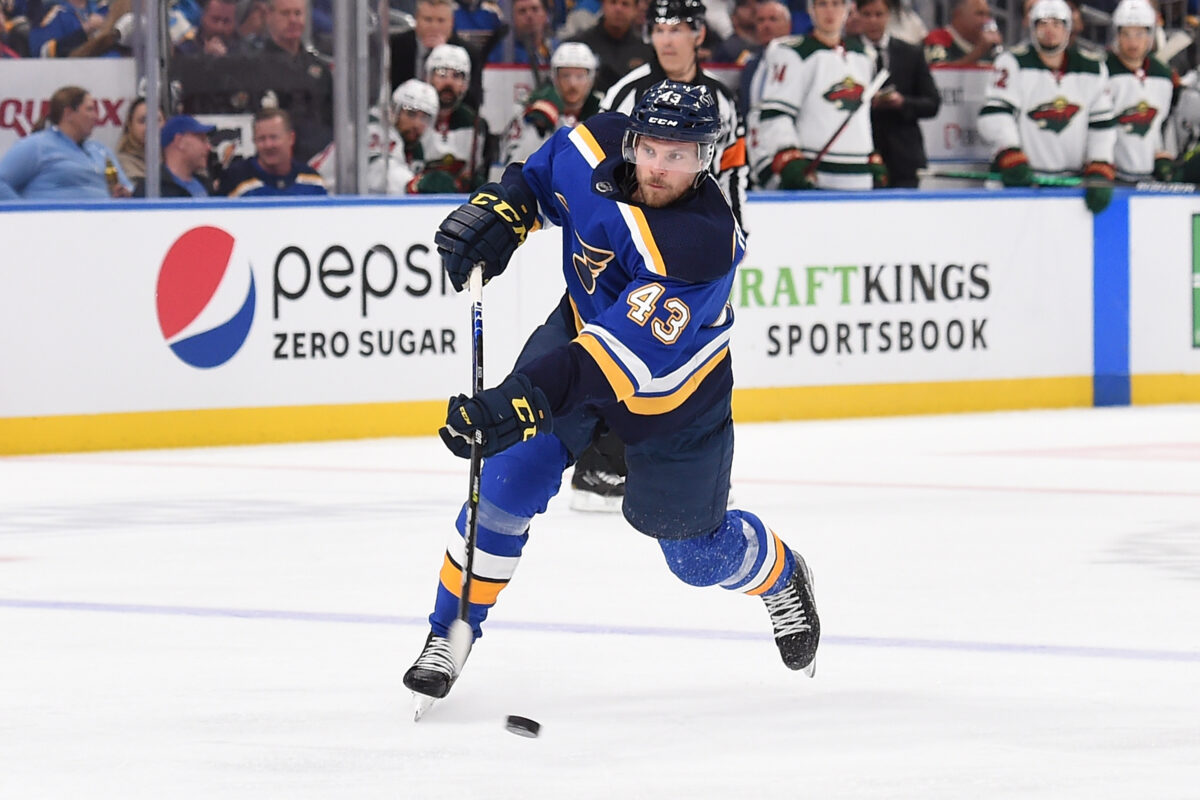 In overtime, it was captain Ryan O'Reilly who ended the game with his 11th goal of the season. Overall, the Blues dominated this game in most categories. They outshot the Coyotes 37-28, won 67 percent of the faceoffs, and threw 22 hits. Special teams were not good in this game. The Coyotes scored two power-play goals and the Blues went 0-for-5 on their power-play opportunities. This game was a reflection of how neither of these teams is very good. Against almost any other opponent, the Blues' defense loses them the game.
Perunovich Heads to AHL for Conditioning
The Blues are close to getting Scott Perunovich back in the lineup. Despite limited time in the NHL, his puck-moving ability is much needed. The Blues' defense is bad defensively, but they have a lot of depth. They could always go to 11 forwards and seven defensemen with Perunovich returning, but they could also explore trading a defenseman. If there is any way to ship away Colton Parayko's contract, the Blues should do it. The same goes for Nick Leddy, Torey Krug, and probably Justin Faulk.
It'll be nice to get some continuity on the power play with Krug and Perunovich quarterbacking each unit. Last season, Perunovich had six assists in 19 games and wasn't that much of a liability on the defensive end. In the playoffs, he was even better with four assists in seven games. Injury concerns are present, but he's got a lot of potential. One issue is that he's already 24 years old, so the time for him to blossom is now. The Blues should give him top-four minutes when he returns. He needs to play as much as possible.
Blues' Week Ahead
Tuesday: vs. Florida Panthers (26-23-6, 58 points), 7 PM
Thursday: vs. New Jersey Devils (34-13-5, 73 points) (ESPN), 8 PM
Saturday: vs. Colorado Avalanche (28-19-4, 60 points), 1 PM
Sunday: at Ottawa Senators (24-24-3, 51 points), 1 PM
It's a four-game week for the Blues. They'll have three at home before heading into Canada on Sunday. If I were Berube, I would split the starts between Jordan Binnington and Thomas Greiss. This team is on a fast track to the NHL lottery, so winning shouldn't be the top priority or goal right now. Improving the trade stock of players like O'Reilly, Noel Acciari, Ivan Barbashev, and others would be ideal. It wouldn't surprise me to see the Blues lose three of four games this week.