We aren't stalking the general manger of the Toronto Maple Leafs, but over the past couple of months, sightings of Kyle Dubas have lead to speculation, rumours and questions of who he might be targeting when it comes to different stops on Dubas' road to the NHL Trade Deadline.
Stops in Philadelphia and Vancouver brought on conversations regarding a number of players from the four NHL teams involved in those respective games in late January and while it was just over a week ago, Dubas' latest venture took him to an OHL arena in Kitchener to take in the Kitchener Rangers and the Sarnia Sting on Jan. 31.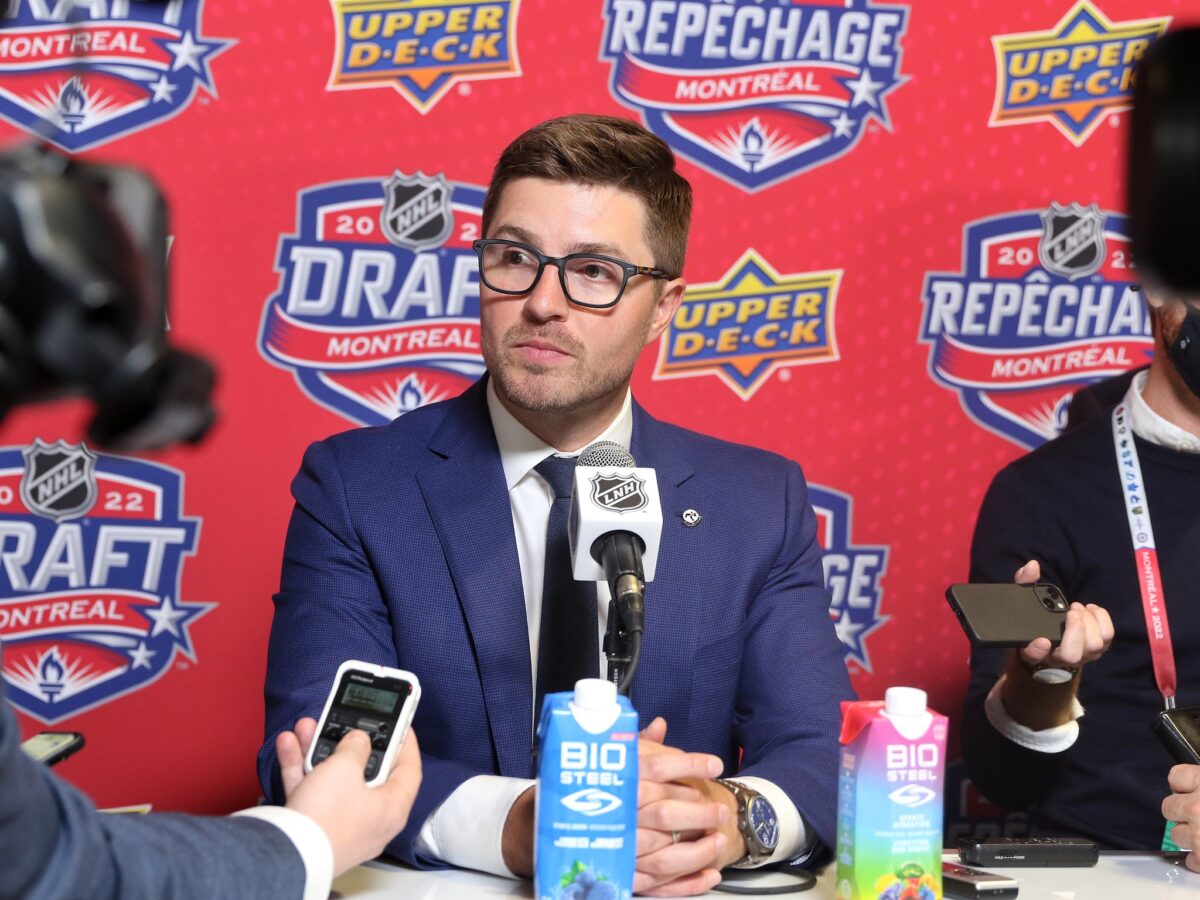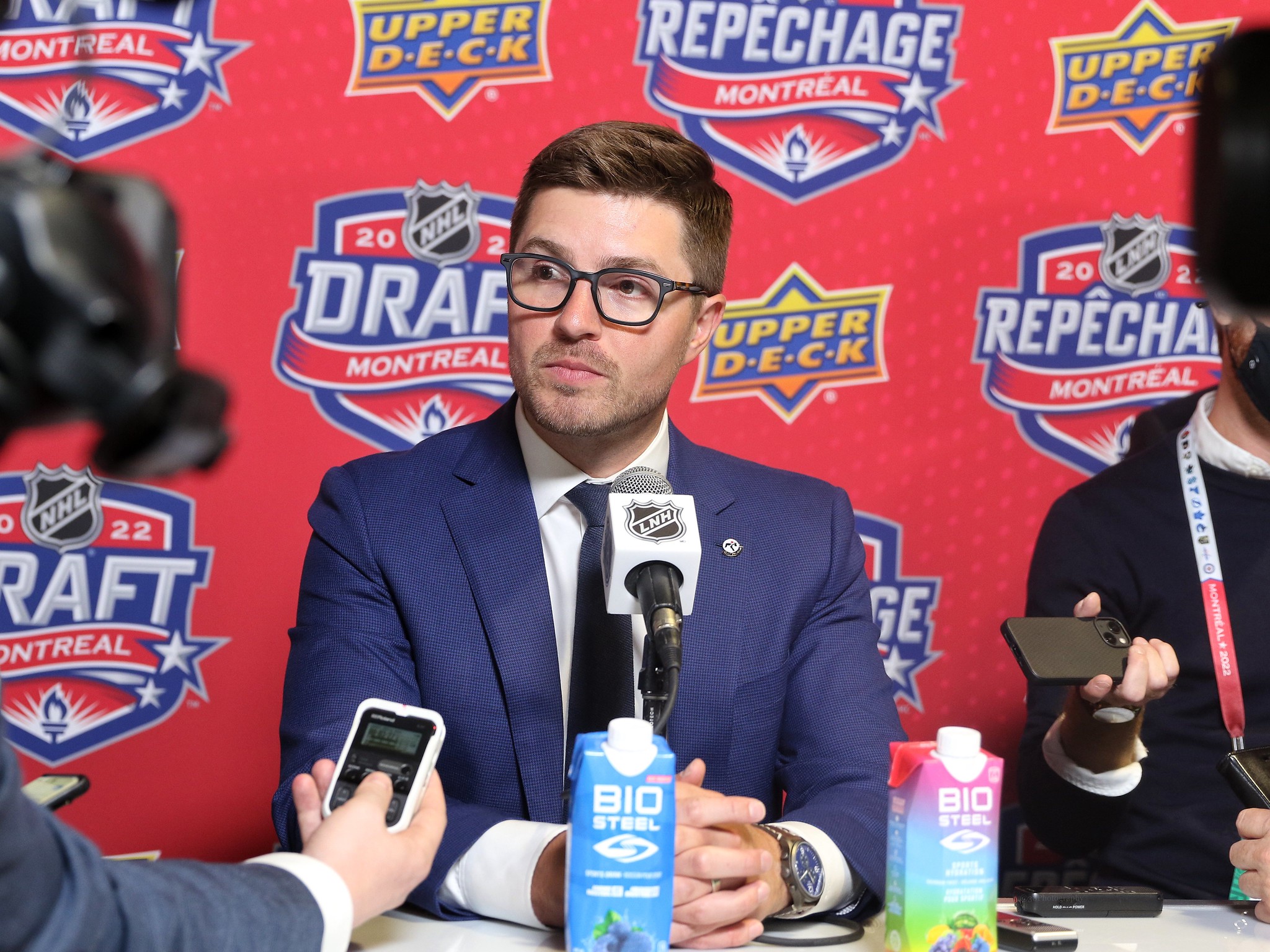 Unlike the targets discussed in previous stops, these won't particularly be related to trades, rather they are targets that Dubas could have in his mind for the 2023 NHL Draft — assuming he's still in the front office for the Maple Leafs come that time.
With that in mind, here are three possible players that Dubas could've been taking in as he caught the Sting-Rangers game during his latest stop in Kitchener.
Ty Voit
It might seem like an obvious choice, but considering he's normally playing in Sarnia, a trip to Kitchener to take in the play of a Maple Leafs' prospect in Ty Voit could be the lone simple reason why Dubas was at this particular game.
Related: 4 Maple Leafs' Trade Targets From Canucks-Blackhawks Game
---
Latest News & Highlights
---
Let's face it, Voit has had an interesting year with the OHL's Sting. Drafted in the fifth round, 153rd overall by the Maple Leafs in 2021, Voit sits tied for fourth in OHL scoring with 15 goals and 73 points in 48 games this season. He was snubbed from the American squad for the U20 World Junior Championship, but that hasn't slowed down his production this season.
Dubas signed the 19-year-old to a three-year entry-level contract on Dec. 20, 2021, and his ELC has since slid considering he's still in the OHL. Voit is averaging 1.52 points per game this season on a Sting team that currently sits second in the OHL's West Division and his club will get to play some playoff hockey when the regular season is all said and done.
Voit might not be the most exciting reason as to why Dubas was in Kitchener, but a meeting with the young prospect isn't the worst news. Sometimes it's good to meet face-to-face and gauge where the prospect's head is at. That and seeing him play in person is also beneficial for the Maple Leafs' GM.
Hunter Brzustewicz
The second possibility is that Dubas might've been in Kitchener to scout some of the upcoming draft prospects — including defenceman Hunter Brzustewicz. Again, this is assuming that Dubas will be at the table for the Maple Leafs when they make their selections at the 2023 NHL Draft.
As of the latest NHL Central Scouting rankings, Brzustewicz is ranked 33rd amongst North American skaters. He's the eighth ranked North American defenceman on the list and the sixth from the OHL. All that considered and you're likely going to see him go in the mid to late second round in the 2023 NHL Draft. He could even fall as far as the early part of the third round.
Related: 4 Maple Leafs' Trade Targets From Coyotes-Flyers Game
Either way, listed at six-feet and just shy of 200 pounds, he's a right-handed defenceman that has brought a lot of offence in his first year with the Rangers following his stint in the U.S. Development Program.
With five goals and 43 points in 49 games this season, he's tied for fifth in defensive scoring in the OHL this season and sits third on the Rangers in scoring this season behind just Carson Rehkopf (2023 NHL Draft eligible) and Francesco Pinelli (Los Angeles Kings' 2021 second-round pick).
While his move the OHL certainly couldn't have been easy for him, it has paid off considering where he could go in the upcoming draft. That, and the fact that he's a right-hand shot defenceman, makes him a sought after prospect for teams — including Dubas and the Maple Leafs.
Carson Rehkopf
The final target that Dubas could've been in Kitchener to see is Rangers' forward Rehkopf. The 18-year-old is second on team scoring with 24 goals and 45 points in 49 games this season and is marked at six-feet and also just shy of 200 pounds.
NHL Central Scouting has him listed as a left-winger and he sits 31st amongst North American skaters on the latest CSS rankings. That puts him in line to be a middle to late-second round pick just like his fellow Ranger — Brzustewicz. That said, there are some that have as a bubble first-rounder, including FC Hockey who had him ranked 31st in their most recent rankings.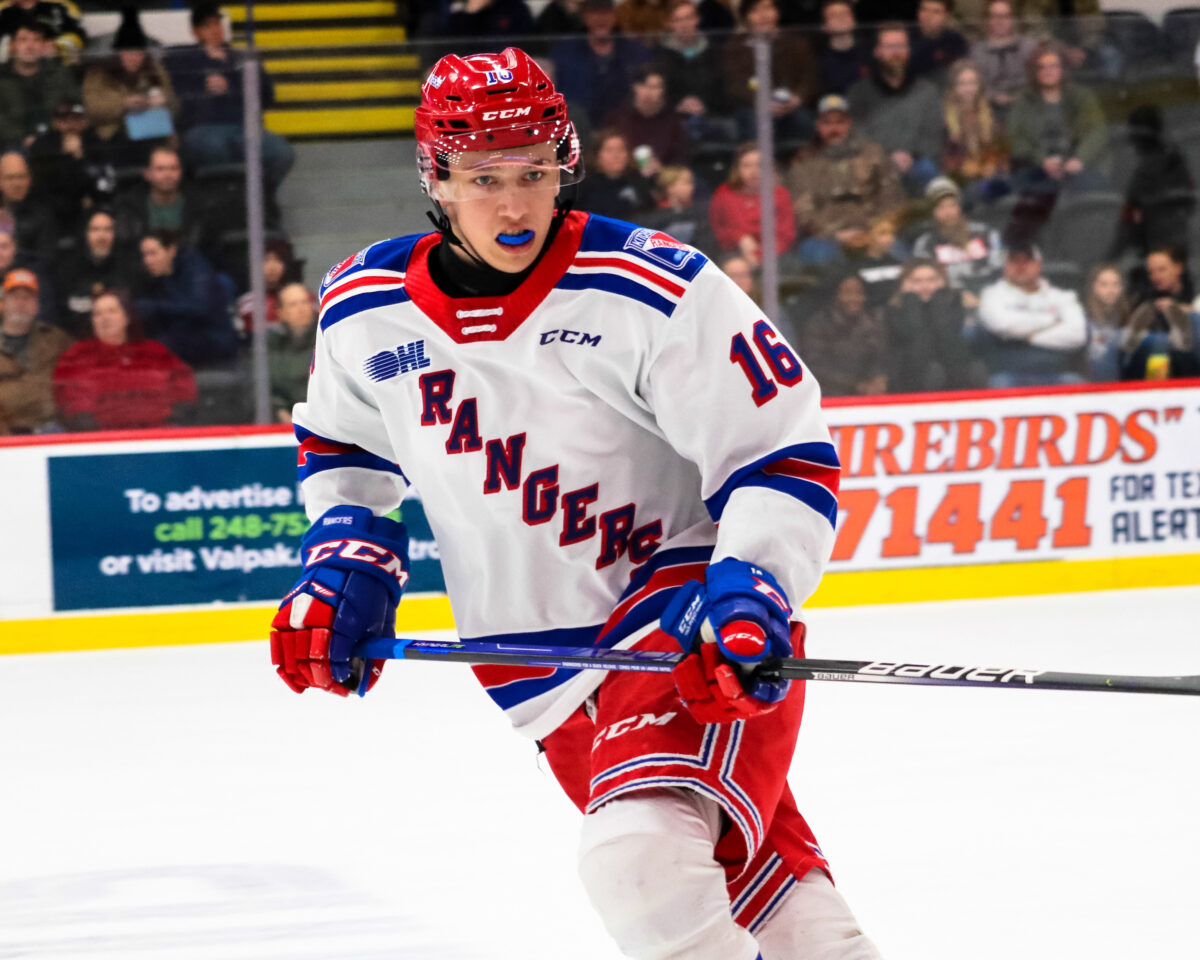 While he still has room to improve his overall 200-foot game, Rehkopf is dangerous in all aspects of the offensive zone. He passes with precision and, given the opportunities, he can put the puck in the net making him a multi-talented offensive threat.
One aspect that he will have to work on if he continues to play down the middle is his face-off percentage, which sits under 37 percent on 289 draws. It certainly won't be a breaking point when it comes to drafting him in that 35 to 45 range in the upcoming draft, but it will be something that could play into how quickly he can develop into an NHL-level player.
Surely these aren't the only three options when speculating who Dubas might've been in Kitchener to see, but they're possibly the most sensical when it comes to who the Maple Leafs have organizationally and where they could be selecting in the upcoming draft. Either way, this might not be the last time we see the Maple Leafs or Dubas linked to one of — or both — of these teams.
You may also like: