Born:
Nov. 29, 1985
Hometown:
Sault Ste. Marie, ON
National Team:
Canada
Current Team:
Pittsburgh Penguins
(President of Hockey Ops
& General Manager)
Kyle Dubas (born November 29, 1985) is a Canadian ice hockey executive who is currently the president of hockey operations and general manager for the Pittsburgh Penguins of the National Hockey League (NHL). He previously served as the general manager of the Toronto Maple Leafs. Dubas spent his youth in various roles with the Sault Ste. Marie Greyhounds of the Ontario Hockey League, including a term as the team's general manager after graduating from university. He attended Brock University and graduated with a degree in Sports Management, and started his career by briefly acting as a player agent. Dubas joined the Maple Leafs organization as an assistant general manager in 2014, and played a key role in developing the Toronto Marlies of the American Hockey League (AHL). In 2018, the Marlies captured the Calder Cup as AHL Champions. At the time of his hire, Dubas was the second-youngest general manager in NHL history, behind John Chayka of the Arizona Coyotes.
Dubas was born and raised in Sault Ste. Marie, Ontario. As a child, Dubas played hockey until concussions caused him to stop playing at 14. His father was an intern with the Sault Ste. Marie Greyhounds and his grandfather, Walter Dubas (1929–2012), had coached the team from 1960 to 1967. Dubas attended Brock University, graduating in Sport Management (BSM). While at Brock, Dubas worked as a scout for the Ontario Hockey League (OHL)'s Sault Ste. Marie Greyhounds. In 2015, Dubas was named the first recipient of Brock's Outstanding Young Alumni Award, for his accomplishments after graduation. Brock University has credited sharp increases in the popularity of their Sports Management program with Dubas' success early in his career, with one professor noting, "We absolutely have seen, anecdotally, so many students who want to be Kyle Dubas when they graduate." After graduation, Dubas offered to assist with Brock University's program as either an instructor or teaching assistant.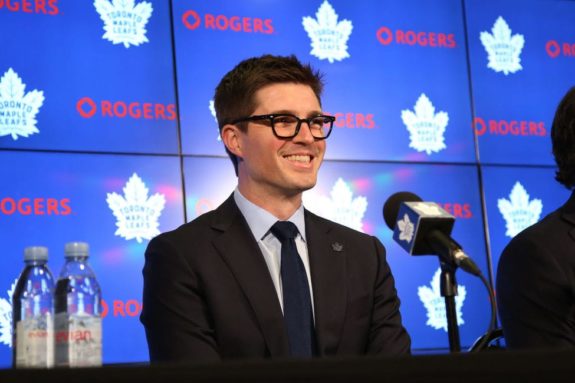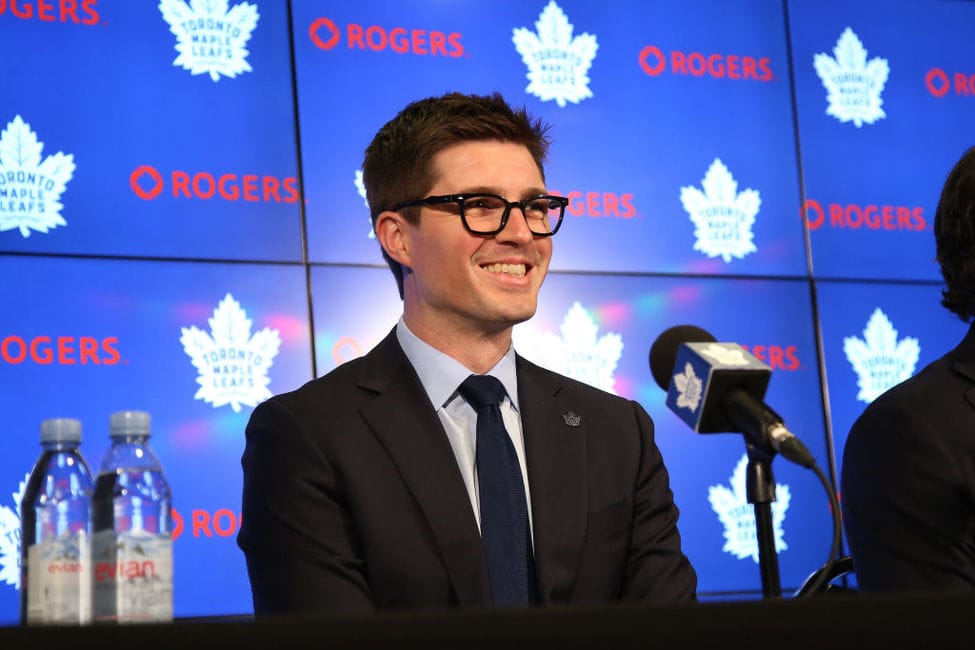 Staff History
2002-03
 Soo Greyhounds
OHL
Scout
2003-04
 Soo Greyhounds
OHL
Scout
2004-05
 Soo Greyhounds
OHL
Scout
2005-06
 Soo Greyhounds
OHL
Scout
2011-12
 Soo Greyhounds
OHL
General Manager
2012-13
 Soo Greyhounds
OHL
General Manager
2013-14
 Soo Greyhounds
OHL
General Manager
2014-15
 Toronto Maple Leafs
NHL
Asst. General Manager
 Toronto Marlies
AHL
General Manager
2015-16
 Toronto Maple Leafs
NHL
Asst. General Manager
 Toronto Marlies
AHL
General Manager
2016-17
 Toronto Maple Leafs
NHL
Asst. General Manager
 Toronto Marlies
AHL
General Manager
2017-18
 Toronto Maple Leafs
NHL
Asst. General Manager
 Toronto Marlies
AHL
General Manager
2018-19
 Toronto Maple Leafs
NHL
General Manager
2019-20
 Toronto Maple Leafs
NHL
General Manager
2020-21
 Toronto Maple Leafs
NHL
General Manager
2021-22
 Toronto Maple Leafs
NHL
General Manager
2022-23
Toronto Maple Leafs
NHL
General Manager
2023-24
Pittsburgh Penguins
NHL
President of Hockey Ops
General Manager
Deeper Dive
Achievements
AHL Calder Cup Champion 2017-2018
Sources