Discuss his methods of management, and Kyle Dubas will use the words "extremely progressive" about twice a sentence. After all, why not? Dubas is the young, fresh face of the Soo Greyhounds, based in Sault Ste. Marie, Ontario. Like many 25 year olds, the the top button is undone on his woven shirt, he's wearing an open suit jacket and jeans. His hair is a trifle rustled and he's friendly with the scouts, agents, and journalists who have come by to say hello.
Unlike most 25-year olds, this smiling wunderkind is also an Ontario Hockey League General Manager. He took over for the Soo at the end of the season, after a a 24-36-5-3 campaign that saw the Greyhounds finish last place in the Western Conference, one of junior hockey's toughest conferences.
Dubas likes the challenge, in no small part because of Andrew Friedman turned the Tampa Bay Rays into a perennial contender in the American League East, a division dominated by the New York Yankees and Boston Red Sox. A recent book by Jonah Keri, The Extra 2%, chronicles the decisions and progression made by the Rays. "I bought [the book] for our whole staff," says Dubas. "It was one of the first things I did."
Somewhat of a prodigy, Dubas stopped playing at age 14 when he hit a string of three concussions in 10 months. He began to work with the Greyhounds in the office, eventually becoming a scout at age 17 and was recently an agent with Uptown Sports, while earning a degree in sports management at Brock University. This summer, he will fill the void left by predecessor Dave Torrie, officially announced back in April.
He not only compares himself to Friedman, but also to Jon Daniels of the Texas Rangers, to Alex Anthopoulos of the Toronto Blue Jays and to Theo Epstein of the Red Sox. " I was working in the office at the time, I was in Grade 11 or 12 when Theo got named GM of Boston. I cut out the article and put it up on the board at the office," he says. "I've always rooted for Theo."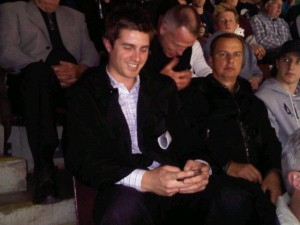 "Baseball has been the most progressive," says Dubas, referring to not only the youth movement of professional General Managers, but also the statistical revolution that has gripped sports. The change has yet to happen in hockey, but there are a growing number of bloggers and writers who make frequent mention of advanced statistics such as Corsi and Fenwick numbers. "As a Major junior team, we don't have the budget yet [to track these numbers]," says Dubas, but he's looking to improve his team's marketing, to build revenues and invest in the team's video system and progressive statistical analysis.
"It's a thing I'm a huge proponent of," he says. "What we're trying to do right now is look at other team's rosters and find the guys that they undervalue. If we can pick them off from there, we'll be good to go."
"If you watch our trades, you'll see a lot of that built into it."
The OHL trading period begins on June 1st. For the baseball geeks and hockey fans, the Sault Ste. Marie Greyhounds may be a team to watch over the offseason. No doubt, a new brand of thinking and a new direction of play will move the Greyhounds forward. "Every day you learn something new," says Dubas. "You look at the organizations who build for sustained success."
We caught up with Dubas at the Memorial Cup in Mississauga. Dubas can be followed on Twitter @KyleDubas
Born in Vancouver, Cam works as a freelance writer out of Kamloops, BC and now writes for SB Nation's Nucks Misconduct.