When the Boston Bruins lost Game 7 of their first-round Eastern Conference Playoff series against the Carolina Hurricanes in May of 2022, there were questions as to whether or not it was going to be the final game for captain Patrice Bergeron or would he come back for one more shot at a championship? In August, the Bruins announced that he was coming back on a one-year, $2.5 million contract, loaded with incentives. The Black and Gold were glad he returned.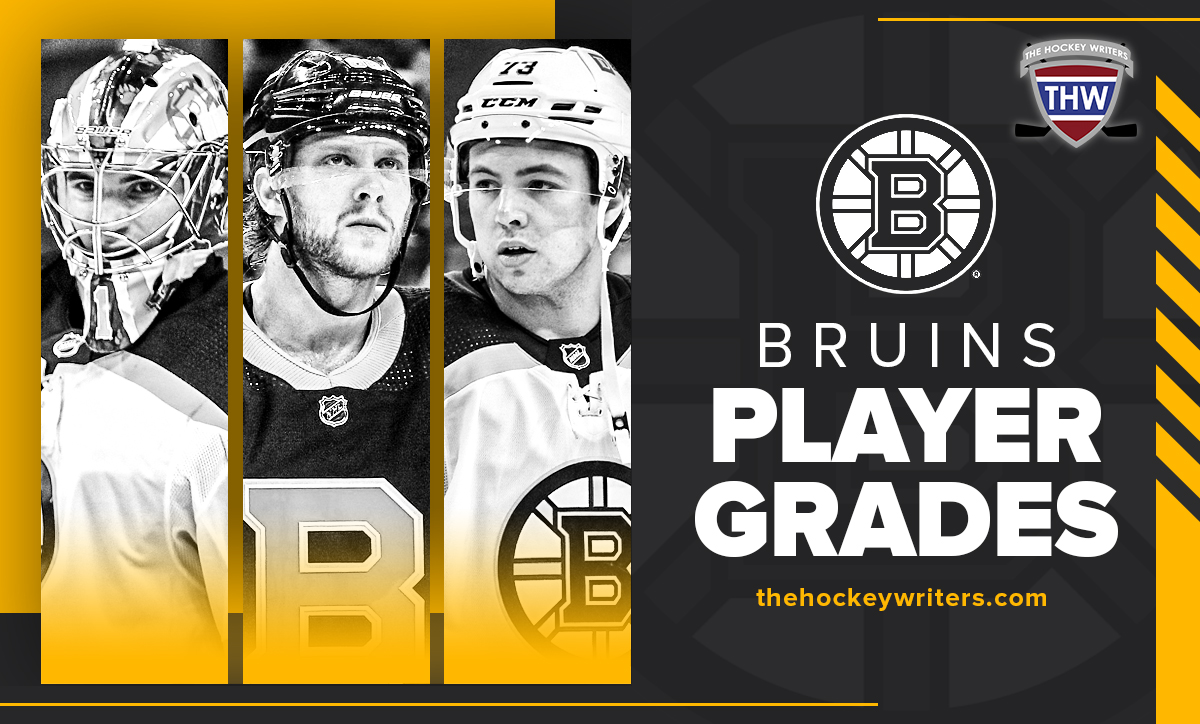 The Bruins needed their leader on the ice and in the locker room with Brad Marchand out recovering from offseason surgery and they were also missing two of their top four defensemen in Charlie McAvoy and Matt Grzelcyk. An always calming presence, Bergeron was a workhorse at 37 years old and showed that he still had a lot left in the tank.
Patrice Bergeron's 2022-23 Regular Season
Centering the top line once again, and when Marchand returned, first-year coach Jim Montgomery reunited the two long-time teammates with Jake DeBrusk, who rescinded his trade request over the summer and once again benefitted from playing with the two veterans. Bergeron played in 78 games with 27 goals and 31 assists and had his highest plus/minus rating in nine years with a plus-35. An impressive feat considering that he plays on the power play and kills penalties.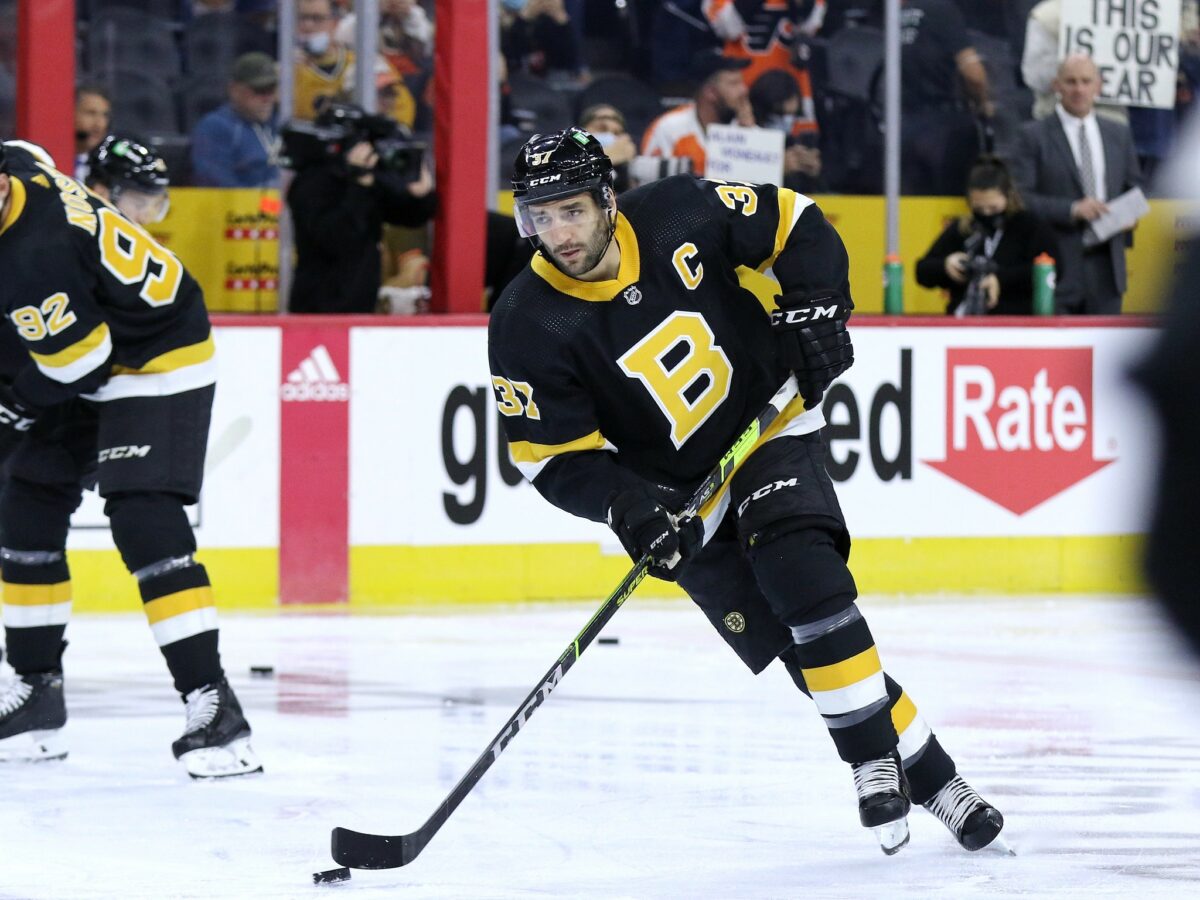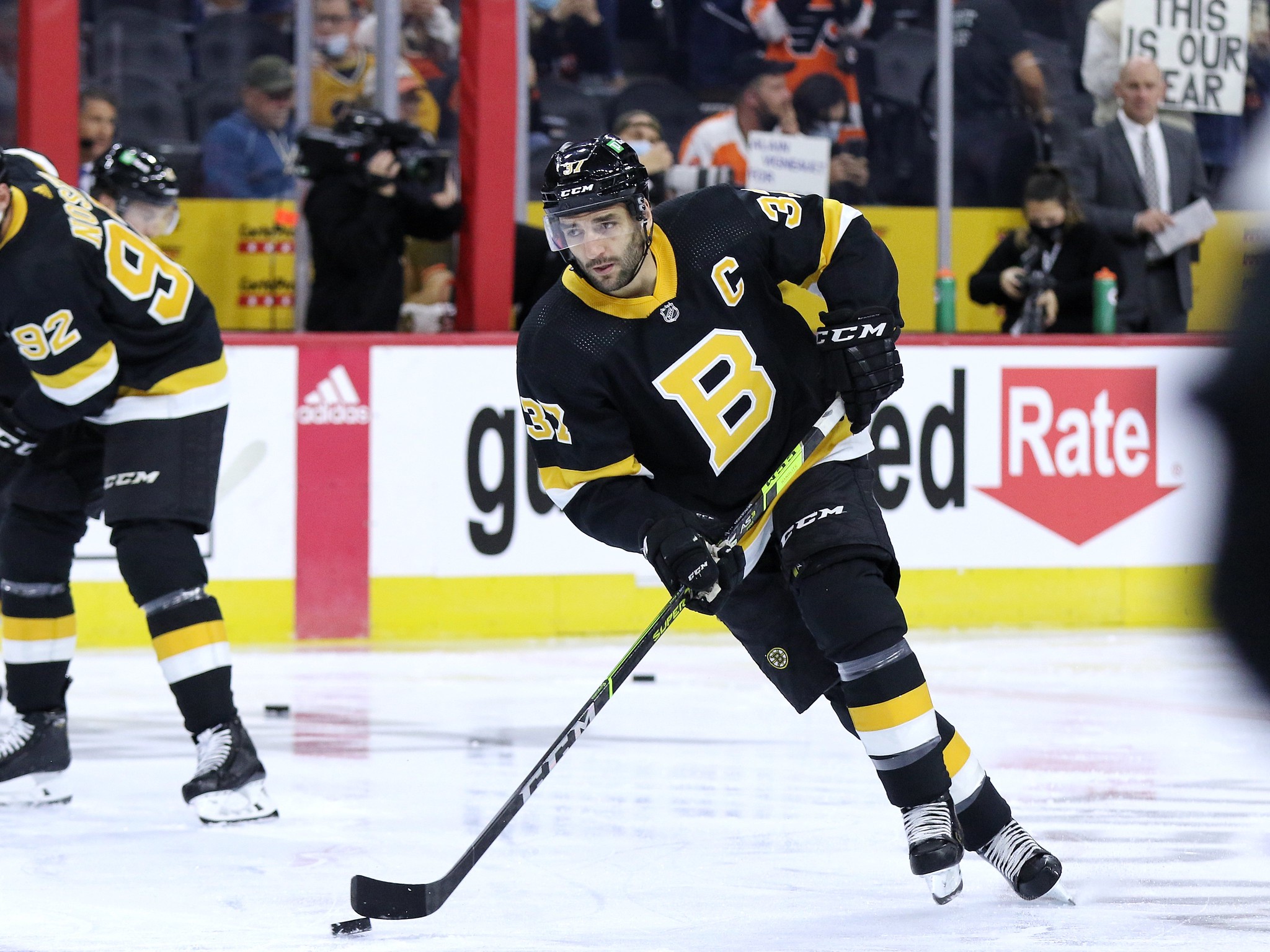 His average time-on-ice was down this season to 17:24 a night in the regular season and his faceoff domination continued as he won 61.1% of his draws. It didn't matter who was on his wings as he continued to adjust with different combinations on the fly. Pavel Zacha and Taylor Hall got a chance on the left wing in Marchand's absence early in the season, while David Pastrnak was reunited with Marchand and Bergeron in the middle of the season for a bit when DeBrusk missed nearly six weeks with a broken foot suffered in the 2023 Winter Classic at Fenway Park on Jan. 2 against the Pittsburgh Penguins.
Related: Blame for Bruins' Playoff Collapse Spreads Deep in Locker Room
To nobody's surprise, Bergeron is a finalist for his record-seventh Selke Trophy Award this season and the winner will be announced in June. The two other finalists are Mitch Marner of the Toronto Maple Leafs and Nico Hischier of the New Jersey Devils. All three are deserving of the award and Bergeron would not care at all if he won it or lost it, but you have to think that he is the favorite and it would be another well-deserved accomplishment.
Injury Cost Bergeron Shot at Stanley Cup Run
When the Bruins traveled to the Bell Centre to play the Montreal Canadiens in the 82nd and final regular season game, Montgomery played most of his regulars in a game that had no bearing on playoff seeding. Boston had the Presidents' Trophy locked up. Bergeron left the game after the first period with an upper-body injury that cost him the first four games of the first-round series against the Florida Panthers.
Through the first four games in Bergeron's absence, the Bruins jumped out to a 3-1 series lead. In Game 5, he returned to the lineup and scored his only goal of the series on a third-period power-play goal in a 4-3 overtime loss. The Black and Gold would lose the final two games of the series, 7-5, in Game 6 and 4-3 in overtime in Game 7. Bergeron did not record a point in either of those two games and was stunningly minus-6 in three games. Following the series, he announced that he was dealing with a herniated disk suffered in Montreal.
Related: Bruins Weekly: Montgomery, Bergeron & Bertuzzi
---
Latest News & Highlights
---
Montgomery said that playing Bergeron in Montreal is not a decision that he did not regret.
"Our hindsight is we don't have any reservations about what we did, because we laid it out with where we were in the regular season with four weeks to play," Montgomery said. "We talked to sports science, and then Sweens [general manager Don Sweeney] and I talked about if we have a chance to rest people, we're gonna rest them. And then we consulted with Bergy, and I think he missed five games.
"We wanted — I wanted and Bergy wanted — the last two games to ramp up, to get in a rhythm for the playoffs. Life happens. Unfortunately, he tweaked something in that last game. Even with hindsight, we would still do it exactly the same way. That's how it's easy to move forward, when you have no regret with what you did because it was a well-thought-out plan."
In short, there was no keeping Bergeron out of the lineup in Montreal in front of his family in what was likely his final regular season game of his career.
Not the Ending Bergeron or the Bruins Were Looking For
If there was one thing clear about the 2022-23 Boston Bruins, it was championship or bust and it turned out to be a bust, losing in stunning fashion to the Panthers. If this is how Bergeron's career ends with the Bruins, what a brutal way to go out. He deserved better than a historic playoff exit after the regular season they had. He returned for a 19th season and proved that he had a lot left to play and didn't look like a veteran who has been in the Boston lineup since he was 18 years old. If this is how he goes out, regardless of what happens, he has a lot to be proud of.
Final Grade: A+
---
---