By Mike Miccoli
It starts with a milk crate.
Maybe a steel folding chair for some, an orange traffic cone for others, but for most, it's a milk crate. You push it around a fresh sheet of ice, trying to learn how to balance yourself while wearing these uncomfortable, tightened boots with blades attached to the bottom of your feet, carving strides in between shortened breaths. It's cold and the smell of the fumes from the Zamboni mixed with the stale, burnt popcorn from the old snack bar permeate the air. It's bright in the rink, it's early in the morning and in a strange, strange sense, it's perfect.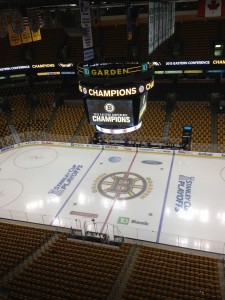 You start as off as individual skater–everyone does. You learn how to stop, shoot, and then hit. Later, you're grouped together with others of a similar age to form a team, a group of players bonded together by a common goal: a championship. Every player has a role–a responsibility. You win together, you lose together, you develop as players together. Teams win championships, individuals don't. It's the most basic concept of the game of hockey but yet it's the most misunderstood.
It's the reason why the Boston Bruins have been dominant as of late. It's the reason why they're, once again, Eastern Conference Champions. It's the reason why they're headed to their second Stanley Cup Final in three years.
On paper, nobody saw this coming. The Pittsburgh Penguins were a stacked roster, an all-star team assembled by sticking some of the best players in the world together while wearing the same jersey. They were a team before Jarome Iginla, Brendan Morrow, Douglas Murray and Jussi Jokinen, all deadline acquisitions, came. But maybe, just maybe, they were always individuals who got hot at the right time when they won 15 straight games in March. Maybe their high-octane offense was good enough against the teams they faced to hide their defensive deficiencies and leaky goaltending. But teams win championships, not individuals, and maybe the Penguins were never really a team at all.
In reality, this probably shouldn't have happened. Down 4-1 with 11 minutes left in the third period of Game 7 of the Eastern Conference Quarterfinals, something clicked for the Bruins. It was like that switch we talked about all season not only was flipped, but ripped off the wall. Since their remarkable comeback against the Toronto Maple Leafs, the Bruins have been a different team, winning nine of their last ten games. They beat the New York Rangers in five and swept the Penguins holding Pittsburgh to only two goals all series, shutting them out in two of the four games.
And now, here we are.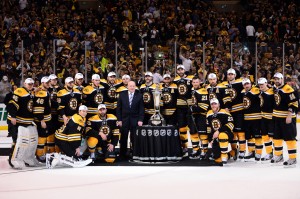 The Bruins always played with this team-first mentality. No superstars, no individuals, just doing whatever it takes to help your team win a hockey game. Sure, David Krejci is leading the postseason in points while Tuukka Rask is standing on his head, but on this Bruins roster, there aren't any passengers. Every line is contributing whether it's by getting on the scoresheet, winning faceoffs or playing solid defensive hockey. It's a complete effort for 60-minutes from the offense, defense, goaltending, and coaches. It's the right way to play the game: it's the Bruin Way.
When Iginla was traded to the Penguins, he mentioned how he wanted the chance to play with the best players in the world. He never mentioned anything about the best team. Maybe we should have seen it coming there. The Penguin all-stars did nothing, aside from draw attention to themselves for their sudden lack of production. But it's not about the Penguins, it's about the Bruins who were the better team in every single facet of the series. And to the victors, come the spoils.
The Bruins were the better team and they always have been, we just needed to see the series to play out in order to fully comes to terms with it.
When you first start playing hockey, sometime after your first stride, goal, win, you begin to want more. You crave it and it's that passion that drives you to keep going. Your team wants it, too. Together, you'll leave everything on the ice and work towards a unified dream that beats so loudly in your heads that you can't ignore it. The Bruins have it right now. They can hear it, and they started to hear it again weeks ago.
It ends with a Stanley Cup.
Follow Mike on Twitter for more Bruins updates, news and commentary.
Mike Miccoli covers the Boston Bruins for The Hockey Writers and has been a credentialed member of the media for all Bruins' home games for the past five years. As a former player, coach and official, Miccoli has been around the game of hockey since the age of three. Along with his work on THW, Miccoli has also been published in the New England Hockey Journal, Improper Bostonian magazine and on BostInno.