By Mike Miccoli
Here's a secret no one tells you: columns and articles are written ahead of time. Sometimes, way ahead of time.
Maybe not full pieces, but the skeletons of what will be the final product are sketched out. It might be a bunch of quick notes jotted down on a piece of paper or bulletpoints listed in a Word document that need to be expanded on and constructed but still, there's a story in there.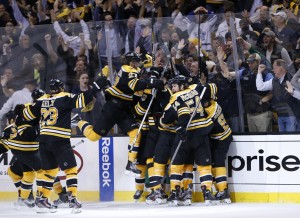 When the Boston Bruins were down 4-1 late in the third period of Game 7 against the Toronto Maple Leafs, my column was finished. If I'm being honest, my column was finished Sunday night, a few hours after the conclusion of Game 6, with the exception of some quotes that I would pepper in from players and coaches.
As far as I was concerned, the Bruins were done. Toast. Finished. Maybe even looking ahead to the rest of the week's weather forecast to plan out their rounds of golf. With 11 minutes left in the third period of Game 7, the Maple Leafs had a three-goal lead and were on their way to erasing a 3-1 series deficit to beat the Bruins and advance to the second round of the playoffs.
My column addressed all of this. You know, how the Bruins gave up and how they never could really put it together all season. There might have been a line about Nathan Horton's last game in a Bruins' uniform and one about Claude Julien being on the hot seat.
I thought that the Bruins wrote themselves off. Turns out, I had no idea what I was about to witness.
When Horton scored to pull the Bruins within two, it was a sign that there was still life left. Maybe the 2013 Bruins didn't want to die yet. Maybe they did have a heartbeat left. A comeback would be nearly impossible, but at the very least, the Bruins were going to go out at least trying to make it a series.
But it couldn't be, right? The Bruins were rotating five defensemen, two of which were Matt Bartkowski (who played his best game in a Boston uniform) and Dougie Hamilton (who may have played his worst) with Dennis Seidenberg out with an injury. Zdeno Chara had already logged close to 30 minutes and the Maple Leafs weren't giving up either.
The Bruins were down two with less than two minutes left and Tuukka Rask out of his net when Milan Lucic, positioned perfectly in front of James Reimer buried a rebound home to cut the deficit to one. Following a timeout, perhaps Julien's most timely of the season since it wasn't used to regroup the Bruins after going down 4-1, the same six skaters took to the ice and 31 seconds later, Patrice Bergeron fired off a shot past a screened Reimer.
Tie game.
This is when it happened. If you were at the TD Garden, you felt it. I can try to explain it, but I'll never capture it in words.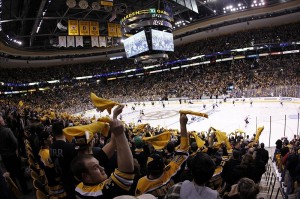 It was electric. A sea of yellow towels raised and waved in unison with every fan who decided to stick around on their feet. The upper deck on Level 9 where the press seating is located was vibrating. I felt it and if you were there, you did too. It was the loudest the TD Garden had been all season. Right then, you knew something special was happening. Those around me did too.
When you're a writer covering a team, you ditch allegiances best that you can. You can root for certain players or maybe certain angles in order to fit with deadlines but for the most part, you're on the clock. What doesn't ever go away is the love of the game. There's this rush you feel at puck drop that lasts all of the way until the final horn or if you're lucky, the game-winning goal in Game 7 of the playoffs. It's one of the reasons why hockey is the greatest sport in the world.
Maybe that's what I felt. Maybe everyone around me felt it too. This was playoff hockey at its finest, filled with robust storylines and a dramatic plot twist. This was like nothing I have ever covered. A lifeless Bruins team rose from mediocrity to play their hearts out for one another and for themselves. They battled back from a three-goal deficit with 10 minutes to play in the game to force an overtime. The confidence and energy of the players on the ice were as high as any time in the playoffs thus far. The Bruins were winning Game 7.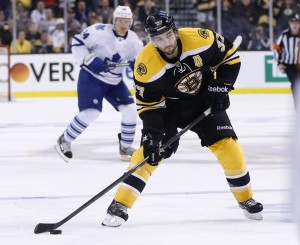 And they did, after all. Bergeron capitalized on a rebound that Reimer couldn't control and like that, the Bruins had four unanswered goals and a ticket to the second round. Like nothing anyone could ever predict, but yet another validation as to why playoff hockey is one of the most exciting times in sports. That's why we do it.
Every hockey player dreams of scoring the game winning goal in Game 7 of the playoffs. Every hockey writer dreams of covering it. And if anyone disagrees, they're lying to you.
It was 30 minutes in real-time between Lucic's goal and Bergeron's game-winner. One half-hour to prove why hockey can be so unjust. Boston moves on after playing a lightning-fast, tough 10-minutes of hockey while Toronto goes home after taking their foot off of the pedal. The Bruins probably shouldn't be here but if this is the effort they put forth when tested, maybe they should be.
A Game 7 win could very well be the difference for the make-up of this team going forward. Maybe they do still have some magic left. Whatever happened at the TD Garden in Game 7 showed that. The challenge now becomes maintaining it.
I'm not sure if the Bruins will continue to win. I'm not even sure if they'll get past the New York Rangers in the Eastern Conference Semifinals. I am sure that the team extended their lives, regained a ton of momentum, and will be together for another run for just a little while longer.
In that old column I wrote, I said that the Bruins scripted the end of their own season long before the playoffs started. In reality, they wrote a new chapter.
And I wrote a new column.
Follow Mike on Twitter for more Bruins updates, news and commentary.