Admittedly, it's only the preseason. And sure, the Detroit Red Wings and Carey Price-less Montreal Canadiens are not very good. Nevertheless, the early returns on the 2017-18 Boston Bruins season are overwhelmingly positive.
With split-squad wins in back-to-back nights the Bruins have exuded polish and refinement. Some rust and clutter is to be expected this early in the preseason, but for the most part the team has looked like a cohesive unit, often operating at a breakneck speed seldom seen in these parts. The kids we've spent all offseason salivating over have looked poised and explosive. The vets (at least those that we've seen) have looked refreshed and in fine form.
It's early, but there's nothing wrong with a little tempered excitement now that hockey is back in The Hub.
Austin Czarnik Arrives (Again)
To me, Austin Czarnik was Boston's most impressive player Tuesday night versus Detroit. Somewhat forgotten in the midst of the team's youth boon, Czarnik re-introduced himself to the Boston faithful in a big way.
The 24-year-old seemed to be everywhere Tuesday night. His speed and playmaking ability were on full display throughout his 15 minutes of ice time, consistently putting defensemen on their heels and getting the puck into danger areas. In the first period he found a soft spot in Detroit's coverage, fired off a quick, hard shot (despite being a bit handcuffed on the play) and drew a penalty digging for the rebound.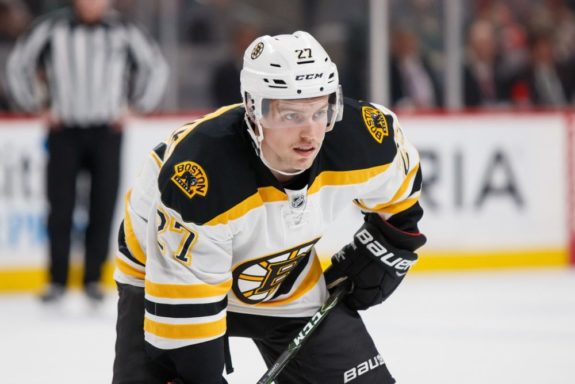 His efforts were rewarded in subsequent periods, utilizing that aforementioned speed to split the defense and draw another penalty, this time receiving a penalty shot. A calm, controlled and confident entry gave way to a pretty finish, extending Boston's lead to three.
With his team clinging to a one-goal lead, he made his best play of the night. Czarnik anticipated a drop-pass, chipping the puck past a flat-footed defenseman and starting a three-on-one break. Rather than forcing a cross-ice pass through the lone defender, he made a decisive pass to the slot where a wide-open Teddy Purcell blasted his one-timer past Petr Mrazek.
Czarnik was excellent in all three zones, and even won 53% of his face-offs in a performance that looked Bergeron-esque. If he can keep this up it's going to be extremely difficult to not include him on the opening night roster. Explosive, polished and capable of playing center or wing? Sign me up.
Jake DeBrusk Looks Ready
Jake DeBrusk did not look like a 20-year-old veteran of zero NHL games Tuesday night. Jack Edwards was also impressed:
(1) 2P impressions:
1. DeBrusk is looking ready. Hard on puck, strong on boards, smart, patient, direct.
2. Kuraly: a foxhole guy. Like him.

— Jack Edwards (@RealJackEdwards) September 20, 2017
Saying that he has the talent to play in this league is not exactly letting the cat out of the bag; he was, after all, the 15th pick of the 2015 draft. But after being penciled-in by many as the insider for Boston's vacant left wing spot alongside David Krejci, I admit that I had my doubts regarding his readiness.
Consider those doubts soothed and assuaged.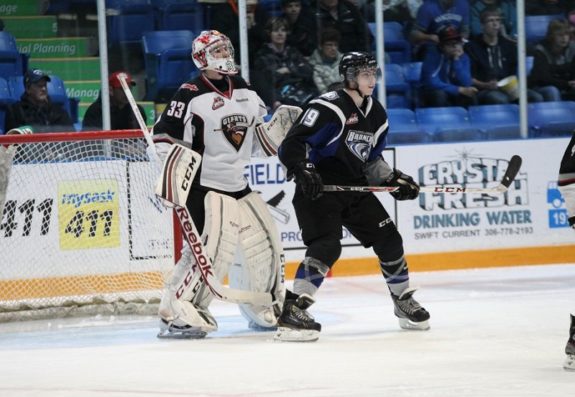 It wasn't his talent that caught my eye, though he did prove more than capable of keeping up with two tremendous playmakers. It was rather the fearlessness and conviction with which DeBrusk went to the dirty areas of the ice.
He was mucking in the corners, both on the forecheck and in aiding his defense. He was working the front of the net on the team's power play. And most evident was his willingness and ferociousness crashing the net.
The combination of talent, conviction and fearlessness is one that Mark Recchi rode to a Hall of Fame career, scoring many of his 577 goals the greasy, dirty way: In close after paying the price.
More performances like this one from DeBrusk and he will begin the season in Boston's top nine, no question.
DeBrusk, Krejci & Pastrnak Shine
The trio were electric versus Detroit. I know, I know, "it's just the preseason." Detroit is also the team I picked to finish dead last in the Atlantic Division. Nonetheless, it was an extremely impressive debut for the line.
David Krejci looked more nimble, fresh and healthy than we've seen in years. He looks to be fully recovered from the hip surgery which slowed his game considerably last season, as well as the knee injury which knocked him out of three playoff games and held him pointless when he did play.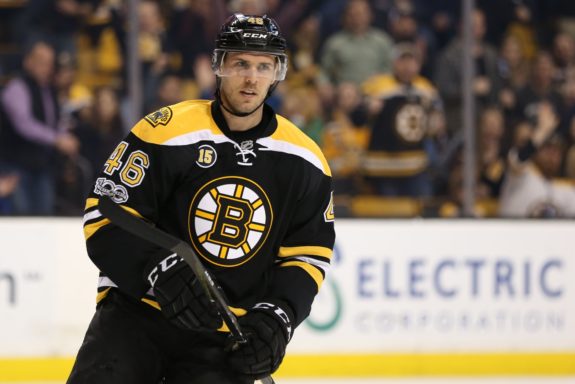 If anyone was concerned about David Pastrnak showing up "fat and happy" as a newly-minted millionaire, please, hang your head in shame. "Pasta" looked downright dangerous in his first game action of the season. He fired four shots on goal, made several "wow" plays and combined with Krejci and DeBrusk to dominate the possession game. They were so effective that on more than one occasion it seemed as though Boston was on the power play.
The chemistry displayed by the trio (particularly Krejci and Pastrnak) is arguably the most encouraging facet of Boston's preseason thus far. With revolving doors on his wings in recent years, providing the team's highest paid player with a little consistency and talent is crucial to the team's success.
Patrice Bergeron and Brad Marchand have produced no matter who plays on their right wing. If Krejci and Pastrnak can get to that point the Bruins will once again flaunt the "1A, 1B" lines of yore that produced two Finals appearances in three seasons. In doing so, they'll also be providing safe, productive landing spots for whatever forwards slot in alongside them.
Bjork & Spooner…Spaghetti & Meatballs
For all the talk of Anders Bjork possibly playing on that aforementioned Bergeron/Marchand line, he looked like the complement Ryan Spooner has been searching for his entire career.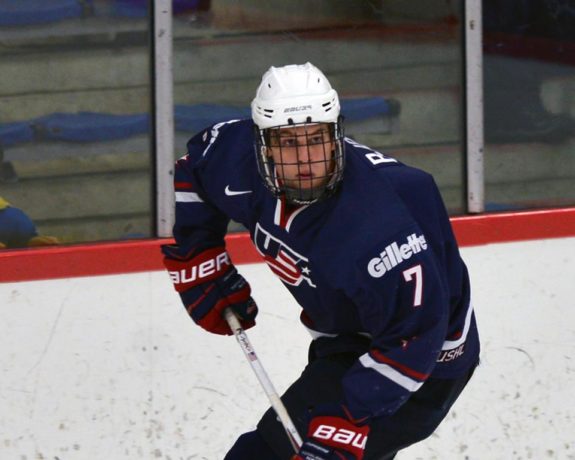 The duo were excellent against a veteran-laden Canadiens squad Monday night, combining for Boston's second goal of the contest. Playing alongside Matt Beleskey until an injury forced him out of the contest (more on that later), it was evident from the get-go that Bjork's speed and creativity meshed perfectly with Spooner's.
Spooner has largely been saddled with bigger, plodding linemates in Matt Beleskey and Jimmy Hayes. As a result, I can't tell you how many times I've seen him skate the puck into danger because his linemates couldn't keep up with his pace.
With Bjork on his wing, no such problem exists. The union could very well enable Spooner to continue playing to his strengths while ensuring that Bjork (a veteran of zero professional hockey games) doesn't receive a baptism by fire, going up against the league's best players every time he steps onto the ice.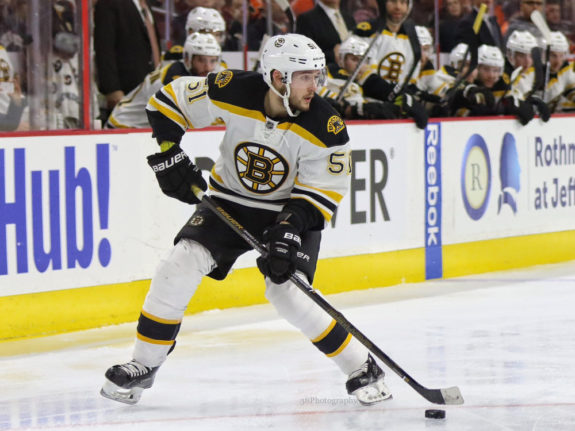 He certainly has the talent to do so. And Boston may be more inclined to use David Backes as a safety valve for Spooner on the third line. But at least for one night Ryan Spooner and Anders Bjork looked made for one another.
Zboril's Short Memory
One of my favorite moments from Boston's win versus Detroit was Ryan Fitgerald's goal to open the scoring. It wasn't because of the finish, though Fitzy's shot was labeled; a real dart. And it wasn't even the beautiful setup from Jakub Zboril, though it was a very pretty play. It was the fact that Zboril made that play after an awful turnover in the first period.
In the first period, Zboril coughed up the puck at his own blue line, giving Detroit a two-on-one. Khudobin bailed him out with three solid saves, so the team was no worse for wear. But with Zboril being a young player intent on making a good impression and hopefully doing enough to avoid bus rides and a "Spoked P" on his chest, it wouldn't be out of the ordinary to see him go into a shell for the rest of the game. Not even that he'd play poorly, but that he'd look to make nothing but safe plays.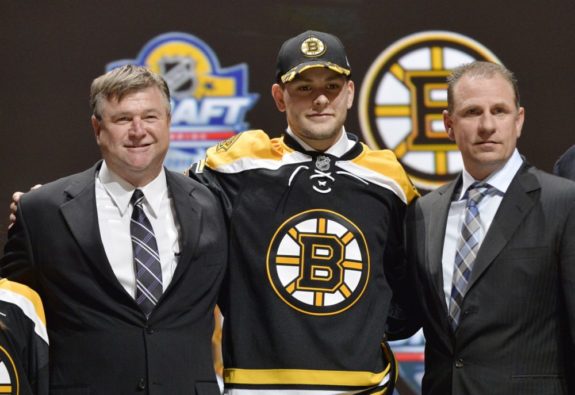 The manner in which he set up Boston's first goal displayed creativity, hockey sense, aggressive skating and, most importantly, poise. Having the chutzpah to assert himself in that manner just several shifts after his gaffe portends good things for his development.
Hungry, Hungry Hopefuls
I've already touched on DeBrusk, Bjork, Czarnik and Zboril as early preseason standouts for the B's. But what about the other young roster hopefuls in Boston?
Oh, them? They're pretty good too.
In various capacities, pretty much every roster hopeful mired in one position battle or another has shown something encouraging.
Frank Vatrano was kept off the score sheet in his debut, landing just two shots on goal. But it was evident that he is committed to playing a more complete 200-foot game. He was skating his rear off all night, and it was his break up on one particular backcheck during a tireless shift which led directly to a Bruins goal.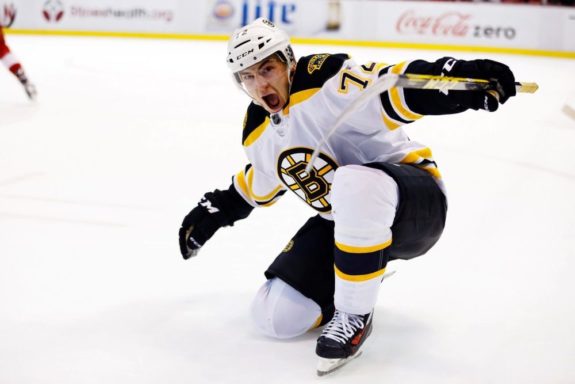 Danton Heinen scored Tuesday's second goal, using his quickness and good old-fashioned hustle to beat two Red Wings defenders to the crease, where he tapped-in Jakob Forsbacka-Karlsson's gorgeous cross-ice pass. He also logged shifts on both the power play and penalty kill in nearly 16 minutes of effective ice time.
The fourth- line candidates have hit the ground running. Jesse Gabrielle, Tim Schaller, Noel Acciari and Riley Nash all cracked the score sheet in their respective games. Sean Kuraly's play was just as effective, playing a solid two-way game while being heavy on the puck and displaying the kind of tenacity the team wants to see from its fourth liners, let alone roster hopefuls.
The Boston fourth-line, no mater who dresses, looks to be a real strength for the team this season.
Injury Bug
The only true downside to Boston's play through two preseason games have been the players lost to minor injury. Matt Beleskey, Jakob Forsbacka-Karlsson and Torey Krug were all visited by the injury bug and forced out of their respective contests.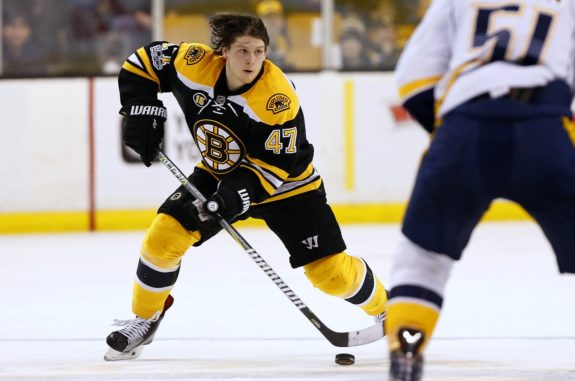 Krug looks like he may have lost a few Chiclets, but will ultimately be fine. His injury unfortunately abbreviated his pairing alongside fellow puck-moving dynamo Charlie McAvoy. I was eagerly anticipating watching the duo work together; to see it come to an abrupt and early end was unfortunate and anticlimactic. Look for the duo to resurface together at some point this preseason, and any time during the regular season when the Bruins are down a goal late. Get your popcorn ready…
Torey Krug has a prominent role locked up with the club. The same cannot be said for Beleskey nor "JFK."
Both are reportedly day-to-day, which is a relief considering how awkwardly JFK went into the boards. It's unfortunate, however, because both guys could REALLY use the reps.
JFK was in the middle of an excellent game, looking composed and confident in all three zones. Moreover, his centering of Vatrano and David Backes was absolutely a glimpse at a potential third-line this season. Losing the in-game reps plus any additional practice time is only beneficial to people named "Spooner" and "Czarnik."
Beleskey, with the kids and the fourth-line all playing so well to begin the campaign, really cannot afford to miss time or be slowed by another injury. Furthermore, the Bruins cannot afford to have him fail to restore some of his value.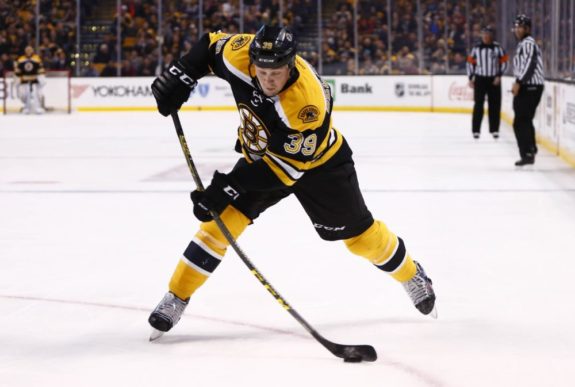 The Bruins have contract extensions looming in two years for multiple key players on their ELCs. As such, Boston MUST find a taker for any remaining term and dollars on Beleskey's contract. The only way to find a taker for him this offseason or the following will be if he can play up to the level he was at his first year in Boston, if not the season prior in Anaheim.
Really Early Recap
It's only the preseason, I get it. Just last year we watched with a glint in our eyes as Danton Heinen and Austin Czarnik looked explosive and ready for the big time.
Things will heat up as the preseason continues when the Bruins (and their opponents) roll out more NHL-heavy lineups. We'll see who's fueled by the flames and who wilts in the heat. How will Jake DeBrusk and Anders Bjork fare in the top six against Duncan Keith and Brent Seabrook? Can Austin Czarnik keep up his frenetic and game-breaking pace or will he fall off for the second year in a row? Who centers the third line when all is said and done?
These questions and more will be answered in due time. But for now, there's nothing wrong with being excited about this team, preseason or not.