The NHL's 2017 free agent class isn't anything to sneeze at by any means. However, when it comes to the Boston Bruins, their free agent group is just the opposite. B's General Manager Don Sweeney will certainly have his hands full this offseason. It's honestly Sweeney's biggest offseason to date considering how the front office used their last bullet for protection by firing Claude Julien in February. Whatever moves are made in the months of June through September will fall solely on the shoulders of Don Sweeney. And if this Bruins team severely under-performers next season, the Harvard grad might have to look for new work. Let's take a look at what Sweeney will have to deal with for his club's free agents.
Drew Stafford (UFA)
Sweeney brought in Stafford at the trade deadline for a sixth-round pick, and he was a solid addition to the lineup for the B's. The versatile right wing played almost on every line last season which makes him a good offensive plug-in option over the likes of Jimmy Hayes, Matt Beleskey, and Riley Nash. However, the Milwaukee, Wisconsin native did not have the season like he did in 2015-16 where he posted 21 Goals for the Winnipeg Jets.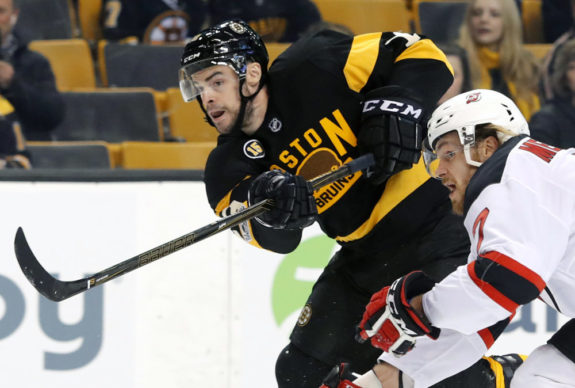 Last season, Stafford totaled just eight goals, 13 assists and 21 Points between Boston and Winnipeg. Those days of being a 25-30 goal scorer are over for Stafford, especially at the age of 31. But two players stepped up and showed secondary scoring in clutch situations down the stretch, one was Riley Nash, and the other was Stafford. I think Stafford should come back and see what he could do with a full season of Bruce Cassidy. He's the perfect player to slot in on a third line role so he could feast on opposing teams bottom pairings. But I feel he will test the market and sign with another team to make more money.
Dominic Moore (UFA)
There's one pending free agent that intrigues me the most, and that's Dominic Moore. Moore finished the 2016-17 campaign with one of his better seasons in the past five years. He played all 82 games, scoring 11 goals, 14 assists, and 25 points. Getting that kind of production from your fourth line center is outstanding. Moore also ranked in the top 20 in faceoff percentage with 54.6%. The Thornhill, Ontario, native can do it all in the fourth line role.
He'll produce offensive opportunities, win key faceoffs, penalty kill and is very reliable in his defensive zone. His hockey I.Q and level of big game experience is probably amongst the tops in this game today. The 36-year-old has 99 games played in the Stanley Cup Playoffs, and his experience may be required for a young Boston Bruins club. Moore may want to test the market and see what's out there for him and after all, he's played for nine different NHL franchises. But if I were Don Sweeney, I'd lock up Moore at least for one more season. Also, if you had never heard of Dominic Moore's story a few years ago, give this a read.
John-Michael Liles (UFA)
I'm probably not going to spend too much time talking about Liles just because there's nothing too flashy about his game. Liles sat on level nine of TD Garden for most of the season waiting for his next opportunity. The veteran defenseman played just 36 games and compiled only five assists. Liles isn't going to create a ton of scoring chances at all. He used to be that player in his days with the Colorado Avalanche, but age has taken its toll. His smallish frame on the blue line gets him in trouble from time to time.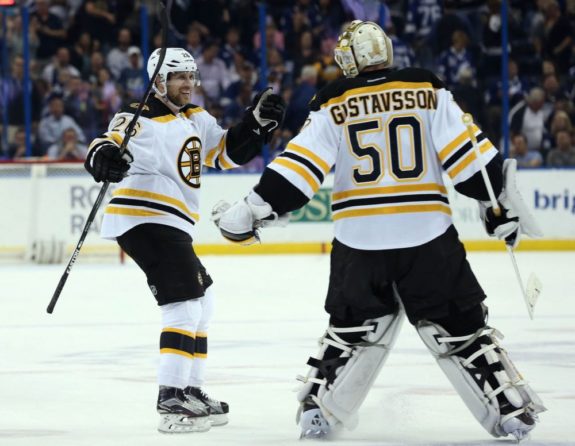 What Liles did do was provide depth on the Boston defense in a critical juncture of need. While Liles didn't too much in the 2017 Stanley Cup Playoffs, he filled a much-needed hole in the lineup. Liles comes with experience and smarts, but he also doesn't show those qualities on a consistent basis. I believe the B's General Manager will take a look at signing Liles, but in the end, I don't see him suiting up for the black and gold in 2017-18.
Ryan Spooner (RFA)
Spooner is by far one of the most frustrating Bruins players to watch over the course a season. You can clearly see he has the talent and skill level to be an impact top six forward. But over the latter half of the last two seasons, Spooner's production has dropped rapidly. Perhaps maybe he's just not suited for an 82-game schedule. Spooner's point total went from 49 to 39 in a matter of a year which is concerning because he just turned 25.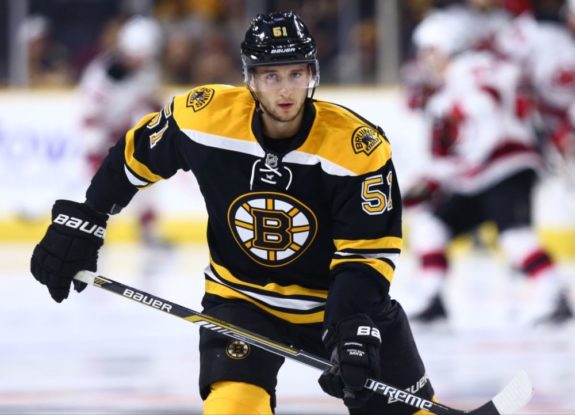 I also found an interesting stat that I came across. Back in 2015-16, Spooner was working hard to get better on the faceoff dot. He rang in that year winning 304 faceoffs while losing 407 making his faceoff percentage 42.8%. Simply not good enough. Spooner also looked to Dominic Moore for advice on the faceoff dot back in training camp. In 2016-17, he won 79 draws and lost 124 with a percentage of 38.9%. Spooner took a total of 500 more faceoffs in 2015-16 than 2016-17. That goes to show the Bruins no longer trust him on the faceoff dot and he's a lost cause in his zone. Spooner does bring some unique qualities on the power play, but he needs to work on his even strength game. This one is a tough call for Don Sweeney to make. I'm not sure if the Bruins want to bring back a guy like Spooner with kids like Jake DeBrusk and Austin Czarnik waiting in the wings. Since he's a restricted free agent, I predict the B's will find a trade suitor for Spooner.
David Pastrnak (RFA)
Well, this is a no brainer signing for Boston. Pastrnak broke out in a big way in his third year in the NHL. He was almost a point per game player playing on the line with Patrice Bergeron and Brad Marchand. Pastrnak was amongst the league's best registering 34 goals, 36 assists and 70 points in 75 games played.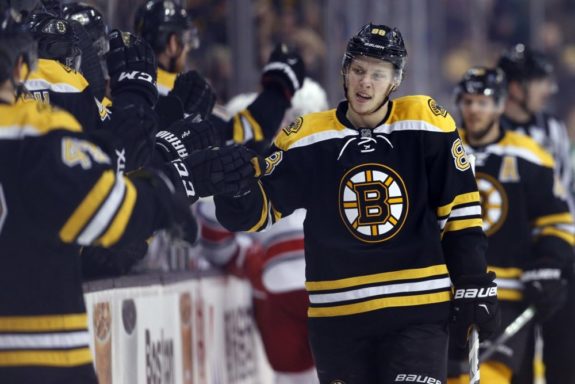 David Pastrnak proved he's going to be a special player for a long time in this league, and the Bruins are lucky to have him. The best news for the Bruins is he's only getting better with age. If your Don Sweeney you better be prepared to pucker up and pay Pastrnak his money. He'll likely command around five and a half to six million dollars per year over a long-term deal as well.
Tim Schaller (RFA)
For a player that wasn't even supposed to make the team, Tim Schaller made the best of his NHL opportunity. Schaller slotted in all kinds of roles such as playing on the fourth line, penalty kill and sometimes even playing on David Krejci's line for an injured Matt Beleskey. Schaller finished the year with seven goals, seven assists and 14 points in 59 games played.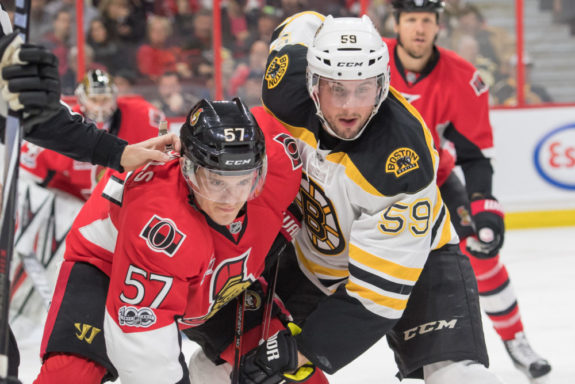 The Merrimack, New Hampshire native is very sound in his own end, and he displays good hockey sense for only being 26 years of age. Schaller deserves a crack at either the last forward slot in the lineup or as the teams 13th forward. A one or two-year deal for Schaller with minimal cash would be a great deal for the B's.
Noel Acciari (RFA)
Acciari is one of my personal favorites. He uses every bit of his 5'10", 208-pound body to dish out big hits. Acciari proved in the series versus Ottawa that he deserves a roster spot on opening night in 2017. The former Providence Friar alum is not a big goal scorer by any stretch of the imagination. He only scored two goals, three assists and five points in 29 games played. But it's what Acciari does without the puck, that's what makes him stand out. Acciari likes protecting the puck, penalty killing and of course isn't afraid to throw fists. Sweeney should lock Acciari up for at least two to three more seasons with the Black and Gold.
Joe Morrow (RFA)
One of the oddest seasons from a Bruins player has to go to Joe Morrow. Morrow played in a total of 17 regular season games while also playing five games in the playoffs. The Bruins scratched their seventh defenseman for what seemed like the entire year. When it came to crunch time, the Bruins defense went down with the injuries piling up. Boston never gave playing time for Morrow in Providence to stay ready, but he played okay in his stint against the Senators. He averaged 22:13 TOI in Boston's top four. Morrow is an excellent skater and loves to move the puck, but he also needs to work on his game in his defensive end. Sweeney should give Morrow a two-way deal again for one or two years. You can never have too many NHL defenseman. It would be a big mistake if they let Morrow walk after what happened to the defense in the 2017 playoffs.