When the Bruins selected Jake DeBrusk with the 14th overall pick in 2015, there were mixed reactions from the fanbase.
The malcontent wasn't due to DeBrusk's ability, but rather, due to the fact that the Bruins had collected three consecutive first-round picks and instead of trading them to acquire a higher draft pick or immediate help on defense, they made a string of picks that included DeBrusk, Jakub Zboril and Zachary Senyshyn.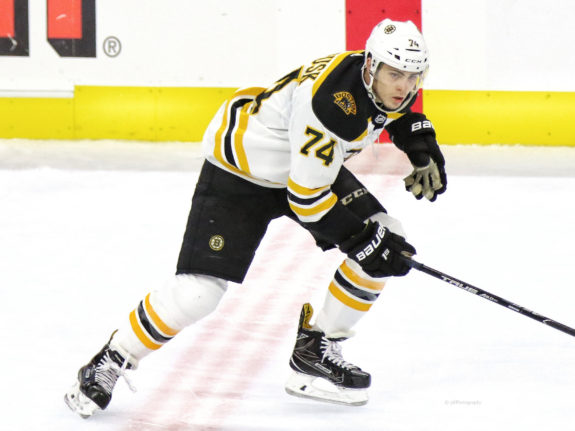 After being drafted, some unfortunate circumstances caused an even bigger stir among those who didn't appreciate then-newly appointed general manager Don Sweeney's decision to use all three picks on DeBrusk, Zboril and Senyshyn.
The first of which came when the trio all failed their conditioning tests in Boston. The second came when DeBrusk saw his draft-year production of 42 goals and 81 points in 72 games fall to 21 goals and 65 points in 61 games between the Swift Current Broncos and Red Deer Rebels. In the midst of that declining production came a few circumstances that weren't considered by many who only judged him off of his statistics.
DeBrusk's Value Transcends Points
For starters, DeBrusk had already proven he could score goals in the WHL. What he needed to work on moving forward was his two-way game. By doing so, naturally, his offensive production took a dip as a result.
Another factor came with the gruesome and graphic injury that kept DeBrusk out of action after a hot start to the 2015-16 season.
Following his trade to Red Deer, however, DeBrusk found his stride and scored 12 goals and 39 points in 37 games with his new team before adding eight goals and 17 points in 17 postseason games.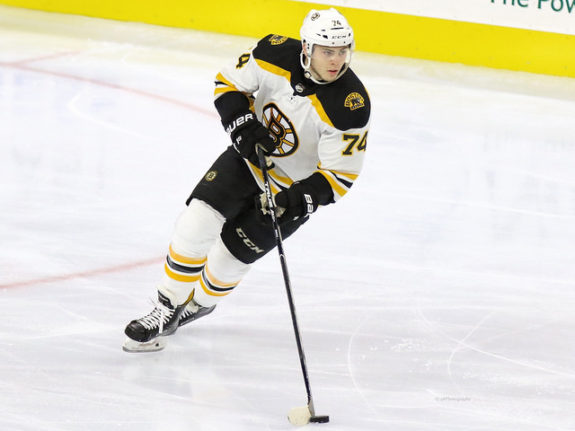 DeBrusk's next obstacle came in 2016-17 when he made the jump to the AHL. In his first season of professional hockey with the Providence Bruins, DeBrusk scored 19 goals and 49 points in 74 games and was widely criticized due to his lack of production as a first-round draft pick. Again, people weren't looking at the bigger picture.
A Successful First Two Professional Seasons
While DeBrusk's offense may not have come until the end of the season, his effort level and drive were evident from his very first day with the team. There's a learning curve and once DeBrusk figured things out, he was a force to be reckoned with. It earned him an extended look in training camp this season and eventually a full-time job with the big club in Boston.
After an impressive debut that left his father in tears, DeBrusk made it clear that he would be a regular with the Bruins for a long time. He finished his rookie season with 16 goals and 43 points in 70 games while playing primarily on David Krejci's wing on the second line – a role he's flourished in due to his hard-working and physical style of play.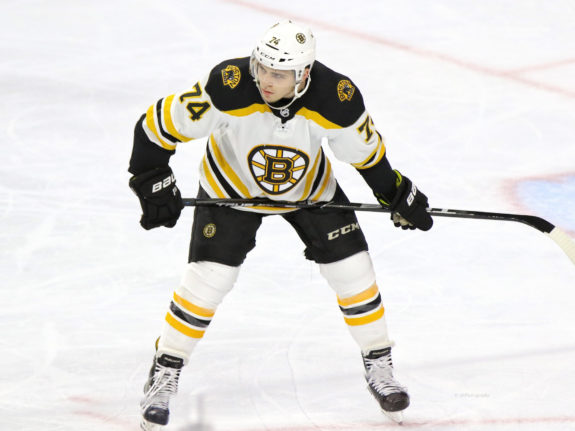 When DeBrusk isn't scoring points, there's still a lot to like about his game. Whether it's his willingness to go to the dirty areas of the ice, playing a game bigger than his 6-foot, 188-pound frame would suggest he's capable of, driving the net or laying out hits, DeBrusk is clearly proving he was worth the first-round pick that was used on him three years ago.
DeBrusk Producing in the Postseason
In four games against the Toronto Maple Leafs, DeBrusk has scored two goal and three points while taking four shots on net. Beyond his point production, DeBrusk has been an absolute force on the ice with 12 hits in the series with six coming in Game 4 alone.
Though he isn't the rough-and-tough fighter than his father Louie DeBrusk once was in the NHL, DeBrusk's physicality is part of what makes him so valuable to this Bruins team. A team that has relied on a full-team effort for 82 games when the team was plagued by injuries and a bad schedule.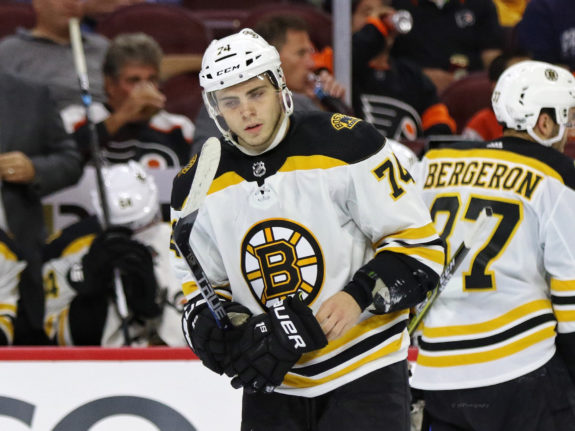 While he may not garner as much attention as the line of Patrice Bergeron, Brad Marchand and David Pastrnak, DeBrusk's contributions on offense have been noticeable for the Bruins this postseason – even for those who may not watch the Bruins with regularity.
Wow Debrusk. Is he THAT good? Wow.

— Brian Wilde (@BWildeMTL) April 17, 2018
The pairing of Krejci and DeBrusk has been fairly consistent when the two have been healthy this season, but the third member of their line has been a revolving door due to injuries.
Related: Tuukka Rask Trade Haunting Maple Leafs
Anders Bjork, Ryan Spooner, Rick Nash and Ryan Donato all found themselves playing on the second-line with Krejci and DeBrusk with Nash being the latest and most consistent presence on the line with Bjork out for the season, Spooner traded in the Nash deal and Donato sitting in the press box for three of four postseason games due to the Bruins' depth when healthy.
Regardless of who has been the third on that line, however, DeBrusk has proven he can play a consistently solid brand of hockey.
While the second line has been made up of DeBrusk, Krejci and Nash throughout the first four games of the Bruins' first-round series against the Toronto Maple Leafs thus far, DeBrusk's abilities have undoubtedly given head coach Bruce Cassidy confidence in knowing that his 21-year-old winger can play with anybody on the club.
Though he may have had to overcome a lot of adversity to get to this point, you'd be hard-pressed to find a single member of the Boston Bruins' fan base who would be willing to part with DeBrusk in any potential trade. The young Edmonton-native is a mainstay on this team and despite the initial criticisms, the Bruins' faithful would love for it to stay that way for the remainder of his career,