When the puck drops Sunday night in the Boston Bruins first matchup against the Vegas Golden Knights, there will be a lot to watch out for. The Bruins are set to play in their first back-to-back game of the season after a very convincing win Saturday night against the Arizona Coyotes on the road. The Golden Knights will have a different-look lineup with Vadim Shipachyov set to make his NHL debut. The biggest storyline, however, will likely surround goaltender Malcolm Subban.
The former Bruins' first-round draft pick was claimed off of waivers by the Golden Knights in early October after Anton Khudobin retained his backup goaltender job out of camp – a loss that stung but wasn't the end of the world for the Bruins. What makes this so interesting, however, is the fact that Subban will likely be starting his first game of the season Sunday night against his former club with Marc-Andre Fleury placed on injured reserve Saturday.
A Rough Start for Subban
To this point in his career, Subban has started in only two games at the NHL level despite being taken so high in the draft back in 2012. Considered a raw talent with outstanding athleticism, the 23-year-old goalie has yet to put it all together yet as he's dealt with his fair share of adversity. From bad performances (at the AHL and NHL levels) to injuries and an eventual waiver wire pickup by the Golden Knights, the road to his third NHL start hasn't been a smooth one for Subban.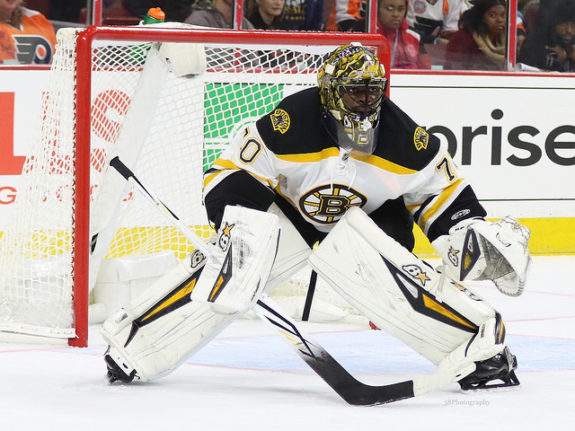 Bruins' fans will remember Subban's first career start against the St. Louis Blues. Set to start the night before against the Edmonton Oilers, the Bruins decided to play their top goaltending prospect against the Blues instead – a game that would haunt Subban for years to come. After stopping the first three shots he faced in that game, he allowed three goals on the following three shots and was promptly pulled from the net. It was the only opportunity he would be afforded in 2014-15, ending his campaign with a 5.82 goals against average and a .500 save percentage. Not ideal by any metric.
things wouldn't get better for Subban either with his second start coming two seasons later against the Minnesota Wild. Subban once again allowed three goals, making 13 saves on 16 total shots and taking the loss in the game. It was the end of his campaign in Boston and really the last time Bruins' fans would get to see him in a regular season contest prior to Vegas claiming him on waivers.
A Chance at Redemption
With the Bruins in town Sunday, Subban will get a great opportunity to prove himself. He'll get a chance to prove himself to the Golden Knights management team, his coaching staff, his teammates, his former team and most importantly, he'll get a chance to prove to himself that he's better than what he's shown in his previous two starts. till only 23 years old, there's still a good opportunity for Subban to become a legitimate starter in the NHL. It may seem hard to believe given the atrocious stats that have been presented so far, but goaltenders typically take longer to develop than other positions in hockey.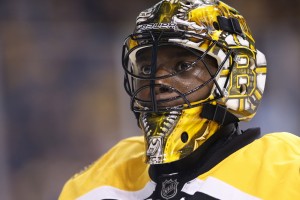 For Bruins' fans, it's clear that the pick of Subban in the first round was a waste. That isn't going to change no matter how badly everybody might want it to. Given how well the team has drafted in recent years – as evident by the likes of Jake DeBrusk, Anders Bjork, Danton Heinen, Brandon Carlo and Charlie McAvoy already making an impact this season, it's okay to move on and stop holding resentment for a player who simply played for the club that selected him.
For Subban, he'll be hoping he can turn things around and make a name for himself despite his incredibly slow start to his career. It's unlikely at this point that he becomes an elite goaltender in this league, but weirder things have happened. Getting a chance to set the record straight against his old team just adds some incentive that Subban could need to carry the Golden Knights on his back.
It'll take more than just athleticism, though. Being a starting goalie in the NHL takes a strong work ethic, a willingness to get better and the ability to move on from a bad goal or a bad performance in general. It's the mental toughness that makes all the difference between a goaltending prospect and a real starter in the NHL. His journey starts Sunday and while many in Vegas will be rooting for their new goalie to shut down his former team, the Bruins will likely have other intentions once the puck drops.
Brandon Share-Cohen has covered the NHL and various professional sports for seven years. Working with The Hockey Writers, Brandon works extensively on covering the Boston Bruins in addition to his role as the News Team Lead.