There is little debate in the NHL about how valuable a goaltender is to their team's success. However, the lines start to get blurred when it comes to the question, what has a greater impact, a solid goaltender or a solid team in front of him?
You can look to examples like Anti Niemi winning a Stanley Cup with the Blackhawks in 2010, or goalies like J.S. Giguere and Cam Ward only having one great string of games to lead their team to the ultimate prize. Some people, including myself, even argue that Corey Crawford needs the Blackhawks more than the Blackhawks need Corey Crawford. Finally, Tim Thomas – enough said there.
Obviously, at the other end of the argument, there are countless goalies that have carried their teams, Jonathan Quick, Martin Brodeur, and Dominik Hasek are all examples.

Ultimately, even a great goaltender can have a bad performance and vice versa. While most of the time, it takes just the right amount of magic from both the team in front of him and the man wearing the mask to win it all, it is important for the goalie to step up when called upon.
For whatever reason, a bad few games, a bad few months, or even a full season of unmet expectations by the goalie can cause a team to start looking elsewhere, just like a bad relationship. But like love, it takes a commitment from both sides, trust, and a lot of hard work to build a successful team. Here are 3 guys who may not be getting the love that they deserve and will surprise us this season.

1.  Semyon Varlamov – Colorado Avalanche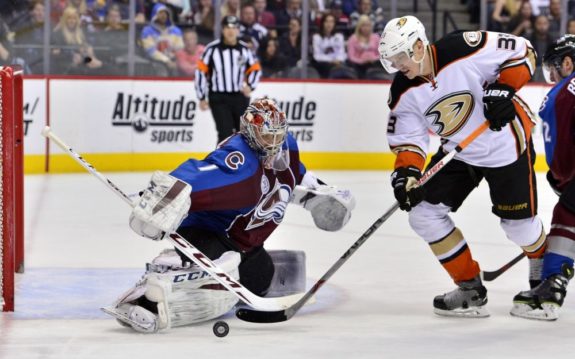 I get it. Last season was rough, to say the least. But the Avalanche have way too much talent on their roster to be in that same situation again, Varlamov included. He was the victim of poor defensive play. Colorado finished 23rd in the league in CF% with 48.65, giving up more shots attempts than they took. They were also 24th when comparing Scoring Chances for and against, finishing with a 47.94%.

Ask any goaltender in the NHL and they will tell you that the most difficult part about playing the position is the mental aspect. If the team in front of you is not performing, and no matter what you do you can't seem to change that, it's easy to get discouraged.
This season, the Avs are off to a good start and Varlamov looks rejuvenated. Varlamov started with a 3-1 record and a 1.76 GAA and .944 SVP. His save percentage is what is more impressive, in my opinion. Granted, they have played East Coast teams for the most part, but the Boston Bruins and New York Rangers should never be taken lightly.

Ultimately, Varlamov will be much better than last year and I think he even has a chance to be a top 10 goalie in the NHL this season, especially if the Avalanche show some chemistry. They have the talent, I just hope that Matt Duchene doesn't become too big of a distraction.


2. Connor Hellebuyck – Winnipeg Jets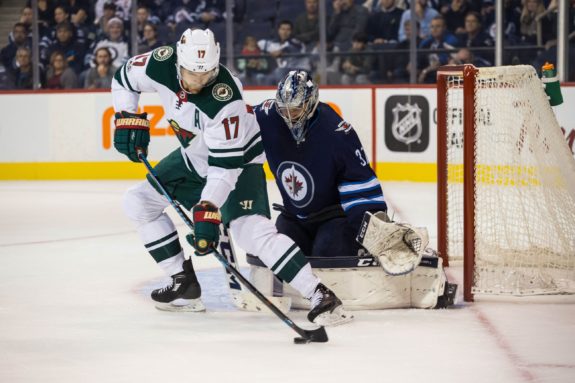 The best thing that can happen to the Jets this season, and it has already started, is that Steve Mason struggles early. Connor Hellebuyck is a much better, technically sound goaltender who can shine in Winnipeg longterm. Besides coming in for relief during Mason's first game, he beat Edmonton 5-2 this week and stopped 37 of 39 shots. Don't forget, it's all mental. You can't judge a goalie on the cover. Oops, mixing two sayings. You can't judge a goalie off the bench. Trademark that.

Winnipeg plays quite an open system and it makes them the perfect team to really determine whether their last man back is a stud or dud, and I give stud status to Connor. He had very respectable numbers last season, posting a 2.89 GAA and .907 SVP. Those won't get you on the cover of Fantasy Hockey Weekly, but I believe that they will improve this year enough for the Jets to be confident in what they have. Who knows, maybe they will even regret paying their backup goalie $4.1 million. Yes, I can't believe that's how much Mason is making either.

While Hellebuyck may not crack the top ten and his name may sound like he just entered the Kentucky Derby, I fully expect him to become more of a household name outside of Winnipeg. Keep an eye on this young Buyck.


3. Marc-Andre Fleury – Vegas Golden Knights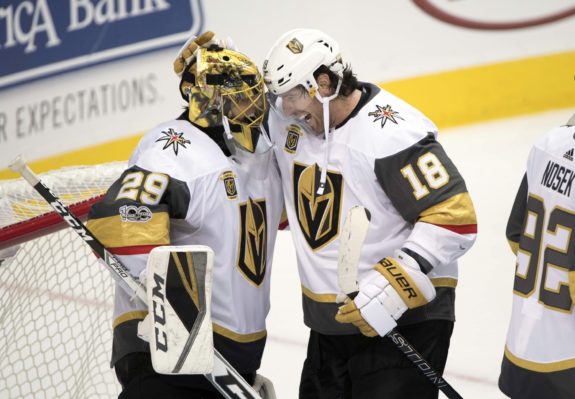 I'm not sure if you may have been expecting this name or not, but I could not create this type of list without mentioning the infamous Flower.
Talks about Marc-Andre Fleury becoming the face of the league's newest expansion team lasted almost the entirety of last season and it became true. The next word on the street was that he would most likely struggle as the team in front of him isn't expected to be very good. Well, while the latter may be true, I do not expect Fleury to struggle.

So far, the numbers agree with me. Already named the second star of the week for the opening week, Fleury is 3-1 thanks in large part to an old teammate. It's a good thing that he didn't remove his name from his old Penguins helmet, or things may have been awkward to start the season. Fleury is impressing the league with a 2.48 GAA and a .925 SVP, and while I fully expect that he won't sustain that, his numbers will be much better than people expect.

We have seen in the past with Pittsburgh that Fleury often excels with more work in a game than when he is bored, which he also alluded to in the pre-season. Again, it's a mental issue. Without the distractions of Murray breathing down his neck, I believe Fleury will be the franchise goalie we have seen in the past and steal many games for the Golden Knights.
Analytics provide both power and utility for hockey fans but are often complex and difficult to digest. Wiser Fans creates Power Rankings ("Wiser Rankings") entirely based on analytics, giving you insight into the NHL beyond the standings.