It's not often that you go 2-1-0 in a week and don't feel good about yourself. That is the reality for the Boston Bruins right now. Last week. we took a look at the club after their difficult road trip through Western Canada, and this week we look back at a lackluster week that was saved by the club's dynamic first line. The Bruins are having trouble scoring after the Patrice Bergeron line, and it is becoming a real issue for this group.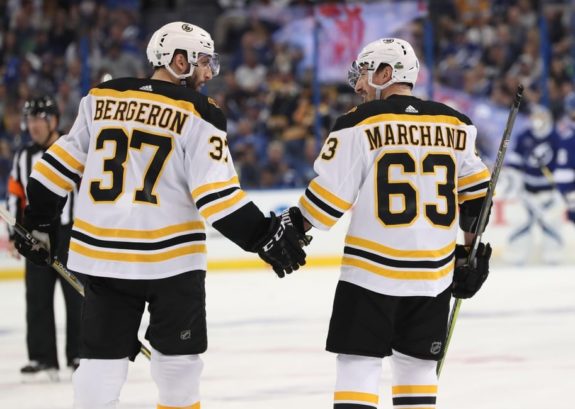 All that said, the B's still won two games this week and will sit in a playoff spot as the calendar turns to November. Most Bruin fans are taking a negative approach to things right now – that comes with high expectations, but there is plenty to still feel good about as we close October.
Top Line Takes Two
The Bruins started the week off with a rivalry game against the Flyers, blanking Philadelphia by a score of 3-0. Zdeno Chara scored a pair, while Jake DeBrusk put home his third of the season at 17:28 of the second period. The Bruins desperately need DeBrusk to get going, and I thought he and his entire line played well against Philly. Problem is, they have played well for large stretches this season but just simply are not finishing. It's hard, when you are getting no depth scoring, to keep trios like that together.
It was even nicer to see Chara find the back of the net twice. Big Z doesn't get the love he used to in this city, but he is still an extremely impactful player that is going to be key to any kind of Bruins' success this season. He got the spotlight in this game, as did Jarsoslav Halak. Halak stopped all 26 shots he faced in the victory, posting his second clean slate of the season.
All the good feeling from Thursday was gone by the time Mitch Moreland launched a three-run homer in LA as the Bruins dropped a 3-0 decision back home to the rival Montreal Canadiens. In the first meeting of the season between the foes, the Bruins looked like a slow and old team that belongs near the bottom of the standings, while Montreal was the young, fast and skilled team that looks on the way up.
Brendan Gallagher and Max Domi both scored in the opening frame, while Jordie Benn added an empty net goal with 29 seconds remaining in the affair. The big story in this game? Tuukka Rask. I've been a Rask supporter for a few years now, and quite vocal in this space about that, but he was bad in this game. Both the game's first two goals could be considered soft, and he never gave his team a chance to win in this one. Bottom line, he hasn't been good enough this season and has been Boston's second best goalie.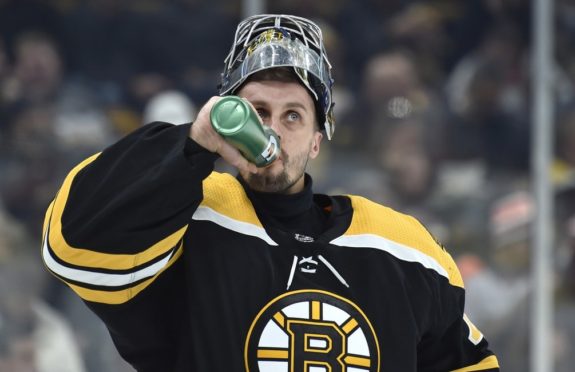 Tuesday night might have sealed Jaroslav Halak's fate as the guy moving forward, while also zeroing in on Boston's biggest issue right now. The Bruins got nothing from their depth players, again, but found a way to win 3-2. Brad Marchand scored twice, while David Pastrnak put home his eleventh of the season at 12:22 of the second period. Halak played really well, making all the saves he should have and some he probably shouldn't have. Boston's top-line struck three times, and the Bruins escaped a game they got outplayed in with two points.
Bruins Road Ahead
The schedule breaks a little bit in terms of games played, which is a nice break for Boston. The B's are banged up right now, even with the return of Torey Krug. Boston will play just twice between now and next Thursday, giving them a chance to reset a little bit and hopefully get guys back to health. Both games will mean a little less, too, as the Bruins battle two foes from the Western Conference.
On Saturday, the B's make their lone trip to Nashville to battle P.K. Subban and the Predators. For my money, Nashville was the best team in the NHL in October. I'd also argue that they aren't even clicking on all cylinders just yet, a scary thought. After that, the B's will return home on Monday to take on the Dallas Stars.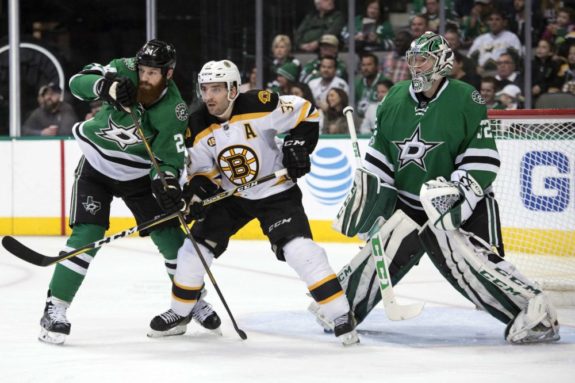 Dallas has been hot and cold early this season, but they are one of the few teams that can match Boston's top trio. Jamie Benn, Tyler Seguin and Alexander Radulov is as talented of a line as there is in the NHL currently, and all three have a history of producing against Boston. It should be a thrill to watch these two top lines go head-to-head at TD Garden in Dallas' lone visit of the season.
A 2016 graduate of Springfield College, Alex graduated with a degree in Sports Journalism and Communications. Since September of 2016, Alex has served as the Director of Broadcasting and Play-By-Play announcer for the USPHL's Boston Junior Bruins. Alex has also called games for Northeastern University, Holy Cross and UMass Lowell. Alex is the founder and lead writer for The Oilers Rig, and Edmonton Oilers blog he created in June of 2013. He's also currently serving as a contributor to Murphy's Hockey Law in addition to his work at THW. Alex is a native of Woburn, Massachusetts.