In today's News & Notes, Roberto Luongo is set to return to action soon, Robin Lehner missed practice and the Ottawa Senators have placed Mike Condon on waivers.
Related: NHL News & Notes: Borowiecki, Thornton & More
Luongo to Return Next Week
After being out of action since Oct. t with a knee injury, it would appear that Luongo is finally ready to return to the Florida Panthers lineup. Though he'll be making the trip with the team to Finland for their two-game series against the Winnipeg Jets, he's unlikely to get any game action in those contests. Instead, head coach Bob Boughner told media that Luongo is expected to return next week.
"I think the plan is for him to … unless there's a complete surprise that I haven't heard yet, but the plan is for him to probably try and play next week when we get home," Boughner said Wednesday. "This is more of a rehab week,"
"He does look good. I know his knee feels good. So hopefully we'll hear something in the next few days what his plans are."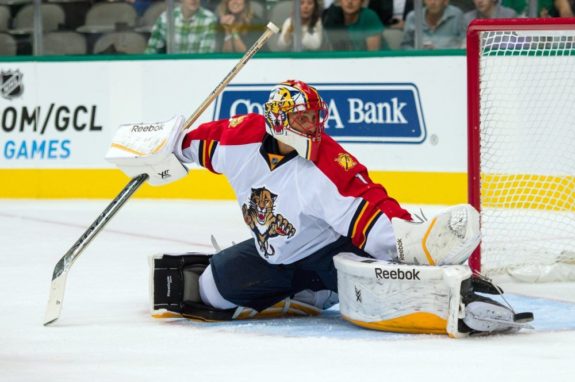 Injured in his first game of the season, Luongo has been perfect by definition in 2018-19 as he boasts a 0.00 goals-against average and 1.000 save percentage, though he only played in 32 minutes, logging 13 saves in total. When he returns, it can be expected that he'll be his usual solid self as he's been among the best netminders in the league since his first stint with the Florida Panthers in 2000-01. In his career, he's compiled a record of 471-376-119 to go along with a 2.49 goals-against average and .920 save percentage.
Lehner Misses Practice After Suffering Injury
Despite earning a victory for the New York Islanders against the Pittsburgh Penguins on Tuesday, Robin Lehner was forced to miss the contest with an apparent injury that head coach Barry Trotz is describing as a strain. Just one day later, the veteran goaltender was absent from Islanders' practice and in his place was AHL goaltender Christopher Gibson, per Arthur Staple.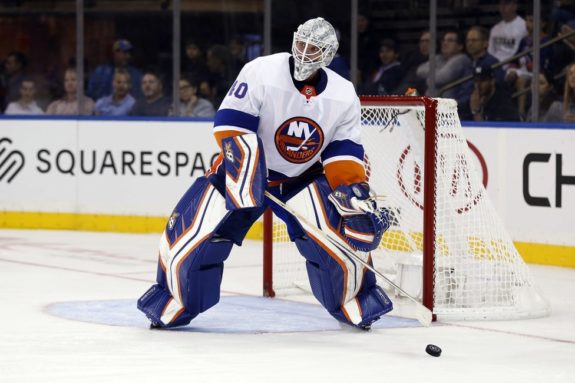 It's unclear how significant this strain is and whether or not it will cost Lehner any game action but the 27-year-old has been very good to start the 2018-19 season, his first with the Islanders. In seven games this season, Lehner has gone 4-2-1 with a 2.45 goals against average and a very impressive .928 save percentage.
In his career, Lehner has posted a 79-99-36 record with a 2.80 goals-against average and .916 save percentage. While the win-loss numbers and the goals-against average may not look great, his save-percentage has typically been solid and he's had to play behind some less-than-stellar teams in his career thus far.
Condon Placed on Waivers
The Senators are looking to end their run with Condon, it would seem.
Just one day after Condon allowed a goal from 145 feet away from his net, the Senators have placed the 28-year-old netminder on waivers and are looking to find him a new home. Whether that home is in the AHL or with another NHL team is unclear, but it's unlikely that a team will claim him after his abysmal start to this season coupled with his contract.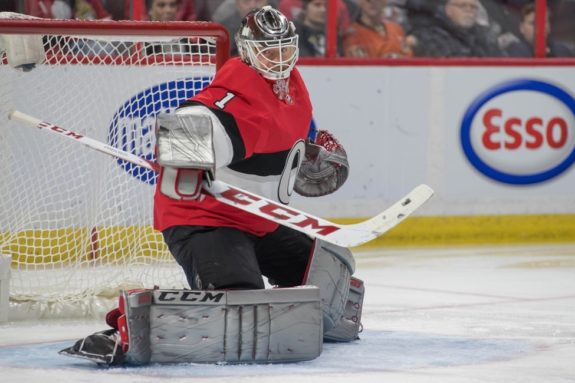 Only two games into the 2018-19 season, Condon has compiled a 0-2-0 record with a 6.38 goals-against average and .800 save percentage. He's allowed eight goals on the season and it would seem that the Arizona Coyotes long goal against him Tuesday was the straw that broke the camels back.
In his career, the undrafted free agent from Holliston, Massachusetts has compiled a 45-58-17 record with a 2.80 goals-against average and .905 save percentage with the Montreal Canadiens, Pittsburgh Penguins and the Senators.
Brandon Share-Cohen has covered the NHL and various professional sports for seven years. Working with The Hockey Writers, Brandon works extensively on covering the Boston Bruins in addition to his role as the News Team Lead.