There's an odd dichotomy bubbling up around the 2013 Boston Bruins.
On one hand, this team currently boasts a record of 18-4-3, good for 5th overall in the NHL while tied with Calgary for the fewest amount of games played. At the same time, there's a sense that the Bruins are not playing their best hockey, and a growing concern in regards to their tendency to cough up leads in the 3rd period.
Great success balanced out with great trepidation.
I'd like to suggest here that this dichotomy has grown out of recent Bruins history, defined by two extreme situations through which all Bruins observers have been conditioned to believe that literally anything is possible with this team.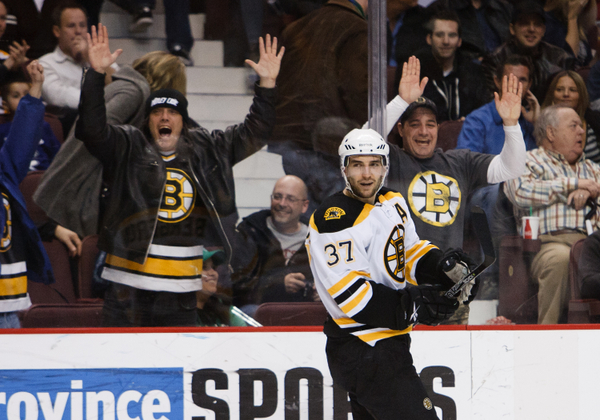 The 2010 Effect
No Bruins fan needs to be reminded of what happened in the playoffs that year. A 3-0 series lead on the Flyers, a 3-0 lead in Game 7 of that series, culminating in an early and historic exit. While a number of forces conspired against Boston that year, the reality is that this collapse (consciously or not) can still psychologically rear its ugly head, causing followers of this team to doubt what they are indeed capable of and forget what they have achieved since.
So when the Bruins cough up 3rd period leads and go on to lose games (as they have done three times already in March), the tendency is to mentally revert back to a place where that's just their modus operandi, as evidenced in 2010. Or when they do amass a 2 or 3 goal lead (and go on to win), the running joke on twitter in the meantime is to be mindful of what could come, that no lead is safe with this team, and that another eventual collapse is on the way.
Built To Win
But just one year later, as we all know, the Bruins demonstrated a level of fortitude and confidence that allowed them to win three Game 7's AND come back from a 2-0 series deficit in the Final to beat the Canucks, in Vancouver.
And let's be real here: the 2013 Boston Bruins aren't that much different from the 2011 Stanley Cup Champion Boston Bruins. Yes, Tim Thomas is gone, but Tuuka Rask is more than coming into his own as a legitimate Vezina candidate. The 3rd line is a bit of a mess, but the so-called 2nd unit of Marchand – Seguin – Bergeron is one of the best in the league, and Lucic – Krejci – Horton will no doubt find their form at some point. On D, Chara still steers the boat, and his supporting cast is largely solid and dependable. Consistent success during the regular season and playoffs should be expected from this group. And when the team's best player – Patrice Bergeron – comes out and says "we've got to be better" even with a record of 18-4-3 record, then you know that the expectations remain high and nothing less than another Cup will satisfy.
The Bruins are indeed a Cup-caliber team, one of the top teams in the Eastern Conference, and by all rights should be challenging for the 1 seed and a division crown. Anything less at this point in their history (and in light of the fact they have done it before) should be seen as a disappointment.
So Where Do We Go From Here?
Fair or not, and regardless of what the Bruins have accomplished since, are accomplishing in the present, and are capable of accomplishing in the near future, there's this lingering sensibility that, well, this team is as more likely to drop the ball as than they are to win the Cup.
And to be quite honest, both scenarios are indeed entirely possible. Boston has put together an impressive record to date, but by all rights they shouldn't be satisfied with how they've achieved it, nor should they be comfortable with their current level of play moving forward.
The reality is that winning it all in today's NHL is extremely difficult, and any numbers of factors have to be in just the right place to make it happen. Is this team capable of winning the Stanley Cup in 2013? Absolutely. But the prevailing wisdom in 2011 was that the Canucks were the team to beat (especially after Games 1 & 2), just as logic would have dictated that the Bruins were a lock to advance to the Conference Finals in 2010 after 3 games vs the Flyers.
My advice to Bruins fans, having said all this? Take a breather, calm down, and proceed through the rest of this season and into the playoffs with a healthy balance of trust and trepidation.
Because yes, with this team, literally anything is possible.
The Bruins are back in action this weekend with back to back games vs the Washington Capitals and at the Pittsburgh Penguins.
Follow Ian on Twitter for more hockey updates and commentary.