Back in Mar. 2018, the Boston Pride came within a single goal of advancing to the Isobel Cup Final for three years in a row. Even though they were on the wrong side of a 3-2 overtime thriller in the semis against the Buffalo Beauts, there were plenty of positives that they could wrap their arms around to carry with them out of the 2017-18 campaign. Now in the off-season, they must look at those positives closely, assemble them properly, and move onward into the league's upcoming fourth season. If the Pride are to regain their stranglehold on what was once the closest thing to NWHL domination, they will need to handle the 2018 NWHL Free Agency period with the most exacting approach.
Not advancing to the 2018 Isobel Cup Final could in some ways be construed as a failure, at least as far as the Pride are concerned. Of the "Founding Four" NWHL teams, Boston has been the least accepting of anything short of a championship. Bred with professionalism and a drive to win that is matched by no other, the Pride will need to use free agency this summer to regroup and bring it all back together. Done right, there should not be any major changes that the team will need to make. That being said, it is imperative that the changes that they do make are indeed the right ones. For a team that was still chock full of perennial winners by season's end, it would be most uncharacteristic if the Pride were not to rebound as the team to beat in 2018-19.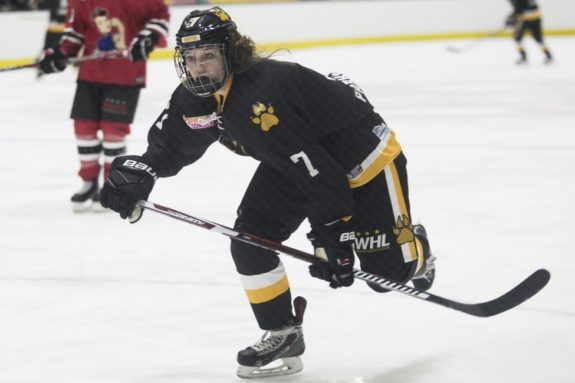 Truth be told, this past season's Pride were far better than their 4-8-4 record would indicate. Once they begin to compile their roster after free agency starts on June 1st, there is no reason that they should not return to a team that is above .500 and winning regularly. Nothing is a given in sports, but this team is not far away from capturing a second Isobel Cup.
Here are a few ideal signings that the Pride can make once June 1st arrives in order to return to the dominating team they once were.
1) Keep the Same Three Goalies Intact
One of the bright spots for the 2017-18 Pride was the solidity of their three goaltenders – Brittany Ott, Brianna Laing and Madision Litchfield. There is no reason to stray from having this trio in net for a second season in a row. Boston would do most well if they retain the services of each of them.
Ott, who will turn 28 years old shortly after free agency begins, has likely given the best overall performance among goaltenders across the first three years of the NWHL. She was named Best Goaltender outright in 2016. Ott is also the only NWHLer to have played in each of the league's All-Star Games. While the Pride faltered in the standings this past season, her numbers were far from poor. Compiling a record of 4-6-3, Ott put forth a .910 save percentage and was the only NWHL goalie to have more than one shutout – she whitewashed teams twice during the regular season.
Michigan-raised Brittany Ott, star goalie of the Boston Pride and starter today for Team NWHL, is one of the captains for All-Star Weekend in Minnesota. Stay tuned in the days ahead for the roster selection of Team Ott.
For tix: https://t.co/Kj0rzgR1Ek pic.twitter.com/GnBSKDjQPn

— NWHL (@NWHL) January 15, 2018
Rookie Brianna Laing was the busiest of all backup netminders in the league. Laing was the only backup goalie to see more than one game of action – in fact, she saw four of them. In over 155 minutes of play, she stopped 78 of the 87 shots that she faced. That was good enough for Laing to finish her first season with a decent .897 SV% and a 3.47 goals against average. A highly capable goaltender in her own right, Laing is in many ways Ott's protege who will someday presumably take over the reigns as the top goaltender in Boston.
Last but certainly not least is Litchfield. She would see action in one game this past season – a 6-2 loss to the Beauts. Litchfield played just under 50 minutes, and steered aside 16 of the 19 shots that came her way. It would not be a stretch to consider her the best third-string goalie in the NWHL. During Litchfield's senior season at the University of Vermont, she posted a .928 SV% and a phenomenal 2.08 GAA. With more NWHL opportunity at some point, she is capable of doing some damage between the pipes.
Boston needs to get all three goalies back into the fold, and then begin to build outward. The one way that this can be changed up for the better is if the Pride proceed to sign the first overall draft choice from 2017, Katie Burt. If and when that happens, someone will have to be the odd goalie out. The Pride can cross that road if they get to it – having four goalies to choose from is a good problem to have.
2) Get Carpy Back to Beantown
Professional women's hockey will be in the midst of an arms race, as we will see where various national team players end up. As some of the very best players in the women's game were centralized leading up to the PyeongChang Winter Games and could not take part in NWHL play, those same players will likely be back vying for jobs either in this league, the CWHL, or in one of the European leagues.
A signing that would make a great deal of sense both for the Pride and the player herself would be to bring Alex Carpenter back to the team. In what was a jaw-dropping move, the USA women's national team cut Carpenter from the squad that competed in PyeongChang. Even though they ended up winning the gold medal, there are many still scratching their heads over that decision. Carpenter would end up signing with the CWHL's Kunlun Red Star in China after USA let her go.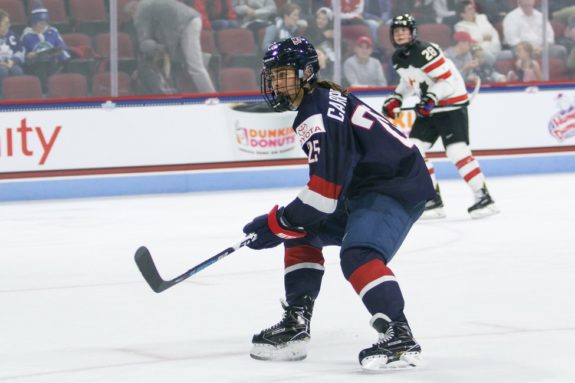 It would be highly remiss to overlook the fact that Carpenter played her first professional season with the Pride, and she was downright awesome. Playing with the team during the 2016-17 season, she finished second overall on the Pride in scoring nine goals and 20 assists in just 17 games. To date, this is Carpenter's only NWHL season.
Considering that she graduated from Boston College and that her family is originally from Massachusetts, it would make complete sense for her to re-sign with the Pride. Should it happen, Boston's offense is immediately bolstered tenfold by a player of Carpenter's skill level.
3) No Matter What, Get Dempsey Signed
The most important signing that the Boston Pride need to make is Jillian Dempsey. Get her back under any circumstances. The CWHL Clarkson Cup champ and Isobel Cup champ just continues to get better and better each year. The 27-year-old Dempsey is an original member of the Pride, and it seems a likelihood that she would sign with the team regardless. After all, she is originally from Winthrop, Massachusetts. She played her college hockey at Boston's Harvard University. Since graduating in 2013, she has played her entire professional career in Boston either with the CWHL's Boston Blades or with the Pride.
Still, nothing is ever for certain. We go back to that concept of an arms race in women's hockey. Any professional team would salivate over the opportunity to have Dempsey on their roster. Therefore, Boston needs to get her inked and right away. Plus, if nothing else, announcing Dempsey's signing early could be very conducive in drawing other talent to choose Boston as their best free agency option.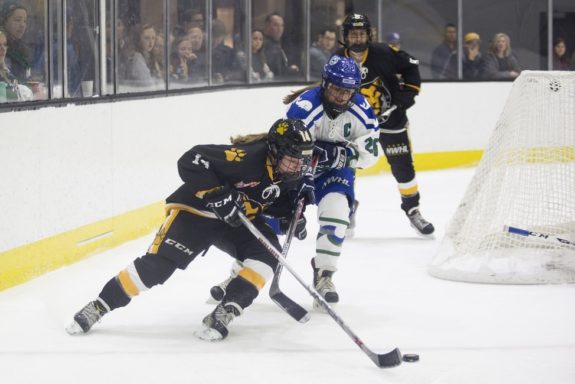 Consider this if you will. Dempsey led the Pride in practically all offensive categories during the 2017-18 season. She was tops in goals (seven), assists (eight), and points (15). Separately, she led all Boston players in face-offs won (169), had the most blocked shots (17) among the team's forwards, and was one of just four skaters on the club to be a plus-player (plus-two) by season's end. Dempsey did all of this while playing in all 16 regular season games for the team.
Put Dempsey on a forward line with Carpenter, and you would easily have Boston's version of Rodgers and Hammerstein with what these two could orchestrate on the ice. If the Pride are going to dream of bringing Isobel back to Boston, then they need to dream big.
4) Get Northeastern's Kelly Under Contract
With the 16th overall pick of the 2017 NWHL Draft, the Pride selected Northeastern Huskies defender Lauren Kelly. If the team can sign her this off-season she will certainly help bolster their blueline. The 5-foot-6 Kelly is a native of Watertown, Massachusetts and played in 140 games for the Huskies.
This is a defender who can really pounce on pucks and fire them home. Kelly's finest outpouring came during her senior season at Northeastern, just earlier this year. In 33 games played she rifled home 12 goals – eight of them coming on the Huskies' power play. Additionally, Kelly also helped set up nine goals to bring her total to 21 points on the season.
Prospect Pipeline is back this week featuring a draft pick for #thePack! From Watertown to Northeastern to Warrior, check out this profile on Boston's very own Lauren Kelly!

🔗: https://t.co/TVwEsml8nb pic.twitter.com/kfEw4N1Zv6

— Boston Pride (@TheBostonPride) November 21, 2017
She is a solid puck mover, and it is rather exciting to consider her paired up with either Alyssa Gagliardi or Lexi Bender in particular. While the Pride have a very solid grouping of veterans on defense – all of them either right in their prime or just entering it – a youngster like Kelly with a booming shot and an ability to set up plays would fit right in.
The Main Focus
The Pride are a team that have much to gain by their upcoming signings. Yes, they will focus on bringing back the main core of Jordan Smelker, Ott, Gagliardi, Dempsey, the Parker sisters, and others. This is pretty much a given. But out of any of the teams in the NWHL, they will make the most ground by adding a few key signings in addition to the foundation they already maintain – a mere upgrading of a decent Mercedes into a powerhouse Ferrari. The potential to do so is there.
If the Pride keeps essentially the same squad from 2017-18, and then just adds in players like Carpenter and Kelly, they ought to immediately turn their record from 4-8-4 to at least 8-4-4 in 2018-19.
General Manager of the Buffalo Beauts (NWHL). Hockey history writer "The Hockey Writers". Credentialed media for the NHL Combine and 2018 IIHF World Junior Championships in Buffalo, NY, USA. Born and raised in Buffalo, NY. Lifelong hockey fan for over 40 years. Proponent of the women's game.