Much to the chagrin of the fanbase, Detroit Red Wings management felt it in the team's best interest to keep head coach Jeff Blashill on board for the duration of the "development" period. Through the extension, Holland showed the fanbase and team that he has faith in Blashill to see this development phase through. Fans, however, did not feel the same.
Confidence has waned in the organization, and all fingers are pointed at Holland and Blashill. Many angry fans called for his resignation. Furthering the surprise for the fanbase, Blashill was selected for head coach of Team USA. How does the head coach of a faltering NHL team make such an impressive stand on the international stage after such a series of disappointing regular seasons?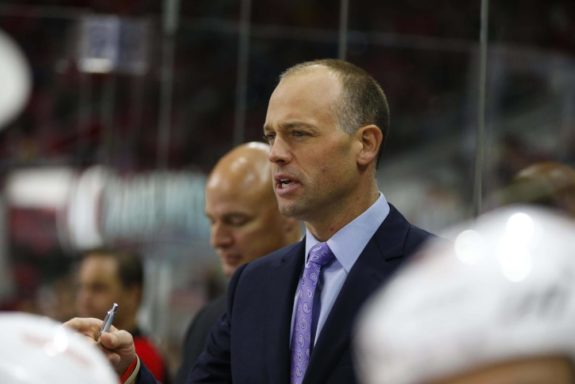 Team USA Succeeding Under Jeff Blashill
Team USA had been tearing it up in the IIHF Men's World Championship. As of May 19, USA had tallied seven wins and only two losses, recently to Sweden. Team USA owns a blowout 13-1 victory over South Korea and a 9-2 win over Norway. Most notably, however, was their defeat over Canada with a 5-4 shootout win in the preliminary round and a 4-1 victory over Canada to capture the Bronze medal. All of these wins are under the watchful eye of Jeff Blashill. Team USA demonstrated precise execution throughout the IIHF tournament, surprising the Blashill naysayers.
Blashill's coaching style didn't change from the Red Wings to Team USA. He doesn't subscribe to the "poke and hope" method and hasn't changed his overall tactics. What changed, then? Player expectations.
Following the April 7 loss to the New York Islanders, Blashill told media, "…We need some guys to become elite players," and elite players are what he has with Team USA.
Team USA was stacked with top talent, including a few of Detroit's own; Dylan Larkin and Nick Jensen. Larkin alone accumulated more than eight points in nine games, including a few multi-point games. The success of the team wasn't based on the individual but rather on the collective elite ability of the players working as a unit. With rising NHL superstars like Patrick Kane, Cam Atkinson, and Dylan Larkin, Blashill has had a faster and brighter unit to work with than Detroit currently has to offer.
Translating Team USA's Success to Detroit
Blashill understands that the game is faster, and the Wings have a slight disadvantage in that regard. Weighed down by old contracts and aging leadership, Blashill took over at an inopportune moment. His ability as a head coach is unfortunately reflected in the failure of the team but the blame cannot be solely placed on him. Blashill expects elite performance out of his players every game, but whether the players themselves expect as much is another thing. Players operating on the highest level of maturity on the ice makes the difference between winning and losing, as we've seen with Team USA's success.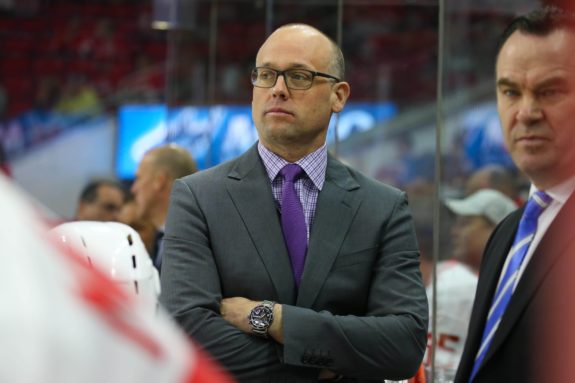 Part of Team USA's success can be attributed to Blashill identifying the elite talent and taking advantage of those skills on the ice. Translating that ideology to Detroit is something Blashill is well aware needs to happen.
"I think it's just making plays at critical moments. I think that's the big maturation process of some of our young players…we need some of our guys to take that next step…" he told media postgame following the April 7 loss. When Blashill is given fresh prospects with a structured development plan, the same success Team USA experienced can also be experienced by Detroit.
Looking to Blashill
Jeff Blashill didn't change his coaching methods from the Red Wings to Team USA. To his credit, Jeff is consistent on and off the ice. Given the proper tools, like he was given with Team USA, players, driven by a mature on-ice sense and willingness to learn, Blashill can finish the development term successfully. Despite the naysayers, Blashill was chosen for Team USA two seasons in a row for a reason, and chosen by Holland for another season with Detroit for a purpose as well. He has proven he is a capable coach in the AHL and on the international level, and he can be in the NHL as well.