The Toronto Maple Leafs are heading into the 2015-16 season with very modest expectations of themselves. After finishing 27th in the league last year, the Leafs downgraded much of their roster to leave spots for much younger players with solid potential.
Despite having multiple prospects with sky-high potential, the Maple Leafs are likely to be patient, letting them develop properly in juniors or in the AHL. One message which has been made clear by the Leafs new front office is that the process of turning this franchise around will be a long and painful one. Indicating that their young guns will be given all the necessary time needed to reach their maximum potential.
That leaves several holes in their roster for next season. They currently have 14 players listed on their NHL roster, eight of which are being listed as centermen. Of those eight, the four guys to likely start the year in that position are Tyler Bozak, Nazem Kadri,Shawn Matthias, and Daniel Winnik. Of course, among those centermen, Bozak and Kadri lead the pack.
So the question comes down to who will be the number one center between Bozak and Kadri.
Over the last several seasons, it's been Bozak who's gotten the job. The majority of that choice was because of his chemistry with Phil Kessel, but now that he's gone, it's an open race. Over the past three years, since Kadri became an everyday NHL'er, it has been much closer between than two than meets the eye.
Tyler Bozak –
Since 2012-13, Bozak has scored 54 goals and 126 points in his 186 games (0.677 points per game) playing on the first line and first power play, primarily alongside Kessel and Van Riemsdyk. It's his face-off percentage that has kept him slightly ahead of Kadri for first-line minutes, winning 53.2% of them last year and 52.6% in 2012-13. Naturally, getting first unit power play time can provide a healthy bump to your stats page, as Bozak added 18 power play points last year.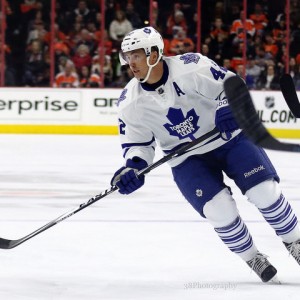 However, the first line could not save Bozak from having some ugly possession numbers. Last year, Bozak's Corsi For % was just 45.8%, somehow still 1% higher than his teammates rate. However, if you assume those numbers are simply because of how bad the Leafs were in 2014-15, think again. Since 2012-13, Bozak has a 44.7 CF% and just a 0.1 CF% RelTM.
He also sported a lousy 97.6% PDO (the sum of the individual's even strength shooting percentage and save percentage, which should be around 100) which does in fact improve to a much better 100.7 over the past three seasons.
All in all, Bozak's first line position may have been largely in part to his chemistry with Kessel. Sure, his face-off percentage is strong, but a look into his possession and production shows nothing of a first-line center. His HERO chart shows a player which is awarded 19 minutes a night for third-line production.
On the "Glass-to-Crosby Scale", made my Dominic Galamini on ownthepuck.com, Bozak's average z-score in 0.0, the most average of the average. The scale simply takes a player's Primary Points per 60 minutes (excludes second assists) Z-Score plus his Corsi For % Relative Teammates Z-Score and divides the sum by two. As reference, the scale ranges from Tanner Glass (-2.3) up to Sidney Crosby (2.3). So, Bozak is right in the middle of the two, which as you can guess, isn't where your first-line center should be.
Nazem Kadri –
Since 2012-13, Nazem Kadri has scored 56 goals and 133 points in his 199 games (0.668 points per game) playing on the second line with various players, but still has an ever-so-slight better points per game than Bozak. Kari fell behind Bozak in the face-off department, winning only 46.2% of his last year. It wasn't any better in early years, as he won 45.2% in 2013-14 and just 44.2% in 2012-13. His point totals could easily be much higher than Bozak's if he played the first power play unit, but he didn't. He only had seven PPP last year, 11 less than Bozak.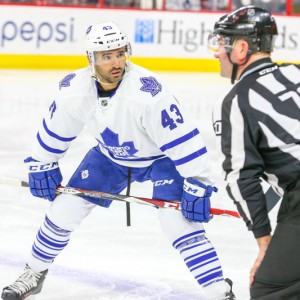 Where Kadri is visibly better than Bozak is inches possession. Despite playing with several different linemates, Kadri actually had the best Corsi For % on the leafs last year, controlling 49.8% of the play, a mark that is 3.9% higher than the rest of the team. His superiority over his teammates has been constant since he became a full-time Leaf. In the three years, he has a 47.3 CF% which is 2.1% better than his teammates.
Unlike Bozak, his PDO remained respectable last season, at a 100.1 rate, while over the past three seasons, he is first among Leafs with at least 100 games played with a 102.1 rate.
In the end, Kadri's lack of significant playing time has likely hindered his point totals from being first-line worthy. But, when you look deeper, it becomes obvious that he is one of the Leafs best all around players over the past three years. Although his HERO chart shows a second-line player producing like a third-liner, it is mostly due to the state of his team. It does not take into account how much better he has been than his teammates. On the "Glass-to-Crosby Scale", Kadri slots in at 0.9, not an outstanding number, but one that puts him significantly ahead of Bozak.
With Kadri signing a one-year contract worth $4.1 million this summer, the Leafs must work on an extension for him during the season. The 24-year-old definitely had promising potential and, in my opinion, has outdone Bozak in the battle to be the Leafs number one center.
[optinform]
Who Should be the Number One Center?
It's really an easy decision for me. Nazem Kadri has been far better all around than Tyler Bozak and deserves to start the 2015-16 season on the first-line. At 24 years old, Kadri has become the best possession player on a very weak Leafs team and thanks to teammate relative stats, we can see his impact on the ice. If you put Kadri on the first line with Kessel and Van Riemsdyk last year, I firmly believe he could've been a 25 goal, nearly 60 point player, barring chemistry issues. If Kadri works on his face-off presence extremely hard this offseason, he could become a legitimate first-line center in the NHL within a few years. On a team in a complete rebuild, it's a no brainer to give Kadri the best opportunity to build his potential against the best opponents.
Who do you think should be the Leafs first-line center next year? Let us know in the comments below!
For questions, comments, or concerns, you can contact Devin Slawson at devinslawson123@hotmail.com or on Twitter @SlawsonTHW