When the team you root for (or cover) misses the Stanley Cup Playoffs the offseason is that much longer than those that are good enough to make it; along with the obvious lack of exciting moments during the marathon 82-game regular season. The New Jersey Devils had their worst season since 1990-91 during the 2014-15 season, only managing 78 points which ranked them 25th out of the 30 teams — but they certainly had some amazing, memorable (for good reasons) and highlight reel goals
The Hockey Writers asked some Devils fans to submit their favorite goals via Twitter and they came up with quite the collection of goals that definitely were the best of the best in a not so fun season. Featured below are some amazing goals from Patrik Elias, Mike Cammalleri, Jordin Tootoo, Damon Severson, Martin Havlat, Steve Bernier and Adam Larsson that gave fans something to cheer about during the franchise's worst season in over two decades.
1) Adam Larsson scores his first goal in 27 games with a seeing-eye shot against the Toronto Maple Leafs.
This is around the time that the 22-year-old Larsson really started to blossom under the tutelage of Scott Stevens, reminding anyone paying attention why he was the fourth overall pick in the 2011 NHL Draft. His excellent play during the second half of the season earned him a nice pay-day and he will likely begin next season as 1/2 of the Devils' top-pairing of defensemen.
@DRdiabloTHW https://t.co/rtPSbKuESG Larrson against Toronto 1/28/15 (8:43 in video) Straight snipe then that celly to the crowd

— The Devils Pitchfork (@AllDevilsInside) August 8, 2015
2) Patrik Elias uses the spin-o-rama and scores, on his backhand, past Evgeni Nabokov of the Tampa Bay Lightning.
It wasn't the best of seasons for Elias, in fact he had the lowest point total of his 19 NHL seasons. Besides this silky smooth goal, Elias who is the last remaining link to the Devils Stanley Cup teams, also hit the 1,000 point & 400 goal milestones.
@DRdiabloTHW Patrik Elias' Spin-O-Rama vs. the Lightning! http://t.co/XVgUZ7EnX5

— Melissa (@MelisHelen) August 8, 2015
3) Mike Cammalleri scores after a tape-to-tape pass from Braden Holtby; side note Holtby plays for the Washington Capitals and not the Devils.
In his first season with the Devils Cammalleri led the team in goals, power play goals, game-winning goals, shots on goal and shooting percentage. He was in the right spot at the right time a lot, just like on this heads up goal.
@DRdiabloTHW https://t.co/vFiO9KAk9V

— Jeff (@jdizzle161) August 8, 2015
tie-4) Jordin Totoo buries a no-look, between-the-legs pass from Adam Henrique against the Columbus Blue Jackets.
By the end of the season most of the fans who knew nothing about Tootoo at the beginning of the season were huge fans of the spark plug player. This was his lone power play marker out of his ten goal first campaign with New Jersey.
@DRdiabloTHW gotta go with Rico's no-look, between the legs pass to Tootoo http://t.co/O4ImHp9tpv

— Backhanded Devil (@BackhandedDevil) August 9, 2015
tie-4) Mike Cammalleri buries a no-look, between-the-legs pass from Steve Bernier against the Florida Panthers.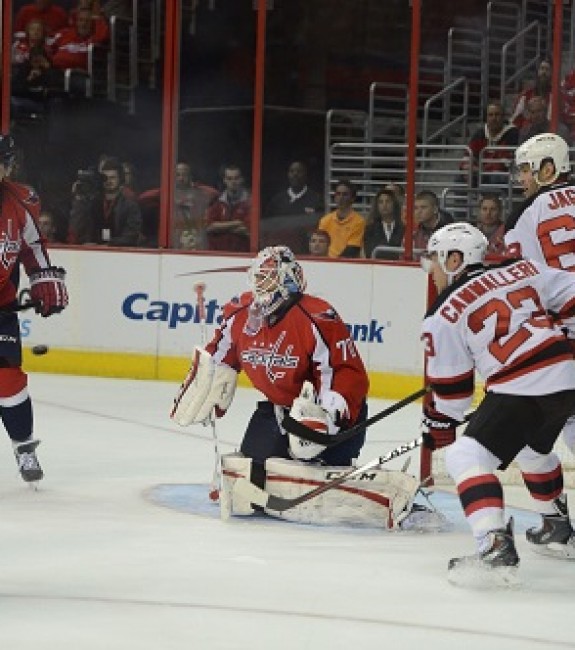 No one ever questioned Bernier's talent, it was consistency he often lacked early in his career. This pass, which you'll see attempted again further down this list, shows the skill and sharp hockey sense of Bernier with a crisp pass to Cammalleri.
@DRdiabloTHW Cammalleri tallies on beautiful pass from Bernier https://t.co/WBmYwV1I0r via @YouTube

— Mike (@ThatsJustPr1me) August 9, 2015
5) Damon Severson scores his first career goal from way downtown on a wrist shot against Roberto Luongo.
Perhaps the best part of the disappointing season was the poise and steadiness that Severson often displayed in his rookie season as a 20-year-old; and the hope that he could develop into Brian Rafalski Version 2.0. Not a bad goalie to score your first NHL goal on either
@DRdiabloTHW http://t.co/LT82SOmjha

— Tammie Hamilton (@njdevilsgirl30) August 9, 2015
Honorable mention: the Devils (in some bizarro world) score three goals in 68 seconds against two goalies in the home of the defending champion Los Angeles Kings:
@DRdiabloTHW hope this works in on my phone that sucks at being a phone https://t.co/TH1Fwh0GRR

— Tracy Rose (@tracyramone) August 9, 2015
THW would like to thank all that participated and we apologize if we didn't select your choice, but stay tuned we will definitely do more articles like this if the feedback is solid enough.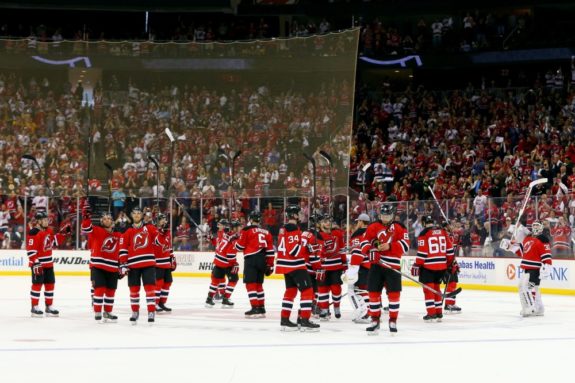 Dan Rice can be reached via Twitter: @DRdiabloTHW or via Email: drdiablo321@yahoo.com
Dan Rice is in his 9th year of reporting for THW & has covered NJ Devils home games for 15+ years at various websites. He began his journey working for legendary broadcaster/writer Stan Fischler from 2002-04 & completed an internship at the ECHL; he also has been writing features for the NWHL (nwhl.zone) website since 2016.