Washington Capitals goaltender Braden Holtby just concluded the best NHL season of his career. The 25-year-old Saskatchewan native finished the regular season with a 2.22 GAA and a save percentage of .923. He played in 73 games, leading the NHL in goaltending starts for the season. In the playoffs, he was outstanding in both of the Capitals' 7-game series and ended up with a postseason GAA of 1.71 and a .944 save percentage. But…his current 2-year $3.7 million contract expires this offseason – at which point he'll become a restricted free agent.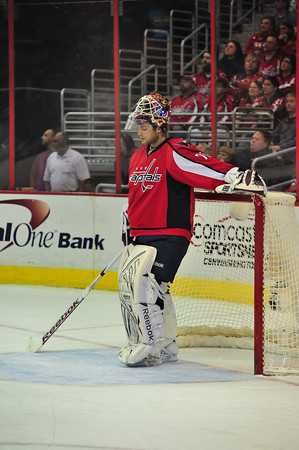 There is no question as to what the Washington Capitals should do before July rolls around: ink Holtby to a new deal and pay him more than his current average of $1.8 million per year. Even though he was snubbed as a candidate for the Vezina Trophy, Holtby has more than proved his worth to the team.
It was up to Holtby to prove that he deserved the number one goalie status in Washington this season and – not only did he achieve that goal – he also improved in every aspect of his goaltending. Under the watchful eye of the Caps' goalie coach Mitch Korn, Holtby is now entering his prime years as a goaltender and the franchise would be foolish to not sign him to a long-term lucrative deal to make the most of Holtby's upcoming best seasons. Ideally, Holtby should sign a four- or five-year deal. Of course that will mean changing things up a little in Washington — but only a little.
Mike Green and the Other UFAs
Mike Green is unlikely to take a pay cut and sign a long-term 'hometown' deal. He'll become an unrestricted free agent and move on to a team in need of an offense-minded defenseman – my guess is that Green will end up playing for the Detroit Red Wings next season, or maybe the Colorado Avalanche.
The other upcoming unrestricted free agents for the Capitals are Joel Ward, Curtis Glencross, Eric Fehr, Jay Beagle, John Erskine and Tim Gleason. Of those, I see Gleason and possibly Glencross moving on. I'd feel bad for Gleason in that he's barely unpacked his suitcase since arriving in Washington, but Dmitry Orlov has recovered from his injury and he's poised to return for 2015-16. If Green leaves, I'd expect the Capitals to look for another free agent to fill out the blue-liners, or go with Orlov and Nate Schmidt as their third defensive pairing.
Glencross started out strong for the Capitals when he was acquired from the Calgary Flames in a deal during the trade deadline window. However, he ran out of steam in the playoffs and was at fault for a giveaway that allowed the New York Rangers to win their 'win-or-be-eliminated' Game 5 in overtime. He was a healthy scratch for Game 7, and that's ominous for next season.
In addition to Holtby, the restricted free agents are Marcus Johansson, Evgeny Kuznetsov and Stanislav Galiev. I expect each of those to be re-signed without too much hassle. Johansson and Kuznetsov had stellar seasons, and Galiev is too good to let go (see Filip Forsberg).
Ultimately, I don't envision any major shocks during free agency involving the Capitals. Unlike last season – when the Capitals failed to make the playoffs for the first time since 2007-08 and subsequently fired their head coach and general manager – the team, its coaching staff, and senior management are all positive about the future. Barry Trotz put it this way last week:
"We made giant strides in our group, in this series. I kept saying to the guys, all year long, you learn different things from defeat and you learn different things from winning … This is a new group, a new team, our organization's changing … I look forward to being back with this group. We're going to have some unfinished business."
Other Items on the Capitals' To-Do List
Other business for the Capitals include supporting their NHL Awards candidate, superstar captain Alex Ovechkin. He's already the winner of his fifth Maurice "Rocket" Richard Trophy as the NHL's leading goal-scorer, and he's a finalist for the Hart Trophy for the fifth time. Ovechkin, New York Islanders' forward John Tavares and Montreal netminder Carey Price and are up for the Hart – given to the league's MVP. Ovi will again be Washington's only participant at the awards ceremony in Las Vegas.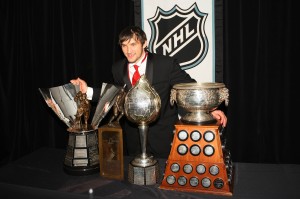 Finally, there is the business of the NHL Draft. The Capitals hold the 22nd overall pick, and it will be interesting to see who they land. In recent years, they selected current forwards Andre Burakovsky, Kuznetsov and Johansson as well as the goalie the Caps thought was the 'one' (Semyon Varlamov). All four of those players were picked at No. 20 or later, and the first three were all major success stories.
The Capitals have a fairly short to-do list this offseason compared to the last offseason. First on that list is signing Holtby to a new deal. If they're dumb enough to let Holtby go, it would be the worst move for the Washington Capitals since Ovechkin danced around his stick after scoring in a game a few years ago.
Glynn Cosker is based in the Washington D.C. area. A professional writer and blogger, Glynn brings insightful news and information on all things related to the Washington Capitals for THW. Follow Glynn @DCPuckDrop