Prior to Thursday night's game against the Ottawa Senators, NESN recognized David Pastrnak as the winner of the 2016-17 7th Player Award for the second time in three years.
For those unfamiliar with the award, it is given to the player that fans feel "performed beyond expectations" over the course of the season and is voted on by fans at NESN.com.
To be frank, Bruins fans could've done better with their voting this season.
Pastrnak Has Won it, Let's Share the Love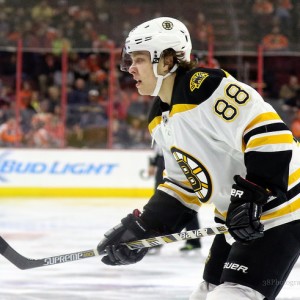 Pastrnak was also the recipient of the award two seasons ago when the rookie broke into the NHL with 27 points in 46 games. Fast forward two years and Pastrnak has won it for the second time. But, why?
Sure, he had a breakout season. In 74 games, the Czech forward tallied 70 points, good enough for second on the team behind only Brad Marchand.
However, we anticipated – even expected – a breakout season from Pastrnak this year. As one of Boston's most highly-touted young players, he was expected to boost his production this season for the black and gold.
The right winger was limited to just 51 games last season, during which he tallied 26 points. Those were decent numbers, but they weren't close to his ceiling, and the Bruins knew this. Boston was expecting a big season out of Pastrnak and he delivered.
So, to some extent, he lived up to his expectations.
Carlo More Deserving
If this had been a quiet year for the Bruins, then I'd be okay with giving Pastrnak the 7th Player Award. After all, I don't think many people predicted a 70+ point season when they talked about him breaking out.
That being said, there were other candidates who were a bit more deserving, who performed well without high expectations to begin with. Particularly, Brandon Carlo.
Carlo, a rookie out of Colorado Springs, CO, was drafted by the Bruins in the 2nd round of the 2015 NHL Draft. He's been identified as one of Boston's key pieces for the future of their blue line, but this was supposed to be a development year for the 6-foot 5-inch defenseman.
Instead, Carlo has taken the reins as one of the most important pieces in Boston's defensive unit.
He made his NHL debut in the season-opener and has played in every game since. That makes him one of only four Bruins that have appeared in all 81 games this season, and with Torey Krug's health in question for Saturday's match-up with the Capitals, that number could drop to three.
This season, Carlo has tallied 16 points and a plus-10 rating. Meanwhile, he's been a workhorse on the back end, averaging 21:01 of ice time per game. He has shown tremendous signs of development throughout the year and has proven to be a reliable player at both ends of the ice.
Tradition of the Award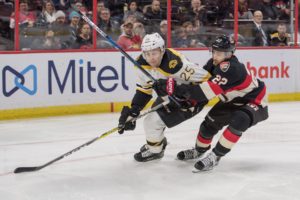 Traditionally, the award is given to a player who unexpectedly exceeds expectations. Carlo fits the bill perfectly. Pastrnak does not.
Don't get me wrong, Pastrnak has been extremely important to the Bruins this season. Without his contributions, the B's would not be the same team. There's a solid chance the Bruins wouldn't have made the playoffs without Pastrnak in the lineup this season. But when it comes to the award, by definition, Carlo was a better fit.
Is it a big deal? Certainly not. It's an award that is voted on by the fans, who have had their fair share of fun with this sort of thing, as we've seen in the past. But it would've been nice to see the fans reward Carlo for his efforts this season.