The Philadelphia Flyers are the hottest team in the NHL and Brayden Schenn has been the hottest Flyers player over the past couple of games. In the last two contests, the 25-year-old has all but one of Philadelphia's goals — or four tallies of his own — helping to extend the team's win streak to nine games.
Schenn started the weekend with a three-goal outburst against the Dallas Stars, leading the Flyers to a 4-1 win, and then scored the lone goal of the game against the Detroit Red Wings Sunday evening in overtime, clinching a 1-0 shutout for rookie Anthony Stolarz and Philadelphia's ninth straight win. His play over the two games earned him national attention from TSN's Darren Dreger on Montreal's TSN 690:
Look at the emergence of Brayden Schenn over the last few games. Wow. He has the hat trick on the weekend and just keeps on plodding along.

– Dreger, FanRag Sports
The former Los Angeles Kings prospect has been a staple on the Flyers' power play this season, which is ranked second in the NHL, and has filled in for Sean Couturier during his injury as the second-line center. Schenn has 20 points in 28 games, good for fourth on the team.
But if we begin to dig beneath the numbers a little bit, we'll see that Schenn's season really hasn't been that impressive and the Flyers need the recent success to continue.
Beneath The Numbers
Schenn has been crucial on the Flyers' power play, just like last season. All three of his goals against the Stars came on the man advantage, but that seems to be the pattern for the 6-foot-1-inch forward's season so far.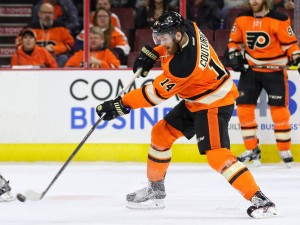 Thirteen of Schenn's 20 points have come on the power play, along with six of his eight goals. He didn't score an even-strength goal until Dec. 3 against the Chicago Blackhawks, 23 games into his season.
Of course, this isn't something to complain about too much. A goal's a goal no matter what man situation it's scored in. But it's obviously easier to score on a man advantage than it is at full strength and any team would want to score close to the same amount at even strength as they do on the power play.
[irp]
However, Schenn's statistics seem to indicate that he isn't coming close to contributing at 5-on-5. His CorsiFor percentage, according to Corsica.hockey, is second-worst on the team at 47 percent. That's below Chris VandeVelde and Andrew MacDonald, Philly fan's favorite whipping boys, and he's playing with Travis Konecny and Wayne Simmonds.
He also hasn't been a great replacement for Couturier, although that may not be his fault. Schenn isn't used in a shutdown role, but wouldn't be best utilized in that position either. However, he hasn't driven play in an offensive role either.
Reasons For Hope
Besides the obvious hope that Schenn's two strong games in a row will follow over to a more consistent effort, there's other positives.
For one, last season, he excelled and broke out at left wing. The former first rounder actually started contributing on Couturier's line before being promoted to Claude Giroux's wing last year.
Schenn got off to a slow start this year and has played at center lately due to Couturier's absence. Couturier is skating again and was projected to return in late December. With some strong efforts under his belt, by the time Schenn's moved back to wing, he could be cruising again.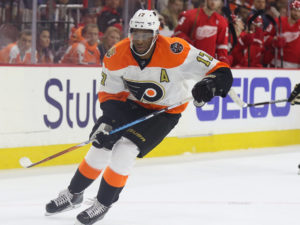 But with the play of Michael Raffl lately, it's unlikely Schenn will usurp him on the first line, but even being paired with Couturier could have a positive effect on his game.
Not surprisingly, Schenn's shooting percentage was the highest of his career last season. This year's percentage ranks third and just .1 percent off of 2011-12's percentage for second. That means Schenn is burying his chances when he gets them at a usual clip. He just needs more opportunities.
One of the possible reasons for less opportunities could be that he's bounced around the lineup so often. He didn't start centering the second line until Dec. 1 and before was skating at times with VandeVelde and Roman Lyubimov, regular fourth liners. In the past seven games, the Saskatoon native has played with more skilled players and is hopefully growing chemistry through some consistent linemates.
Schenn got off to a slow start last season just like this year, but really came on in January after a position change. The Flyers have to be hoping that that's happening again, but maybe a month earlier.