The Toronto Maple Leafs have announced that they have signed backup goaltender Ben Scrivens to a two-year/two-way deal that will pay him $600,000 in year one, followed by a modest raise to $650,000 in year two.
With Maple Leafs general manager seemingly willing to enter the 2012-12 season (if there is one) with a duo of James Reimer and Scrivens (who was an RFA) between the pipes a new deal for Scrivens was badly needed.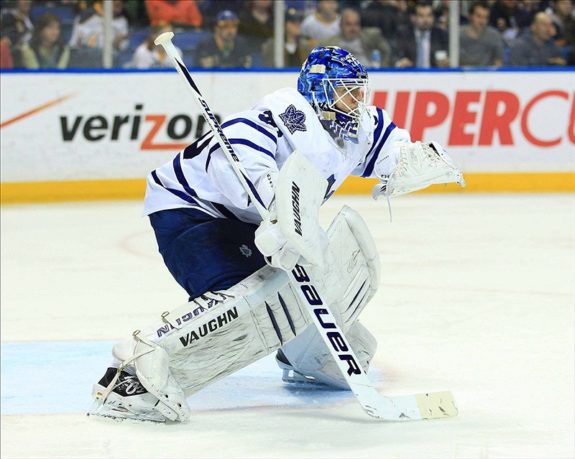 Used sparingly when injuries took their toll on the Reimer last season, Scrivens registered a 4-5-2 record with the Maple Leafs, while posting a 22-15-2 record to go along with a tidy 2.04 goals against average and a 0.926 save percentage with the Toronto Marlies. Scrivens' 2.04 GAA was the best in the AHL last season.
Scrivens followed up a successful regular season with the Marlies with a spectacular Calder Cup Playoff run which saw the Marlies go to the finals. Scrivens registered an 11-6 record in the playoffs while posting a sparkling 1.92 GAA and a 0.935 save percentage.
Former Maple Leaf Jonas Gustavsson was forced into the number one role last season when Reimer went down with a suspected concussion issue, which was later determined to be a neck injury. Once thought to be the Maple Leafs goaltender of the future, Gustavsson played in 42 games with the Blue and White in 2011-12, registering a 17-17-4 record to go along with a bloated 2.98 GAA and a paltry 0.900 save percentage.
Known for a great glove hand and great positioning, Scrivens has been successful at every level of hockey, earning an MVP award, Player of the Year Award and Alberta Junior Hockey League All-Star selection in 2006 with the Spruce Grove Saints. Scrivens also earned an All-Star selection at the ECHL level with the Reading Royals as well as the Ken Dryden Award for his performance in the ECAC.
That said, there are still question marks with regards to his ability to handle the NHL. Listed at 6'2" and 192 pounds, Scrivens has great size and at 26 years of age there is still time for him to develop into a solid netminder.
While Reimer is expected to be the starter for the Maple Leafs next season Scrivens is expected to push Reimer for playing time, which may see the two emerge as a decent duo, a formula which has served Burke well in the past with his time with the Anaheim Ducks.
At $1.225 million over two years, Scrivens represents an affordable option between the pipes and the two-way deal gives Burke the flexibility to send Scrivens down to the AHL should he falter or if Burke decides to bring in another goalie.