Training camps have finally begun for the much-anticipated 2016 World Cup of Hockey, and after weeks and weeks of speculating, we finally have some inklings of how each club will line up. Arguably the biggest questions leading into the event focus on the so-called "young guns" – the North American 23-and-Under Team. While the North American club is definitely talented and has oodles of enthusiasm and speed on their side, the central conceit of their team may be what dooms them: they lack experience, and that makes it a bit tough to maximize the usefulness of the players on the club.
To get an idea of what I mean, let's take a look at the lines and how they stack up against the elder North American clubs from Canada and the United States.
The Forwards
NA lines at this point: Drouin-McDavid-Scheifele, Gaudreau-Eichel-Saad, MacKinnon-RNH-Larkin, Miller-Couturier-Matthews/Trocheck

— Mark Spector (@SportsnetSpec) September 5, 2016
Here are 12 of the 13 North American forwards (Austin Matthews exempted) placed in a player usage chart, which plots out the quality of competition on the Y-axis and the percentage of shifts a player starts in the offensive zone on the X-axis. The "tough" minutes are top-left and the "easy" minutes are bottom-right. Blue dots indicate a player does well in terms of puck possession and red dots indicate they don't.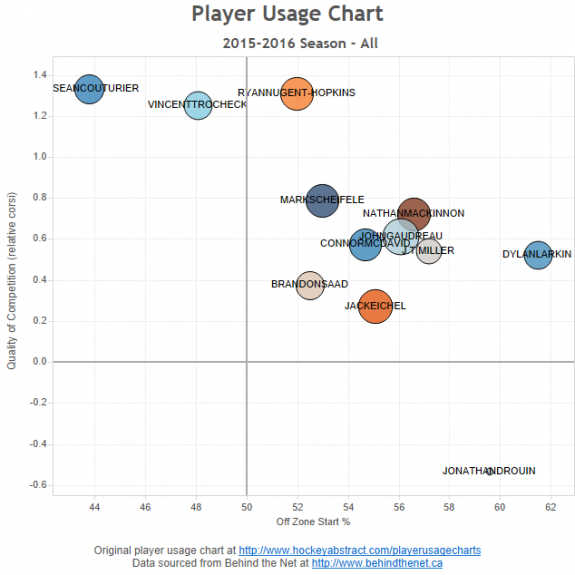 The only established "tough minutes" players on the team are Couturier, Trocheck and, to a certain extent, Nugent-Hopkins (though he has struggled against high-end competition). With Trocheck likely serving as the extra forward, at least to begin the pre-tournament games, that leaves Couturier and Nugent-Hopkins to face the other clubs' best players. (We have no NHL data for Matthews, so let's give him the benefit of the doubt and stick him in the midst of the big cluster.)
Their placement as the bottom-six centers does help things, as it shows that coach Todd McLellan has done his homework, but it also puts them in the challenging position of having to partner with linemates that have required sheltering with offensive zone starts or shifts against lesser lights during their NHL careers – the big cluster of players on that usage chart often faces a mixture of second and third liners and tend to play behind established veterans like the ones that are on Team Canada and Team USA. As a result, it's likely that in a situational sense a lot of North America's forwards will be playing above their heads.
Compare that to Canada and the United States, which feature players that have spent time in many roles on their teams and (as a result), provide their coaching staffs with a lot of predictive information. In other words: Canada's coaches can judge how Matt Duchene will react in different situations and roles because he's played them before, while North America's staff has to guess based on significantly less information. If you compare North America's tandems to Canada's or the USA's, the match-ups seem fairly one-sided if only based on reputation: Canada's "fourth line" of Duchene, Claude Giroux and Joe Thornton or the USA's "fourth line" of James van Riemsdyk, David Backes and Brandon Dubinsky all seem like tough match-ups for any of North America's lines.
The Defense
Team NA defence is rotating through, but first time out of the gate was Rielly-Ekblad/Parayko; Gostisbehere-Trouba; Murray-Jones. #WCOH2016

— Frank Seravalli (@frank_seravalli) September 5, 2016
Here's another player usage chart, but with the seven North America defenders plotted: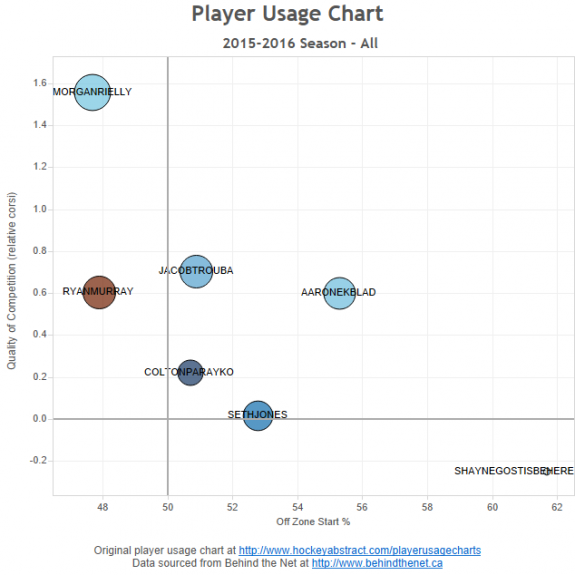 North America has one good "tough minutes" blueliner in Reilly, and then a bunch of players that could use some high ground. The challenge for them is figuring out the right configuration to maximize their defensive skills.
Big-Game Experience
Despite the premise of Team North America being a grouping of inexperienced players, the team has a surprisingly large number of players with big-game experience at a variety of competitions. The cross-section of the team's big-game experience may reveal some hidden depths that the coaching staff will have to try to mine during the tournament:
Brandon Saad and Matt Murray have won Stanley Cups (Saad has two Cup rings)
Nathan MacKinnon and Jonathan Drouin were linemates and won a Memorial Cup together with Halifax
Johnny Gaudreau and Shayne Gostisbehere each won an NCAA Championship, albeit in different years and with different teams
Gaudreau, Gostisbehere, John Gibson, Vincent Trocheck, Connor McDavid, J.T. Miller, Seth Jones and Jacob Trouba have all won gold at the World Junior Championship
The curious thing in the early line assignments is the seeming hesitance from McLellan and his staff to tap into existing chemistry; Gaudreau, Gostisbehere, Gibson, Trocheck, Miller, Jones and Trouba were all teammates on Team USA's gold medal at the 2013 World Juniors, yet aside from Gostisbehere and Trouba they're not playing with any of their past teammates. With such a short training camp period to get ready for a rapid-fire tournament, it seems a bit odd that more of the 2013 team aren't lining up with each other, nor are MacKinnon and Drouin. Team North America has their work cut out for them in this tournament, and it would behoove them to grab hold of any familiarity or advantage that they can.
---
The Hockey Writers coverage of the World Cup of Hockey 2016 is being brought to you by PrimeSport, the official Fan Travel & Hospitality Package Partner of the World Cup of Hockey 2016.