Two struggling teams made a trade Friday afternoon when the Dallas Stars acquired Jason Demers from the San Jose Sharks for Brenden Dillon and a 2016 third round pick.
The Stars are 7-9-4 with 18 points and sit near the bottom of the Western Conference after acquiring Jason Spezza in the summer and becoming one of the trendiest picks to shoot up the standings this season. The Sharks, who blew a 3-0 series lead in the playoffs last year to the Kings are also struggling, with a 10-9-3 record and 22 points that have them sitting around 8th in the conference, but with two more games played than most other teams. They have lost 2 in a row to the lowly Sabres and the for-now-considered-lowly-but-possibly-under-appreciated Panthers.
So, a trade of defensemen between two poorly performing teams – what to make of it?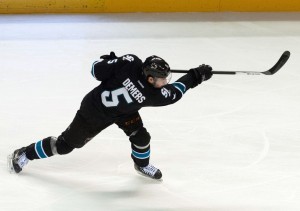 Jason Demers
Jason Demers is a 26-year-old right-hand shooting defenseman who is effective at both ends of the ice. The 6'1″ 195 lbs Canadian was drafted in the 6th round of the 2008 NHL entry draft by the San Jose Sharks. He is in his 6th NHL season and until today was often paired with Marc-Edouard Vlasic on the Sharks top shut-down pairing. He has just 3 assists in 20 games which is a off-pace from the 30 points in 75 games he put up last year.
Demers makes a very reasonable $3.4 Million against the Cap for this year and next year, after which he will be an unrestricted free-agent. It does seem that the Sharks retained a portion of his salary. (Capgeek.com, 2014). He is known to be a decent offensive defenseman who moves puck efficiently and contributes to good possession numbers. His defensive game is also said to be strong, although all of the scouting reports I have read on him caution that he is sometimes prone to bad decisions with the puck.
Last season, though he was paired with Olympian and star-defenseman Vlasic, he put up ten more points than his previous best season and worked mostly against other teams top lines.
Dallas – for a team that hopes to contend – has a fairly weak defense and I believe that Demers is an excellent addition, even if he hasn't been very good this year so far. I think there may be a tendency to pay too much attention to the present in player evaluations – Demers is 26 and his best years are not necessarily behind him just because of a weak 20 game stretch.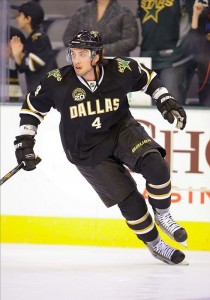 Brenden Dillon
Brenden Dillon is an undrafted defenseman who is 6'3″ 225lbs who shoots left. He is currently signed to a one year deal paying him $1.24 million , after which he will become a restricted free-agent. He is a huge player who has a bit of offensive potential, but isn't exactly known as a great defender. That being said, he is only 21 years old. He is in his third NHL season and he put up 6 goals and 17 points last year. He was averaging 20 minutes/game so far this year on the Dallas blue-line.
Dillon was averaging top-four minutes and does have a ton of potential. Moving Dillon and his high ceiling for a more seasoned player makes perfect sense at this time if Demers can return to his former level of play. Some say Dillon is already better than Demers, although I think using stats to compare defensmen who play different roles on different teams is imperfect at best. Regardless, as the draft pick going to the stars makes clear, Dillon definitely has a higher  upside.
The Stars, who aren't even close to as bad as their record suggests, should only improve with this deal. While some will declare the Sharks the winner of this trade, I think smaller, faster great passing defenseman offer underrated value for hockey teams and I like how Demers hypothetically fits in with the high powered Dallas offense.
Covering the Leafs for the Hockey Writers.