Win Now Move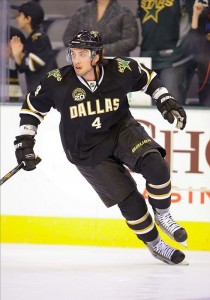 Just a few days ago, I wrote that we will find out by the trade deadline what San Jose Sharks GM Doug Wilson really thinks about his team. With Friday's trade of defenseman Jason Demers and a third round pick to the Dallas Stars in exchange for Brenden Dillon, the answer is much clearer. Wilson believes his team can still win now. That "team of tomorrow" and "not close enough with other teams" talk was simply posturing.While the Sharks get an even younger player back in Dillon (24-years-old), than Demers (26-years-old) if the Sharks were truly rebuilding, they would be looking to keep young defenseman with potential, not trade them away, particularly when they are struggling.
Dillon, a 6'4, 225 pound left-handed shooting defenseman brings a strong defensive acumen on the left side that the Sharks have been desperately missing. They will probably need to acquire one more defenseman before the deadline, but this is definitely a solid start. One just has to wonder though if they could acquire Dillon for a struggling Demers, what could they have gotten for Demers during the offseason when he was coming off a career year?
As well liked as Demers was in San Jose, this is certainly a good move for a struggling Sharks blue-line. It should (ideally speaking) mean a merciful end to the Brent Burns and Mirco Mueller second pair combination. As Fear the Fin notes, Dillon could be a good fit with Burns.
Sad to see Demers go, he and Vlasic were effective down the stretch last season, but Dillon-Burns could be a really good second pairing.

— Fear the Fin (@fearthefin) November 21, 2014
Mueller can then be bumped down and asked to play fewer minutes which should allow him to thrive without having to play against top players on a regular basis. A third pair of Mueller and preferably the right-handed shooting Taylor Fedun would be a really good skating duo, with Fedun a solid puck mover and Mueller being a defensive minded skater. Fedun however has spent the whole season in Worcester of the AHL and so a third pairing of Mueller with Matt Irwin or Scott Hannan still doesn't sound very great. If not Fedun, the Sharks would be wise to acquire one more defenseman to improve the third pairing.
As great as Demers was a year ago with 34 points, carrying Scott Hannan to start the year and then flourishing with Vlasic on the top pair during the second half, he was off to a really slow start. Just three points in 20 games and a minus-6 rating wasn't cutting it. Demers has been up and down throughout his career where as Dillon has been continually getting better each year. Albeit off to somewhat slow start with Dallas this season, this move makes a lot of sense for a team looking to shore up their blue-line.
The fact that Dillon is a left handed shot also shouldn't be overlooked. Lots of casual fans and some hard core ones don't give it much thought but playing one side of the ice as a defenseman is very different. More often than not, left handed shooters play the left side and right handers play the right. Picking up pucks along the boards is generally easier on the forehand of the stick, so left side, left boards forehand and vice versa. Furthermore, "D-D" passes are easiest with one left handed shot and one right handed shot on a defense pairing. This is one of the many reasons coaching staffs look to pair up a left shooter and a right shooter on each pair if at all possible. Outside of Vlasic, the Sharks were thin with left handed shooters last season. Mueller comes in and has potential and now with Dillon arriving the left side looks much stronger now than a year ago. Losing Demers  however does take away from the depth of right-handed shooters, especially if the Sharks were to move Burns back to forward. Therefore, expect the Sharks to try and acquire a right-handed shooter by the deadline to replenish that side.
Andrew has been credentialed to cover the Sharks since 2010 and the 49ers since 2012. He graduated with his BA in Broadcast Electronic Communication Arts in 2013 from San Francisco State University.