In Brett Ritchie's NHL debut, the 21 year-old winger scored on his first shot of the night. As the Dallas Stars scored 6 goals to close out the Arizona Coyotes in Kari Lehtonen's 30th career shutout, Ritchie scored the game winner, sealing it at 7:22 in the second period.
Ritchie Scores Goal on First NHL Shot
Ritchie's first NHL goal was a beauty after he laid a big hit on Mikkel Boedker deep in the zone before skating out to the Coyotes' open slot. Once he traveled to open ice in front of netminder, Devan Dubnyk, Travis Moen centered a pass that Ritchie chipped in blocker-side. With only 2 shots on goal in 10:21 TOI, Ritchie made his effort count.
First Professional AHL Goal
Oddly enough, Ritchie also scored on his first professional shot with the Texas Stars of the AHL. As Mike Hedden's shot rebounds, he pokes it back to Ritchie while the goaltender scrambles to return to his crease. Ritchie is then able to score into a wide open net from deep in the slot.
Ritchie has a solid positional sense that is evident as he crashed the net just in time for both of his first AHL and NHL goals. In his first 5 games with Texas, Ritchie scored 4 points, including 3 goals and an assist. With 7 goals in 13 total 2013-2014 playoff games, Ritchie proved instrumental in leading the Texas Stars to win the 2014 Calder Cup Championship.
Consistency in the Juniors
In his recent junior hockey career, Ritchie maintained strong scoring statistics with the Niagara Ice Dogs of the OHL. With 30 points (16 goals, 14 assists) in 30 games during 2012-2013, and 76 points (41 goals, 35 assists) in 53 games during 2013-2014, Ritchie pursued a point-per-game or better for two seasons.
Drafted in 2011, the Stars took Brett Ritchie 44th overall in the 2nd round, just behind 1st round pick, Jamie Oleksiak, but ahead of 7th round pick, Jyrki Jokipakka. Though Ritchie follows others in his draft class to the NHL, he led his teammates in top prospect listings at the beginning of the season.
The @DallasStars had 6 picks in the 2011 draft. Oleksiak, Jokipakka and now Brett Ritchie have advanced to the NHL. That's solid scouting

— Bruce LeVine (@BruceLeVinePuck) January 1, 2015
Ritchie's Recent Success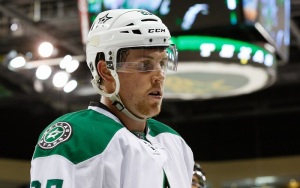 Days before Dallas recalled Ritchie, he scored a hat trick against the Charlotte Checkers, eventually scoring 5 goals, including both game winners, in his last 2 AHL games. On December 29, 2014, the AHL named Ritchie the CCM/AHL Player of the Week.
Back in April, Ritchie made a stunning appearance during Mike Modano's appreciation night in Cedar Park, scoring 4 goals on the visiting Lake Erie Monsters. When he joined the Stars for the Traverse City Prospect Tournament in September, Ritchie scored twice, including the overtime winner, leading the Stars prospects to  a 4-3 victory over the New York Rangers.
Between Ritchie's style of play in the AHL and his Dallas Stars debut, the young winger's NHL start looks similar to that of Alex Chiasson in 2013. Chiasson showed an initial scoring touch and a tendency to crash the net, but lacked Ritchie's physicality. As seen in his first NHL game, Ritchie isn't afraid to throw a big hit before muscling his way through the low slot. In the New Year's Eve win over Arizona, Ritchie ended the game with the second most hits, tied at 5 with Tyler Seguin.
As one of two players to register 10 shots on goal in a single game with the Texas Stars, Ritchie is a natural shooter. In interviews, Dallas players cite the team's need to "get some pucks to the net," which is a talent Ritchie possesses. Though he recorded only 2 shots on goal in his NHL debut, Ritchie has time to warm up to his role in the NHL, and to develop consistency in generating Fenwick events.
Tabatha is passionate about hockey history, and the Dallas Stars' ever-improving farm system. Growing the game in North Texas is her goal.
Discuss hot topics in hockey with her on Twitter via @tabatha_mp.